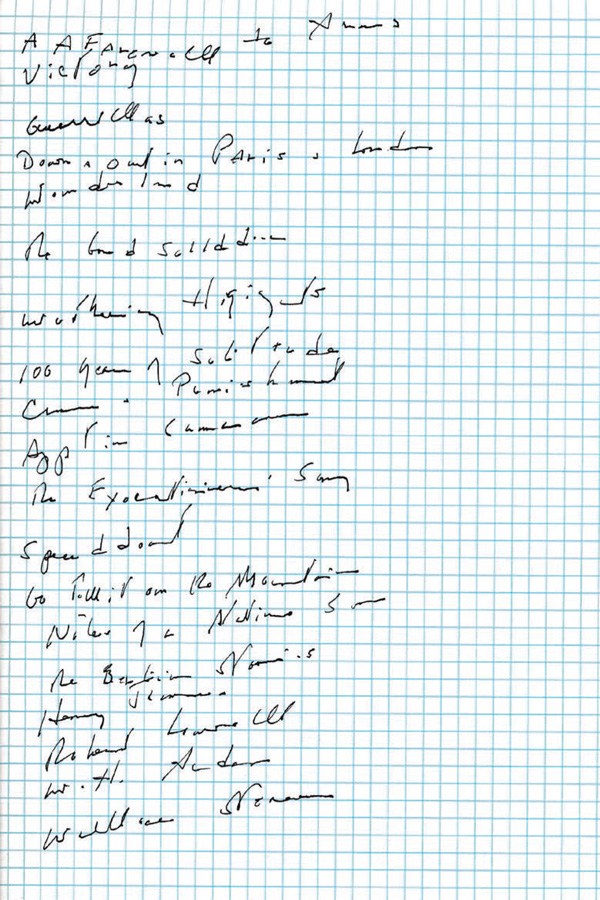 If you've read much Joan Did­ion, you've almost sure­ly come across an obser­va­tion or phrase that has changed the way you look at Cal­i­for­nia, the media, or the cul­ture of the late 20th cen­tu­ry — or indeed, changed your life. But if life-chang­ing writ­ers have all had their own lives changed by the writ­ers before them, which writ­ers made Joan Did­ion the Joan Did­ion whose writ­ing still exerts an influ­ence today? Con­ve­nient­ly enough, the author of Play It as It Lays, Slouch­ing Towards Beth­le­hem, and The White Album once drew up a list of the books that changed her life, and it sur­faced on Insta­gram a few years ago:
In 1978, when Did­ion had already become a new-jour­nal­ism icon, The Paris Review's Lin­da Kuehl asked her whether any writer influ­enced her more than oth­ers. "I always say Hem­ing­way," she replied, "because he taught me how sen­tences worked. When I was fif­teen or six­teen I would type out his sto­ries to learn how the sen­tences worked. I taught myself to type at the same time." Teach­ing A Farewell to Arms, her num­ber-one most influ­en­tial book, she "fell right back into those sen­tences. I mean they're per­fect sen­tences. Very direct sen­tences, smooth rivers, clear water over gran­ite, no sink­holes."
Did­ion's list also includes oth­er mas­ters of the sen­tence, albeit most of them pos­sessed of sen­si­bil­i­ties quite dis­tinct from Hem­ing­way's. Hen­ry James, for instance: "He wrote per­fect sen­tences, too, but very indi­rect, very com­pli­cat­ed. Sen­tences with sink­holes. You could drown in them." Con­sid­er them along­side the oth­er writ­ers among her favored nine­teen, from nov­el­ists like Emi­ly Bron­të and Joyce Car­ol Oates to poets like Wal­lace Stevens and W.H. Auden to fig­ures with one foot in lit­er­a­ture and the oth­er in jour­nal­ism like George Orwell and Nor­man Mail­er, and you've got a mix that no two aspir­ing writ­ers could read and come out sound­ing exact­ly alike. No sur­prise that such a set of influ­ences would pro­duce a writer like Did­ion, so often imi­tat­ed but, in her niche, nev­er equaled.
Relat­ed Con­tent:
Read 12 Mas­ter­ful Essays by Joan Did­ion for Free Online, Span­ning Her Career From 1965 to 2013
Joan Did­ion Reads From New Mem­oir, Blue Nights, in Short Film Direct­ed by Grif­fin Dunne
New Doc­u­men­tary Joan Did­ion: The Cen­ter Will Not Hold Now Stream­ing on Net­flix
Based in Seoul, Col­in Mar­shall writes and broad­casts on cities and cul­ture. His projects include the book The State­less City: a Walk through 21st-Cen­tu­ry Los Ange­les and the video series The City in Cin­e­ma. Fol­low him on Twit­ter at @colinmarshall or on Face­book.