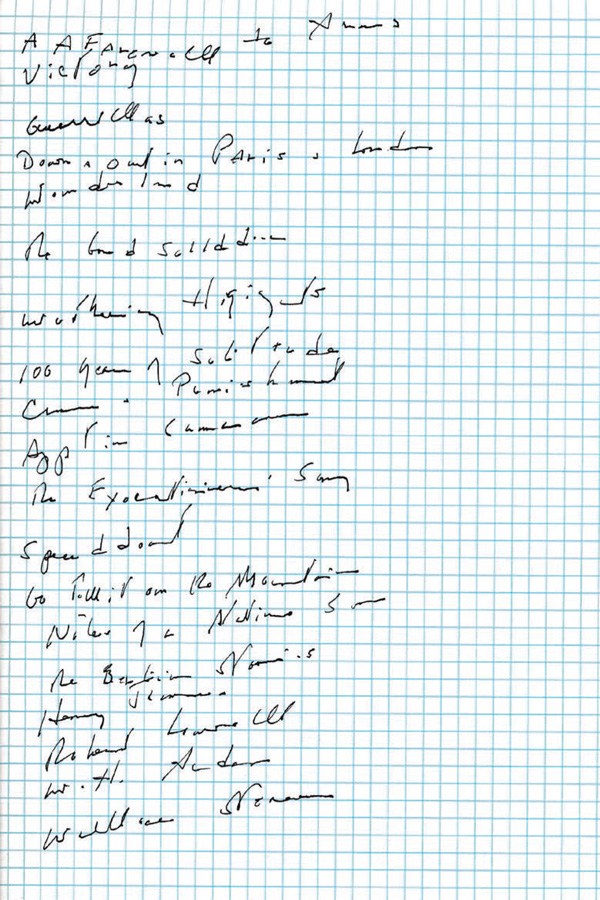 If you've read much Joan Didion, you've almost surely come across an observation or phrase that has changed the way you look at California, the media, or the culture of the late 20th century — or indeed, changed your life. But if life-changing writers have all had their own lives changed by the writers before them, which writers made Joan Didion the Joan Didion whose writing still exerts an influence today? Conveniently enough, the author of Play It as It Lays, Slouching Towards Bethlehem, and The White Album once drew up a list of the books that changed her life, and it surfaced on Instagram a few years ago:
In 1978, when Didion had already become a new-journalism icon, The Paris Review's Linda Kuehl asked her whether any writer influenced her more than others. "I always say Hemingway," she replied, "because he taught me how sentences worked. When I was fifteen or sixteen I would type out his stories to learn how the sentences worked. I taught myself to type at the same time." Teaching A Farewell to Arms, her number-one most influential book, she "fell right back into those sentences. I mean they're perfect sentences. Very direct sentences, smooth rivers, clear water over granite, no sinkholes."
Didion's list also includes other masters of the sentence, albeit most of them possessed of sensibilities quite distinct from Hemingway's. Henry James, for instance: "He wrote perfect sentences, too, but very indirect, very complicated. Sentences with sinkholes. You could drown in them." Consider them alongside the other writers among her favored nineteen, from novelists like Emily Brontë and Joyce Carol Oates to poets like Wallace Stevens and W.H. Auden to figures with one foot in literature and the other in journalism like George Orwell and Norman Mailer, and you've got a mix that no two aspiring writers could read and come out sounding exactly alike. No surprise that such a set of influences would produce a writer like Didion, so often imitated but, in her niche, never equaled.
Related Content:
Read 12 Masterful Essays by Joan Didion for Free Online, Spanning Her Career From 1965 to 2013
Joan Didion Reads From New Memoir, Blue Nights, in Short Film Directed by Griffin Dunne
New Documentary Joan Didion: The Center Will Not Hold Now Streaming on Netflix
Based in Seoul, Colin Marshall writes and broadcasts on cities and culture. His projects include the book The Stateless City: a Walk through 21st-Century Los Angeles and the video series The City in Cinema. Follow him on Twitter at @colinmarshall or on Facebook.