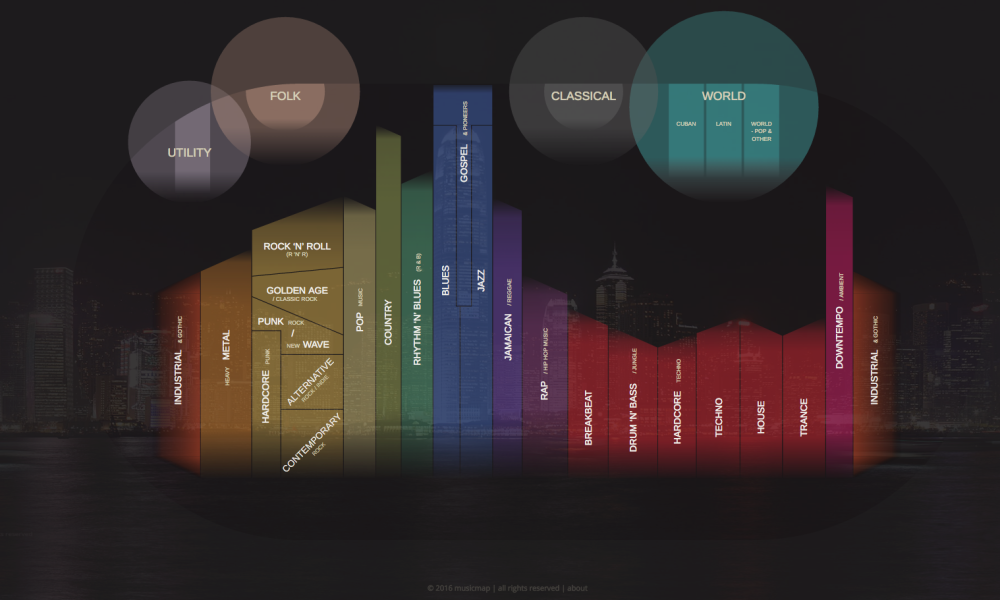 A Pandora for the adventurous antiquarian, the highly underrated site Radiooooo gives users streaming music from all over the world and every decade since 1900. While it offers an aural feast, its limited interface leaves much to be desired from an educational standpoint. On the other end of the audio-visual spectrum, clever diagrams like those we've featured here on electronic music, alternative, and hip hop show the detailed connections between all the major acts in these genres, but all they do so in silence.
Now a new interactive infographic built by Belgian architect Kwinten Crauwels brings together an encyclopedic visual reference with an exhaustive musical archive. Though it's missing some of the features of the resources above, the Musicmap far surpasses anything of its kind online—"both a 23and me-style ancestral tree and a thorough disambiguation of just about every extant genre of music," writes Fast Company.
Or as Frank Jacobs explains at Big Think, Crauwels' goal is "to provide the ultimate genealogy of popular music genres, including their relations and history."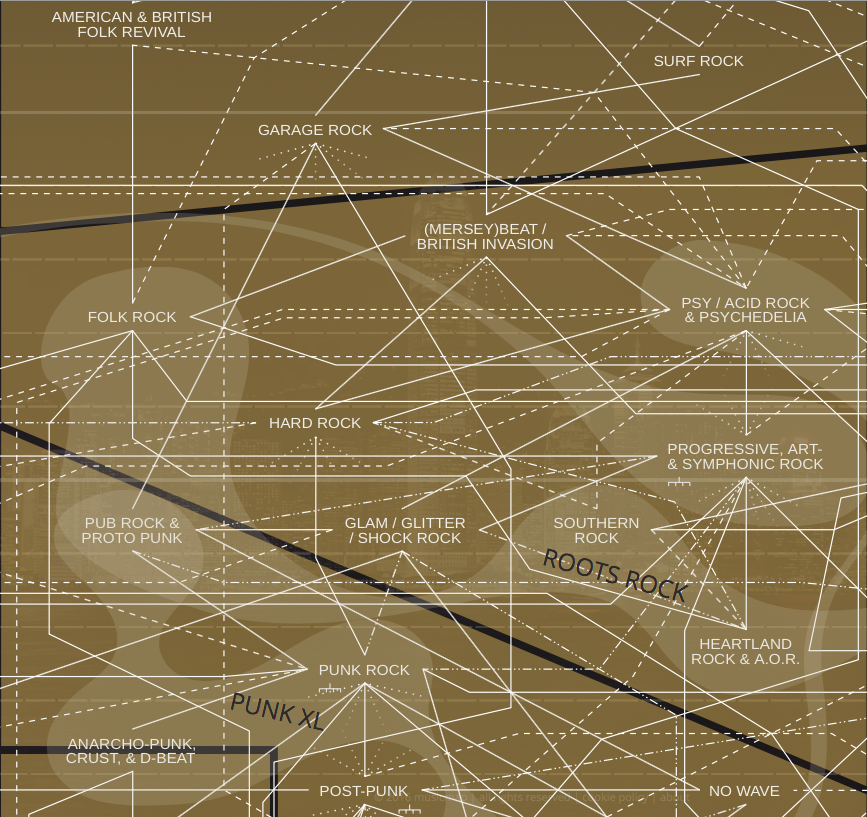 With over 230 genres in all—linked together in intricate webs of influence, mapped in a zoomable visual interface that organizes them all at macro and micro levels of description, and linked to explanatory articles and representative playlists (drawn from YouTube)—the project is almost too comprehensive to believe, and its degree of sophistication almost too complex to summarize concisely (though Jacobs does a good job of it). The Musicmap spans the years 1870-2016 and covers 22 major categories (with Rock further broken into six and "World" into three).
In an oval around the colorful skyscraper-like "super-genres" are decades, moving from past to present from top to bottom. Zoom into the "super-genres" and find "a spider's web of links within and between the different houses" of subgenres. "Those links can indicate parentage or influence, but also a backlash (i.e. as 'anti-links')." Clicking on the name of each subgenre reveals "a short synopsis and a playlist of representative songs." These two functions, in turn, link to each other, allowing users to click through in a more Wikipedia-like way once they've entered the minutiae of the Musicmap's contents.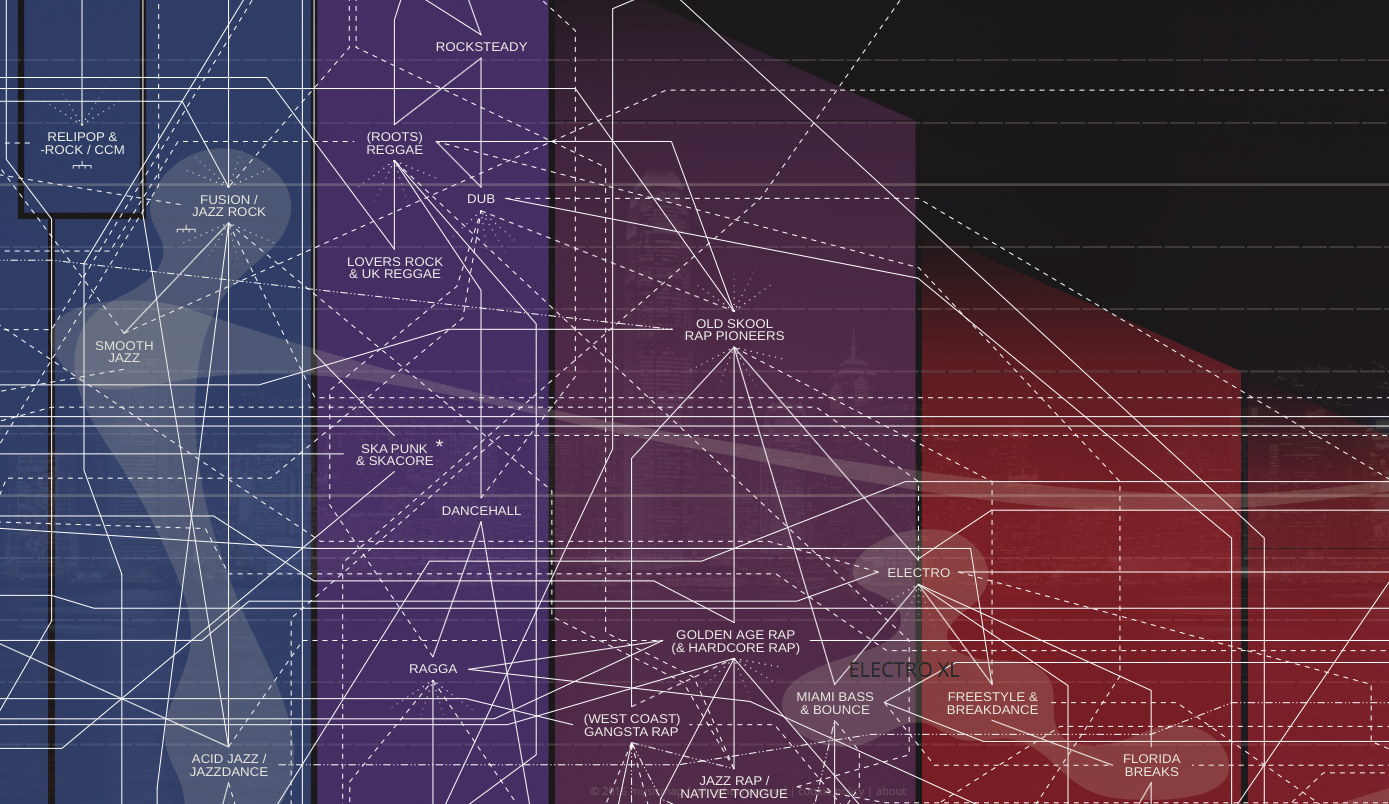 The map not only draws connections between subgenres but also between their relatives in other "super-genres" (learn about the relationship, for example, between folk rock and classic metal). On the left side of the screen is a series of buttons that reveal an introduction, methodology, abstract, several navigational functions, a glossary of musical terms, and a bibliography (called "Acknowledgments"). Aside from visually reducing all the way down to the level of individual bands within each subgenre, which could become a little dizzying, it's hard to think of anything seriously lacking here.
Anything we might find fault with might be changed in the near future. Although Crauwels spent almost ten years on research and development, first conceiving of the project in 2008, the current site "is still version 1.0 of Music map. In later versions, the playlists will be expanded, perhaps even community-generated." Crauwels also wants to sync up with Spotify. Although not a musician himself, he is as passionate about music as he is about design and education, making him very likely the perfect person to take on this task, which he admits can never be completed.
Crauwels does not currently seem to have plans to monetize his map. His stated motives are altruistic, in the same public service spirit as Radiooooo. "Musicmap," he says, "believes that knowledge about music genres is a universal right and should be part of basic education." At the moment, the education here only applies to popular music, although enough of it to acquire a graduate-level historical knowledge base.
The four categories at the top of the map—the strangely named "Utility" (which includes hymns, military marches, musicals, and soundtracks), Folk, Classical, and World—are zoomable but do not have clickable links or playlists. Given Crauwels' completist instincts, this may well change in future updates. In the TED talk above, see him tell the story of how he created Musicmap, a DIY effort that came out of his frustration that nothing like it existed, so he had to create it himself.
Enter the Musicmap here and try not to get lost for several hours.
via Big Think
Related Content:
Radiooooo: A Musical Time Machine That Lets You Hear What Played on the Radio in Different Times & Places
Radio Garden Lets You Instantly Tune into Radio Stations Across the Entire Globe
The History of Hip Hop Music Visualized on a Turntable Circuit Diagram: Features 700 Artists, from DJ Kool Herc to Kanye West
A History of Alternative Music Brilliantly Mapped Out on a Transistor Radio Circuit Diagram: 300 Punk, Alt & Indie Artists
A Massive 800-Track Playlist of 90s Indie & Alternative Music, in Chronological Order
Josh Jones is a writer and musician based in Durham, NC. Follow him at @jdmagness