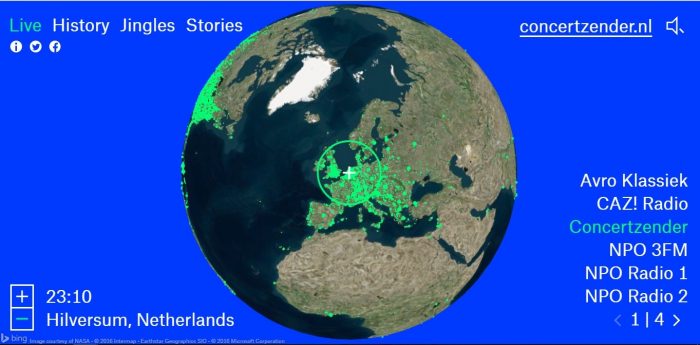 A pretty cool project.
Pick a place on the globe. Any place. Then tune in and hear what's playing on the radio in that location.
The service is called Radio Garden, and here's what it's essentially all about:
By bringing distant voices close, radio connects people and places. Radio Garden allows listeners to explore processes of broadcasting and hearing identities across the entire globe. From its very beginning, radio signals have crossed borders. Radio makers and listeners have imagined both connecting with distant cultures, as well as re-connecting with people from 'home' from thousands of miles away – or using local community radio to make and enrich new homes.
While Radio Garden lets you tune into broadcasts across different geographies, another service previously featured here on OC–Radiooooo–lets you hear radio broadcasts across time. That is, historical broadcasts.
Between the two services, you'll be covered spatially and temporally. What more could you want?
Follow Open Culture on Facebook, Twitter, Instagram, Google Plus, and Flipboard and share intelligent media with your friends. Or better yet, sign up for our daily email and get a daily dose of Open Culture in your inbox. To make sure that our posts definitely appear in your Facebook newsfeed, just follow these simple steps.
If you'd like to help support Open Culture, please sign up for a 30-day free trial from Audible.com or The Great Courses Plus. You will get free audio books and free courses in return. No strings attached.