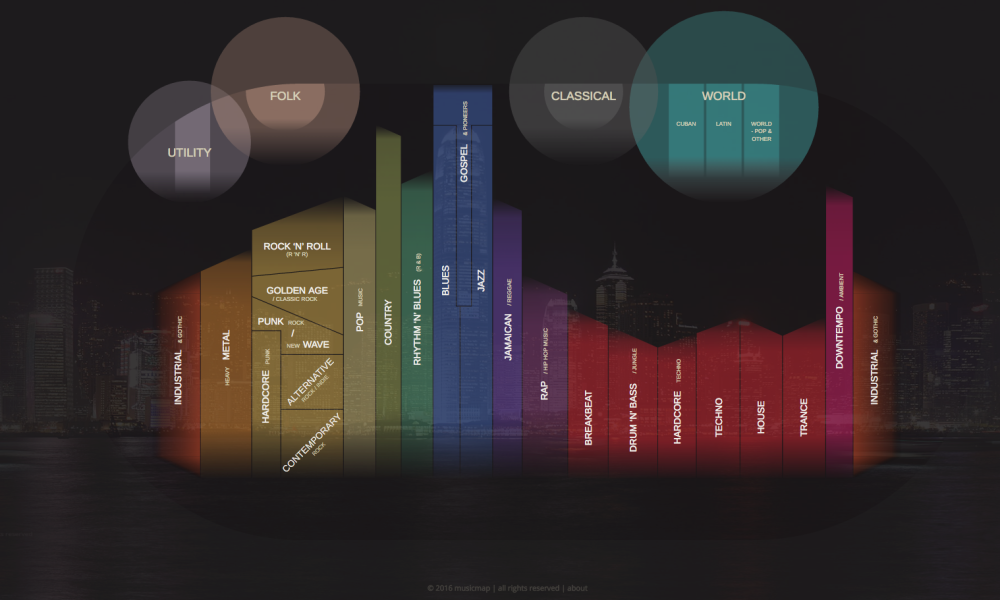 A Pan­do­ra for the adven­tur­ous anti­quar­i­an, the high­ly under­rat­ed site Radiooooo gives users stream­ing music from all over the world and every decade since 1900. While it offers an aur­al feast, its lim­it­ed inter­face leaves much to be desired from an edu­ca­tion­al stand­point. On the oth­er end of the audio-visu­al spec­trum, clever dia­grams like those we've fea­tured here on elec­tron­ic music, alter­na­tive, and hip hop show the detailed con­nec­tions between all the major acts in these gen­res, but all they do so in silence.
Now a new inter­ac­tive info­graph­ic built by Bel­gian archi­tect Kwin­ten Crauwels brings togeth­er an ency­clo­pe­dic visu­al ref­er­ence with an exhaus­tive musi­cal archive. Though it's miss­ing some of the fea­tures of the resources above, the Musicmap far sur­pass­es any­thing of its kind online—"both a 23and me-style ances­tral tree and a thor­ough dis­am­bigua­tion of just about every extant genre of music," writes Fast Com­pa­ny.
Or as Frank Jacobs explains at Big Think, Crauwels' goal is "to pro­vide the ulti­mate geneal­o­gy of pop­u­lar music gen­res, includ­ing their rela­tions and his­to­ry."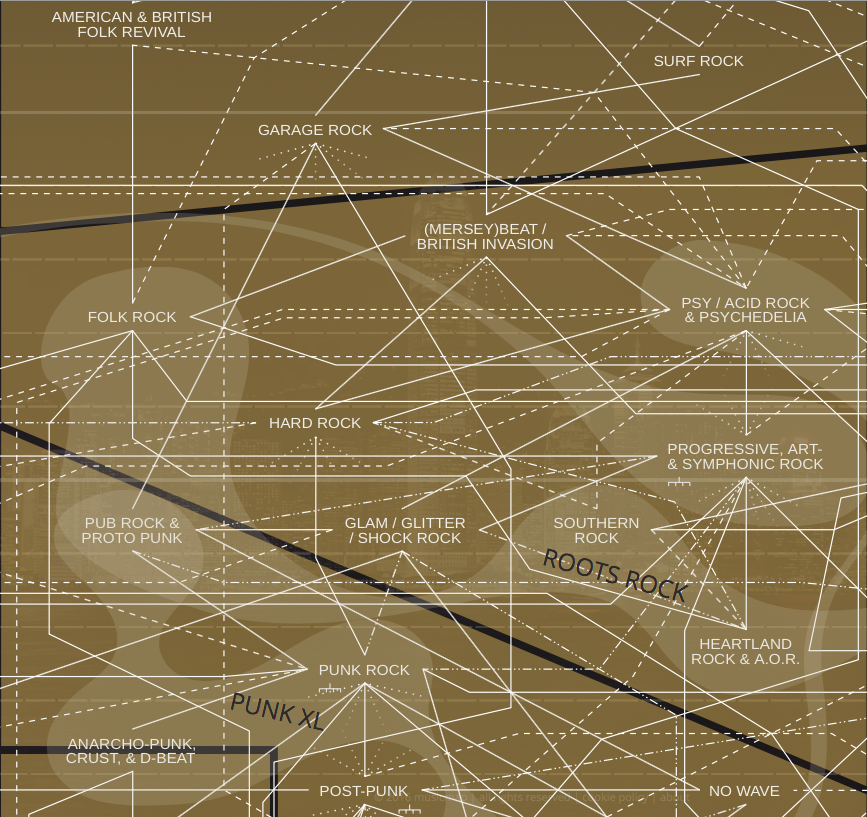 With over 230 gen­res in all—linked togeth­er in intri­cate webs of influ­ence, mapped in a zoomable visu­al inter­face that orga­nizes them all at macro and micro lev­els of descrip­tion, and linked to explana­to­ry arti­cles and rep­re­sen­ta­tive playlists (drawn from YouTube)—the project is almost too com­pre­hen­sive to believe, and its degree of sophis­ti­ca­tion almost too com­plex to sum­ma­rize con­cise­ly (though Jacobs does a good job of it). The Musicmap spans the years 1870–2016 and cov­ers 22 major cat­e­gories (with Rock fur­ther bro­ken into six and "World" into three).
In an oval around the col­or­ful sky­scraper-like "super-gen­res" are decades, mov­ing from past to present from top to bot­tom. Zoom into the "super-gen­res" and find "a spider's web of links with­in and between the dif­fer­ent hous­es" of sub­gen­res. "Those links can indi­cate parent­age or influ­ence, but also a back­lash (i.e. as 'anti-links')." Click­ing on the name of each sub­genre reveals "a short syn­op­sis and a playlist of rep­re­sen­ta­tive songs." These two func­tions, in turn, link to each oth­er, allow­ing users to click through in a more Wikipedia-like way once they've entered the minu­ti­ae of the Musicmap's con­tents.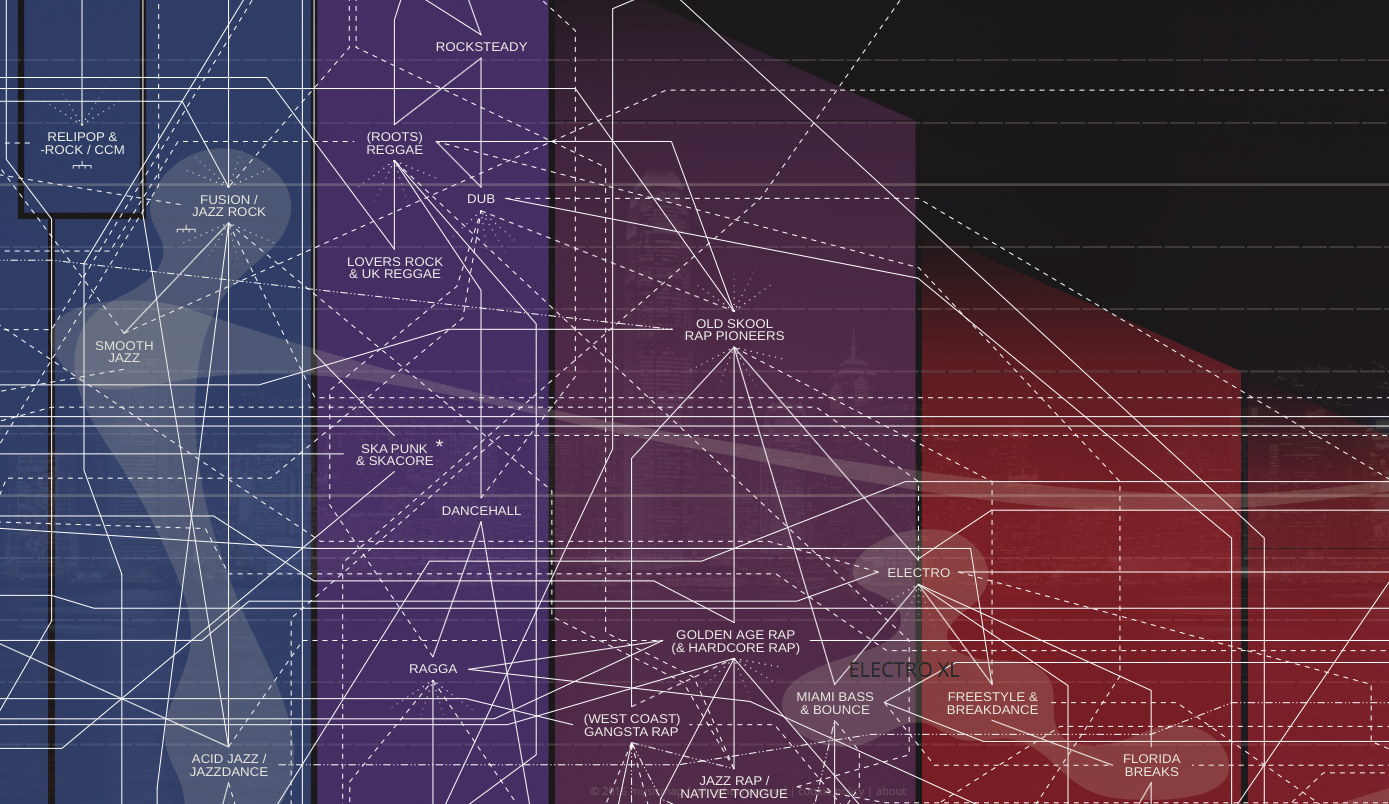 The map not only draws con­nec­tions between sub­gen­res but also between their rel­a­tives in oth­er "super-gen­res" (learn about the rela­tion­ship, for exam­ple, between folk rock and clas­sic met­al). On the left side of the screen is a series of but­tons that reveal an intro­duc­tion, method­ol­o­gy, abstract, sev­er­al nav­i­ga­tion­al func­tions, a glos­sary of musi­cal terms, and a bib­li­og­ra­phy (called "Acknowl­edg­ments"). Aside from visu­al­ly reduc­ing all the way down to the lev­el of indi­vid­ual bands with­in each sub­genre, which could become a lit­tle dizzy­ing, it's hard to think of any­thing seri­ous­ly lack­ing here.
Any­thing we might find fault with might be changed in the near future. Although Crauwels spent almost ten years on research and devel­op­ment, first con­ceiv­ing of the project in 2008, the cur­rent site "is still ver­sion 1.0 of Music map. In lat­er ver­sions, the playlists will be expand­ed, per­haps even com­mu­ni­ty-gen­er­at­ed." Crauwels also wants to sync up with Spo­ti­fy. Although not a musi­cian him­self, he is as pas­sion­ate about music as he is about design and edu­ca­tion, mak­ing him very like­ly the per­fect per­son to take on this task, which he admits can nev­er be com­plet­ed.
Crauwels does not cur­rent­ly seem to have plans to mon­e­tize his map. His stat­ed motives are altru­is­tic, in the same pub­lic ser­vice spir­it as Radiooooo. "Musicmap," he says, "believes that knowl­edge about music gen­res is a uni­ver­sal right and should be part of basic edu­ca­tion." At the moment, the edu­ca­tion here only applies to pop­u­lar music, although enough of it to acquire a grad­u­ate-lev­el his­tor­i­cal knowl­edge base.
The four cat­e­gories at the top of the map—the strange­ly named "Util­i­ty" (which includes hymns, mil­i­tary march­es, musi­cals, and sound­tracks), Folk, Clas­si­cal, and World—are zoomable but do not have click­able links or playlists. Giv­en Crauwels' com­pletist instincts, this may well change in future updates. In the TED talk above, see him tell the sto­ry of how he cre­at­ed Musicmap, a DIY effort that came out of his frus­tra­tion that noth­ing like it exist­ed, so he had to cre­ate it him­self.
Enter the Musicmap here and try not to get lost for sev­er­al hours.
via Big Think
Relat­ed Con­tent:
Radiooooo: A Musi­cal Time Machine That Lets You Hear What Played on the Radio in Dif­fer­ent Times & Places
Radio Gar­den Lets You Instant­ly Tune into Radio Sta­tions Across the Entire Globe
The His­to­ry of Hip Hop Music Visu­al­ized on a Turntable Cir­cuit Dia­gram: Fea­tures 700 Artists, from DJ Kool Herc to Kanye West
A His­to­ry of Alter­na­tive Music Bril­liant­ly Mapped Out on a Tran­sis­tor Radio Cir­cuit Dia­gram: 300 Punk, Alt & Indie Artists
A Mas­sive 800-Track Playlist of 90s Indie & Alter­na­tive Music, in Chrono­log­i­cal Order
Josh Jones is a writer and musi­cian based in Durham, NC. Fol­low him at @jdmagness