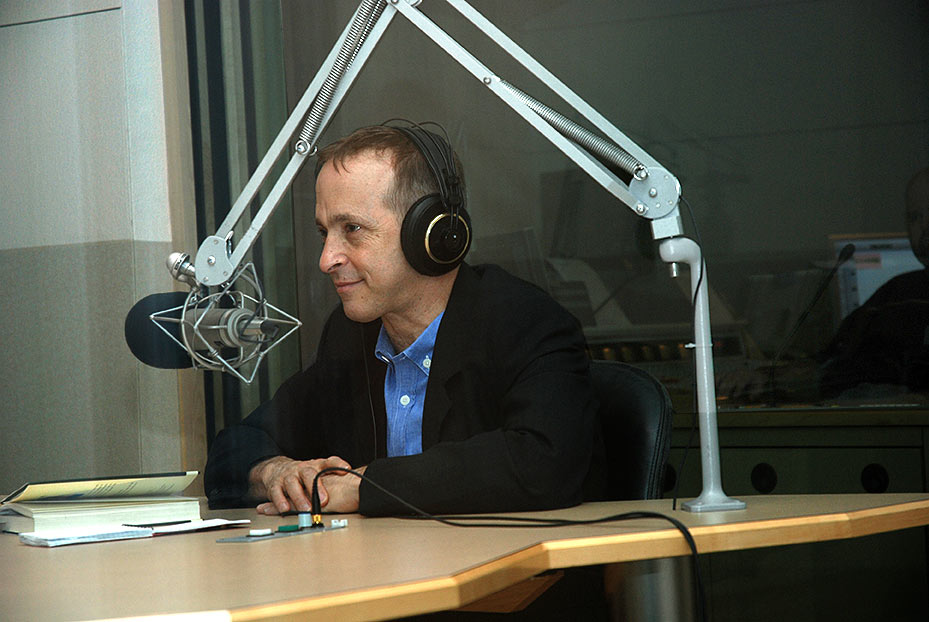 Image by WBUR, via Wikimedia Commons
You can't read far into David Sedaris' writing without encountering his father Lou, a curmudgeonly, decades-and-decades-retired IBM engineer with a stiffly practical mind and a harsh word for everybody — especially his misfit son, dedicating his life as he has to the quasi-occupation of writing while living in far-flung places like Paris and rural England. Even now, solidly into his nineties, Sedaris père keeps on providing the sixtysomething Sedaris fils with material, all of it — once polished up just right — a source of laughter for the latter's many readers and listeners. But Lou has also given David something else: a passion for jazz.
"My father loves jazz and has an extensive collection of records and reel-to-reel tapes he used to enjoy after returning home from work," writes Sedaris in one essay. "He might have entered the house in a foul mood, but once he had his Dexter Gordon and a vodka martini, the stress melted away and everything was 'Beautiful, baby, just beautiful.'" He then goes on to tell the story of how his father once attempted to train young David and his sisters into a Brubeck-style family jazz combo — a hopeless dream from the start, but one that has since entertained his fans around the world. (Not that Sedaris hasn't provided some of that entertainment by performing commercial jingles in the voice of Billie Holiday.)
Appearing on a guest DJ segment on Los Angeles public radio station KCRW, Sedaris told of how his father introduced him to jazz: "I remember seeing the movie Lady Sings the Blues, right, and thinking Diana Ross did such a good job. And my Dad saying, 'Oh boy, you've got a lot to learn,' and then him playing Billie Holiday 78s for me… and then him taking it back even further and sitting me down to listen to Mabel Mercer. He really did give me quite an education and it's the music that's stuck with me." As for the first jazz album he ever heard, he names in a recent JazzTimes interview Charles Mingus' The Clown, the one "with a close-up of a clown's face on the cover" that still, in his estimation, "looks so modern and it sounds so modern."
When Sedaris' official Facebook page posted ten of his favorite songs, he came up with an all-jazz list including the work of Nina Simone, Antonio Carlos Jobim, John Coltrane, and other luminaries of the tradition. (He did not, of course, neglect Billie Holiday.) A fan turned it into a Spotify playlist, which you'll find embedded below (and if you don't have Spotify's free software, you can download it here):
"I used to work in complete silence," Sedaris tells JazzTimes, but "about three or four years ago I started listening to music [while I work], but not music with lyrics in it." Much of the jazz he loves fits that description, and he's also, in combination with the variety of music-streaming services available now, discovered new jazz artists while writing. Having put drinking and smoking completely behind him — and having written about both of those experiences — Sedaris retains jazz as one of the substances that keeps him going. It certainly seems to have worked for the man who brought the music into his life, whom Sedaris has imagined may yet outlive us all: "If anything happens to me," he says, "the one thing my father wants is my iPod."
Related Content:
20 Free Essays & Stories by David Sedaris: A Sampling of His Inimitable Humor
Be His Guest: David Sedaris at Home in Rural West Sussex, England
David Sedaris Sings the Oscar Mayer Theme Song in the Voice of Billie Holiday
Haruki Murakami's Passion for Jazz: Discover the Novelist's Jazz Playlist, Jazz Essay & Jazz Bar
The Best Music to Write By: Give Us Your Recommendations
Based in Seoul, Colin Marshall writes and broadcasts on cities and culture. His projects include the book The Stateless City: a Walk through 21st-Century Los Angeles and the video series The City in Cinema. Follow him on Twitter at @colinmarshall or on Facebook.