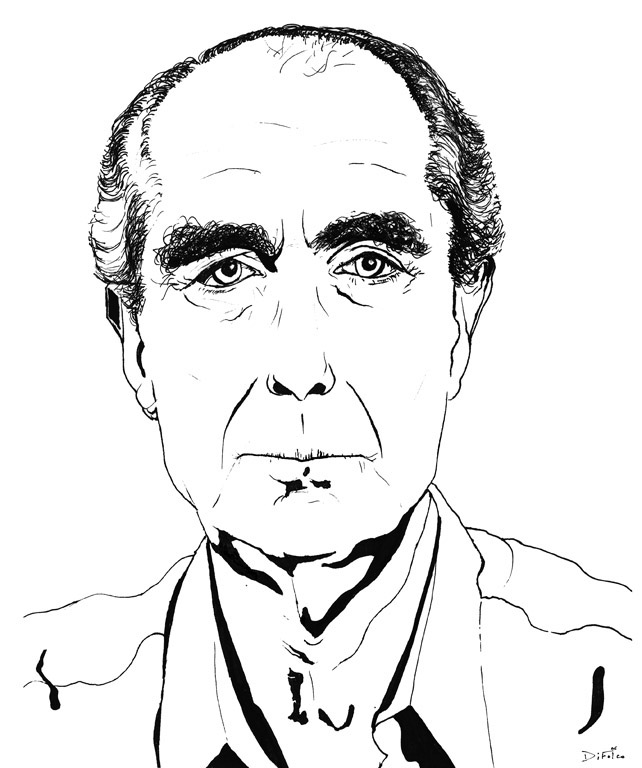 Image by Thierry Ehrmann, via Flickr Commons
We stand at a pivotal time in history, and not only when it comes to presidential politics and other tragedies. The boomer-era artists and writers who loomed over the last several decades—whose influence, teaching, or patronage determined the careers of hundreds of successors—are passing away. It seems that not a week goes by that we don't mourn the loss of one or another towering figure in the arts and letters. And along with the eulogies and tributes come critical reappraisals of often straight white men whose sexual and racial politics can seem seriously problematic through a 21st century lens.
Surely such pieces are even now being written after the death of Philip Roth yesterday, novelist of, among many other themes, the unbridled straight male Id. From 1969's sex-obsessed Alexander Portnoy—who masturbates with raw liver and screams at his therapist "LET'S PUT THE ID BACK IN YID!"—to 1995's aging, sex-obsessed puppeteer Mickey Sabbath, who masturbates over his own wife's grave, with several obsessive men like David Kepesh (who turns into a breast) in-between, Roth created memorably shocking, frustrated Jewish male characters whose sexuality might generously be described as selfish.
In a New York Times interview at the beginning of this year, Roth, who retired from writing in 2012, addressed the question of these "recurrent themes" in the era of Trump and #MeToo. "I haven't shunned the hard facts in these fictions of why and how and when tumescent men do what they do, even when these have not been in harmony with the portrayal that a masculine public-relations campaign — if there were such a thing — might prefer…. Consequently, none of the more extreme conduct I have been reading about in the newspapers lately has astonished me."
The psychological truths Roth tells about fitfully neurotic male egos don't flatter most men, as he points out, but maybe his depictions of obsessive male desire offer a sobering perspective as we struggle to confront its even uglier and more violent, boundary-defying irruptions in the real world. That said, many a writer after Roth handled the subject with far less humor and comic awareness of its bathos. From where did Roth himself draw his sense of the tragically absurd, his literary interest in extremes of human longing and its often-destructive expression?
He offered one collection of influences in 2016, when he pledged to donate his personal library of over 3,500 volumes to the Newark Public Library ("my other home") upon his death. Along with that announcement, Roth issued a list of "fifteen works of fiction," writes Talya Zax at Forward, "he considers most significant to his life." Next to each title, he lists the age at which he first read the book.
"It's worth noting," Zax points out, "that Roth, who frequently fields accusations of misogyny, included only one female author on the list: Colette." Make of that what you will. We might note other blind spots as well, but so it is. Should we read Philip Roth? Of course we should read Philip Roth, for his keen insights into varieties of American masculinity, Jewish identity, aging, American hubris, literary creativity, Wikipedia, and so much more besides, spanning over fifty years. Start at the beginning with two of his fist published stories from the late 50s, "Epstein" and "The Conversion of the Jews," and work your way up to the 21st century.
via The Forward
Related Content:  
What Was It Like to Have Philip Roth as an English Prof?
Philip Roth Predicts the Death of the Novel; Paul Auster Counters
Josh Jones is a writer and musician based in Durham, NC. Follow him at @jdmagness