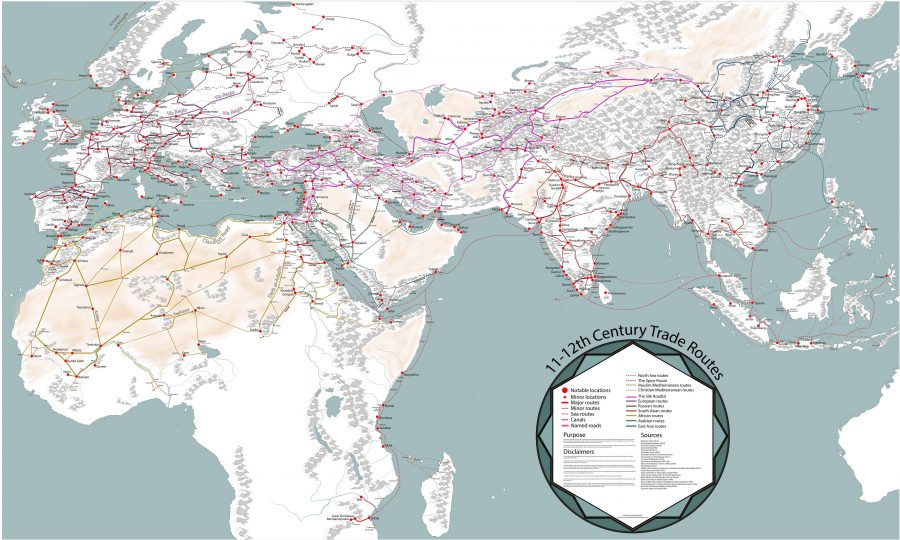 Sometimes I wonder if there are any true Renaissance folks left, people who have a passion for knowledge and don't let the experts get in the way. But then along comes Martin Jan Månsson, a graduate student in Spatial Planning at the Blekinge Institute of Technology, Sweden. Neither a cartographer nor a historian, Månsson has lovingly produced this very detailed map of trading routes during the Middle Ages. (You can download the map in high resolution here.)
(I assume he should have been working on his dissertation instead, but this is much more fascinating.)
"I think trade routes and topography explains world history in the most concise way," Månsson explains in the very small print at the map's lower right corner. "By simply studying the map, one can understand why some areas were especially important–and remained successful even up to modern times."
The map covers 200 years, spanning both the 11th and 12th centuries, and "depicts the main trading arteries of the high Middle Ages, just after the decline of the Vikings and before the rise of the Mongols, the Hansa and well before the Portuguese rounded the Cape of Good Hope."
It also shows the complex routes already available to Africa and Asia, and the areas where Muslim and Christian traders would meet. The open-to-trade Song Dynasty ruled China, and the competitive kingdoms in the Indonesia region provided both Muslims and Europeans with spice.
Looking like a railway map, Månsson's work shows how interconnected we really were back in the Middle Ages, from Greenland in the west to Kikai and Kagoshima in the East, from Arkhangelsk in the frozen north to Sofala in modern-day Mozambique.
Månsson credits Wikipedia for a majority of the basic work, but also lists 20 other sources for this detailed work, including The Silk Road by Valerie Hanson, Across Africa and Arabia by Irene M. Franck and David M. Brownstone.
There's much to take away from the map–a printable version would be great–but one thing that stands out to me is how many once-important trade cities have faded from memory, or importance, or just lost to time, plunder, and change. In another 1,000 what cities of our own will have come and gone?
Related Content:
A Free Yale Course on Medieval History: 700 Years in 22 Lectures
Why Babies in Medieval Paintings Look Like Middle-Aged Men: An Investigative Video
How Illuminated Medieval Manuscripts Were Made: A Step-by-Step Look at this Beautiful, Centuries-Old Craft
Ted Mills is a freelance writer on the arts who currently hosts the artist interview-based FunkZone Podcast and is the producer of KCRW's Curious Coast. You can also follow him on Twitter at @tedmills, read his other arts writing at tedmills.com and/or watch his films here.