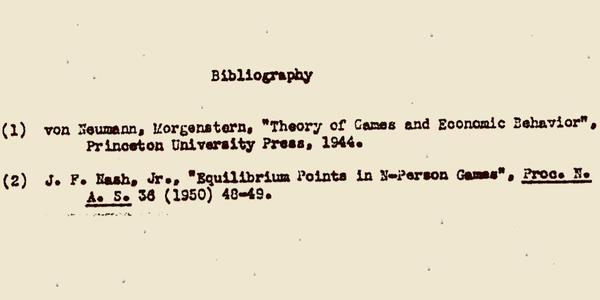 When John Nash wrote "Non Cooperative Games," his Ph.D. dissertation at Princeton in 1950, the text of his thesis (read it online) was brief. It ran only 26 pages. And more particularly, it was light on citations. Nash's diss cited two texts: John von Neumann & Oskar Morgenstern's Theory of Games and Economic Behavior (1944), which essentially created game theory and revolutionized the field of economics; the other cited text, "Equilibrium Points in n-Person Games," was an article written by Nash himself. And it laid the foundation for his dissertation, another seminal work in the development of game theory, for which Nash won the Nobel Prize in Economic Sciences in 1994.
The reward of inventing a new field is having a slim bibliography.
If you would like to get Open Culture post's via email, please sign up for our free email newsletter here.
And if you would like to support the mission of Open Culture, consider making a donation to our site. It's hard to rely 100% on ads, and your contributions will help us continue providing the best cultural and educational materials to learners everywhere. You can contribute through PayPal, Patreon, Venmo (@openculture) and Crypto. Thanks for your support!
Note: An earlier version of this post appeared on our site in June, 2015.
Related Content:
The Shortest-Known Paper Published in a Serious Math Journal: Two Succinct Sentences
The World Record for the Shortest Math Article: 2 Words