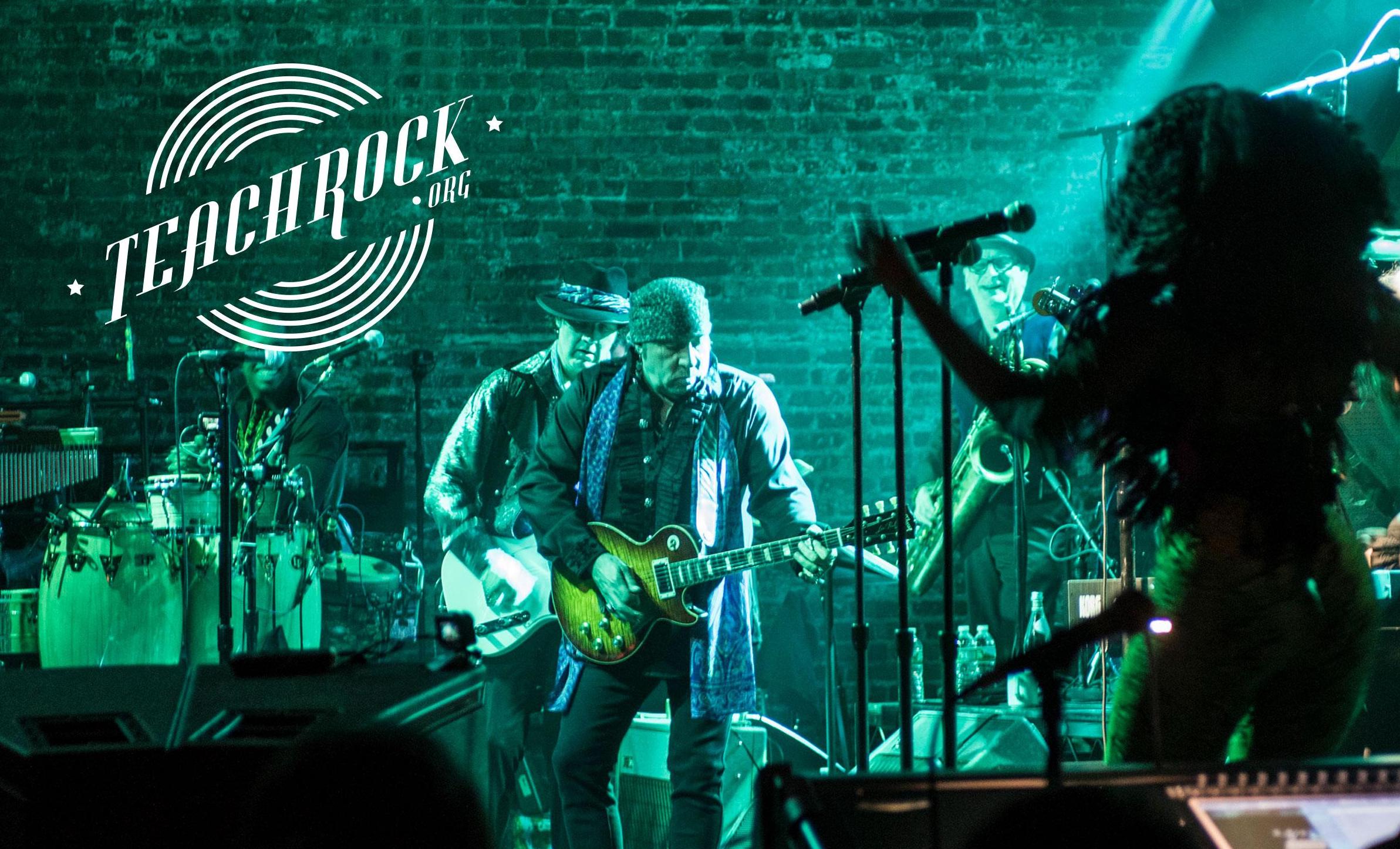 When I think of rock 'n' roll high school, I think of the Ramones, but in the 1979 Roger Corman film no one really learns much. In reality, however, another legendary musician, still going strong after five decades in the business, has put his cred to serious use, leveraging stardom as a musician and actor to create a music curriculum teachers can use for free, with lessons on rock history, Native American politics, Bob Dylan's poetry, immigration and the blues, civil disobedience, the fight to end Apartheid, and much more. That man is Steven Van Zandt—aka Little Steven of the E Street Band, or Silvio Dante of The Sopranos, or Frank Tagliano of Lilyhammer, or a few other aliases and fictional characters.
"For the past decade," writes John Seabrook at The New Yorker, the bandana-clad guitarist has been "working on a way to recreate" a "dynamic, out-of-school learning experience inside classrooms, through his Rock and Roll Forever Foundation." Working, that is, to recreate his own experience as a disaffected youth who "had no interest in school whatsoever," he recalls. What interested him was music: the Beatles, at first, but as he learned more about them, he picked up "bits of information" about Eastern religion and orchestration. He learned about literature from Dylan.
"You didn't get into it to learn things," he says, "but you learn things anyway." At least if you're as curious and open-minded as Van Zandt, who came to value education through his non-traditional course. Over ten years ago, when the National Association for Music Education told him that "No Child Left Behind legislation was really devastating art classes," he confronted Ted Kennedy and Mitch McConnell, telling them, "did you ever hear that every kid who takes music class does better in math and science?" They apologized," he says, "but they said they weren't going to fix it."
So Van Zandt decided to do it himself with a program called TeachRock. Working with two ethnomusicologists, he built the curriculum to connect with kids through music. "Instead of telling the kid, 'Take the iPod out of your ears,'" he told a crowd of teachers gathered at Times Square's Playstation Theater in May, "we ask them, 'What are you listening to?'" Van Zandt calls his curriculum "teaching in the present tense," and while his own back catalog may not necessarily be streaming on kids' current playlists, he incorporates not only his music and the fifties and sixties rock 'n' roll he loves, but also hip-hop, pop, punk, and the "Latin rhythms of 'Despacito.'" He even uses Beyoncé's "Single Ladies" video to prompt a discussion on the slave trade.
The focus on popular music as a force for change is fully in keeping with Van Zandt's own path. His self-education led him into activism in the 80s when he wrote and recorded "Sun City" with 50 other artists to protest South African Apartheid. Unlike some other benefit songs of the time (like the cringe-inducing "Do They Know It's Christmas"), "Sun City," with its accompanying video (above), took effective political action—a blanket boycott of the Sun City resort—and didn't sugar-coat the issues one bit ("relocation to phony homelands/separation of families, I can't understand"). The Sun City boycott gets its own module.
As Van Zandt told Fast Company in 2015, "I had been researching American foreign policy post-World War II just to educate myself, which I had never done, being obsessed with rock 'n' roll my whole life. I was quite shocked to find that we were not always the good guys." His discoveries compelled him to visit South Africa and to "dedicate my five-record solo career to that learning process, and also combine a bit of journalism with the rock art form." That same passion for justice informs all of the TeachRock lessons, which you can browse and download for free at the TeachRock site. The multi-media units incorporate video, audio, images, activities, informative handouts, and other resources.
Each lesson also explains how its objectives meet Common Core State Standards (or the state standards of New Jersey and Texas). "TeachRock is rooted in a teaching philosophy that believes students learn best when they truly connect with the material to which they're introduced," notes the site's "Welcome Teachers" page. "Obviously, popular music is one such point of connection." Perhaps not every kid who learns through music as Van Zandt did will go out and try to change the world, but they're more than likely to stay engaged and stay in school. And that's exactly what he hopes to accomplish.
"Teaching kids something they're not interested in," he told the teachers in New York, "it didn't work then, and it's even worse now. We have an epidemic dropout rate." Then, in his refreshingly honest way, he concluded, "Where are we going to be in twenty years? How are we going to get smarter looking at this Administration? You know, we're just getting stupider." Not if Little Steven has anything to say about it. He's currently on tour with his Disciples of Soul, and offering free tickets to teachers, provided they show up early for a TeachRock workshop. Sign up here!
For more, check out Steve's new memoir, Unrequited Infatuations.
Related Content:
Cheap Trick's Bassist Tom Petersson Help Kids With Autism Learn Language With Rock 'n' Roll: Discover "Rock Your Speech"
David Byrne & Neil deGrasse Tyson Explain the Importance of an Arts Education (and How It Strengthens Science & Civilization)
New Research Shows How Music Lessons During Childhood Benefit the Brain for a Lifetime
The Concept of Musical Harmony Explained in Five Levels of Difficulty, Starting with a Child & Ending with Herbie Hancock
Josh Jones is a writer and musician based in Durham, NC. Follow him at @jdmagness