Director Guillermo del Toro, as one Twitter wag put it recently, is the kind of film friend we'd all love to have–a great conversationalist, a good listener, a fan at heart, and an encyclopedic knowledge of the form. And while it's not rare to hear him praise Steven Spielberg, this recent Twitter post most people by surprise: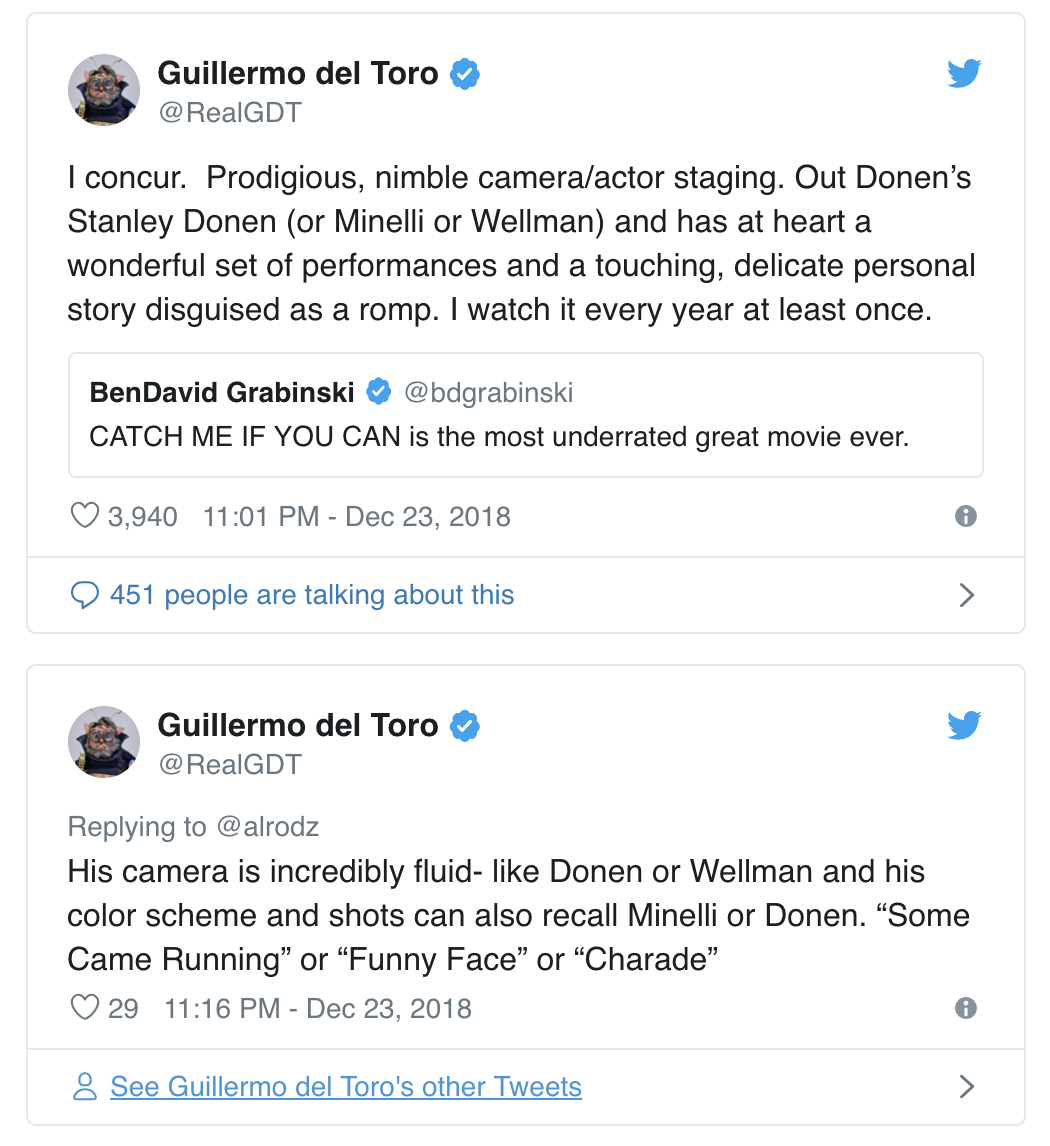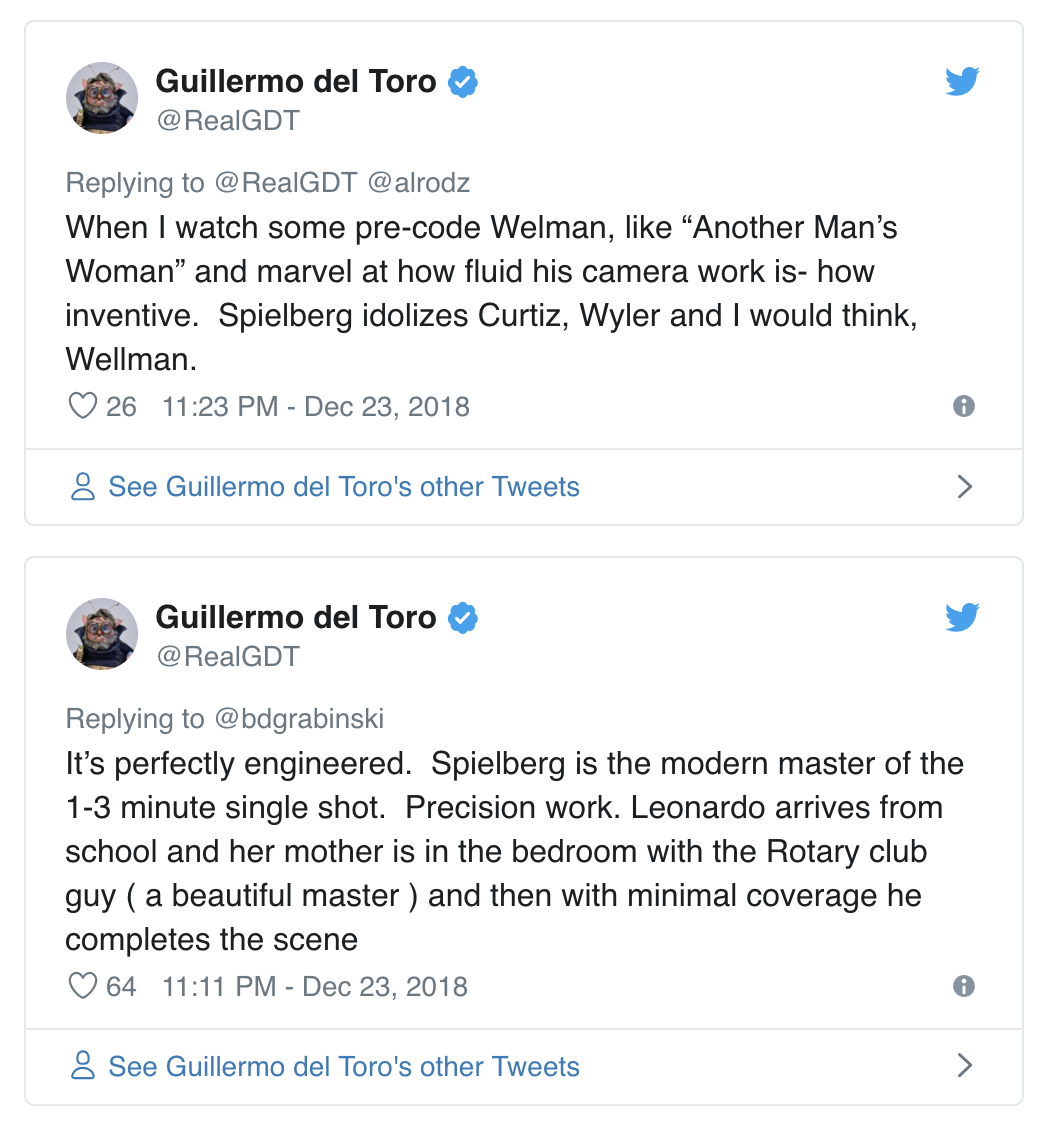 Catch Me If You Can is honestly a film I haven't thought about since I watched it in the theaters. That's not to say it was bad–it was an enjoyable romp with Leonardo DiCaprio and Tom Hanks playing cat and mouse with each side appreciating the other side's wiles, but apparently de Toro has watched it and thought about it often.
BenDavid Grabinski, the man who made the first volley in proclaiming Spielberg's film underrated, is known for writing the Jackie Chan-Johnny Knoxville vehicle Skiptrace and working on the more recent Blindspotting.
"Probably Walken's best performance after DEER HUNTER," he adds, along with "Leonardo DiCaprio is so good you don't judge Tom Hanks for falling for his shit." and "There is nothing more entertaining than hearing Tom Hanks angrily yell. Better than the most expensive FX money can buy."
(One of Grabinski's followers mentions Amy Adams' role, long before she hit it big. There's also a nod to the John Williams' score, which is light and jazzy unlike his blockbuster work.)
It's more interesting who del Toro readily calls to mind as influences: Stanley Donen (Charade), William Wellman (The Public Enemy), Vincent Minnelli, Michael Curtiz (Casablanca), and William Wyler (Roman Holiday). These men were all workaday directors within the studio system, all skilled craftsman, but not so idiosyncratic as to stand out.
Spielberg told the American Film Institute once:
"People like Victor Fleming and Michael Curtiz I identify with more [than the likes of Martin Scorsese and Orson Welles] because they didn't have styles…They were chameleons and they could quickly adapt; they could go from a story about heaven and the afterlife to the Civil War. They could do a lot of different subjects and they could do them well because they were good craftsmen… but they didn't impose who they were on what that was. And I always felt I was more in their game."
Some may disagree, as Spielberg, especially in his blockbusters, has a style that others have easily copied (J.J. Abrams, I'm looking at you.) But right from the get-go, Spielberg has always made room for other genres, from romance to historical epics to horror and sci-fi.
del Toro is not that kind of filmmaker, though his best films are when he gets personal and nostalgic, like The Devil's Backbone. The Shape of Water certainly had its Spielbergian moments, especially in its E.T.-style rescuing of the central creature.
Now that del Toro has weighed in, hopefully he might write a little bit more on the movie in the future. For us, we might need to watch the film again.
Related content:
Steven Spielberg on the Genius of Stanley Kubrick
Terry Gilliam on the Difference Between Kubrick & Spielberg: Kubrick Makes You Think, Spielberg Wraps Everything Up with Neat Little Bows
Watch Steven Spielberg's Debut: Two Films He Directed as a Teenager
Ted Mills is a freelance writer on the arts who currently hosts the artist interview-based FunkZone Podcast and is the producer of KCRW's Curious Coast. You can also follow him on Twitter at @tedmills, read his other arts writing at tedmills.com and/or watch his films here.