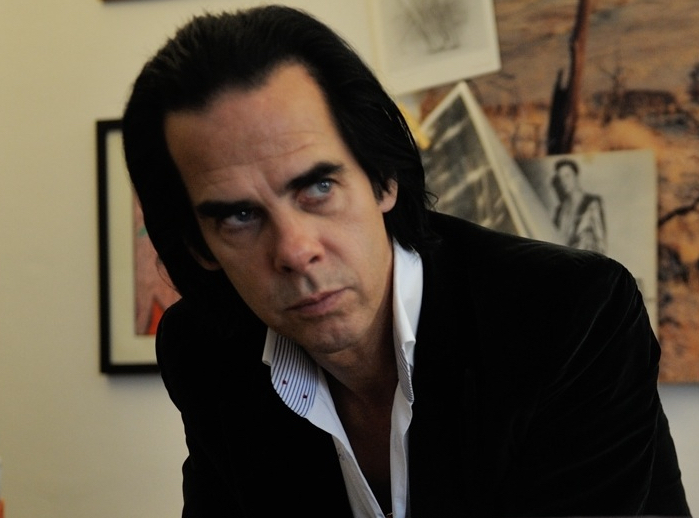 Photo by Bleddyn Butcher via Wikimedia Commons
Spike Jonze's AI love story Her offered a sort of an answer to one of the critical questions posed about Artificial Intelligence: Can machines feel love? Maybe, and maybe deeply, in a certain sense, but maybe not for just one person and not for very long before they take off to explore limitless others, which makes them sound like very seductive but also very shallow lovers.
Maybe it helps to keep that metaphor in mind when we read Nick Cave's answer to a question a Slovenian fan posed in the Birthday Party/Bad Seeds/Grinderman singer's brutally tender newsletter, The Red Right Hand. "Do you think," asks Peter from Ljubljana, "AI will ever be able to write a good song?" Cave begins with a concession: AI might "produce a song that makes us feel," and maybe "more intensely than any human songwriter could do."
And yet, after listing a number of human examples, from Nirvana to Prince to Iggy Pop to Nina Simone, Cave describes what makes their abilities alien to a machine mind:
We go to songs to make us feel something – happy, sad, sexy, homesick, excited or whatever – but this is not all a song does. What a great song makes us feel is a sense of awe. There is a reason for this. A sense of awe is almost exclusively predicated on our limitations as human beings. It is entirely to do with our audacity as humans to reach beyond our potential.
AI cannot die, at least in the sense we understand it. Nor is it constrained by painful physical limitations, nor privy to fleeting physical pleasures. "Artificial Intelligence, for all its unlimited potential, simply doesn't have this capacity. How could it? And this is the essence of transcendence." The holy or harrowing knowledge of finitude and fragility, love and death and grief.
Another way to state the case comes from the most moving of Cave's fan letter answers, in which he consoles a bereaved fan in Vermont with a description of his own grief over the death of his son.
Maybe AI could write the sentence, "dread grief trails bright phantoms in its wake." But it could not write it from the heart of a bereaved parent who learns that "grief and love are forever intertwined," or from a place where supernatural beliefs may be untrue yet still have supernatural power. Cave's description of his grief is also a description of transcendence, of going beyond what is possible to find what is timeless.
Like ideas, these spirits speak of possibility. Follow your ideas, because on the other side of the idea is change and growth and redemption. Create your spirits. Call to them. Will them alive. Speak to them. It is their impossible and ghostly hands that draw us back to the world from which we were jettisoned; better now and unimaginably changed.
In answer to Peter's question, he concludes with the poetic authority of a writer of great songs: "AI would have the capacity to write a good song, but not a great one. It lacks the nerve."
Read Nick Cave's full response here. And while there, sign up for his free newsletter.
via Austin Kleon
Related Content:
Listen to Nick Cave's Lecture on the Art of Writing Sublime Love Songs (1999)
Animated Stories Written by Tom Waits, Nick Cave & Other Artists, Read by Danny Devito, Zach Galifianakis & More
Nick Cave Narrates an Animated Film about the Cat Piano, the Twisted 18th Century Musical Instrument Designed to Treat Mental Illness
Josh Jones is a writer and musician based in Durham, NC. Follow him at @jdmagness