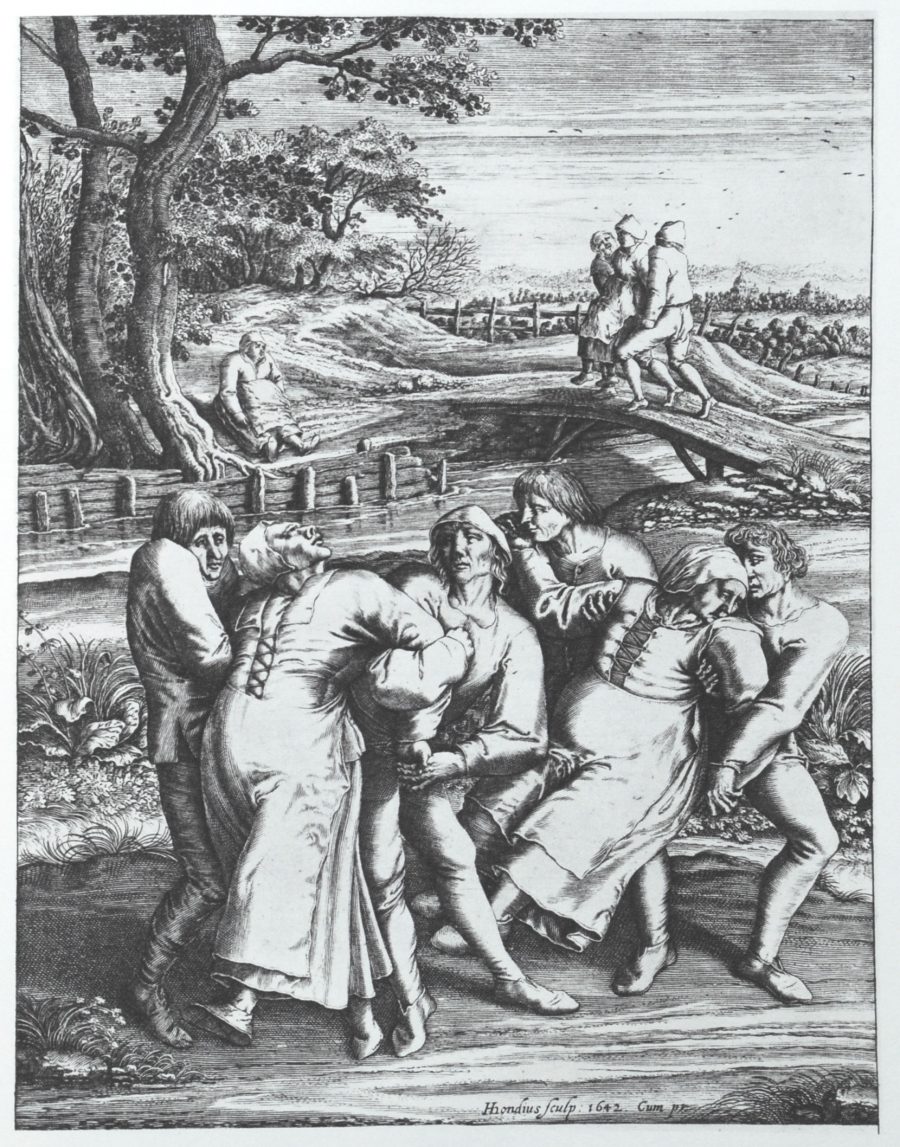 If you find yourself thinking you aren't a victim of fashion, maybe take another look. Yes, we can consciously train ourselves to resist trends through force of habit. We can declare our preferences and stand on principle. But we aren't consciously aware of what's happening in the hidden turnings of our brains. Maybe what we call the unconscious has more control over us than we would like to think.
Inexplicable episodes of mass obsession and compulsion serve as disquieting examples. Mass panics and delusions tend to occur, argues author John Waller, "in people who are under extreme psychological distress, and who believe in the possibility of spirit possession. All of these conditions were satisfied in Strasbourg in 1518," the year the Dancing Plague came to the town in Alsace—an involuntary communal dance festival with deadly outcomes.
The event began with one person, as you'll learn in the almost jaunty animated BBC video below, a woman known as Frau Troffea. One day she began dancing in the street. People came out of their houses and gawked, laughed, and clapped. Then she didn't stop. She "continued to dance, without resting, morning, afternoon, and night for six whole days." Then her neighbors joined in. Within a month, 400 people were "dancing relentlessly without music or song."
We might expect that town leaders in this late-Medieval period would have declared it a mass possession event and commenced with exorcisms or witch burnings. Instead, it was said to be a natural phenomenon. Drawing on humoral theory, "local physicians blamed it on 'hot blood,'" History.com's Evan Andrews writes. They "suggested the afflicted simply gyrate the fever away. A stage was constructed and professional dancers were brought in. The town even hired a band to provide backing music."
Soon, however, bloody and exhausted, people began dying from strokes and heart attacks. The dancing went on for months. It was not a fad. No one was enjoying themselves. On the contrary, Waller writes, "contemporaries were certain that the afflicted did not want to dance and the dancers themselves, when they could, expressed their misery and need for help." This contradicts suggestions they were willing members of a cult, and paints an even darker picture of the event.
Certain psychonauts might see in the 1518 Dancing Plague a shared unconscious, working something out while dragging the poor Strasbourgians along behind it. Other, more or less plausible explanations have included ergotism, or poisoning "from a psychotropic mould that grows on stalks of rye." However, Waller points out, ergot "typically cuts off blood supply to the extremities making coordinated movement very difficult."
He suggests the dancing mania came about through the meeting of two prior conditions: "The city's poor were suffering from severe famine and disease," and many people in the region believed they could obtain good health by dancing before a statue of Saint Vitus. They also believed, he writes, that "St. Vitus… had the power to take over their minds and inflict a terrible, compulsive dance. Once these highly vulnerable people began to anticipate the St. Vitus curse they increased the likelihood that they'd enter the trance state."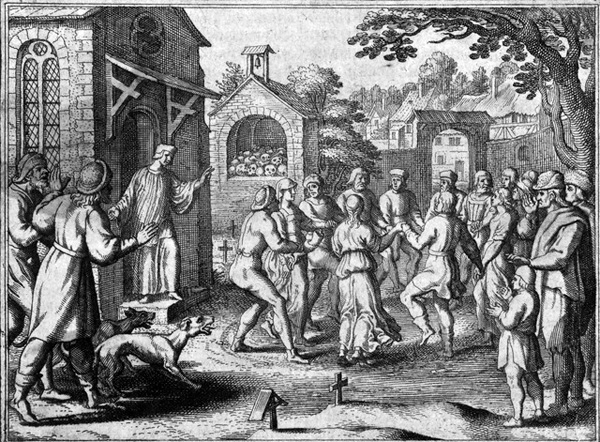 The mystery cannot be definitively solved, but it does seem that what Waller calls "fervent supernaturalism" played a key role, as it has in many mass hysterias, including "ten such contagions which had broken out along the Rhine and Moselle rivers since 1374," as the Public Domain Review notes. Further up, see a 1642 engraving based on a 1564 drawing by Peter Breughel of another dancing epidemic which occurred that year in Molenbeek. The 17th century German engraving above of a dancing epidemic in a churchyard features a man holding a severed arm.
We see mass panics and delusions around the world, for reasons that are rarely clear to scholars, psychiatrists, historians, anthropologists, and physicians during or after the fact. What is medically known as Saint Vitus dance, or Sydenham's Chorea, has recognized physical causes like rheumatic fever and occurs in a specific subset of the population. The historical Saint Vitus Dance, or Dancing Plague, however, affected people indiscriminately and seems to have been a phenomenon of mass suggestion, like many other social-psychological events around the world.
Episodes of epidemic manias related to outmoded supernatural beliefs can seem especially bizarre, but the mass psychology of 21st century western culture includes many episodes of social contagion and compulsion no less strange, and perhaps no less widespread or deadly, especially during times of extreme stress.
Related Content:
Oliver Sacks Explains the Biology of Hallucinations: "We See with the Eyes, But with the Brain as Well"
Behold the Mysterious Voynich Manuscript: The 15th-Century Text That Linguists & Code-Breakers Can't Understand
A Free Yale Course on Medieval History: 700 Years in 22 Lectures
Josh Jones is a writer and musician based in Durham, NC. Follow him at @jdmagness