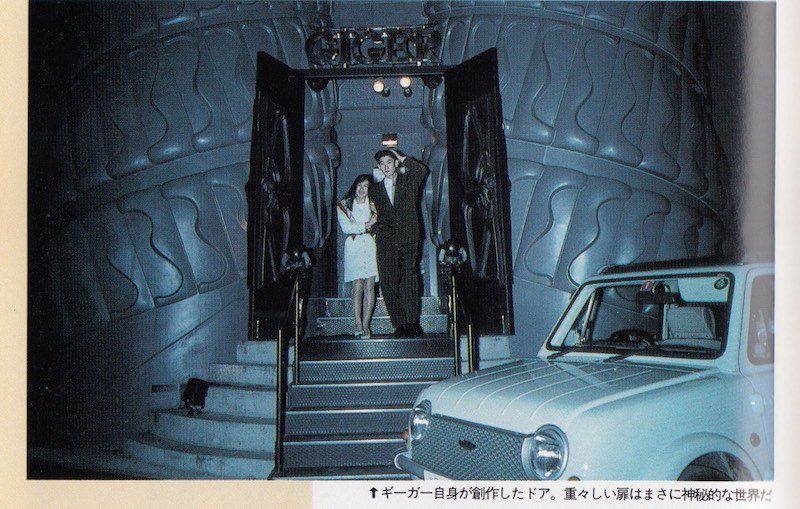 In 1980s Tokyo, everything was possible — or at least everything was tried out. Having developed feverishly since the end of the Second World War, Japan had by that point inflated an asset bubble so enormous that, so the story goes, the land on which the Imperial Palace stands was worth more than all of California. Many Japanese felt rich, and upwardly mobile young Tokyoites felt much more so; in the capital sprung up countless establishments aiming to cash in on their willingness and ability to spend their new money on experiences, especially experiences slick, expensive, and exotic.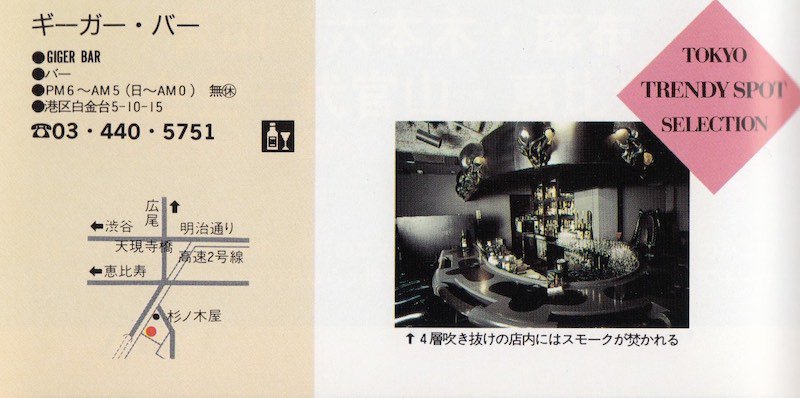 And for the highest-rolling young Tokyoites of the 1980s, consumers for whom pieces of America and Europe wouldn't be exotic enough, there was the Giger Bar. Writer on Japanese culture W. David Marx recently tweeted out a few magazine clippings to do with one of what he calls the "hot yuppie date spots in Tokyo, 1989: GIGER BAR Bring your date to the Tokyo bar designed by Swiss artist H. R. Giger of Alien fame, where 'the atmosphere differs from the usual.' 'alien eggs' on the menu at ¥1200, and something called 'sexual communion' for ¥1500."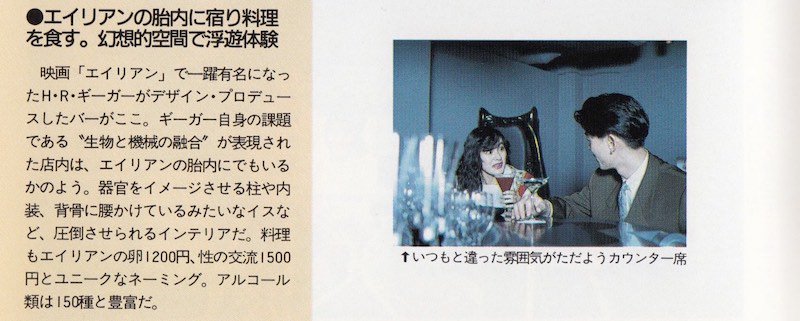 "The Giger Bar in Tokyo was actually created against my will," Giger himself wrote in 1997. "While I was in Tokyo, I was asked to make a wish, on stage, during a press conference. Spontaneously, I wished for a bar, which was then brought into being even more spontaneously!"
For that bar, Giger designed "tables-for-two in open elevator cars in the manner of gliding elevators that would travel up and down the four-story establishment, perpetually in motion." But he hadn't taken into consideration the rigidity of Japanese fire marshals, and already "driven to the brink of madness" by the country's complex earthquake-related building codes, Giger ultimately stepped back from his design role.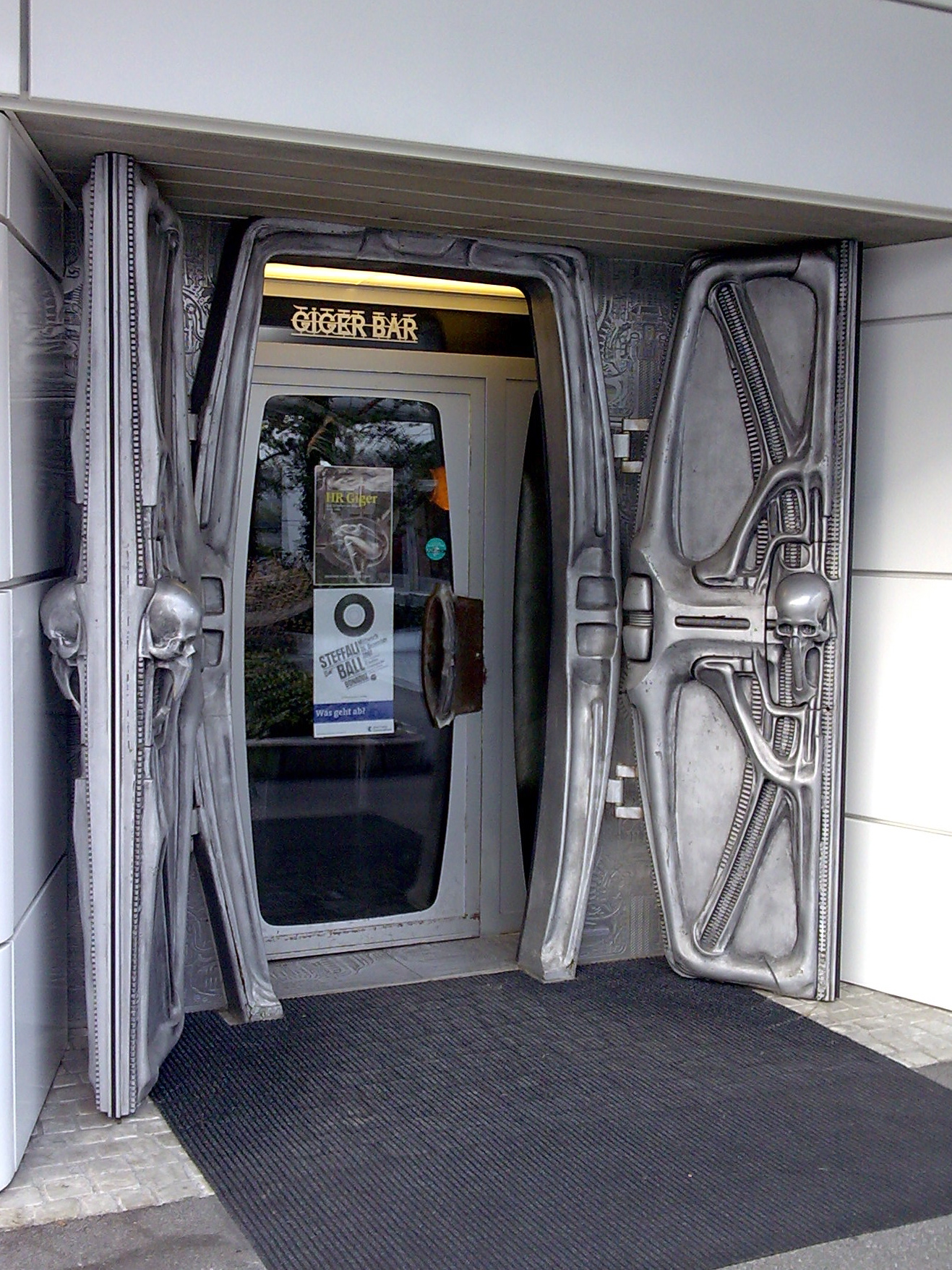 Giger also hadn't foreseen the fact that his namesake Japanese bar "was tailor-made for the underworld." Five years after the bar opened, a friend visited and told Giger that "it had fallen into the hands of the Yakuza. He went on to report that he was alone in the bar until 11 o'clock, when it began to fill with the type of unsavory characters who might have installed a roulette table in the atrium." By the time Giger wrote this reflection, the Tokyo Giger Bar had closed its doors entirely: "Insiders know that a bar in Tokyo rarely survives more than five years!"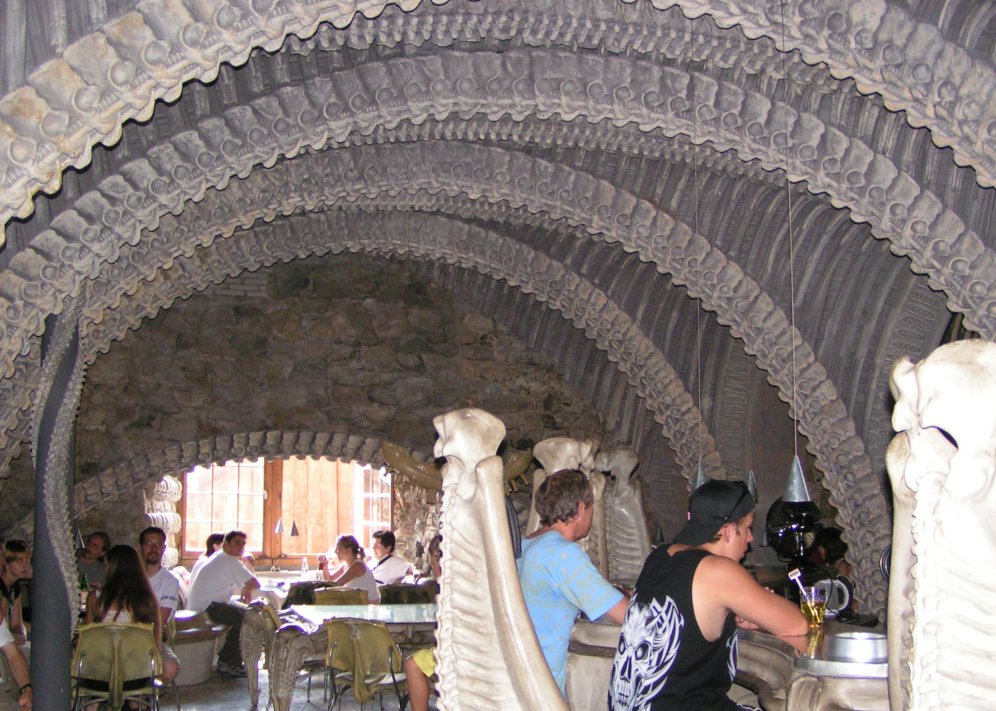 But two other Giger Bars live on, not in Japan but in Giger's native Switzerland, one in his hometown of Chur (originally planned for New York City, a location that proved too expensive for the elaborate design) and the other in Gruyères (adjacent to the H.R. Giger Museum). Those Swiss branches, a couple pictures of which appear above, carry on the Giger Bar's aesthetic in a manner seemingly more faithful to the artist's grotesque biomechanical visions than did the Tokyo branch. Whether this could ever prove a sustainable nightlife concept elsewhere in the world remains to be seen, but as Giger's hardcore fans — the kind who wouldn't hesitate to make the Giger Bar pilgrimage to Switzerland — might well ask, who wouldn't want to have a drink in the womb of the alien queen?
Related Content:
H.R. Giger's Tarot Cards: The Swiss Artist, Famous for His Design Work on Alien, Takes a Journey into the Occult
A Photographic Tour of Haruki Murakami's Tokyo, Where Dream, Memory, and Reality Meet
High School Kids Stage Alien: The Play and You Can Now Watch It Online
Based in Seoul, Colin Marshall writes and broadcasts on cities, language, and culture. His projects include the book The Stateless City: a Walk through 21st-Century Los Angeles and the video series The City in Cinema. Follow him on Twitter at @colinmarshall, on Facebook, or on Instagram.