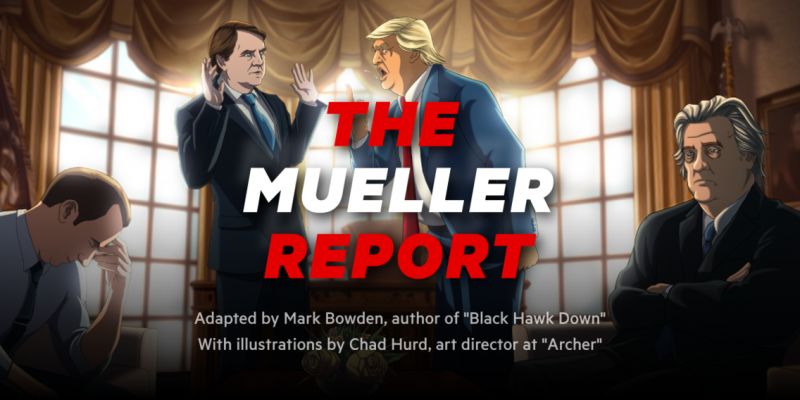 The 448 page Mueller Report doesn't make for breezy beach reading. That's for sure. But, "buried within the Mueller report, there is a narrative that reads in parts like a thriller." Working with that theory, Insider.com "hired Mark Bowden, a journalist and author known for his brilliant works of narrative nonfiction like Black Hawk Down, Killing Pablo, and Hue 1968." And they gave him an assignment: "Use the interviews and facts laid out in the Mueller Report (plus those from reliable, fact-checked sources and published firsthand accounts)" and create an account that's "so gripping it will hold your attention (and maybe your congressional representative's)." They also hired "Chad Hurd, an illustrator from the art department of Archer," and "asked him to draw out scenes from the report to bring them to life." Find the resulting illustrated edition of The Mueller Report right here.
If you would like to get Open Culture post's via email, please sign up for our free email newsletter here.
And if you would like to support the mission of Open Culture, consider making a donation to our site. It's hard to rely 100% on ads, and your contributions will help us continue providing the best cultural and educational materials to learners everywhere. You can contribute through PayPal, Patreon, Venmo (@openculture) and Crypto. Thanks for your support!
Related Content:
The Mueller Report Released as a Free Well-Formatted eBook (by The Digital Public Library of America)
Watch a Star-Studded Cast Read The Mueller Report: John Lithgow, Kevin Kline, Sigourney Weaver, Annette Bening & More