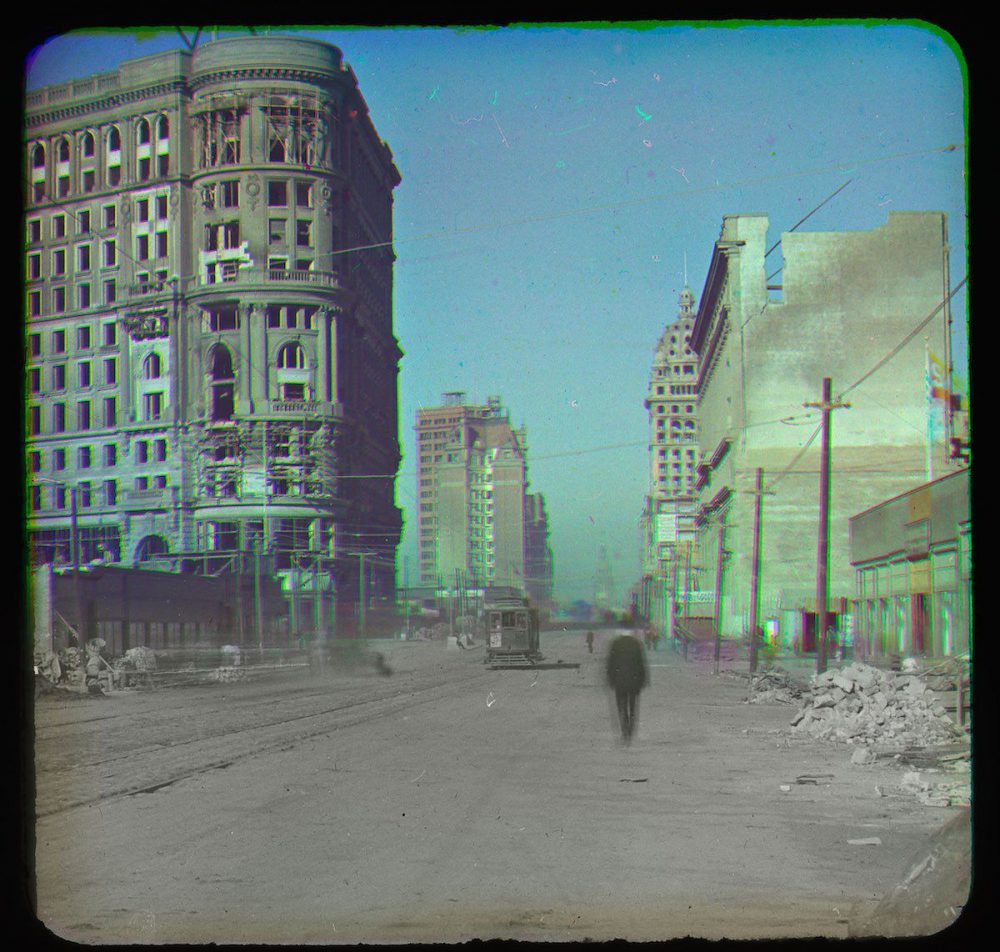 If a city has been around long enough, it will more than likely have suffered some sort of catastrophically destructive event: the Great Fire of London in 1666, the Great Chicago Fire of 1871, the Great Kantō earthquake that devastated Tokyo in 1923. Most of their names, come to think of it, include the word "great," though not every source refers to San Francisco's 1906 earthquake that way. Not, of course, to minimize its destructiveness: with a force that would measure 7.8 on the Richter scale, the earthquake ultimately destroyed 80 percent of the city — about 25,000 buildings, with lost property equivalent to $11.2 billion in today's dollars — and killed 3,000 people.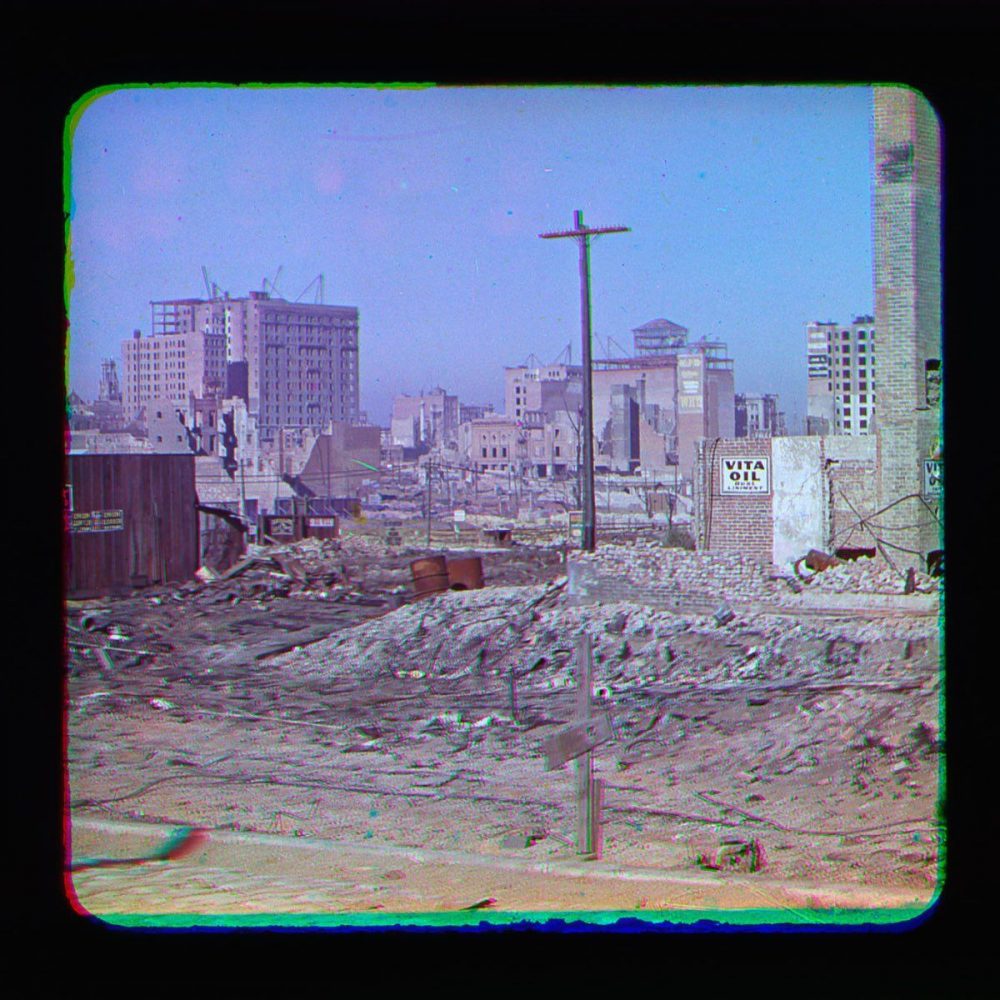 Six months after the disaster, an inventor named Frederick Eugene Ives arrived to document the still-fresh aftermath of the disaster. He had in hand something called a brr, a 3D color camera he designed himself. Its "system of mirrors and filters behind each lens split and filtered the light to create one pair of slides for each primary color of light (red, green, blue).
The slides were bound together in a special order with cloth tapes into a package known as a Krőmgram," viewable only with a Krőmscőp, "the apparatus used to rebuild the image allowing the viewer to see in three-dimensional color."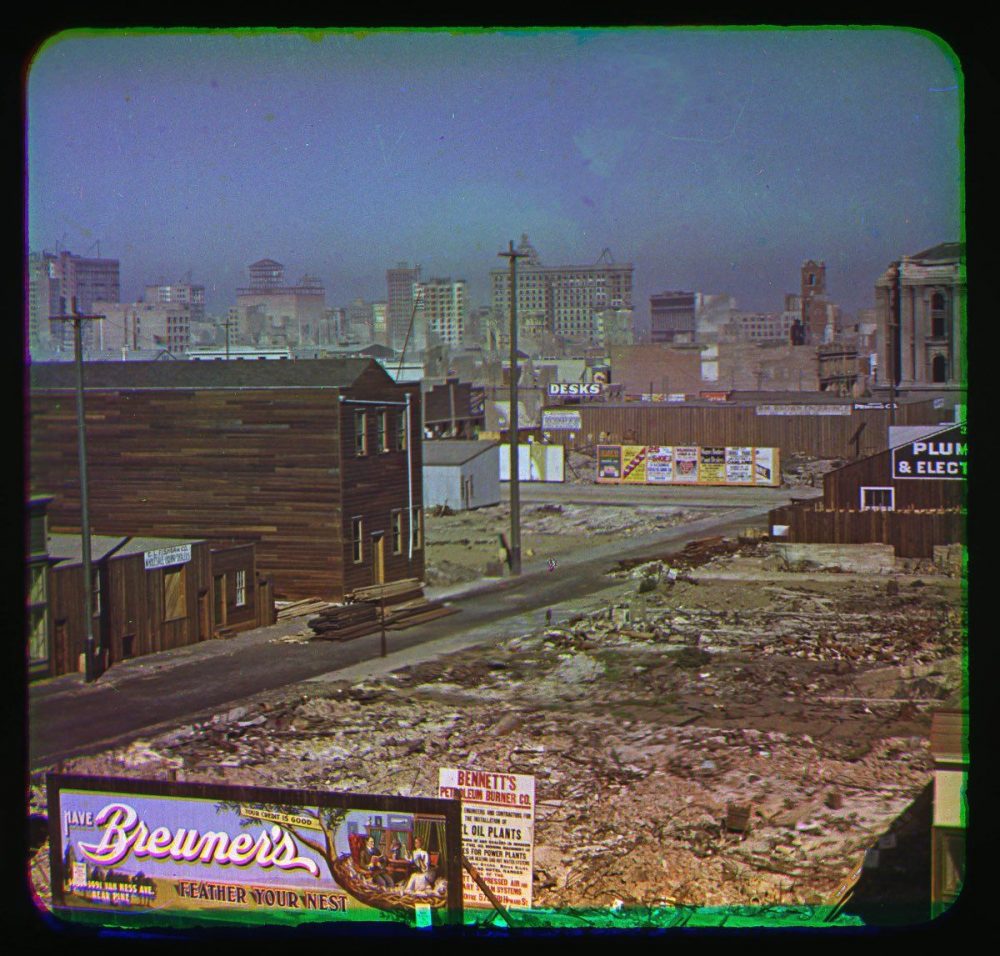 Anthony Brooks discovered Ives' Krőmgrams of San Francisco in ruins only in 2009, reports the Telegraph. Most of its pictures were taken from a hotel rooftop, and "although hand-colored photographs of the quake's destruction have surfaced before, Ives' work is probably the only true color documentary evidence." Such images would have astonished any contemporary viewer, not just for the devastation they showed but the lifelike color and depth with which they rendered it. And yet the Photochromoscope system never caught on, Brooks writes: "The Krőmscőp viewers were expensive ($50 in 1907 or about $1000 today adjusting for inflation), required strong sunlight or arc light for viewing, and were technically complex to use, despite Ives' assertions to the contrary."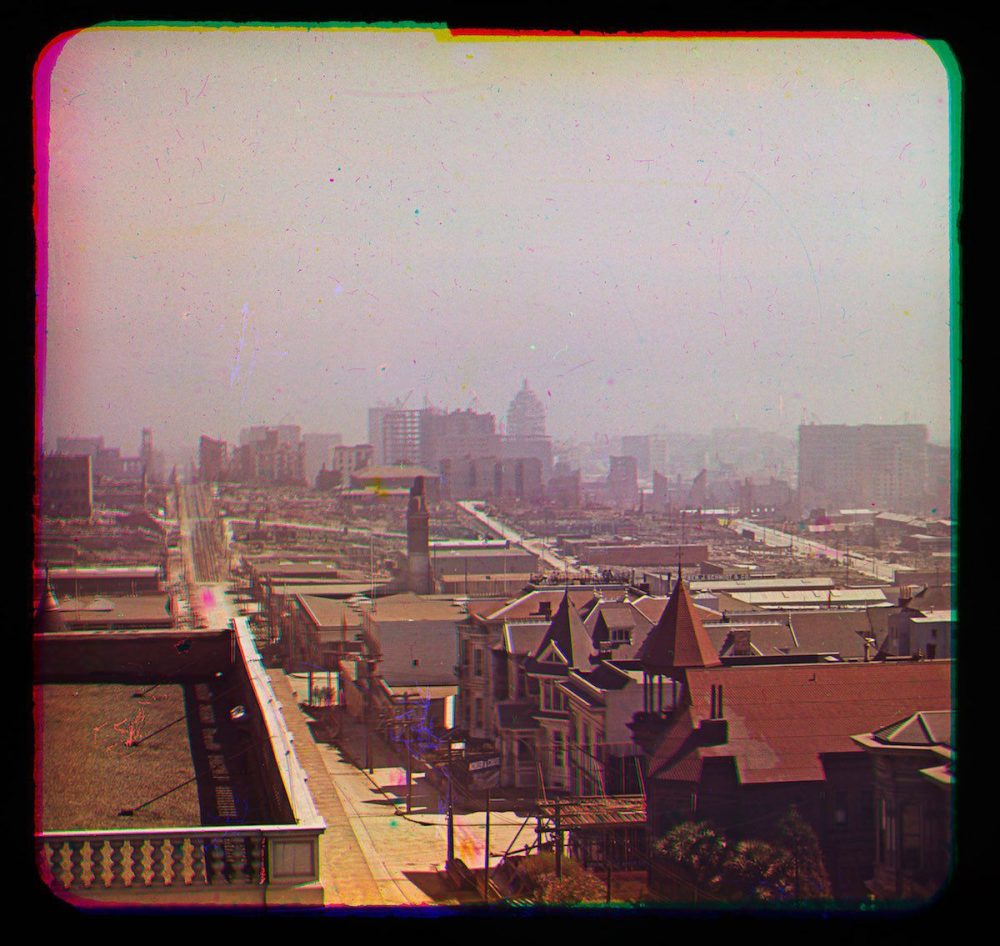 But even though few probably saw these pictures in the early 20th century, Ives was hardly forgotten in the realm of photography. The recipient of several major scientific and engineering awards in his lifetime, he left behind such more widely adopted inventions as one of the several varieties of "halftone process" that allowed photographs to be reproduced in newspapers — just as newspapers around the country did after the earthquake struck, combining them with headlines like "WATER FRONT BURNS ALMOST TO THE FERRY," "3,000 PEOPLE ARE HOMELESS," and "SAN FRANCISCO ANNIHILATED." But H.G. Wells, who was on a visit to the United States at the time, sensed more of a sanguinity in the Americans around him: "There is no doubt anywhere that San Francisco can be rebuilt, larger, better, and soon."
Related Content:
Dramatic Footage of San Francisco Right Before & After the Massively Devastating Earthquake of 1906
Rome Comes to Life in Photochrom Color Photos Taken in 1890: The Colosseum, Trevi Fountain & More
Take a Visual Journey Through 181 Years of Street Photography (1838-2019)
Beautiful, Color Photographs of Paris Taken 100 Years Ago—at the Beginning of World War I & the End of La Belle Époque
Behold the Very First Color Photograph (1861): Taken by Scottish Physicist (and Poet!) James Clerk Maxwell
Voltaire & the Lisbon Earthquake of 1755
Based in Seoul, Colin Marshall writes and broadcasts on cities, language, and culture. His projects include the book The Stateless City: a Walk through 21st-Century Los Angeles and the video series The City in Cinema. Follow him on Twitter at @colinmarshall, on Facebook, or on Instagram.