When you picture the giant formations of gasses and space dust that make up a nebula, maybe you see the deliciously garish CGI of Guardians of the Galaxy. The look of the Marvel universe is, of course, inspired by eye-popping images of nebulae taken by the Hubble telescope, images that have appeared routinely for the past three decades in the pages of National Geographic, Discover, and your favorite screen savers.
Whether you're into sci-fi superhero flicks or not, you've surely stared in awe and disbelief at these photographs: ghostly, glowing, resembling the illustrations of outer space by certain pulp sci-fi illustrators twenty years before the Hubble was launched into orbit in 1990. If these images seem too painterly to be real, it's because they are, as the Vox video above explains, to a great degree, products of photographic art and imagination.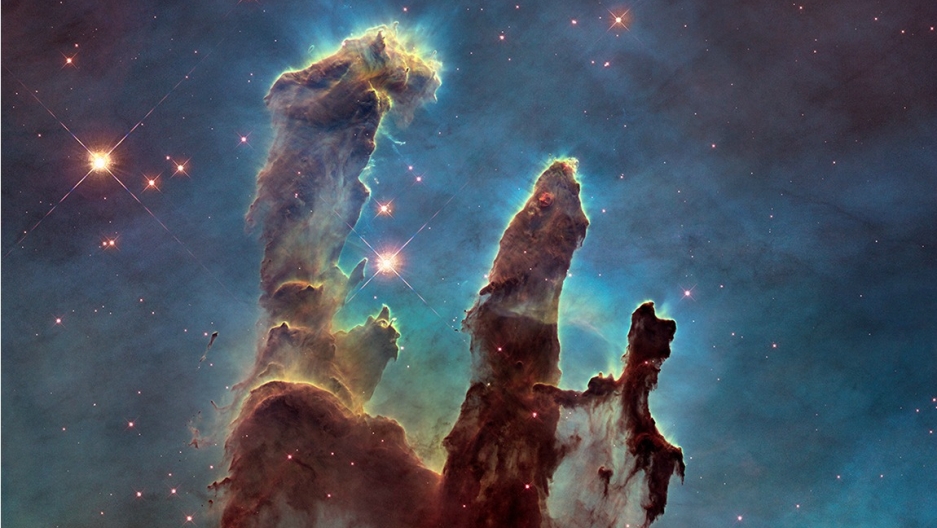 The Hubble telescope only takes images in black and white. The images are then colorized by scientists. Their work is not pure fantasy. A process called "broadband filtering" allows them to reasonably estimate a range of colors in the black and white photo. Some imaginative license must be taken "to show us portions of the image that would never have been visible to our eyes in the first place," notes PetaPixel. "For example: turning certain gasses into visible color in a photograph."
In an impressive few minutes, the Vox explainer digs deep into the science of optics to explain how and why we see color as combinations of three wavelengths. The science has been "the guiding principle in coloring black and white images" since the turn of the 20th century. We learn above how broadband filtering—the photographic technique bringing us full-color galactic fever dreams—originated in the earliest experiments in color photography.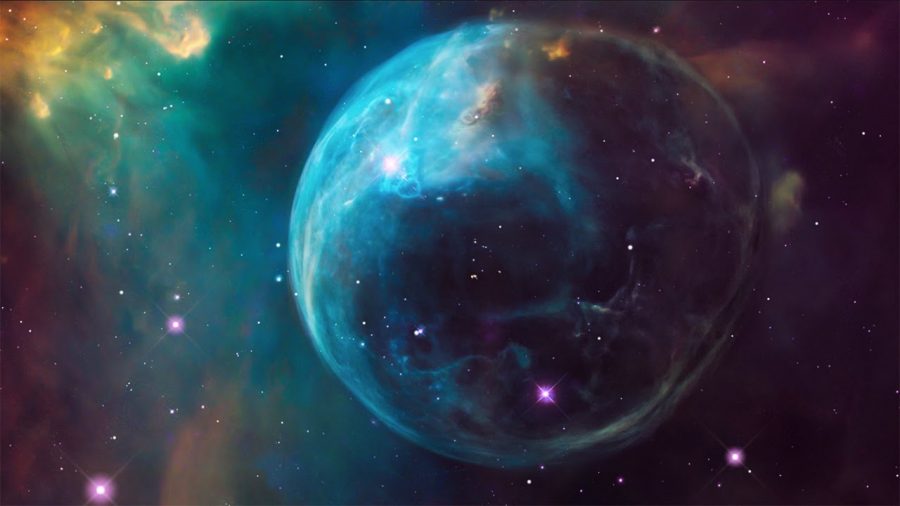 In fact, the very first color photograph ever taken, by physicist James Clerk Maxwell in 1861, used a very early version of the technique Hubble scientists now use to colorize images of space, combining three black and white photos of the same object, taken through three different-colored filters. Given the advances in imaging technology over the past 100+ years, why doesn't the powerful space telescope just take color pictures?
It would compromise the Hubble's primary purpose, to measure the intensity of light reflecting off objects in space, a measurement best taken in black and white. But the scientific instrument can still be used as cosmic paintbrush, creating jaw-dropping images that themselves serve a scientific purpose. If you were disappointed to learn that the photography fueling our our space imagination has been doctored, watch this video and see if a sense of wonder isn't restored.
Related Content:
The Beauty of Space Photography
NASA Releases a Massive Online Archive: 140,000 Photos, Videos & Audio Files Free to Search and Download
NASA Digitizes 20,000 Hours of Audio from the Historic Apollo 11 Mission: Stream Them Free Online
Josh Jones is a writer and musician based in Durham, NC. Follow him at @jdmagness