We all know what brains look like. Or in any case, we can pic­ture some­thing sym­met­ri­cal, a bit squishy, between pink and gray in col­or, and with a whole lot of folds. But until a team of researchers at the Lab­o­ra­to­ry for Neu­roImag­ing of Coma and Con­scious­ness did their recent ultra-high res­o­lu­tion MRI scan of a human brain, which took over 100 hours to com­plete in one of the world's most advanced MRI machines, nobody had ever seen that many-splen­dored organ in the kind of detail — detail at a 100-microm­e­ter lev­el of res­o­lu­tion, to be pre­cise — shown in the video above.
"Thanks to an anony­mous deceased patient whose brain was donat­ed to sci­ence," writes Sci­ence Alert's Peter Dock­rill, "the world now has an unprece­dent­ed view of the struc­tures that make thought itself pos­si­ble." After its extrac­tion and "a peri­od of preser­va­tion, the organ was trans­ferred to a cus­tom-built, air-tight brain hold­er made of rugged ure­thane, spe­cial­ly designed for the exper­i­men­t's long-dura­tion MRI scan. The hold­er was placed in a cus­tomized sev­en Tes­la (7T) MRI scan­ner: a pow­er­ful machine offer­ing high lev­els of mag­net­ic field strength, and only approved by the FDA for use in the US in 2017."
Such a machine could scan a brain still in use — that is, one inside the skull of a liv­ing, breath­ing human being — but only for a short peri­od of time. The great advan­tage of using an ex vivo brain rather than an in vivo is that it can stay inside, com­plete­ly unmov­ing, for as long as it takes to acquire the high­est-qual­i­ty scan yet seen. The team could thus record "8 ter­abytes of raw data from four sep­a­rate scan angles," data they have released to the aca­d­e­m­ic com­mu­ni­ty in a com­pressed ver­sion, which you can view and down­load here.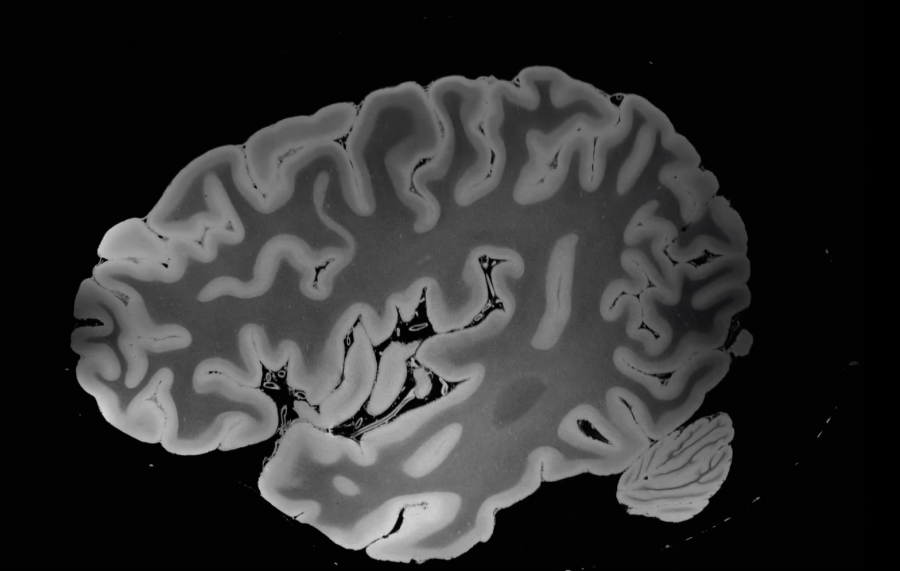 "We envi­sion that this dataset will have a broad range of inves­ti­ga­tion­al, edu­ca­tion­al, and clin­i­cal appli­ca­tions that will advance under­stand­ing of human brain anato­my in health and dis­ease," write the team, who are also prepar­ing their research for pub­li­ca­tion in a peer-reviewed jour­nal. But even non-sci­en­tists have expressed their won­der at the unprece­dent­ed­ly detailed visu­al jour­ney through the brain offered by not just the video here but the two oth­ers from two dif­fer­ent angles so far released as well. One hes­i­tates to use, but can't quite avoid, the term "mind-bog­gling."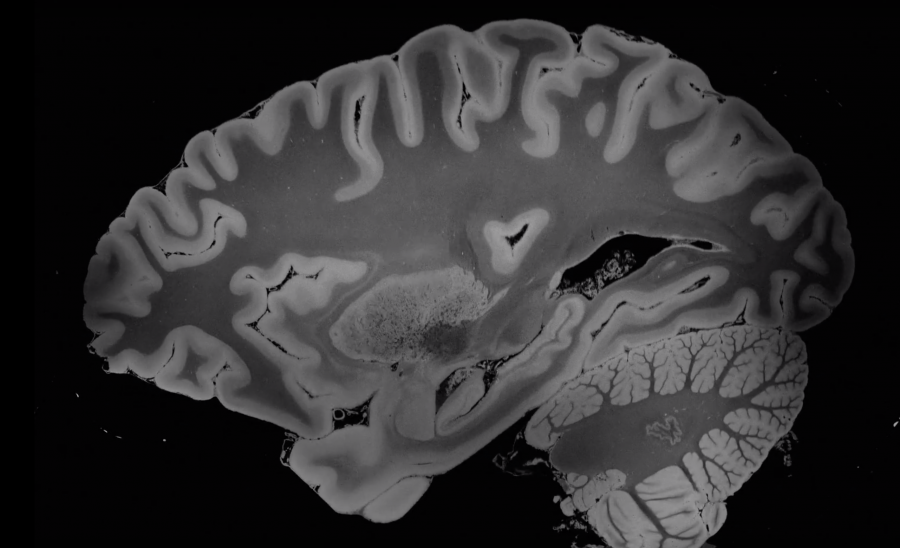 via Kot­tke
Relat­ed Con­tent:
Behold an Anatom­i­cal­ly Cor­rect Repli­ca of the Human Brain, Knit­ted by a Psy­chi­a­trist
The "Brain Dic­tio­nary": Beau­ti­ful 3D Map Shows How Dif­fer­ent Brain Areas Respond to Hear­ing Dif­fer­ent Words
The Sci­ence of Singing: New, High-Speed MRI Machine Images Man Singing 'If I Only Had a Brain'
New LSD Research Pro­vides the First Images of the Brain on Acid, and Hints at Its Poten­tial to Pro­mote Cre­ativ­i­ty
A Vin­tage Info­graph­ic of the Human Brain: The Won­ders With­in Your Head (1938)
Based in Seoul, Col­in Mar­shall writes and broad­casts on cities, lan­guage, and cul­ture. His projects include the book The State­less City: a Walk through 21st-Cen­tu­ry Los Ange­les and the video series The City in Cin­e­ma. Fol­low him on Twit­ter at @colinmarshall, on Face­book, or on Insta­gram.