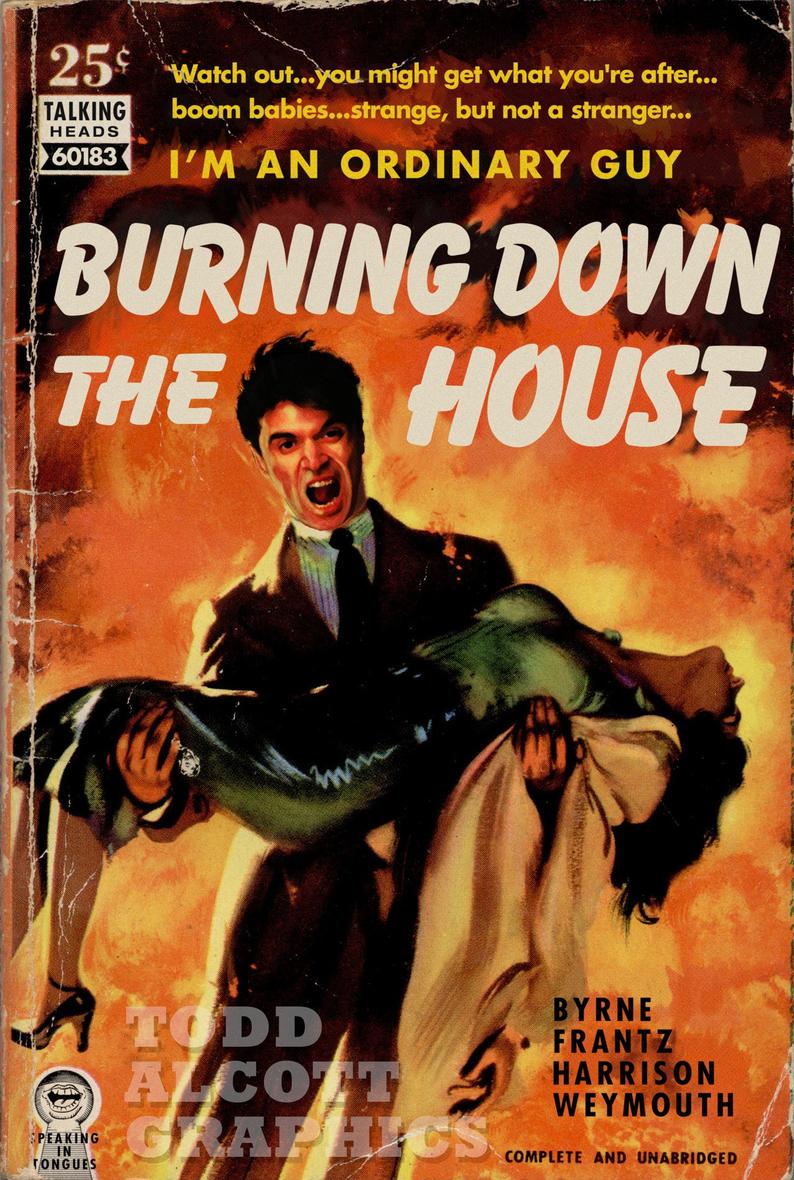 Do you like Talking Heads? Writer and visual artist Douglas Coupland once proposed that question as the truest test of whether you belong to the cohort named by his novel Generation X. Coupland's contemporary colleague in letters Jonathan Lethem summed up his own early Talking Heads mania thus: "At the peak, in 1980 or 1981, my identification was so complete that I might have wished to wear the album Fear of Music in place of my head so as to be more clearly seen by those around me." What makes the band that recorded "Psycho Killer," "This Must Be the Place," "Once In a Lifetime," and "Burning Down the House" so appealing to the bookish, and especially the both bookish and visual, born after the Baby Boom or otherwise?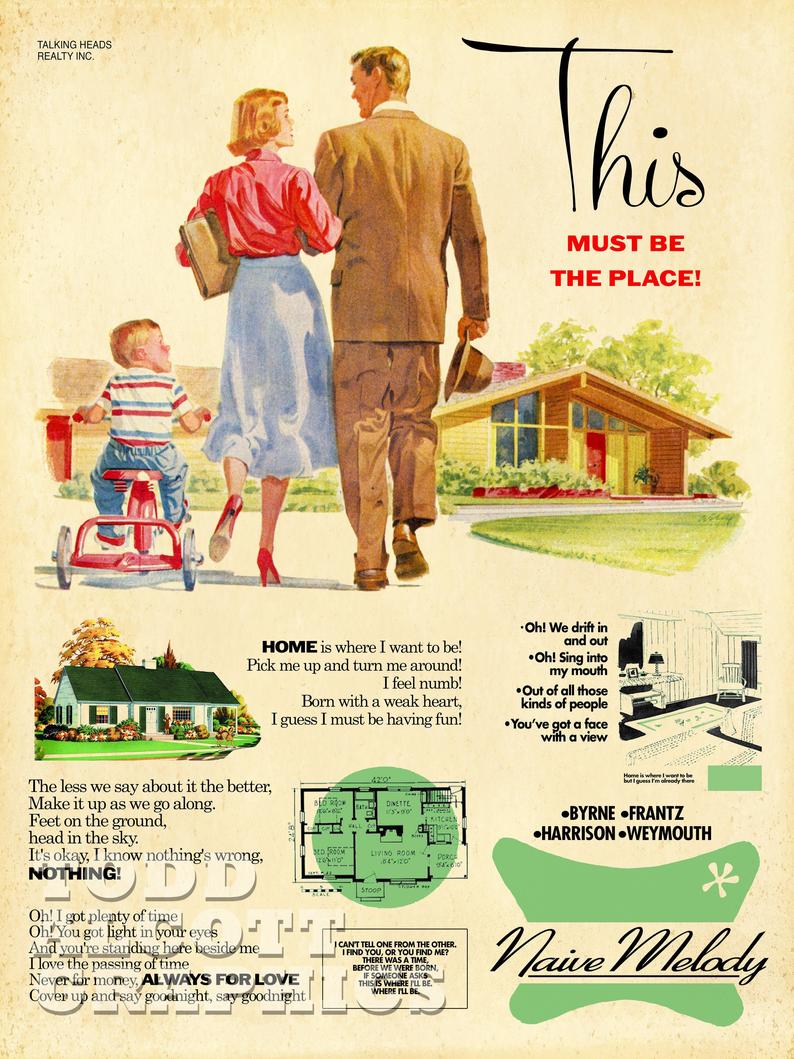 Whatever the essence at work, screenwriter and "graphic-arts prankster" Todd Alcott taps into it with his latest round of popular songs-turned-midcentury book covers, posters, magazine covers, and other pieces of non-musical graphic design. You may remember Alcott's previous adaptations of the Beatles, Bob Dylan, Joni Mitchell, David Bowie, and Radiohead appearing here on Open Culture.
The culturally literate and obliquely referential catalogue of Talking Heads, however, may have provided his most suitable material yet: "Burning Down the House" becomes a "a 1950s pulp novel," "Life During Wartime" a "1950s men's adventure magazine," "This Must Be the Place" an "advertisement for a 1950s suburban housing development," and "Take Me to the River" the "cover of a 1950s-era issue of Field & Stream, with the four members of the band enjoying a day on the lake."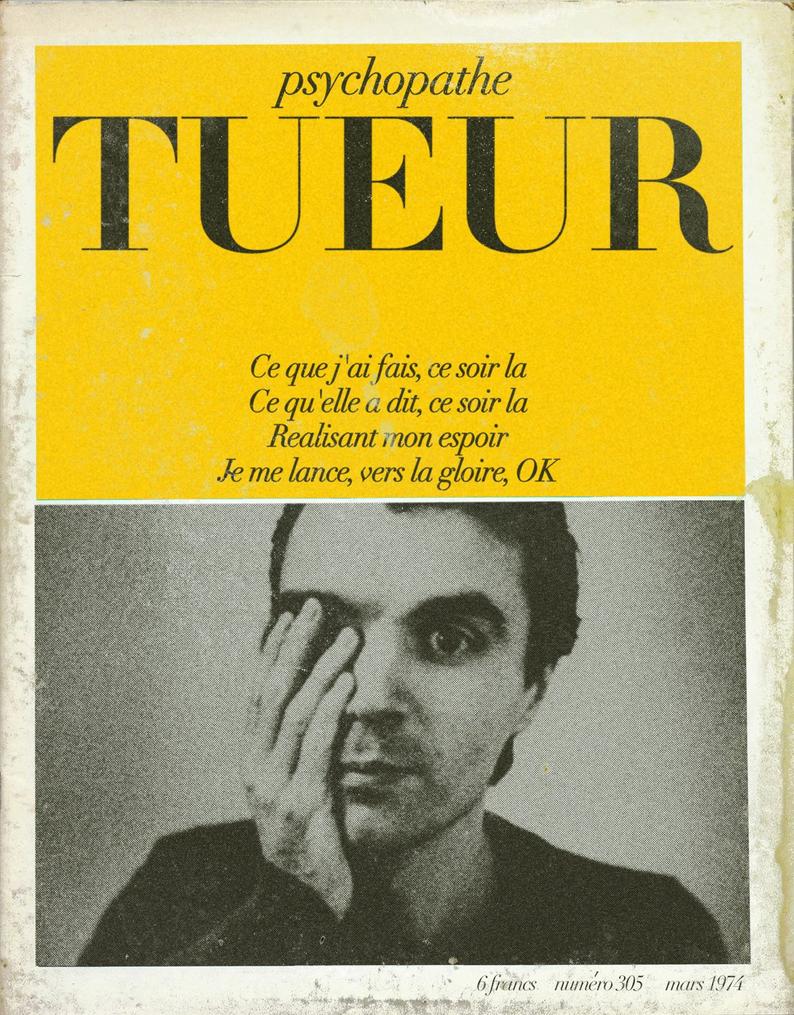 Amusing even at first glance, these cultural mash-ups also repay knowledge of the band's work and history. "Psycho Killer," with its French lyrics, becomes an issue of Cahiers du Cinéma featuring David Byrne on a cover dated March 1974, "the earliest date the song 'Psycho Killer' is known to have been performed by David Byrne's band The Artistics." "Once in a Lifetime," quite possibly the band's most impressive piece of songcraft, becomes an equally layered Alcott image: a "a magazine advertisement for the 1962 classic The Man in the Gray Flannel Suit, based on the best-seller by Sloan Wilson" — in other words, an ad designed for a magazine meant to sell a movie based on a book, and a book as tied up with the themes of alienation in postwar America as "Once in a Lifetime" itself.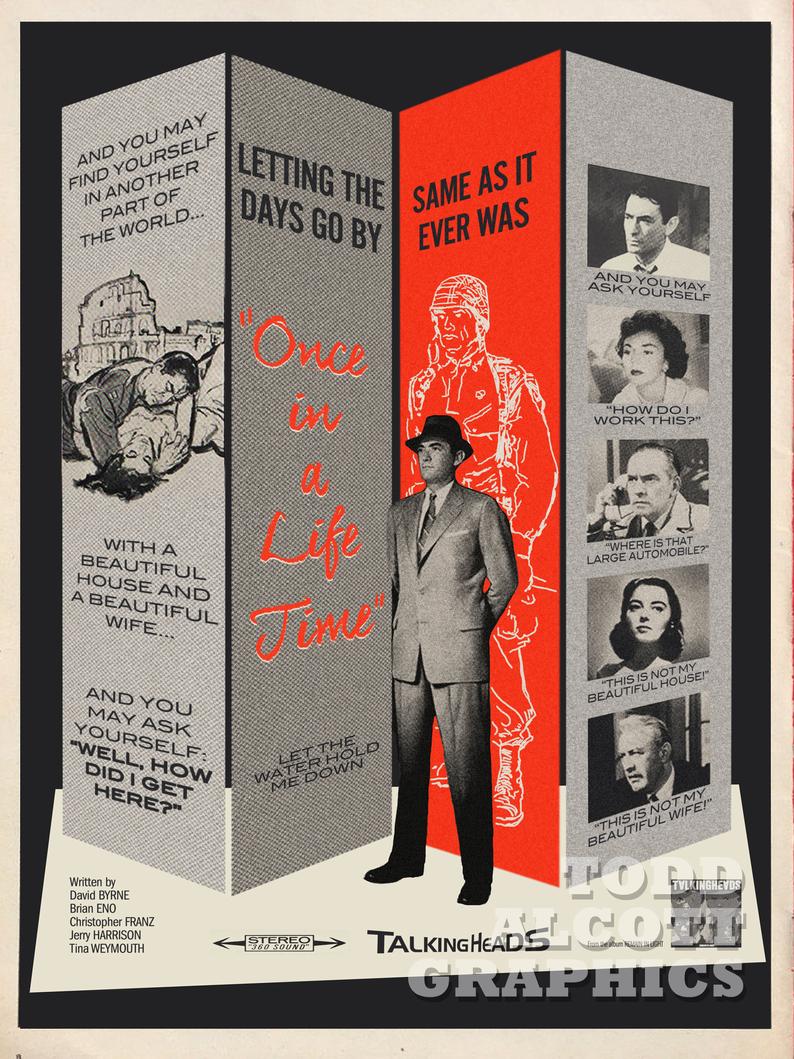 Talking Heads fans will recognize in Alcott's graphics the very same kind of genius for resounding literal-mindedness coupled with subtle, sometimes obscure wit that characterizes the work of Byrne and his collaborators. You can buy prints of these images at his Etsy shop, which also offers many other works of interest to those for whom music, books, magazines, media, and history constitute not separate subjects but one vast, densely interconnected cultural field. To those who see the world that way, Alcott's designing the cover for an album by Byrne or another of the ex-Heads — or indeed a Jonathan Lethem novel — is only a matter of time. Enter Todd Alcott's store here.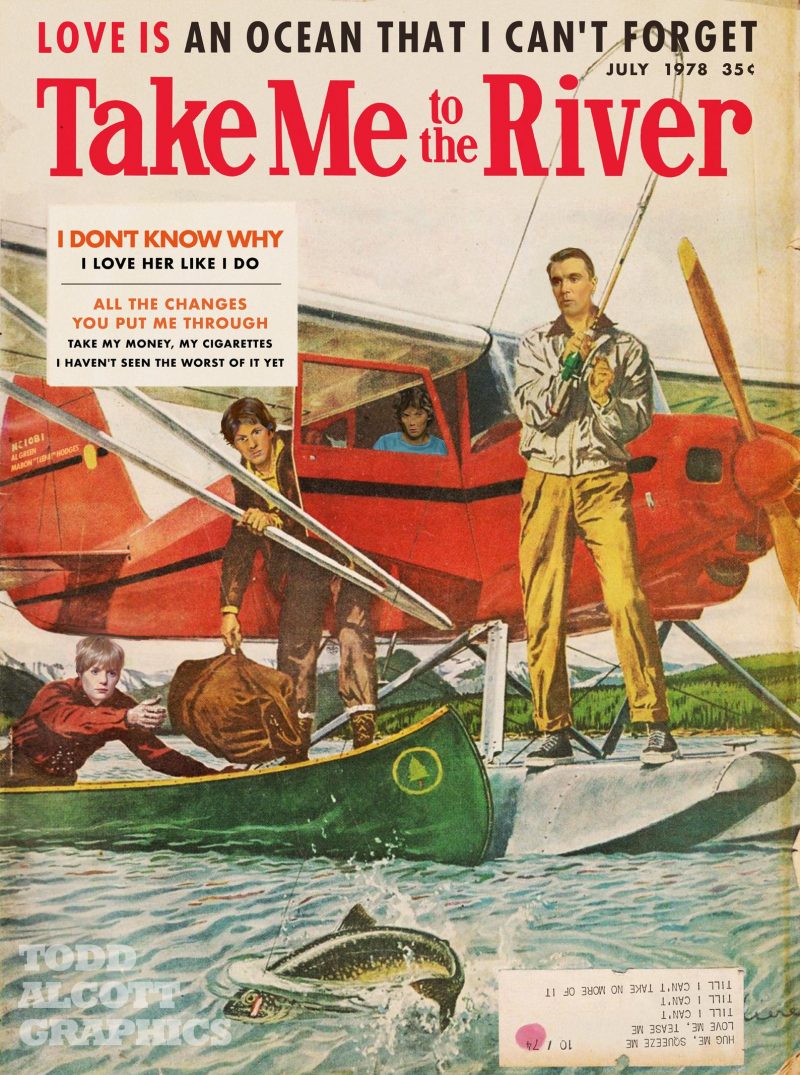 Related Content:
Beatles Songs Re-Imagined as Vintage Book Covers and Magazine Pages: "Drive My Car," "Lucy in the Sky with Diamonds" & More
David Bowie Songs Reimagined as Pulp Fiction Book Covers: Space Oddity, Heroes, Life on Mars & More
Classic Radiohead Songs Re-Imagined as a Sci-Fi Book, Pulp Fiction Magazine & Other Nostalgic Artifacts
Classic Songs by Bob Dylan Re-Imagined as Pulp Fiction Book Covers: "Like a Rolling Stone," "A Hard Rain's A-Gonna Fall" & More
Songs by Joni Mitchell Re-Imagined as Pulp Fiction Book Covers & Vintage Movie Posters
How Talking Heads and Brian Eno Wrote "Once in a Lifetime": Cutting Edge, Strange & Utterly Brilliant
Based in Seoul, Colin Marshall writes and broadcasts on cities, language, and culture. His projects include the book The Stateless City: a Walk through 21st-Century Los Angeles and the video series The City in Cinema. Follow him on Twitter at @colinmarshall or on Facebook.