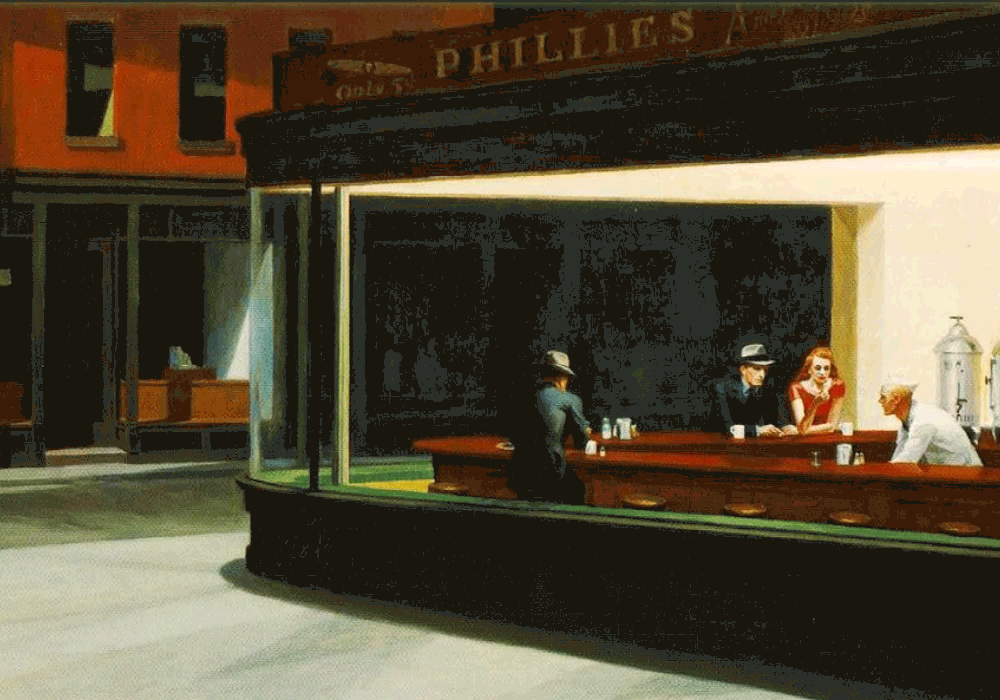 The image of America is an image bound up with the movies. That even goes for America as represented in media other than film, suggesting a certain cinematic character in American life itself. No painter understood that character more thoroughly than Edward Hopper, an avid filmgoer who worked for a time creating movie posters. He even "storyboarded" his most famous 1942 Nighthawks, whose late-night diner remains the visual definition of U.S. urban alienation. And though Hopper's America also encompasses the countryside, never would his views of it feel out of place in a work of film noir. His cinematic paintings have in turn influenced cinema itself, shaping the visual sensibilities of auteurs across countries and generations.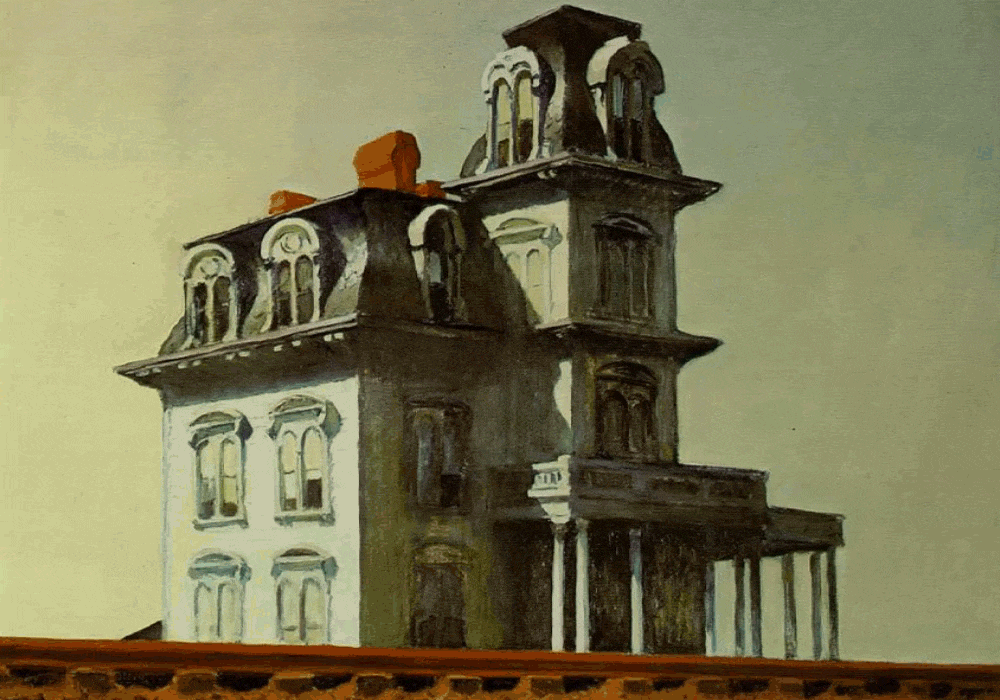 Nighthawks, cited as an influence on urban visions like Ridley Scott's Blade Runner, has also been faithfully recreated in films like Herbert Ross' Pennies from Heaven, Wim Wenders' The End of Violence, and Dario Argento' Deep Red. 1952's House by the Railroad has inspired directors from Alfred Hitchcock in Psycho to Terrence Malick in Days of Heaven.
A glance across the rest of Hopper's body of work reminds each of us of countless shots from throughout cinema history, American and otherwise. Perhaps even more films will be brought to mind by the Hopper-paintings-turned-animated GIFs commissioned by travel site Orbitz as "a 21st-century tribute to this titan of 20th-century art, for the younger generation who may not have been directly introduced to his work."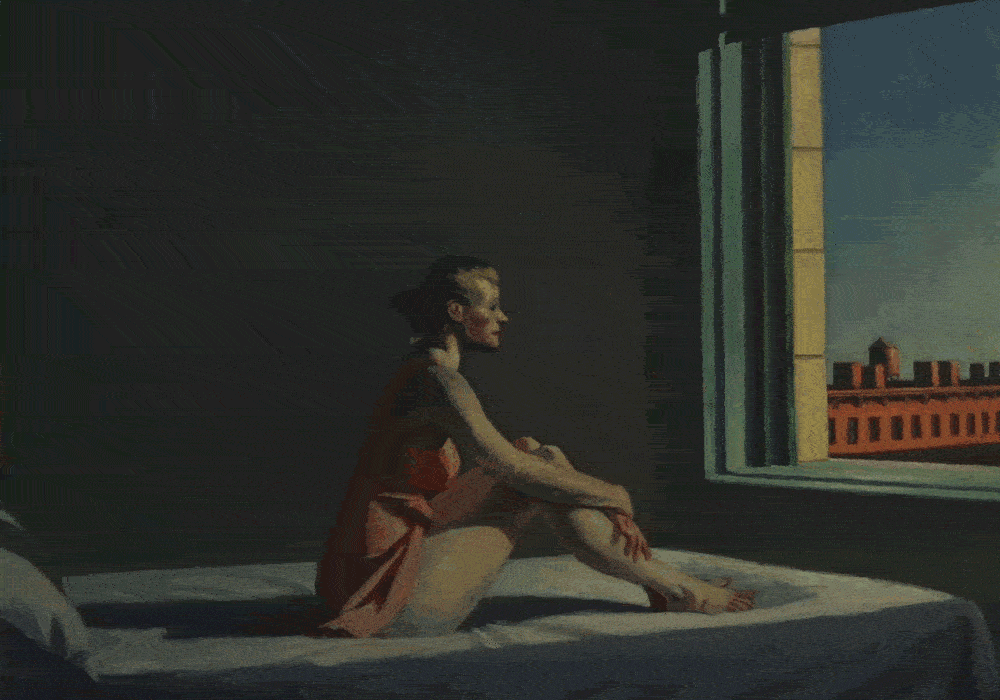 The ten of Hopper's works thus brought to life include, of course, Nighthawks and House by the Railroad, as well as other of his paintings both early and late, such as 1927's Automat and 1952's Morning Sun. Both paintings depict a woman alone, a motif emphasized by the notes accompanying the animations. In the nighttime of Automat, she "has an empty plate in front of her, suggesting she's already had something to eat with her coffee," and the window's reflection of lamps extending into the darkness suggests her "possible loneliness." In the daytime of Morning Sun, the building outside the window "suggests that the woman's view is not a particularly scenic one," and "the fact that she is sitting merely to enjoy the sun could be interpreted as her desire to be closer to the outdoors, to nature, and escape the bleakness of urban life."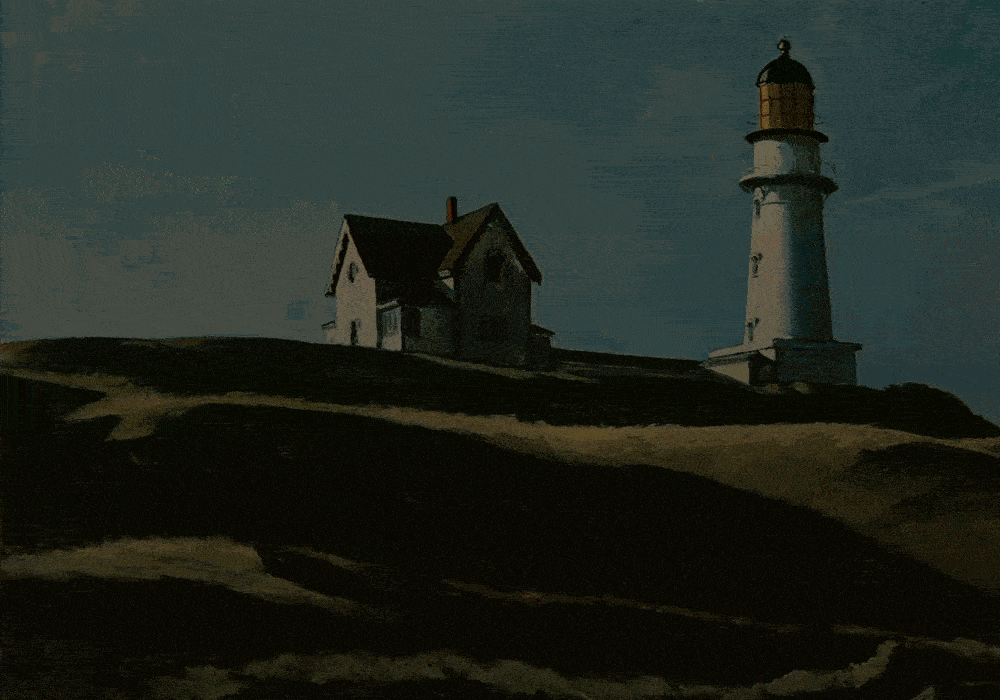 Even in a more scenic setting, like the Cape Elizabeth, Maine of 1927's Lighthouse Hill, an enriching touch of bleakness nevertheless comes through. "Both the lighthouse and cottage are the focal points of the painting, yet despite the blue sky and calm scenery displayed, the shadows bring an ominous feeling to what one would assume is an inviting house." Befitting the work of a painter whose use of light and shadow still inspires artists of all kinds today, these GIFs mostly animate light sources: the blink of a neon sign, the sun's daily arc across the sky.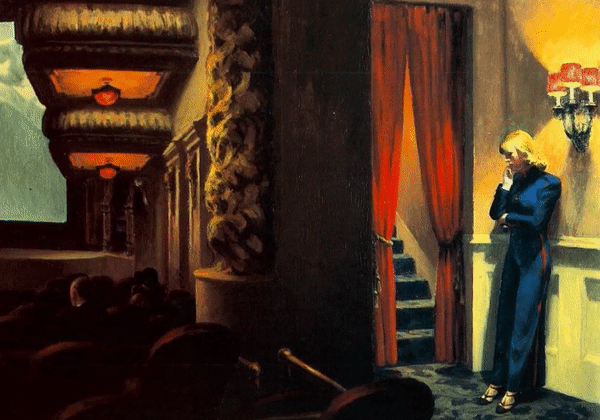 The GIF of 1939's New York Movie, Hopper's most overt tribute to the cinema, introduces the flickering of the film projector. Purists may not appreciate these touches, but many of us will realize that Hopper's projectors have always been flickering, his neon signs always blinking, his cups of coffee always steaming, and his suns always setting, at least in our minds. See all of the animated gifs here.
Related Content:
How Edward Hopper "Storyboarded" His Iconic Painting Nighthawks
Edward Hopper's Iconic Painting Nighthawks Explained in a 7-Minute Video Introduction
9-Year-Old Edward Hopper Draws a Picture on the Back of His 3rd Grade Report Card
Paintings by Caravaggio, Vermeer, & Other Great Masters Come to Life in a New Animated Video
See Classic Japanese Woodblocks Brought Surreally to Life as Animated GIFs
Based in Seoul, Colin Marshall writes and broadcasts on cities, language, and culture. His projects include the book The Stateless City: a Walk through 21st-Century Los Angeles and the video series The City in Cinema. Follow him on Twitter at @colinmarshall or on Facebook.