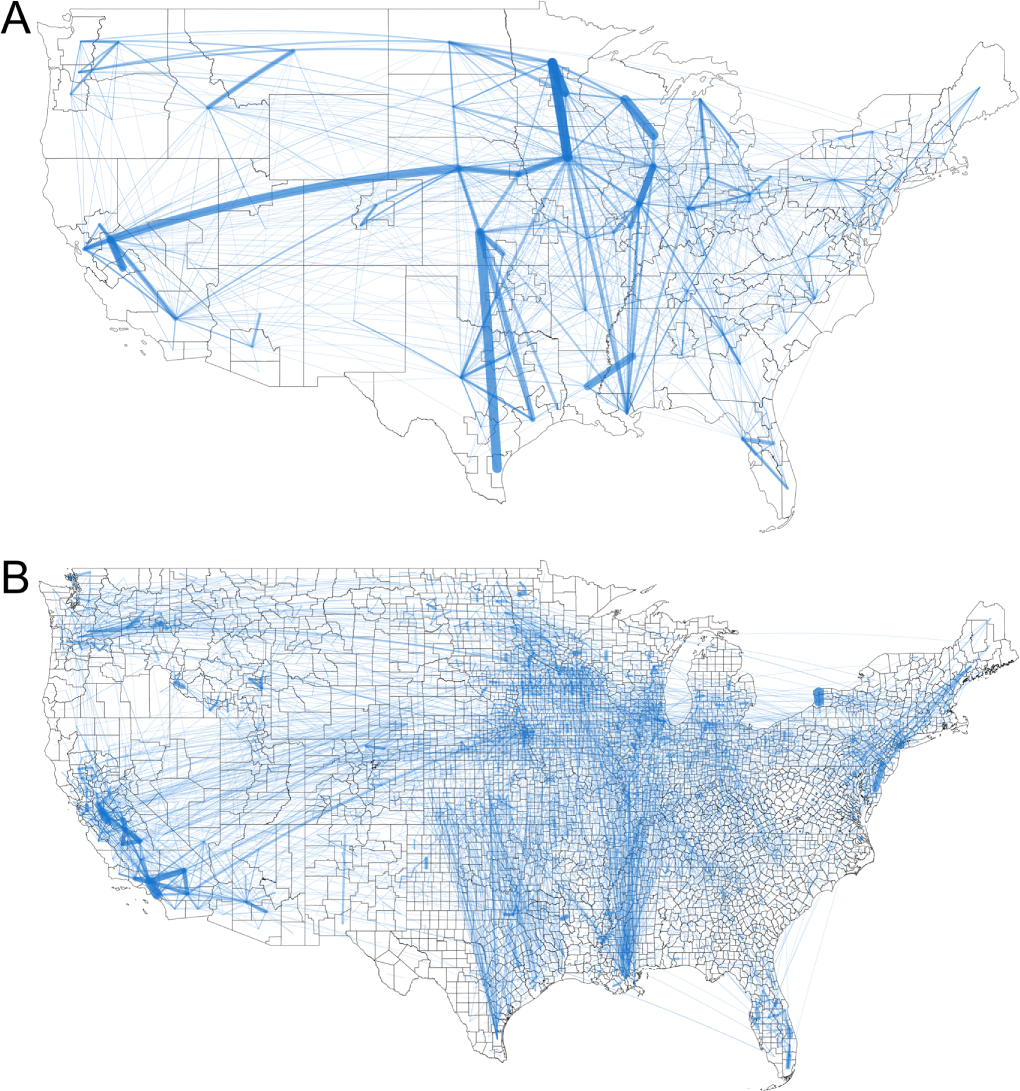 The phrase "farm to table" has enjoyed vogue sta­tus in Amer­i­can din­ing long enough to be fac­ing dis­place­ment by an even trendi­er suc­ces­sor, "farm to fork." These labels reflect a new aware­ness — or an aspi­ra­tion to aware­ness — of where, exact­ly, the food Amer­i­cans eat comes from. A vast and fer­tile land, the Unit­ed States pro­duces a great deal of its own food, but giv­en the dis­tance of most of its pop­u­la­tion cen­ters from most of its agri­cul­tur­al cen­ters, it also has to move near­ly as great a deal of food over long domes­tic dis­tances. Here we have the very first high-res­o­lu­tion map of that food sup­ply chain, cre­at­ed by researchers at the Uni­ver­si­ty of Illi­nois study­ing "food flows between coun­ties in the Unit­ed States."
"Our map is a com­pre­hen­sive snap­shot of all food flows between coun­ties in the U.S. – grains, fruits and veg­eta­bles, ani­mal feed, and processed food items," writes Assis­tant Pro­fes­sor of Civ­il and Envi­ron­men­tal Engi­neer­ing Megan Konar in an explana­to­ry post at The Con­ver­sa­tion. (The top ver­sion shows the total tons of food moved, and the bot­tom one is bro­ken down to the coun­ty scale.)
"All Amer­i­cans, from urban to rur­al are con­nect­ed through the food sys­tem. Con­sumers all rely on dis­tant pro­duc­ers; agri­cul­tur­al pro­cess­ing plants; food stor­age like grain silos and gro­cery stores; and food trans­porta­tion sys­tems." The map visu­al­izes such jour­neys as that of a ship­ment of corn, which "starts at a farm in Illi­nois, trav­els to a grain ele­va­tor in Iowa before head­ing to a feed­lot in Kansas, and then trav­els in ani­mal prod­ucts being sent to gro­cery stores in Chica­go."
Konar and her col­lab­o­ra­tors' research arrives at a few sur­pris­ing con­clu­sions, such as that Los Ange­les coun­ty is both the largest ship­per and receiv­er of food in the U.S. Not only that, but almost all of the nine coun­ties "most cen­tral to the over­all struc­ture of the food sup­ply net­work" are in Cal­i­for­nia. This may sur­prise any­one who has laid eyes on the sub­lime­ly huge agri­cul­tur­al land­scapes of the Mid­west "Corn­belt." But as Konar notes, "Our esti­mates are for 2012, an extreme drought year in the Corn­belt. So, in anoth­er year, the net­work may look dif­fer­ent." And of the grain pro­duced in the Mid­west, much "is trans­port­ed to the Port of New Orleans for export. This pri­mar­i­ly occurs via the water­ways of the Ohio and Mis­sis­sip­pi Rivers."
Konar also warns of trou­bling frail­ties: "The infra­struc­ture along these waterways—such as locks 52 and 53—are crit­i­cal, but have not been over­hauled since their con­struc­tion in 1929," and if they were to fail, "com­mod­i­ty trans­port and sup­ply chains would be com­plete­ly dis­rupt­ed." The ana­lyt­i­cal minds at Hack­er News have been dis­cussing the impli­ca­tions of the research shown on this map, includ­ing whether the U.S. food sup­ply chain is real­ly, as one com­menter put it, "very brit­tle and con­tains many weak points." The Amer­i­can Soci­ety of Civ­il Engi­neers, as Konar tells Food & Wine, has giv­en the coun­try's civ­il engi­neer­ing infra­struc­ture a grade of D+, which at least implies con­sid­er­able room for improve­ment. But against what from some angles look like long odds, food keeps get­ting from Amer­i­can farms to Amer­i­can tables — and Amer­i­can forks, Amer­i­can mouths, Amer­i­can stom­achs, and so on.
Relat­ed Con­tent:
Down­load 91,000 His­toric Maps from the Mas­sive David Rum­sey Map Col­lec­tion
The His­to­ry of Car­tog­ra­phy, "the Most Ambi­tious Overview of Map Mak­ing Ever Under­tak­en," Is Free Online
View and Down­load Near­ly 60,000 Maps from the U.S. Geo­log­i­cal Sur­vey (USGS)
Based in Seoul, Col­in Mar­shall writes and broad­casts on cities, lan­guage, and cul­ture. His projects include the book The State­less City: a Walk through 21st-Cen­tu­ry Los Ange­les and the video series The City in Cin­e­ma. Fol­low him on Twit­ter at @colinmarshall or on Face­book.