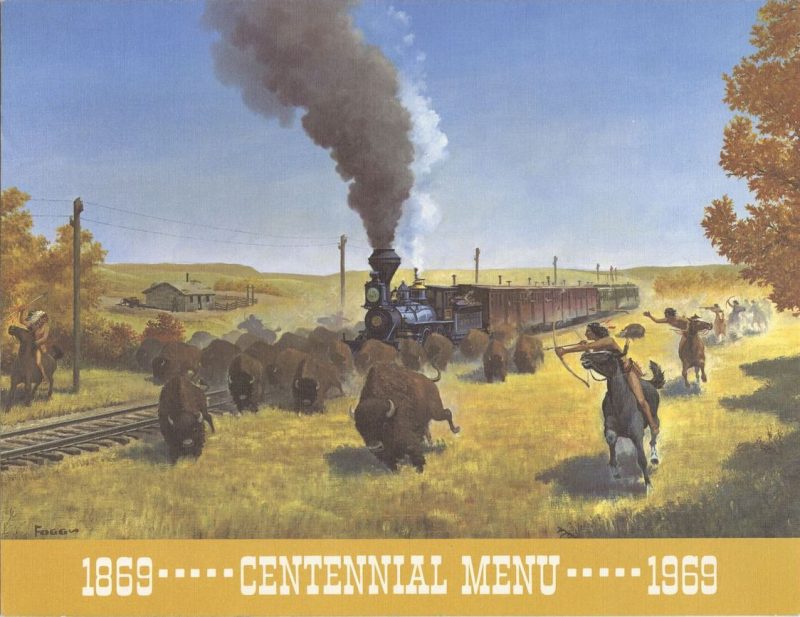 The com­ing of the rail­road in the U.S. of the 19th cen­tu­ry meant unprece­dent­ed oppor­tu­ni­ty for millions—a tri­umph of trans­porta­tion and com­merce that changed the coun­try for­ev­er. For many more—including mil­lions of Amer­i­can bison—it meant cat­a­stro­phe and near extinc­tion. This com­pli­cat­ed his­to­ry has pro­vid­ed a rich field of study for schol­ars of the period—who can tie the rail­road to near­ly every major his­tor­i­cal devel­op­ment, from the Civ­il War to pres­i­den­tial cam­paigns to the spread of the Sears mer­chan­dis­ing empire from coast to coast.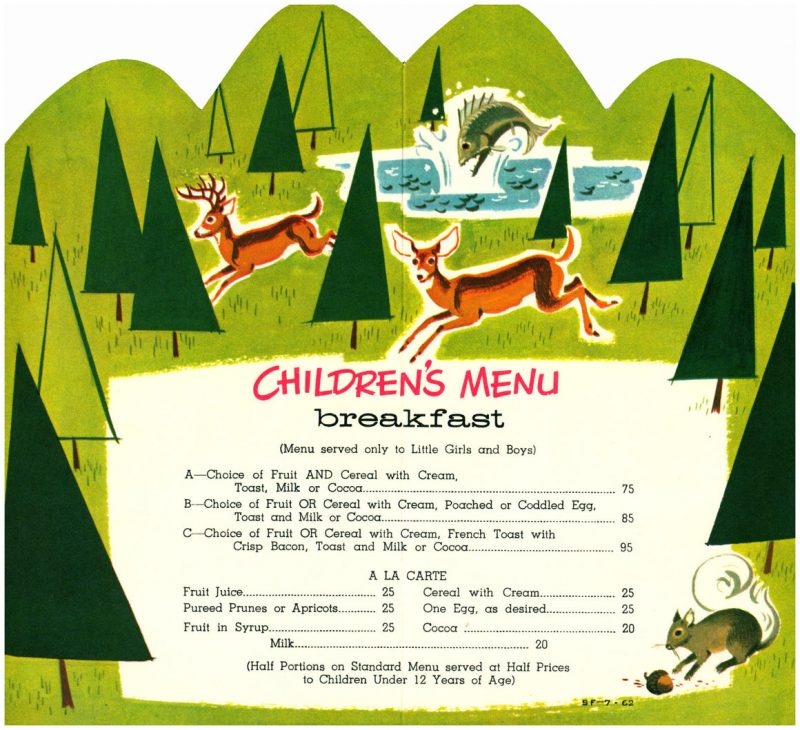 But as time wore on, pas­sen­ger trains became both more com­mon­place and more lux­u­ri­ous, as they com­pet­ed with air and auto trav­el in the ear­ly 20th cen­tu­ry. It is this peri­od of rail­road his­to­ry that most attract­ed Ira Sil­ver­man as a grad­u­ate stu­dent at North­west­ern Uni­ver­si­ty in the 1960s. While enrolled at Northwestern's Trans­porta­tion Cen­ter in Evanston, Illi­nois, Sil­ver­man and his class­mates found end­less "oppor­tu­ni­ties for research, adven­ture, and unpar­al­leled feast­ing," writes Claire Voon at Atlas Obscu­ra.
Sil­ver­man espe­cial­ly took to the din­ing cars—and more to the point, to the menus, which he col­lect­ed by the dozens, "even­tu­al­ly amass­ing an archive of 238 menus and relat­ed pam­phlets. After a long career in tran­sit, he donat­ed the col­lec­tion to his alma mater's Trans­porta­tion Library, which recent­ly dig­i­tized it in its entire­ty." Silverman's col­lec­tion rep­re­sents "35 Unit­ed States and Cana­di­an rail­roads," points out North­west­ern, and its con­tents most­ly date from the ear­ly 60s to the 1980s—from his most active years rid­ing the rails in style, that is.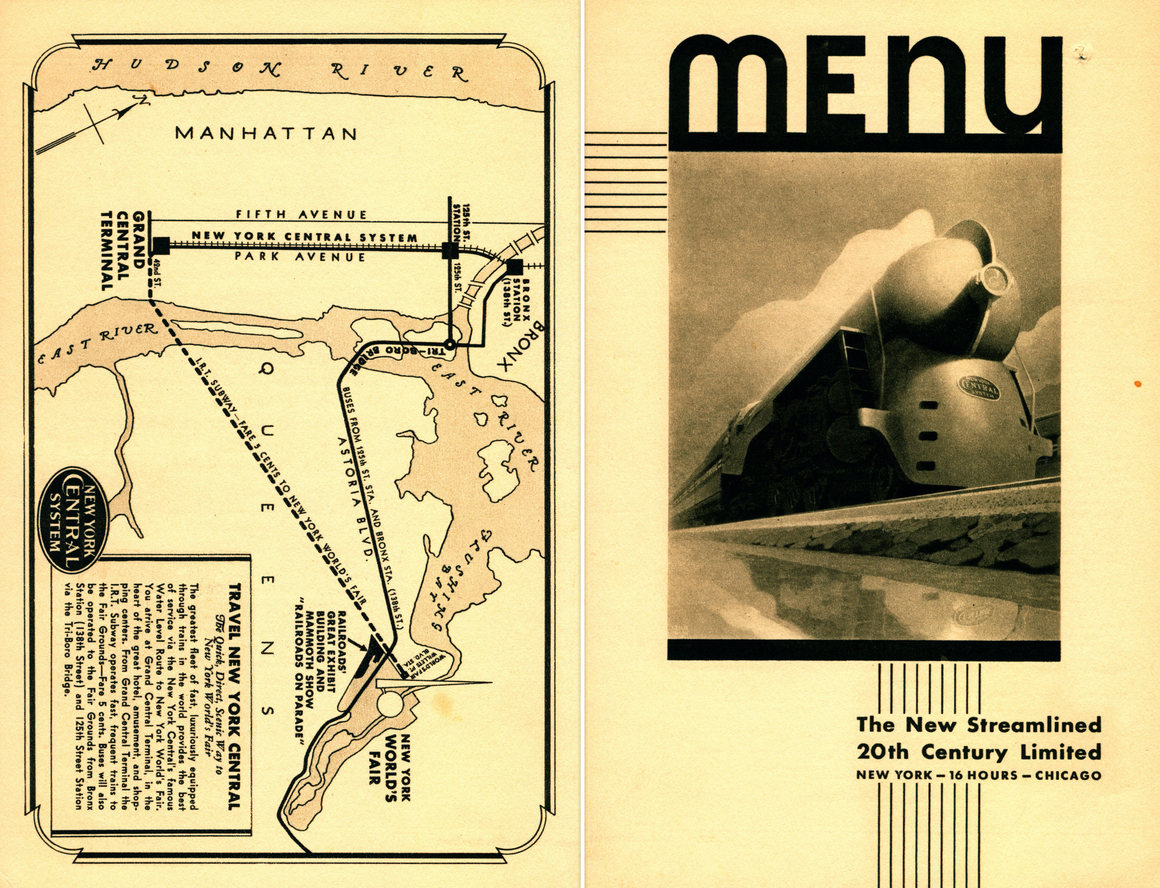 But Sil­ver­man was also able to acquire ear­li­er exam­ples, such as a 1939 menu "once perused by pas­sen­gers aboard the famed 20th Cen­tu­ry Lim­it­ed train," Voon writes, "which trav­eled between New York City and Chica­go." Twen­ty years after this menu's appear­ance, Cary Grant, "play­ing an adman in Alfred Hitchcock's North by North­west, orders a brook trout with his Gib­son" while rid­ing the same line. The Art Deco menu for the "new stream­lined" line fea­tures such del­i­ca­cies as "gen­uine Russ­ian caviar on toast and grilled French sar­dines."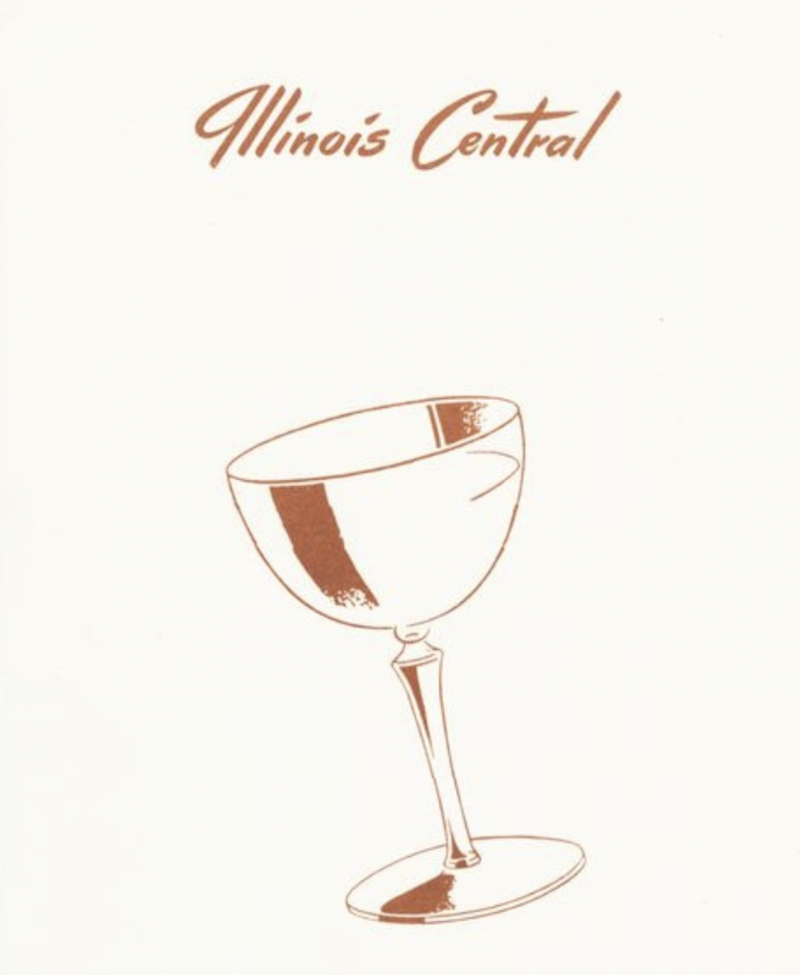 Even kids' menus—now reli­ably dom­i­nat­ed by chick­en fin­gers, piz­za, PB&Js, and mac & cheese—offered far more sophis­ti­cat­ed din­ing than we might expect to find, with "items such as grilled lamb chops, roast beef, and sea­son­al fish" on the North Coast Lim­it­ed menu below. "The mid-20th cen­tu­ry seems to have been a gold­en age of rail­road din­ing," remarks North­west­ern Trans­porta­tion Librar­i­an Rachel Cole. "It was nev­er some­thing that rail­roads prof­it­ed on, but they used it to com­pete against each oth­er and attract pas­sen­gers," tak­ing pride in "selec­tions that would be rivaled in restau­rants."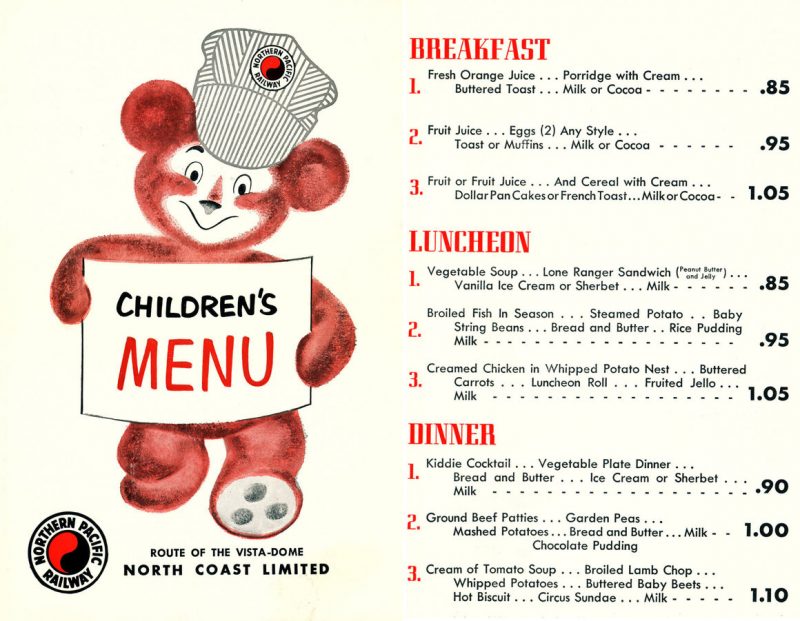 The fine din­ing-car expe­ri­ence might also include nov­el­ty items pas­sen­gers would be unlike­ly to find any­where else, such as North­west­ern Pacific's Great Baked Pota­to, "a mon­strous spud," Voon explains, "that could weigh any­where between two to five pounds" and came served with "an appro­pri­ate­ly sized but­ter pat." One can see the appeal for a food and trav­el enthu­si­ast like Sil­ver­man, who had the priv­i­lege of try­ing dish­es on most of these menus for him­self.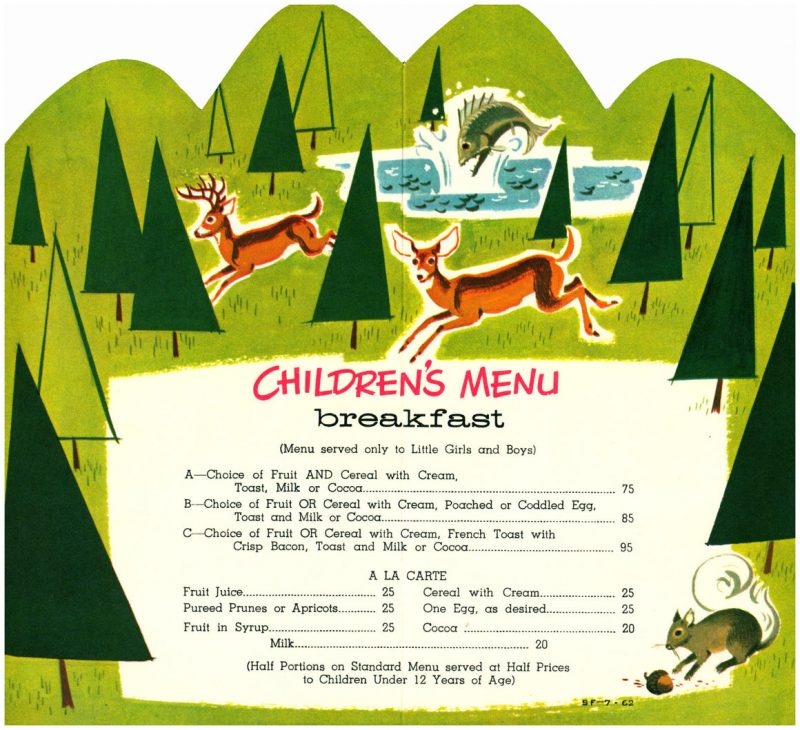 The rest of us will have to rely on our gus­ta­to­ry imag­i­na­tions to con­jure what it might have been like to eat prime rib on the West­ern Star in the Pacif­ic North­west in the ear­ly 60s, or braised smoked pork loin on an Amtrak train in 1972. If your mem­o­ries of din­ing on a train most­ly con­sist of pulling sog­gy, microwaved "food" from steam­ing hot plas­tic bags, or munch­ing on pack­aged, processed salty snacks, expand your sense of what rail­road din­ing could be at the Ira Sil­ver­man Rail­road Menu Col­lec­tion here.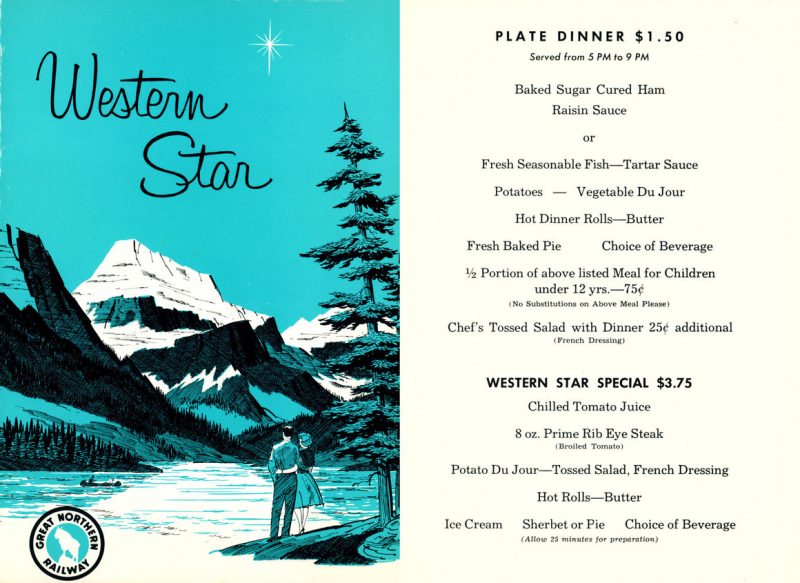 Relat­ed Con­tent:
Food­ie Alert: New York Pub­lic Library Presents an Archive of 17,000 Restau­rant Menus (1851–2008)
Mark Twain Makes a List of 60 Amer­i­can Com­fort Foods He Missed While Trav­el­ing Abroad (1880)
What Pris­on­ers Ate at Alca­traz in 1946: A Vin­tage Prison Menu
Josh Jones is a writer and musi­cian based in Durham, NC. Fol­low him at @jdmagness