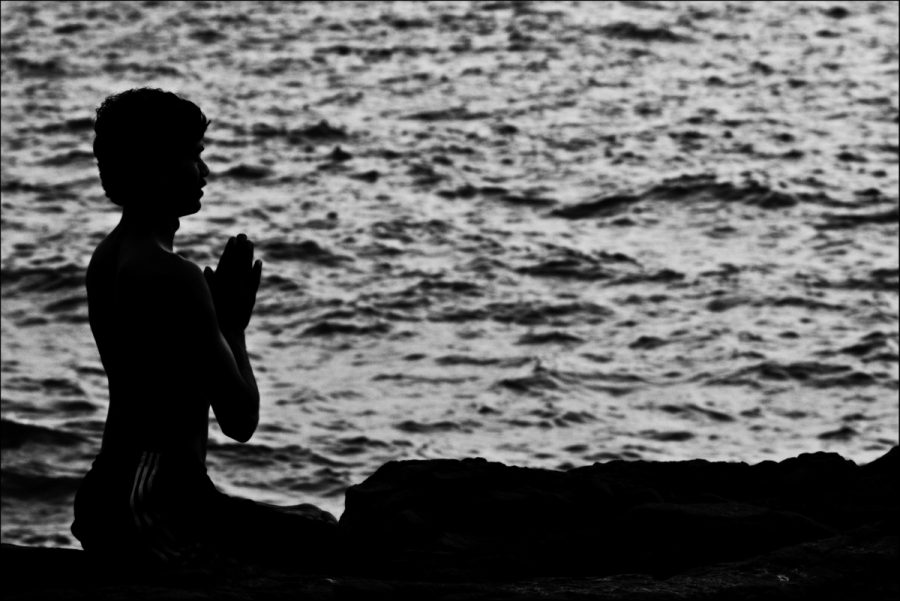 Photo by Abhisek Sarda, via Wikimedia Commons
I tend to be somewhat skeptical of scientific research that focuses solely on what practices like meditation do to the greyish-pinkish-white stuff inside our skulls. Humans are too complex to be treated like brains in vats. Holistic disciplines like meditation and yoga emphasize the union of mind and body, and neuroscientists have shown how mental and emotional health is as tied to the functioning of our circulatory systems and microbiomes as it is to proper brain function.
On the other hand, there's no denying the importance of brain health, given that it's the one organ we may never be able to replace. While we may have grown accustomed to, and maybe even weary of, seeing mindfulness under the scanner, the neuroscience of yoga hasn't received nearly as much press. This is changing for several reasons. Most prominently, "yoga has particularly gained traction as a research area of interest in its promising potential of therapy to combat the alarming increase in age-related neurogenerative diseases."
So notes a systemic review of the current literature on yoga and brain health published in the journal Brain Plasticity this past November. The authors surveyed 11 different studies, all of which preserved the typical Hatha yoga mix of postures, meditation, and breathing exercises in their methodology. Each study also "used brain-imaging techniques such as MRI, functional MRI or single-photon emission computerized tomography" to assess physical brain changes, reports Science Daily.
The survey authors define yoga as "the most popular form of complementary therapy practiced by more than 13 million adults," as well as an ancient practice that "dates back over 2000 years to ancient India." Whether one does yoga in more spiritual or more secular contexts, its "acute and intervention effects on cognition are evident" across the entire range of studies. The research confirms much of what we might expect—yoga has a positive effect on mood, demonstrating "the potential to improve anxiety, depression, stress and overall mental health."
The survey also showed consistent findings we might not have expected. Despite the typically slow pace of a Hatha yoga routine, all the studies found evidence that "yoga enhances many of the same brain structures and functions that benefit from aerobic exercise," as Science Daily points out. "From these 11 studies, we identified some brain regions that consistently come up, and they are surprisingly not very different from what we see with exercise research," says lead author Neha Gotha, kinesiology and community health professor at the University of Illinois.
Gotha identifies one of those benefits as an increase in the size of the hippocampus, the region of the brain that tends to shrink with age and "the structure that is first affected in dementia and Alzheimer's disease." Other regions affected include the amygdala, which contributes to emotional regulation, and the prefrontal cortex, which is "essential to planning, decision-making, multitasking, thinking about your options and picking the right option," says study co-author Jessica Damoiseaux, psychology professor at Wayne State University.
"Yoga is not aerobic in nature," says Gotha, "so there must be other mechanisms leading to these brain changes. So far we don't have the evidence to identify what those mechanisms are."  The effects, however, aren't only similar to those of more vigorous exercise; in some cases, yoga seemed even more effective. Nicole McDermott at Greatist explains that in one study Gotha conducted with 30 female colleagues, "reaction times were shorter and accuracy was greater after the yoga session compared to 20 minutes of a treadmill." Even more surprisingly, "jogging resulted in nearly the same cognitive performance as the baseline testing when the women didn't exercise at all."
These results should be seen as provisional and preliminary. "We need more rigorous and well-controlled intervention studies to confirm these initial findings," Damoiseaux cautions. But they may contribute to growing evidence of the "mind-body connection" yoga helps foster. Better mood and lowered stress tend to improve brain health overall. Other studies support these conclusions, such as research showing how yoga practice over time enlarges the somatosensory cortex, which contains a "mental map" of the body and promotes greater self-awareness.
No doubt we'll see many more studies on yoga and brain function in the coming years. For the time being, the science strongly suggests that when we hit the yoga mat to limber up and de-stress, we're also helping to proof our brains against debilitating effects of aging like memory loss and cognitive decline. Read Gotha and Damoiseaux's full survey of the neuroscience of yoga here.
via Science Daily
Related Content:
How to Get Started with Yoga: Free Yoga Lessons on YouTube
Sonny Rollins Describes How 50 Years of Practicing Yoga Made Him a Better Musician
Josh Jones is a writer and musician based in Durham, NC. Follow him at @jdmagness