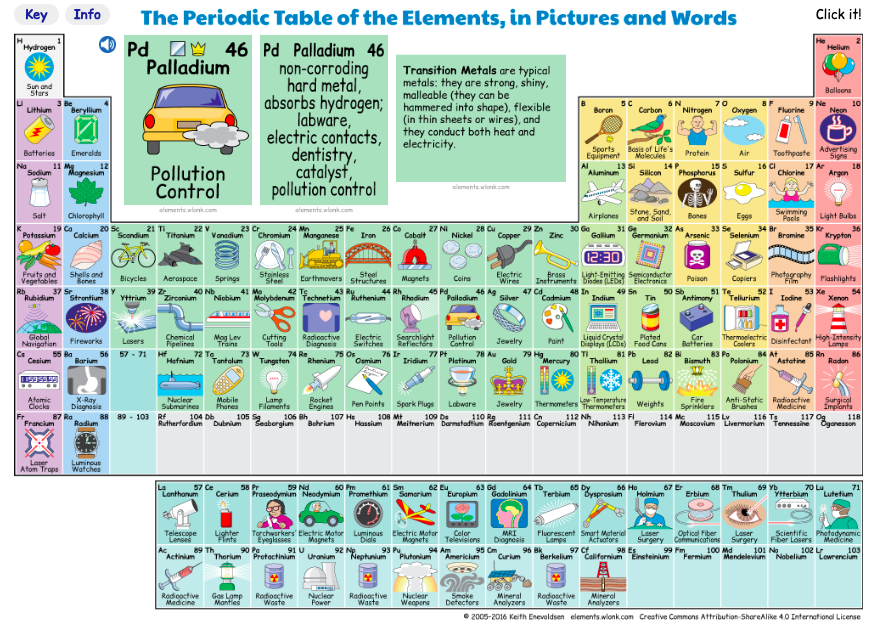 "The discovery of the periodic system for classifying the elements represents the culmination of a number of scientific developments, rather than a sudden brainstorm on the part of one individual," writes Eric Scerri at Scientific American. And yet, while several scientists over the course of the nineteenth century invented systems for classifying the elements, "ask most chemists who discovered the periodic table and you will almost certainly get the answer Dmitri Mendeleev," notes the Royal Society of Chemistry.  That's for good reason, since the basis of the table we know today came from the design Mendeleev created in 1869.
This past March saw the 150th anniversary of his achievement, which has hardly remained a historical artifact. Every generation has its table. Mendeleev's rudimentary beginnings have taken on new shape and have been supplemented with annotations and illustrations in eye-catching color in textbooks and on classroom walls around the world. It's only fitting, then, that the 21st century has its digital versions of the table, like the interactive design by Boeing software engineer Keith Enevoldsen.
The Interactive Periodic Table of the Elements, in Pictures and Words, adapts itself to different learning styles while providing students of chemistry, of all ages and levels, instant facts about each of the elements it illustrates. Click on Palladium, for example, and you'll learn about its role in pollution control. The non-corroding hard metal absorbs hydrogen and is used in labware, electric contacts, and dentistry. Rhenium, we learn, is a dense metal used in rocket engines, heater coils, and electric contacts, among other things.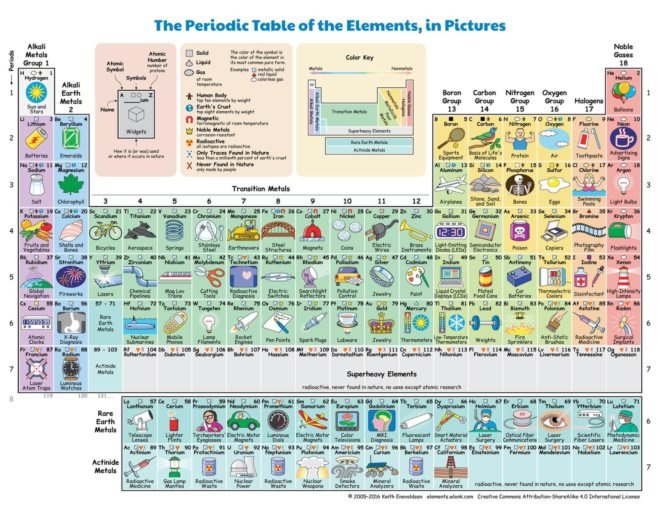 Other "seemingly obscure" elements we may never have heard of, like Gallium and Tantalum, influence our daily lives "quite a bit, it turns out," as Lacy Cooke writes at Inhabit, serving as components in LEDs and mobile phones. We gather such facts at a glance, as well as the other endlessly useful functions of the table. Enevoldsen further adapts his designs for home or classroom use with printable PDFs, including a version with only words and a simplified table with only pictures. Beginning students may be thrilled to find print-your-own elements cards, as well as other periodic-table-related visual aids like Atomic Orbitals, a color-coded chart that "shows what atoms look like."
The groupings on the periodic chart so familiar to us today came about when Mendeleev "realized that, by putting [the elements] in order of increasing atomic weight, certain types of element regularly occurred," the Royal Society points out. But his "real genius… was to leave gaps for undiscovered elements. He even predicted the properties of five of these elements and their compounds." Enevoldsen's interactive table makes for an easy format to update. When new elements are named, he adds them to his charts immediately.
Periodic tables like Enevoldsen's may only barely resemble Mendeleev's spare original, but the Russian chemist's classification system still provides the organizing principles by which we understand the fundamental elements that make up the material world. View and download PDF copies of all of these highly informative, and up-to-date periodic tables here. Or purchase posters/prints here.
via Inhabit
Related Content:
The Map of Chemistry: New Animation Summarizes the Entire Field of Chemistry in 12 Minutes
A Periodic Table Visualizing the Year & Country in Which Each Element Was Discovered
The Periodic Table of Elements Presented as Interactive Haikus
The Periodic Table of Endangered Elements: Visualizing the Chemical Elements That Could Vanish Before You Know It
Josh Jones is a writer and musician based in Durham, NC. Follow him at @jdmagness