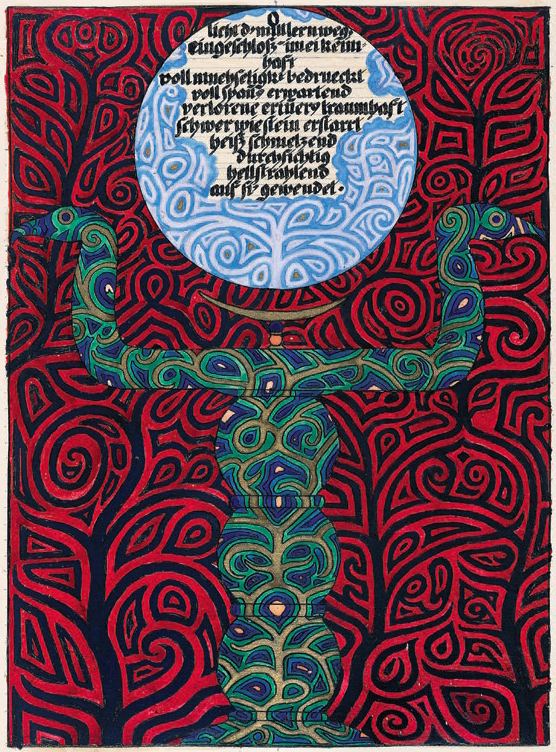 Carl Jung's Liber Novus, bet­ter known as The Red Book, has only recent­ly come to light in a com­plete Eng­lish trans­la­tion, pub­lished by Nor­ton in a 2009 fac­sim­i­le edi­tion and a small­er "reader's edi­tion" in 2012. The years since have seen sev­er­al exhi­bi­tions of the book, which "could pass for a Bible ren­dered by a medieval monk," writes art crit­ic Peter Frank, "espe­cial­ly for the care with which Jung entered his writ­ing as ornate Goth­ic script."
Jung "refused to think of him­self as an 'artist'" but "it's no acci­dent the Liber Novus has been exhib­it­ed in muse­ums, or func­tioned as the nucle­us of 'Ency­clo­pe­dic Palace,' the sur­vey of vision­ary art in the 2013 Venice Bien­nale." Jung's elab­o­rate paint­ings show him "every bit the artist the medieval monk or Per­sian courtier was; his art hap­pened to be ded­i­cat­ed not to the glo­ry of God or king, but that of the human race."
One could more accu­rate­ly say that Jung's book was ded­i­cat­ed to the mys­ti­cal uncon­scious, a much more neb­u­lous and ocean­ic cat­e­go­ry. The "ocean­ic feeling"—a phrase coined in 1927 by French play­wright Romain Rol­land to describe mys­ti­cal oneness—so annoyed Sig­mund Freud that he dis­missed it as infan­tile regres­sion.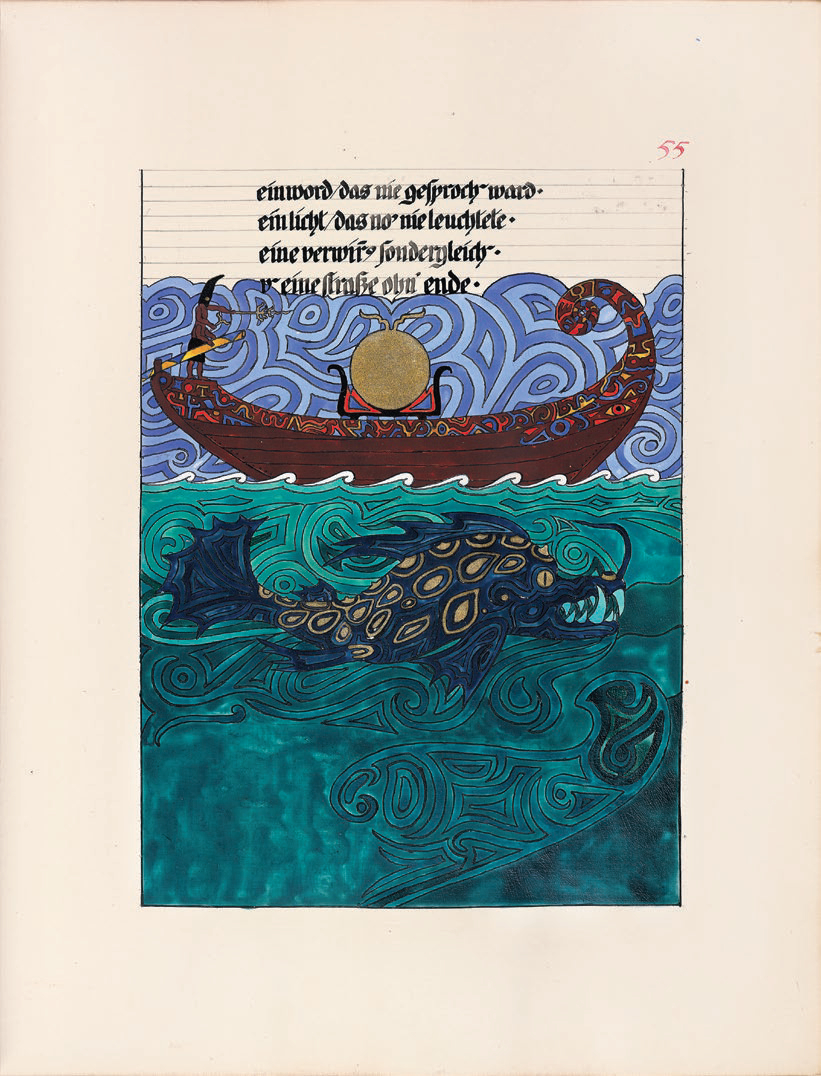 Freud's antipa­thy to mys­ti­cism, as we know, did not dis­suade Jung, his one­time stu­dent and admir­er, from div­ing in and swim­ming to the deep­est depths. The voy­age began long before he met his famous men­tor. At age 11, Jung lat­er wrote in 1959, "I found that I had been in a mist, not know­ing how to dif­fer­en­ti­ate myself from things; I was just one among many things."
Jung con­sid­ered his elab­o­rate dream/vision journal—kept from 1913 to 1930, then added to spo­rad­i­cal­ly until 1961—"the cen­tral work in his oeu­vre," says Jung schol­ar Sonu Sham­dasani in the Rubin Muse­um intro­duc­tion above. "It is lit­er­al­ly his most impor­tant work."
And yet it took Dr. Sham­dasani "three years to con­vince Jung's fam­i­ly to bring the book out of hid­ing," notes NPR. "It took anoth­er 13 years to trans­late it." Part of the rea­son his heirs left the book hid­den in a Swiss vault for half a cen­tu­ry may be evi­dent in the only por­tion of the Red Book to appear in Jung's life­time. "The Sev­en Ser­mons of the Dead."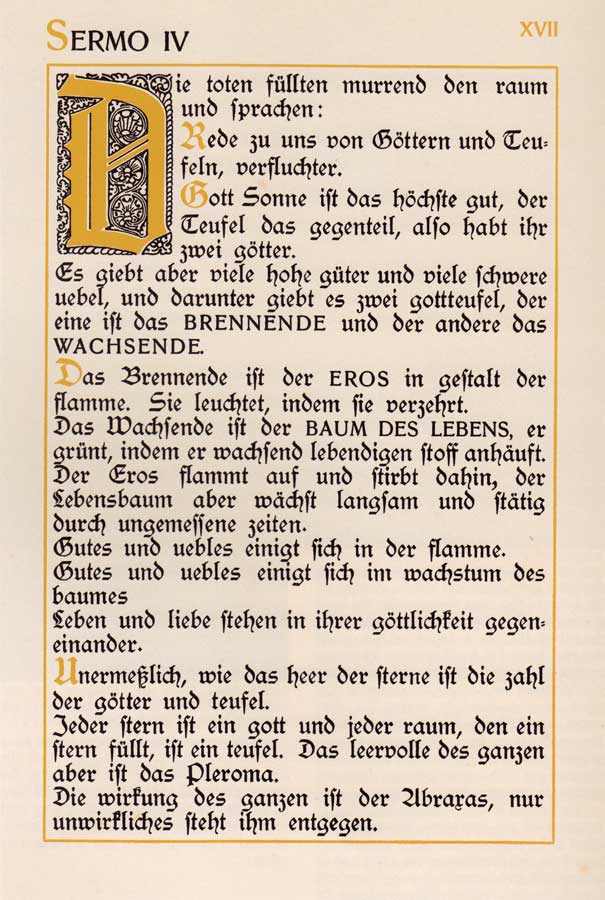 Jung had this text pri­vate­ly print­ed in 1916 and gave copies to select friends and fam­i­ly mem­bers. He com­posed it in 1913 in a peri­od of Gnos­tic stud­ies, dur­ing which he entered into vision­ary trance states, tran­scrib­ing his visions in note­books called the "Black Books," which would lat­er be rewrit­ten in The Red Book.
You can see a page of Jung's metic­u­lous­ly hand-let­tered man­u­script above. The "Ser­mons," he wrote in a lat­er inter­pre­ta­tion, came to him dur­ing an actu­al haunt­ing:
The atmos­phere was thick, believe me! Then I knew that some­thing had to hap­pen. The whole house was filled as if there were a crowd present, crammed full of spir­its. They were packed deep right up to the door, and the air was so thick it was scarce­ly pos­si­ble to breathe. As for myself, I was all a‑quiver with the ques­tion: "For God's sake, what in the world is this?" Then they cried out in cho­rus, "We have come back from Jerusalem where we found not what we sought/' That is the begin­ning of the Septem Ser­mones.
The strange, short "ser­mons" are dif­fi­cult to cat­e­go­rize. They are awash in Gnos­tic the­ol­o­gy and occult terms like "plero­ma." The great mys­ti­cal one­ness of ocean­ic feel­ing also took on a very sin­is­ter aspect in the demigod Abraxas, who "beget­teth truth and lying, good and evil, light and dark­ness, in the same word and in the same act. Where­fore is Abraxas ter­ri­ble."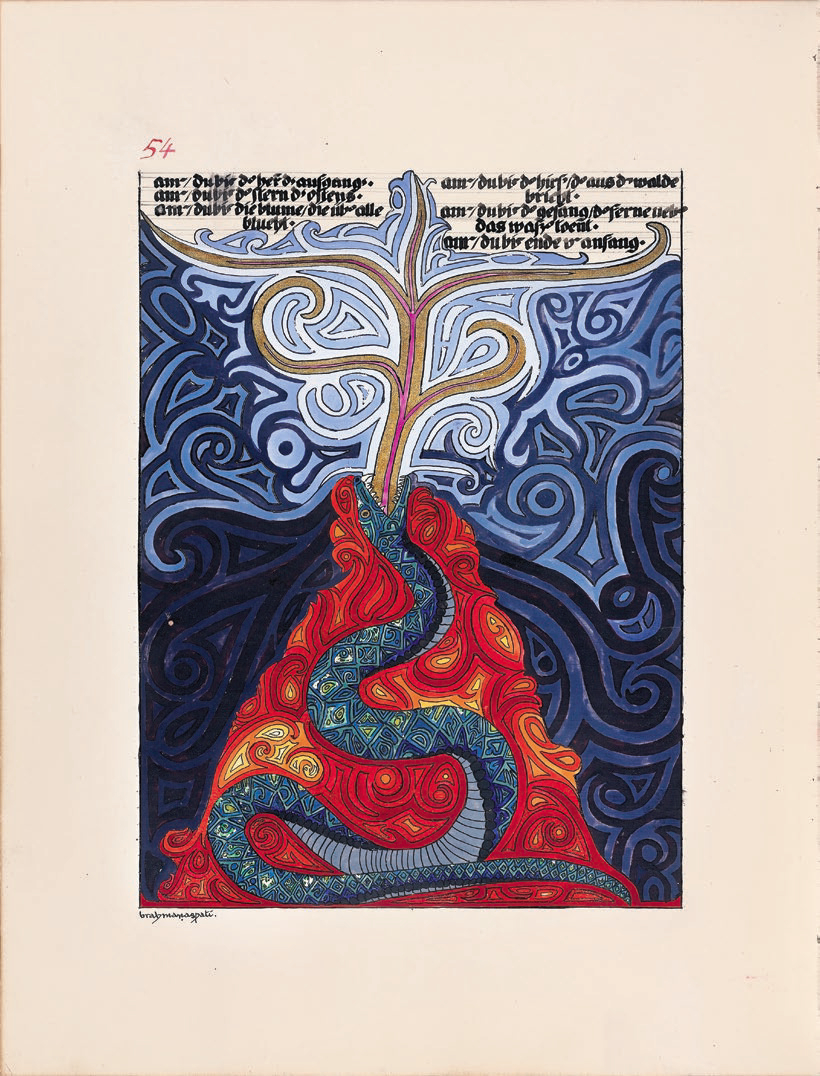 There are tedious, didac­tic pas­sages, for con­verts only, but much of Jung's writ­ing in the "Sev­en Ser­mons," and through­out The Red Book, is filled with strange obscure poet­ry, com­ple­ment­ed by his intense illus­tra­tions. Jung "took on the sim­i­lar­ly styl­ized and beau­ti­ful man­ners of non-west­ern word-image con­fla­tion," writes Frank, "includ­ing Per­sian minia­ture paint­ing and east Asian cal­lig­ra­phy."
If The Red Book is, as Sham­dasani claims, Jung's most impor­tant work—and Jung him­self, though he kept it qui­et, seemed to think it was—then we may in time come to think of him as not only as an inspir­er of eccen­tric artists, but as an eccen­tric artist him­self, on par with the great illu­mi­na­tors and vision­ary mys­tic poet/painters.
Relat­ed Con­tent:
Carl Jung: Tarot Cards Pro­vide Door­ways to the Uncon­scious, and Maybe a Way to Pre­dict the Future
The Famous Break Up of Sig­mund Freud & Carl Jung Explained in a New Ani­mat­ed Video
Carl Jung Explains His Ground­break­ing The­o­ries About Psy­chol­o­gy in a Rare Inter­view (1957)
Josh Jones is a writer and musi­cian based in Durham, NC. Fol­low him at @jdmagness