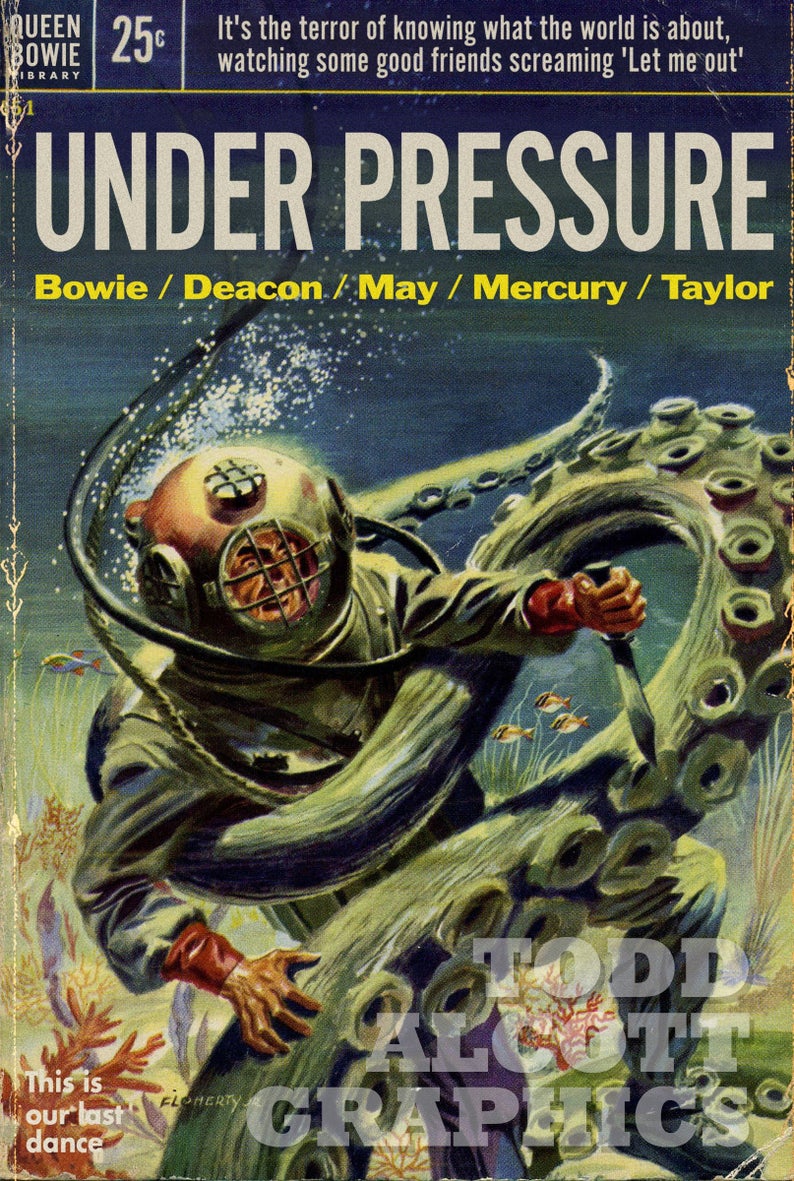 Even before the COVID-19 pandemic, how many of us sought solace from the turbulent 21st century in cultural artifacts of bygone eras? Our favorite records by the likes of the Beatles, Queen, David Bowie; our favorite novels by the likes of Raymond Chandler, Ian Fleming, Philip K. Dick: all of them now possess a solidity that seems lacking in much current popular culture. The work of all these creators has its own kind of artistic daring, and all of it, too, also came out of times troubled in their own way.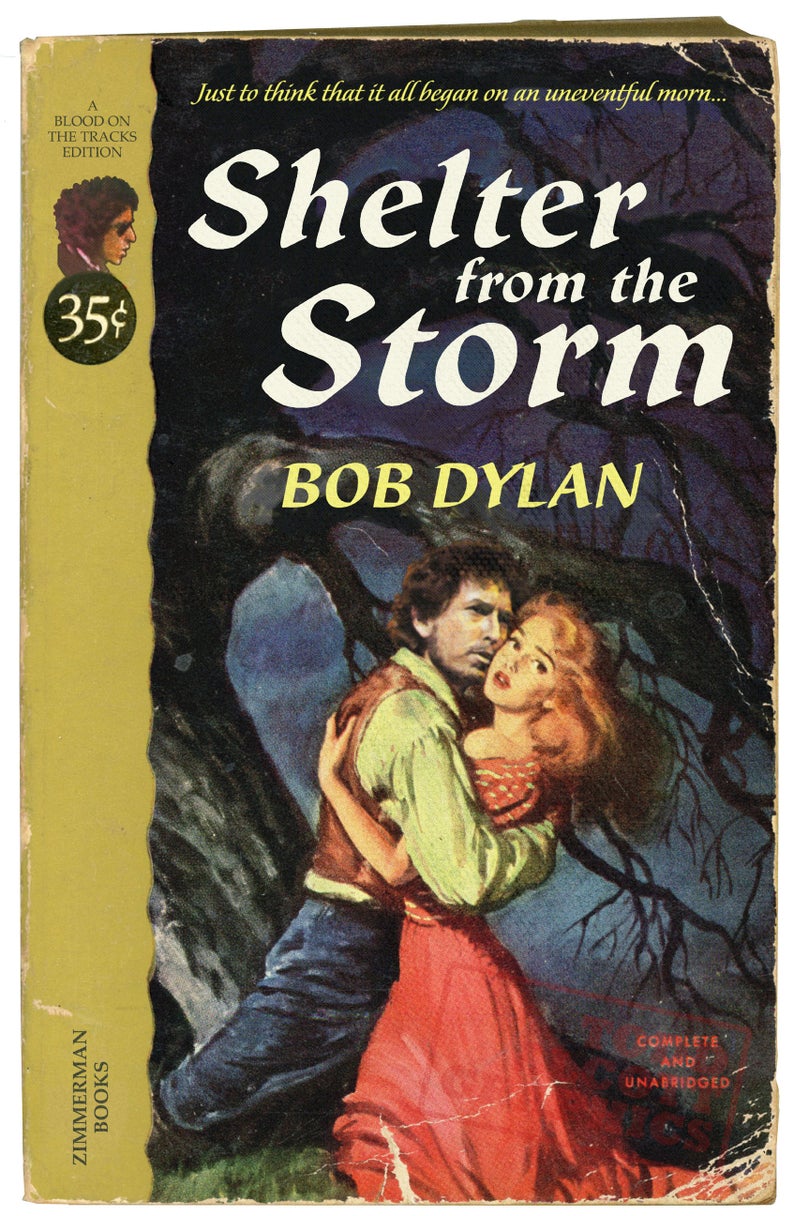 Hence the cultural resonance that has long outlasted their first burst of popularity — and that fuels the visual mash-ups of Todd Alcott. A professional screenwriter and graphic designer, Alcott takes mid-20th-century works of graphic design, most often paperback book covers, and reimagines them with the lyrics, themes, and even imagery of popular songs from a slightly later period. This project is easier shown than explained, but take a glance at his Etsy shop and you'll understand it at once.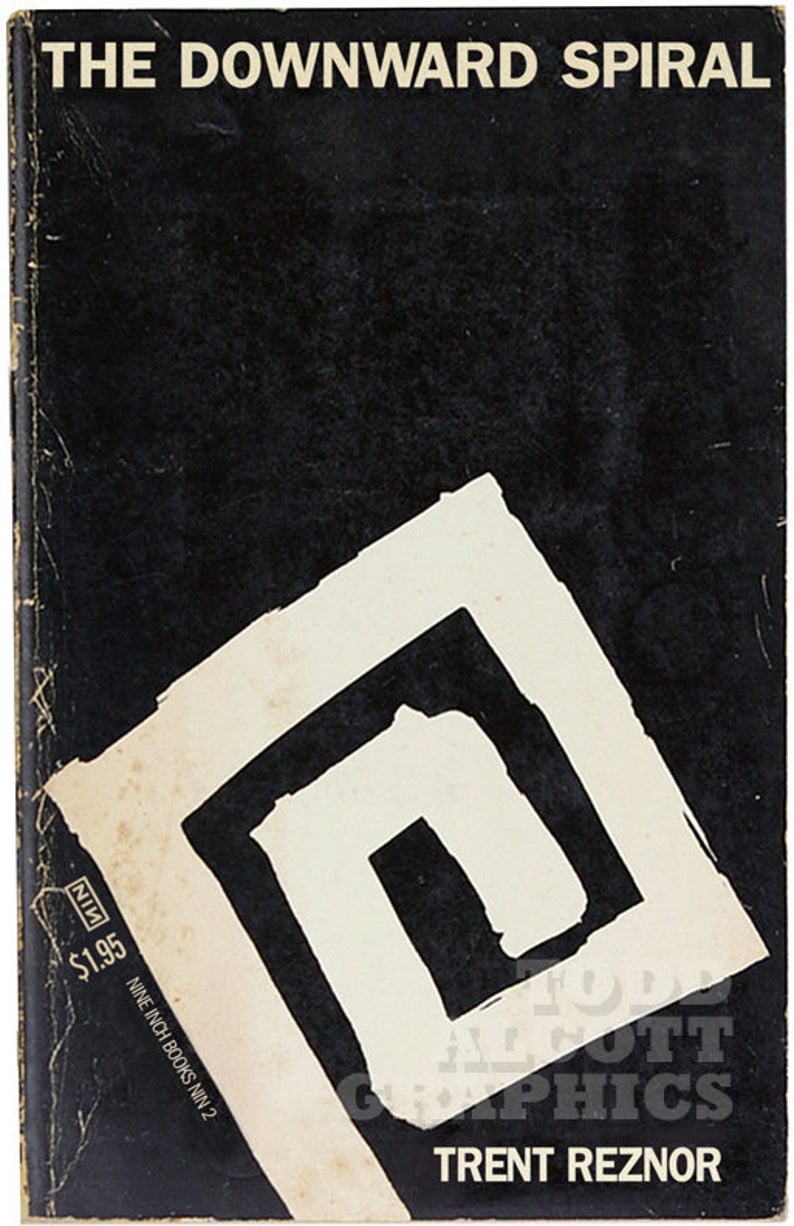 You'll also take notice of a few mash-ups especially relevant to the present moment, one in which we all feel a bit "Under Pressure." The whole of "Planet Earth," after all, has found itself subject to the kind of deadly pandemic that only happens "Once in a Lifetime," if that often.
Increasingly many of us feel the need to "Call the Doctor," but increasingly often, the doctor has proven unavailable. Most of us can do no better than seeking "Shelter from the Storm" — and some of us have been forced by law to do so.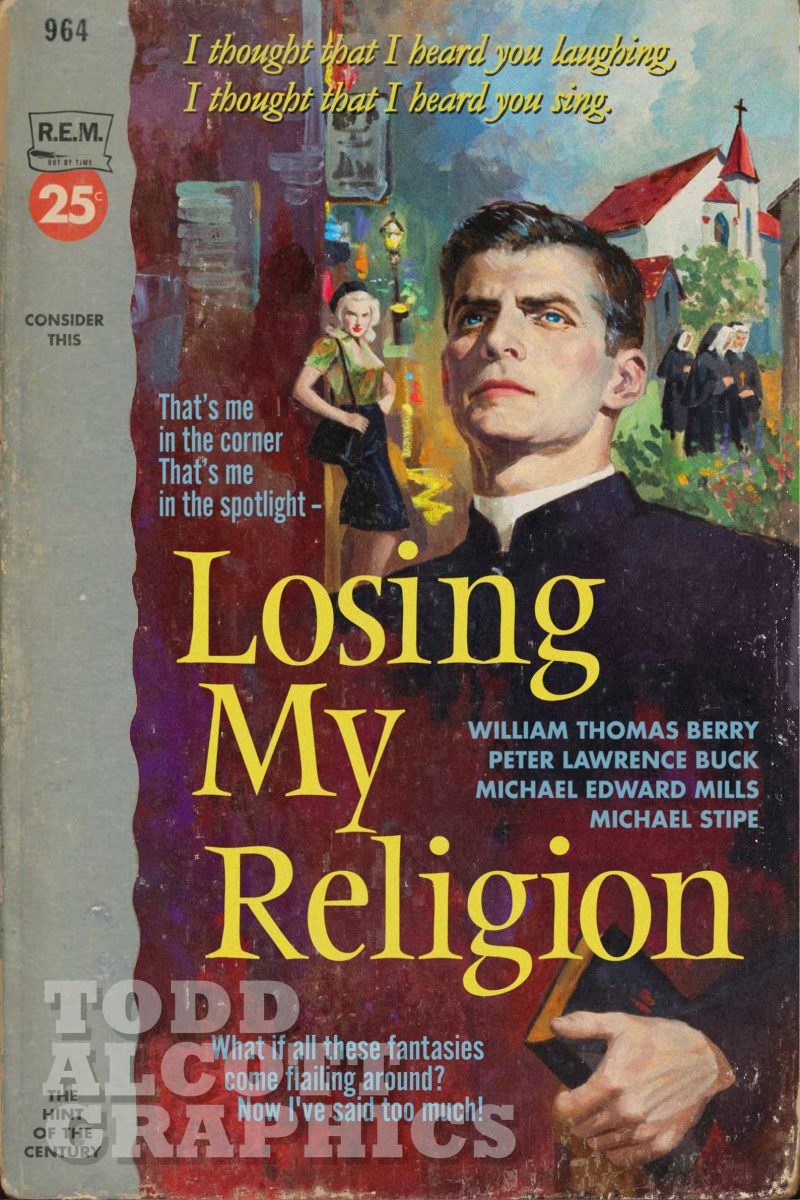 In some countries, all this has begun to feel like "Life During Wartime." Extended periods confined to our homes have rendered some of us "Comfortably Numb," and no few Americans have begun to say, "I'm So Bored with the U.S.A." Perhaps you've even heard from friends who describes themselves as in the process of "Losing My Religion." Some see humanity as plunging into "The Downward Spiral" that ultimately means "It's the End of the World as We Know It."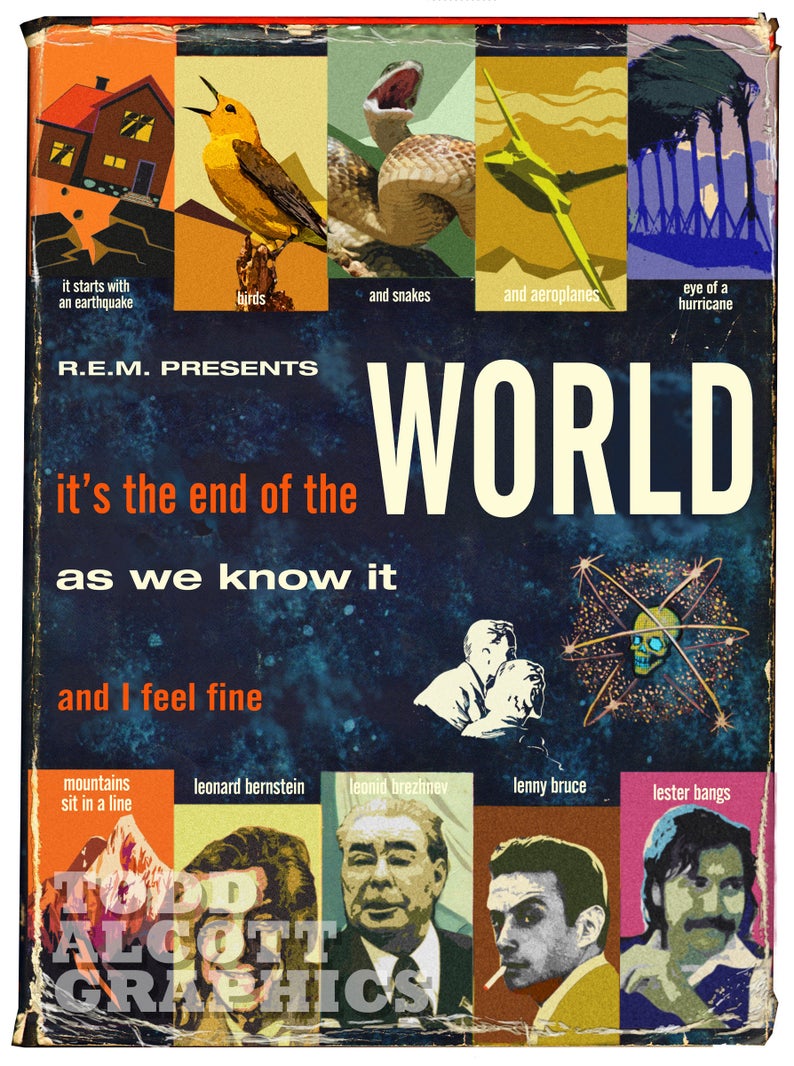 Others say "Don't Worry About the Government," expecting as they do a "Revolution" for which they've already begun to arm themselves with "Lawyers, Guns and Money." But how many of us can really say with confidence what a post-coronavirus world will look like, and how or whether it will be different from the one we've grown used to? Best to draw all we can from the wisdom of the past — whatever form it comes in — and bear in mind that, as a 20th-century sage once put it, "Tomorrow Never Knows." You can purchase copies of Todd Alcott's covers (which extends well beyond what appears here) at his Etsy shop.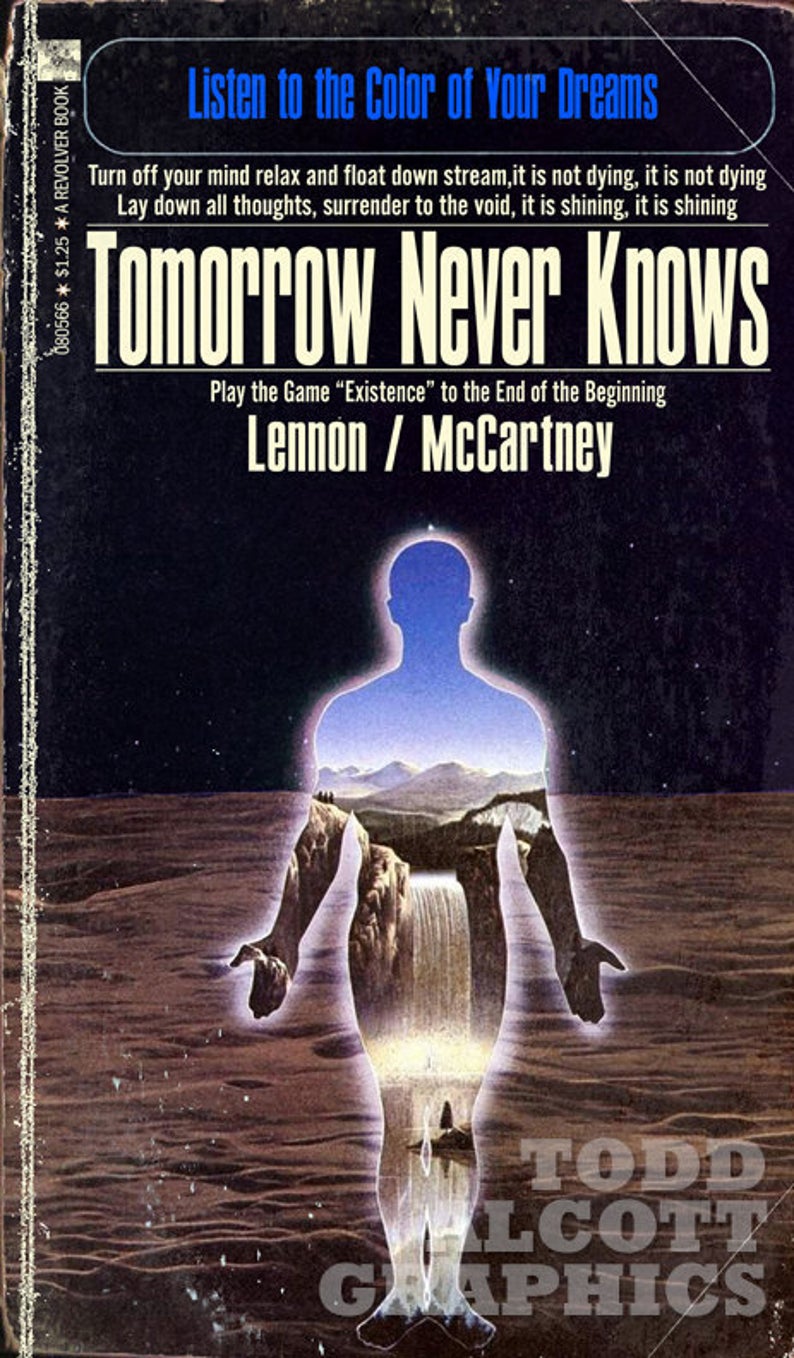 Related Content:
Beatles Songs Re-Imagined as Vintage Book Covers and Magazine Pages: "Drive My Car," "Lucy in the Sky with Diamonds" & More
Classic Songs by Bob Dylan Re-Imagined as Pulp Fiction Book Covers: "Like a Rolling Stone," "A Hard Rain's A-Gonna Fall" & More
David Bowie Songs Reimagined as Pulp Fiction Book Covers: Space Oddity, Heroes, Life on Mars & More
Talking Heads Songs Become Midcentury Pulp Novels, Magazines & Advertisements: "Burning Down the House," "Once in a Lifetime," and More
Classic Radiohead Songs Re-Imagined as a Sci-Fi Book, Pulp Fiction Magazine & Other Nostalgic Artifacts
Songs by Joni Mitchell Re-Imagined as Pulp Fiction Book Covers & Vintage Movie Posters
Based in Seoul, Colin Marshall writes and broadcasts on cities, language, and culture. His projects include the book The Stateless City: a Walk through 21st-Century Los Angeles and the video series The City in Cinema. Follow him on Twitter at @colinmarshall, on Facebook, or on Instagram.