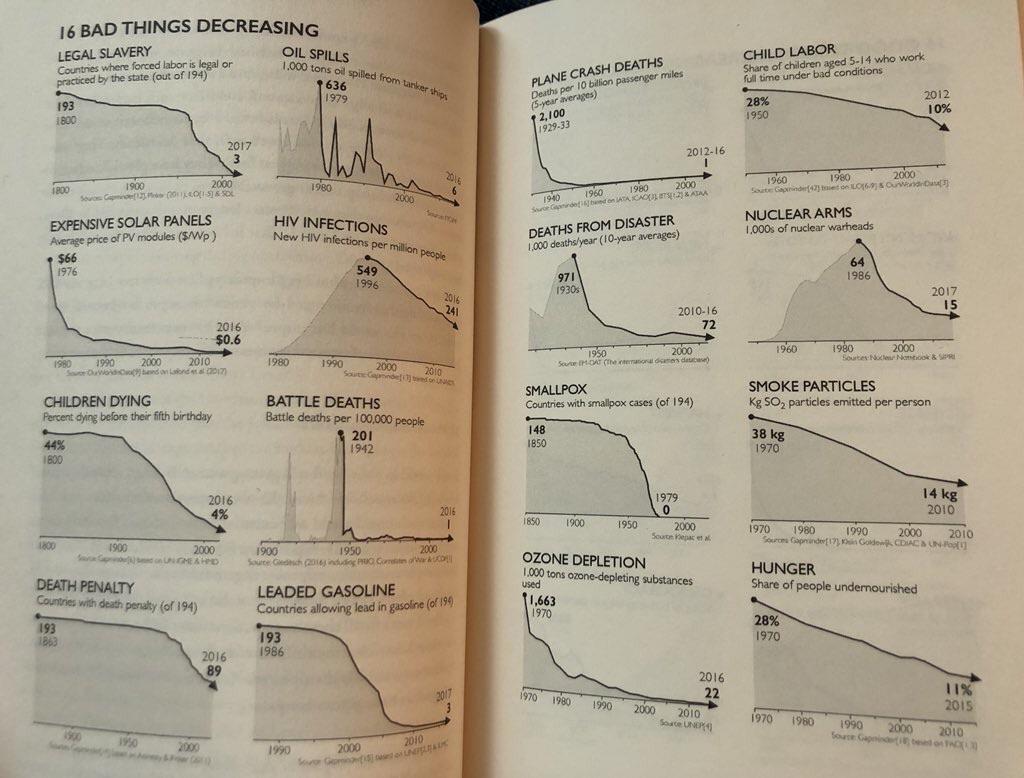 It cer­tain­ly may not feel like things are get­ting bet­ter behind the anx­ious veils of our COVID lock­downs. But some might say that opti­mism and pes­simism are prod­ucts of the gut, hid­den some­where in the bac­te­r­i­al stew we call the micro­bio­me. "All prej­u­dices come from the intestines," pro­claimed not­ed suf­fer­er of indi­ges­tion, Friedrich Niet­zsche. Maybe we can change our views by chang­ing our diet. But it's a lit­tle hard­er to change our emo­tions with facts. We turn up our noses at them, or find them impos­si­ble to digest.
Niet­zsche did not con­sid­er him­self a pes­simist. Despite his stom­ach trou­bles, he "adopt­ed a phi­los­o­phy that said yes to life," notes Rea­son and Mean­ing, "ful­ly cog­nizant of the fact that life is most­ly mis­er­able, evil, ugly, and absurd." Let's grant that this is so. A great many of us, I think, are inclined to believe it. We are ide­al con­sumers for dystopi­an Niet­zsche-esque fan­tasies about super­men and "last men." Still, it's worth ask­ing: is life always and equal­ly mis­er­able, evil, ugly, and absurd? Is the idea of human progress no more than a mod­ern delu­sion?
Physi­cian, sta­tis­ti­cian, and one­time sword swal­low­er Hans Rosling spent sev­er­al years try­ing to show oth­er­wise in tele­vi­sion doc­u­men­taries for the BBC, TED Talks, and the posthu­mous book Fact­ful­ness: Ten Rea­sons We're Wrong About the World—and Why Things Are Bet­ter Than You Think, co-writ­ten with his son and daugh­ter-in-law, a sta­tis­ti­cian and design­er, respec­tive­ly. Rosling, who passed away in 2017, also worked with his two co-authors on soft­ware used to ani­mate sta­tis­tics, and in his pub­lic talks and book, he attempt­ed to bring data to life in ways that engage gut feel­ings.
Take the set of graphs above, aka, "16 Bad Things Decreas­ing," from Fact­ful­ness. (View a larg­er scan of the pages here.) Yes, you may look at a set of mono­chro­mat­ic trend lines and yawn. But if you attend to the details, you'll can see that each arrow plum­met­ing down­ward rep­re­sents some pro­found ill, man­made or oth­er­wise, that has killed or maimed mil­lions. These range from legal slavery—down from 194 coun­tries in 1800 to 3 in 2017—to small­pox: down from 148 coun­tries with cas­es in 1850 to 0 in 1979. (Per­haps our cur­rent glob­al epi­dem­ic will war­rant its own tri­umphant graph in a revised edi­tion some decades in the future.) Is this not progress?
What about the steadi­ly falling rates of world hunger, child mor­tal­i­ty, HIV infec­tions, num­bers of nuclear war­heads, deaths from dis­as­ter, and ozone deple­tion? Hard to argue with the num­bers, though as always, we should con­sid­er the source. (Near­ly all these sta­tis­tics come from Rosling's own com­pa­ny, Gap­min­der.) In the video above, Dr. Rosling explains to a TED audi­ence how he designed a course on glob­al health in his native Swe­den. In order to make sure the mate­r­i­al mea­sured up to his accom­plished stu­dents' abil­i­ties, he first gave them a ques­tion­naire to test their knowl­edge.
Rosling found, he jokes, "that Swedish top stu­dents know sta­tis­ti­cal­ly sig­nif­i­cant­ly less about the world than a chim­panzee," who would have scored high­er by chance. The prob­lem "was not igno­rance, it was pre­con­ceived ideas," which are worse. Bad ideas are dri­ven by many ‑isms, but also by what Rosling calls in the book an "over­dra­mat­ic" world­view. Humans are ner­vous by nature. "Our ten­den­cy to mis­in­ter­pret facts is instinctive—an evo­lu­tion­ary adap­ta­tion to help us make quick deci­sions to avoid dan­ger," writes Katie Law in a review of Fact­ful­ness.
"While we still need these instincts, they can also trip us up." Mag­ni­fied by glob­al, col­lec­tive anx­i­eties, weaponized by can­ny mass media, the ten­den­cy to pes­simism becomes real­i­ty, but it's one that is not sup­port­ed by the data. This kind of argu­ment has become kind of a cot­tage indus­try; each pre­sen­ta­tion must be eval­u­at­ed on its own mer­its. Pre­sum­ably enlight­ened opti­mism can be just as over­sim­pli­fied a view as the dark­est pes­simism. But Rosling insist­ed he wasn't an opti­mist. He was just being "fact­ful." We prob­a­bly shouldn't get into what Niet­zsche might say to that.
Relat­ed Con­tent:
Pos­i­tive Psy­chol­o­gy: A Free Course from Har­vard Uni­ver­si­ty
Against All Odds: A Gen­tle Intro­duc­tion to Sta­tis­tics Host­ed by Har­vard Geneti­cist Par­dis Sabeti (Free Online Course)
David Byrne Launch­es Rea­sons to Be Cheer­ful, an Online Mag­a­zine Fea­tur­ing Arti­cles by Byrne, Bri­an Eno & More
Josh Jones is a writer and musi­cian based in Durham, NC. Fol­low him at @jdmagness