There's 15-year-old Precious from the Netherlands…
And Bubble from Australia, age 4…
Yeasty Beasty Methuselah, from Twin Falls, Idaho, is estimated to be around 50…
Every sourdough starter is special to the ones who made or maintain it, but of the 1000s registered online with Quest for Sourdough, only 125 have earned a permanent place in the Puratos Sourdough Library in Saint-Vith, Belgium. It's the world's only library dedicated to Sourdough, and you can take a virtual tour here.
Housed in identical jars in a museum-quality refrigerated cabinets, these heritage starters have been carefully selected by librarian Karl De Smedt, above, who travels the world visiting bakeries, tasting bread, and learning the stories behind each sample that enters the collection.
As De Smedt recalls in an interview with the Sourdough Podcast, the idea for the museum began taking shape when a Lebanese baker reached out to Puratos, a hundred-year-old company that supplies commercial bakers and pastry makers with essentials of the trade. The man's sons returned from a baking expo in Paris and informed their dad that when they took over, they planned to retire his time-honored practice of baking with fermented chickpeas in favor of instant yeast. Worried that his prized recipe would be lost to history, he appealed to Puratos to help preserve his protocols.
While fermented chickpeas do not count as sourdough—a combination of flour, water, and the resulting microorganisms this marriage gives rise to over time—the company had recently collected and analyzed 43 venerable starters. The bulk came from Italy, including one from Altamura, the "city of bread, producer of what Horace called in 37 B.C. 'the best bread to be had, so good that the wise traveler takes a supply of it for his onward journey.'"
Thus was a non-circulating library born.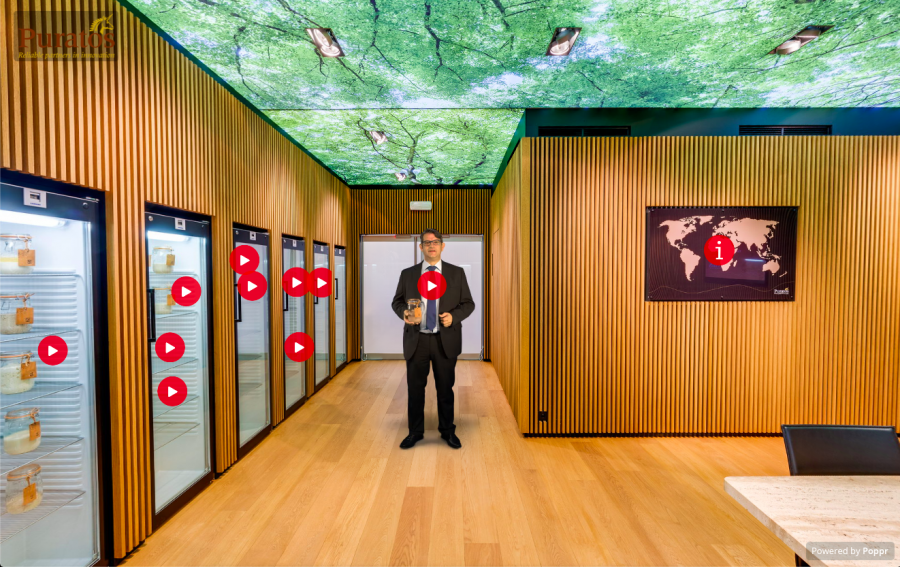 Each specimen is analyzed by food microbiologist Marco Gobbetti from the University of Bolzano and Bari.
A collaboration with North Carolina State University biologists Rob Dunn and Anne Madden revealed that sourdough bakers' hands share distinct microbes with their starters.
More than 1100 strains of microorganisms have been recorded so far.
Every two months, the starters are taken out of the fridge and fed, i.e. reactivated, with a combination of water and some of their flour of origin, yearly quantities of which are contributed by their bakers. Without this regular care, the starters will die off.
(The pandemic has De Smedt working from home, but he intimated to The New York Times that he intended to make it back to feed his babies, or "mothers" as they are known in sourdough circles.)
#72 from Mexico feeds on eggs, lime and beer
#100 from Japan is made of cooked sake rice.
#106 is a veteran of the Gold Rush.
Their consistency is documented along a line that ranges from hard to fluid, with Silly Putty in the middle.
Each year, De Smedt expands the collection with starters from a different area of the world. The latest additions come from Turkey, and are documented in the mouthwatering travelogue above.
For now, of course, he's grounded in Belgium, and using his Instagram account to provide encouragement to other sourdough practitioners, answering rookie questions and showing off some of the loaves produced by his own personal starters, Barbara and Amanda.
Register your starter on Quest for Sourdough here.
If you haven't yet taken the sourdough plunge, you can participate in North Carolina State University's Wild Sourdough Project by following their instructions on making a starter from scratch and then submitting your data here.
And bide your time until you're cleared to visit the Puratos Sourdough Library in person by taking an interactive virtual tour or watching a complete playlist of De Smedt's collecting trips here.
Related Content: 
How to Bake Ancient Roman Bread Dating Back to 79 AD: A Video Primer
An Archive of Handwritten Traditional Mexican Cookbooks Is Now Online
400 Ways to Make a Sandwich: A 1909 Cookbook Full of Creative Recipes
Ayun Halliday is an author, illustrator, theater maker and Chief Primatologist of the East Village Inky zine.  Her current starter, Miss Sourdough, was brought to life with an unholy splash of apple cider. Follow her @AyunHalliday.