Just shy of 120 years ago, "the wisest and most careful men in our greatest institutions of science and learning" told America what would change by the far-flung dawn of 2001. C, X and Q gone from the alphabet; "Air-Ships" in the skies, strictly for military purposes (passenger traffic being handled by "fast electric ships"); strawberries as large as apples; university education "free to every man and woman": these are just a few of the details of life in the coming 21st century. We for whom the year 2001 is now firmly in the past will get a laugh out of all this. But as with any set of predictions, amid the misses come partial hits. We don't get our "hot and cold air from spigots," but we do get it from air-conditioning and heating systems. We don't send photographs across the world by telegraph, but the device we all keep in our pockets does the job well enough.
Written by a civil engineer named John Elfreth Watkins, Jr. (presumably the son of Smithsonian Curator of Mechanical Technology John Elfreth Watkins, Sr.), "What May Happen in the Next Hundred Years" ran in the December 1900 issue of that renowned futurological organ Ladies' Home Journal. You can hear it read aloud, and see it accompanied by historical film clips, in the Voices of the Past video above.
A few years ago the piece came back into circulation on the internet (which goes unmentioned by its experts, more concerned as they were with proliferation of telephone lines and pneumatic tubes) and its predictions were put to the test. At the Saturday Evening Post, Jeff Nilsson gives Watkins (once a Post contributor himself) points for less outlandish prophecies, such as a rise in humanity's life expectancy and average height.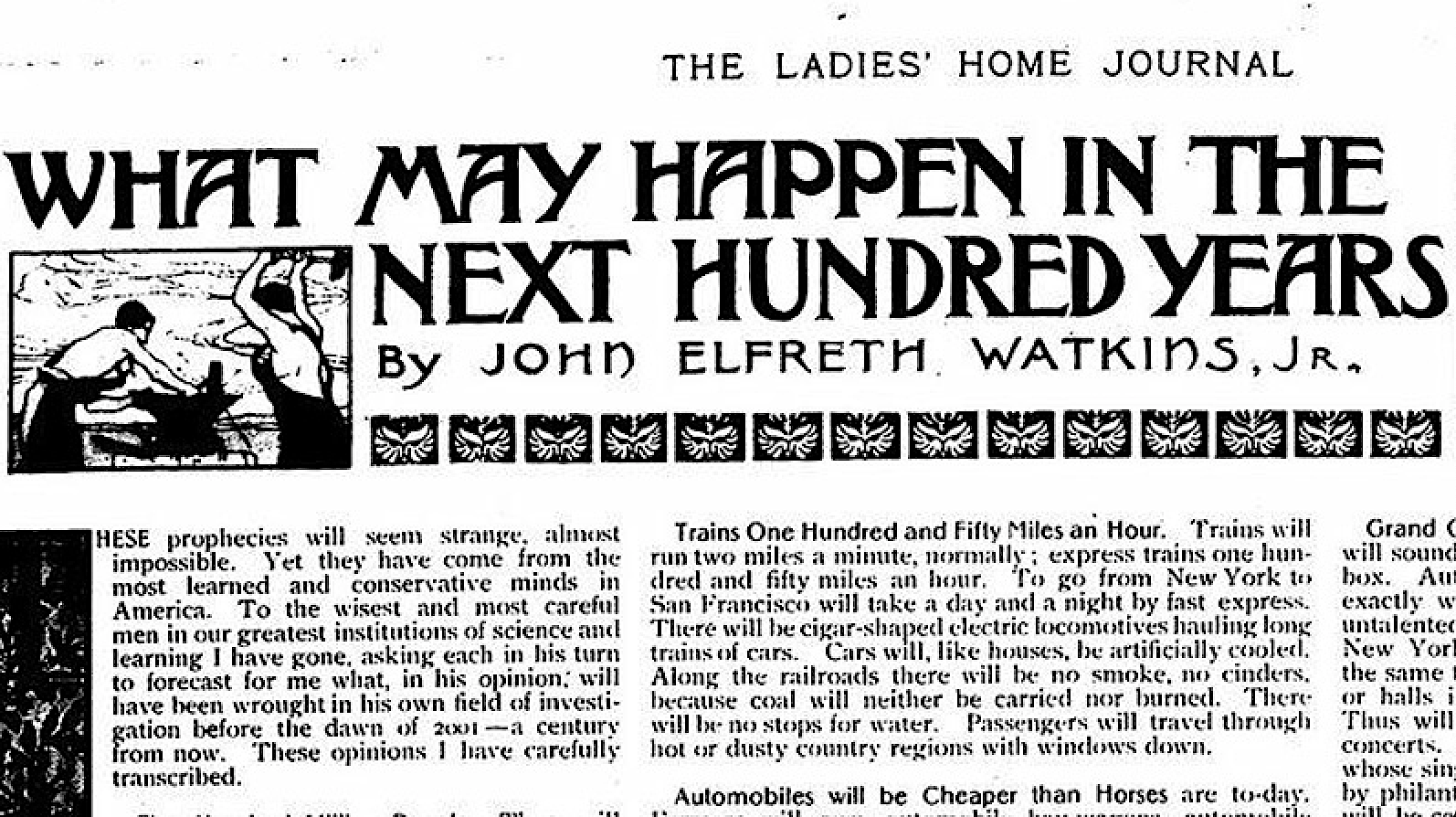 Watkins describes his sources as "the most learned and conservative minds in America." In some areas they were too conservative: they foresee "Trains One Hundred and Fifty Miles an Hour," but as Nilsson notes, today's "high-speed trains are traveling over 300 mph. Just not in the United States." Americans did lose their streetcars as predicted, but not due to their replacement by subways and moving sidewalks — and what would these experts make of the streetcar's 21st-century renaissance? When Watkins writes that "grand opera will be telephoned to private homes," we may think of the Met's current COVID-prompted streaming, a scenario that would have occurred to few in a world yet to experience even the Spanish flu pandemic of 1918. But then, the future's defining quality has always been its very unknowability: consider how much has come to pass since we last posted about these predictions here on Open Culture — not least the end of Ladies Home Journal itself.
Related Content:
In 1900, Ladies' Home Journal Publishes 28 Predictions for the Year 2000
1902 French Trading Cards Imagine "Women of the Future"
In 1911, Thomas Edison Predicts What the World Will Look Like in 2011: Smart Phones, No Poverty, Libraries That Fit in One Book
Nikola Tesla's Predictions for the 21st Century: The Rise of Smart Phones & Wireless, The Demise of Coffee, The Rule of Eugenics (1926/35)
How French Artists in 1899 Envisioned Life in the Year 2000: Drawing the Future
9 Science-Fiction Authors Predict the Future: How Jules Verne, Isaac Asimov, William Gibson, Philip K. Dick & More Imagined the World Ahead
Based in Seoul, Colin Marshall writes and broadcasts on cities, language, and culture. His projects include the Substack newsletter Books on Cities, the book The Stateless City: a Walk through 21st-Century Los Angeles and the video series The City in Cinema. Follow him on Twitter at @colinmarshall, on Facebook, or on Instagram.