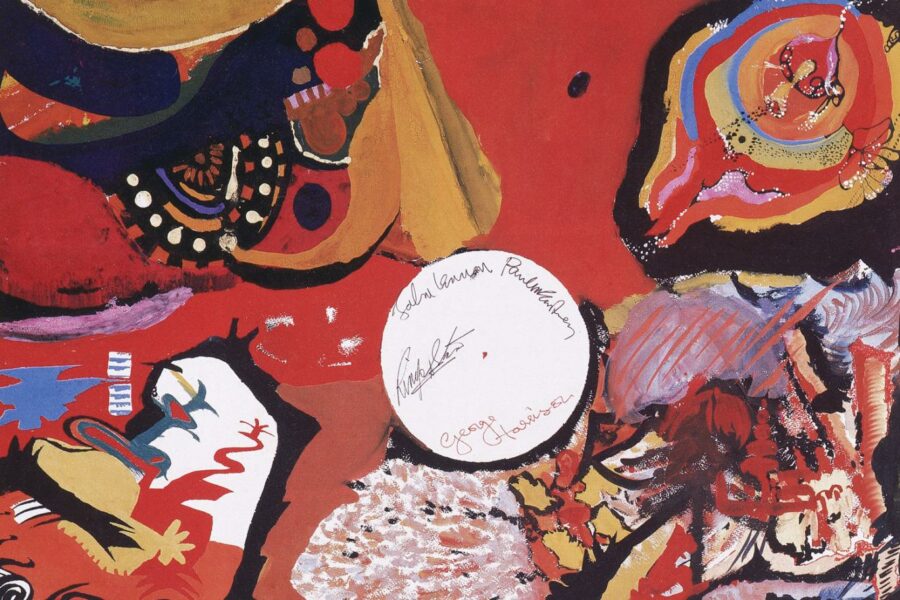 One of the ear­li­est known non-human visu­al artists, Con­go the chim­panzee, learned to draw in 1956 at the age of two. Moody, fierce­ly pro­tec­tive of his work, and par­tic­u­lar about his process, he made around 400 draw­ings and paint­ings in a style described as "lyri­cal abstract impres­sion­ism." He appeared sev­er­al times on British tele­vi­sion before his death in 1964. He count­ed Picas­so among his fans and, in a 2005 auc­tion, out­sold Warhol and Renoir.
One won­ders if who­ev­er gave the four-head­ed beast known as the Bea­t­les can­vas and paint ("pos­si­bly Bri­an Epstein or their Japan­ese pro­mot­er, Tats Nagashima") remem­bered Con­go as the fab four bounced off the walls in their hotel rooms in Tokyo dur­ing their last, 1966 tour, when extra secu­ri­ty forced them to stay inside for three full days. Or per­haps their keep­ers were inspired by the humane prac­tice of art ther­a­py, com­ing into its own at the same time in men­tal health cir­cles with the found­ing of the British Asso­ci­a­tion of Art Ther­a­pists in 1964.
"Accord­ing to pho­tog­ra­ph­er Robert Whitak­er," David Wol­man writes at The Atlantic, the Bea­t­les' man­ag­er "brought the guys a bunch of art sup­plies to help pass the time. Then Epstein set a large can­vas on a table and placed a lamp in the mid­dle. Each mem­ber of the group set to work paint­ing a corner—comic strip­py for Ringo, psy­che­del­ic for John." Paul's cor­ner resem­bles an odd­ly erot­ic sea crea­ture, George's the spir­i­tu­al abstrac­tions of Kandin­sky. Accord­ing to the Bea­t­les Bible, it was Nagashima "who sug­gest­ed that the com­plet­ed paint­ing be auc­tioned for char­i­ty."
Whitak­er doc­u­ment­ed the exper­i­ment and lat­er pro­nounced it an imme­di­ate suc­cess: "I nev­er saw them calmer, more con­tent­ed than at this time… They'd stop, go and do a con­cert, and then it was 'Let's go back to the pic­ture!'" Once fin­ished, the lamp was lift­ed, all four signed their names in the cen­ter, and the paint­ing was titled Images of A Woman, which may be no indi­ca­tion of the artists' inten­tions. Who knows what kind of scouser humor passed between them as they worked.
The paint­ing then passed to cin­e­ma exec­u­tive Tet­sus­aburo Shi­moya­ma, whose wid­ow auc­tioned it in 1989 to wealthy record store own­er Takao Nishi­no, who had seen them at Budokan in 1966 dur­ing the same his­toric tour that pro­duced the paint­ing. Then it end­ed up under a bed for twen­ty years before being auc­tioned again in 2012. It's cer­tain­ly true the band, most espe­cial­ly Paul and John, had always tak­en to visu­al art, as artists them­selves or as col­lec­tors and appre­ci­a­tors. But this is some­thing spe­cial. It rep­re­sents their only col­lab­o­ra­tive art­work, aside from some doo­dles on a card sent to the Mon­ter­rey orga­niz­ers.
When look­ing at Whitaker's pho­tographs of the band at work (see video mon­tage above), one doesn't, of course, think of Con­go the chimp or the patients of a psy­chi­atric hos­pi­tal. Instead, they look like stu­dents in a '60s alter­na­tive school, set loose to cre­ate with­out inter­rup­tion (but for the occa­sion­al mega-con­cert) to their hearts' con­tent. Maybe Epstein or Nagashima had just seen the 1966 Nation­al Film Board of Cana­da doc­u­men­tary Sum­mer­hill, about just such a school in Eng­land? What­ev­er inspired the zeitgeist‑y moment, we can see why it nev­er came again. That year, they played their final con­cert and retired to the stu­dio, where they could lock them­selves away with their pre­ferred means of cre­ative dis­trac­tion.
Relat­ed Con­tent:
When the Bea­t­les Refused to Play Before Seg­re­gat­ed Audi­ences on Their First U.S. Tour (1964)
Meet Con­go the Chimp, London's Sen­sa­tion­al 1950s Abstract Painter
How "Straw­ber­ry Fields For­ev­er" Con­tains "the Cra­zi­est Edit" in Bea­t­les His­to­ry
Audio: The Bea­t­les Play Their Final Con­cert at Can­dle­stick Park, 1966
Josh Jones is a writer and musi­cian based in Durham, NC. Fol­low him at @jdmagness