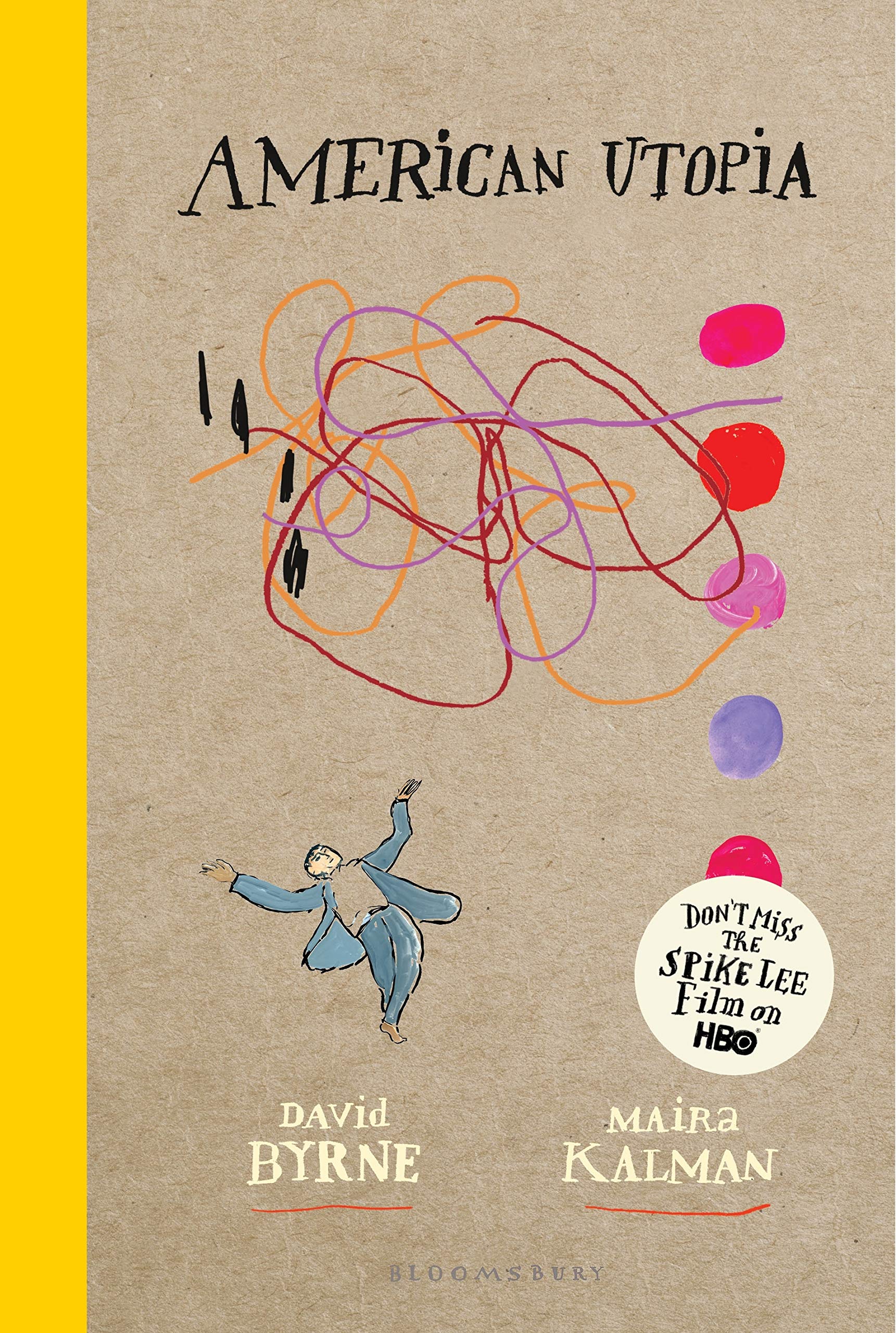 What­ev­er your feel­ings about the sen­ti­men­tal, light­heart­ed 1960 Dis­ney film Pollyan­na, or the 1913 nov­el on which it's based, it's fair to say that his­to­ry has pro­nounced its own judg­ment, turn­ing the name Pollyan­na into a slur against exces­sive opti­mism, an epi­thet reserved for adults who dis­play the guile­less, out-of-touch naïveté of chil­dren. Pit­ted against Pollyanna's effer­ves­cence is Aunt Pol­ly, too caught up in her grown-up con­cerns to rec­og­nize, until it's almost too late, that maybe it's okay to be hap­py.
Maybe we all have to be a lit­tle like prac­ti­cal Aunt Pol­ly, but do we also have a place for Pollyan­nas? Can that not also be the role of the mod­ern artist? David Byrne hasn't been wait­ing for per­mis­sion to spread joy in his late career. Con­tra the com­mon wis­dom of most adults, a cou­ple years back Byrne began to gath­er pos­i­tive news sto­ries under the head­ing Rea­sons to Be Cheer­ful, now an online mag­a­zine.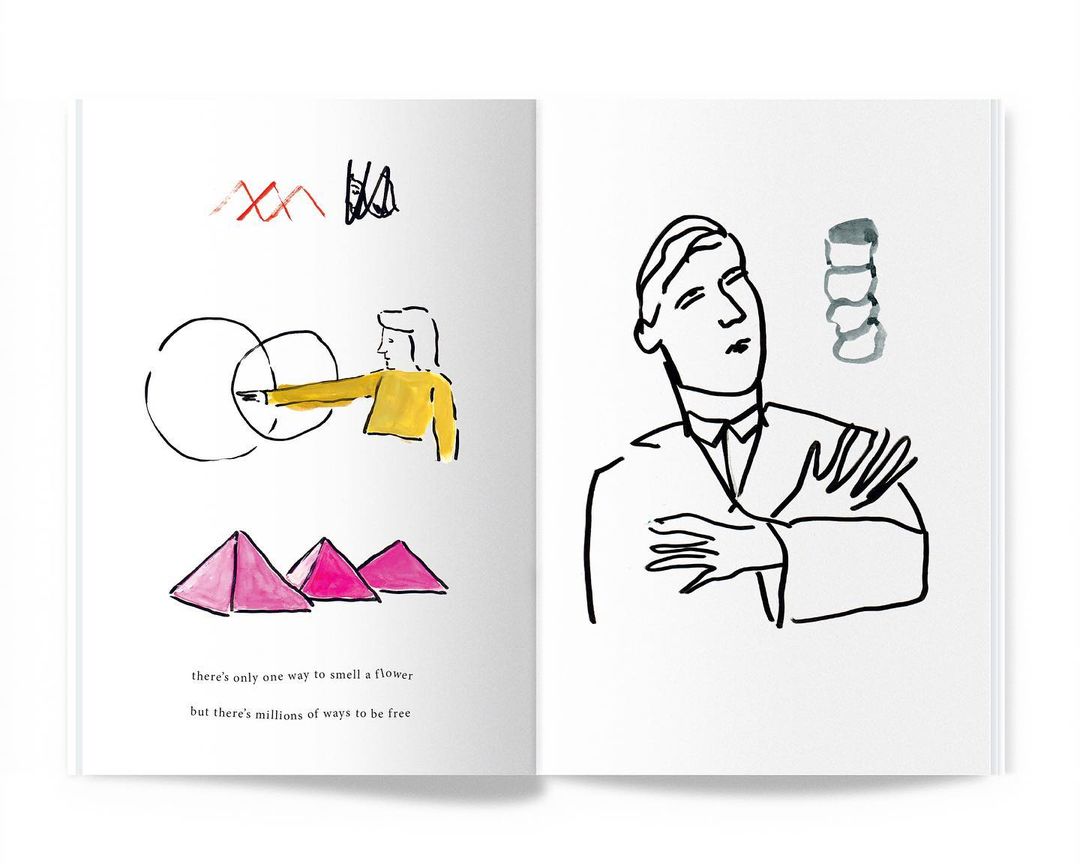 Then, Byrne had the audac­i­ty to call a 2018 album, tour, and Broad­way show Amer­i­can Utopia, and the gall to have Spike Lee direct a con­cert film with the same title, and release it smack in the mid­dle of 2020, a year all of us will be glad to see in hind­sight. Byrne's two-year endeav­or can be seen as his answer to "Amer­i­can Car­nage," the grim phrase that began the Trump era.
As if all that weren't enough, Amer­i­can Utopia is now an "impres­sion­is­tic, sweet­ly illus­trat­ed adult pic­ture book," as Lily Mey­er writes at NPR, "a sooth­ing and uplift­ing, if some­what neb­u­lous, expe­ri­ence of art." Work­ing with artist Maira Kalman, Byrne has turned his con­cep­tu­al musi­cal into some­thing like a "book-length poem… filled with charm­ing illus­tra­tions of trees, dancers, and par­ty-hat­ted dogs."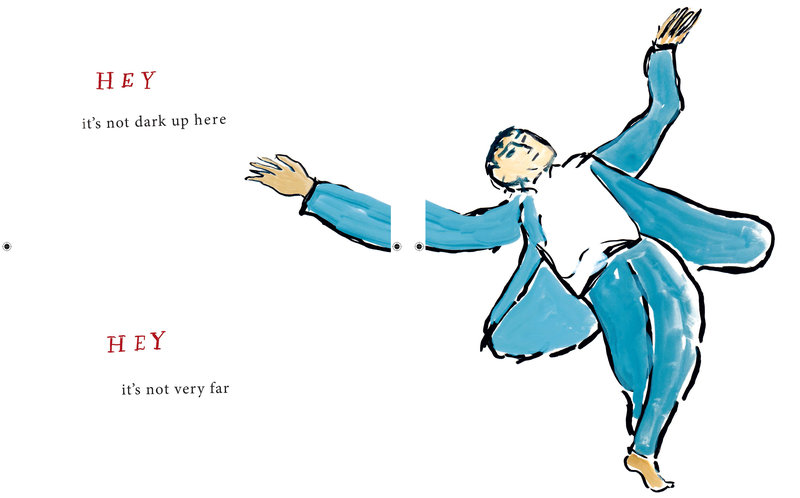 Byrne's project is not naive, Maria Popo­va argues at Brain Pick­ings, it's Whit­manesque, a sal­vo of irre­press­ible opti­mism against "a kind of pes­simistic ahis­tor­i­cal amne­sia" in which we "judge the defi­cien­cies of the present with­out the long vic­to­ry ledger of past and fall into despair." Amer­i­can Utopia doesn't artic­u­late this so much as per­form it, either with bare feet and gray suits onstage or the vivid col­ors of Kalman's draw­ings, "light­ly at odds," Mey­er notes, "with Byrne's words, trans­form­ing their plain opti­mism into a more nuanced appeal."
Amer­i­can Utopia the book, like the musi­cal before it, was writ­ten and drawn before the pan­dem­ic. Do Byrne and Kalman still have rea­sons to be cheer­ful post-COVID? Just last week, they sat down with Isaac Fitzger­ald for Live Talks LA to dis­cuss it. You can see the whole, hour-long con­ver­sa­tion just above. Kalman con­fess­es she's still in "qui­et shock," but finds hope in his­tor­i­cal per­spec­tive and "incred­i­ble peo­ple out there doing fan­tas­tic things."
Byrne takes us on one of his fas­ci­nat­ing inves­ti­ga­tions into the his­to­ry of thought, ref­er­enc­ing a the­o­rist named Aby War­burg who saw in the sum total of art a kind "ani­mat­ed life" that con­nects us, past, present, and future, and who remind­ed him, "Yes, there are oth­er ways of think­ing about things!" Per­haps the vision­ary and the Pollyan­naish need not be so far apart. See sev­er­al more of Kalman and Byrne's beau­ti­ful­ly opti­mistic pages from Amer­i­can Utopia, the book, at Brain Pick­ings.
Relat­ed Con­tent:
David Byrne's Amer­i­can Utopia: A Sneak Pre­view of Spike Lee's New Con­cert Film
David Byrne Launch­es Rea­sons to Be Cheer­ful, an Online Mag­a­zine Fea­tur­ing Arti­cles by Byrne, Bri­an Eno & More
David Byrne Curates a Playlist of Great Protest Songs Writ­ten Over the Past 60 Years: Stream Them Online
Watch Life-Affirm­ing Per­for­mances from David Byrne's New Broad­way Musi­cal Amer­i­can Utopia
Josh Jones is a writer and musi­cian based in Durham, NC. Fol­low him at @jdmagness