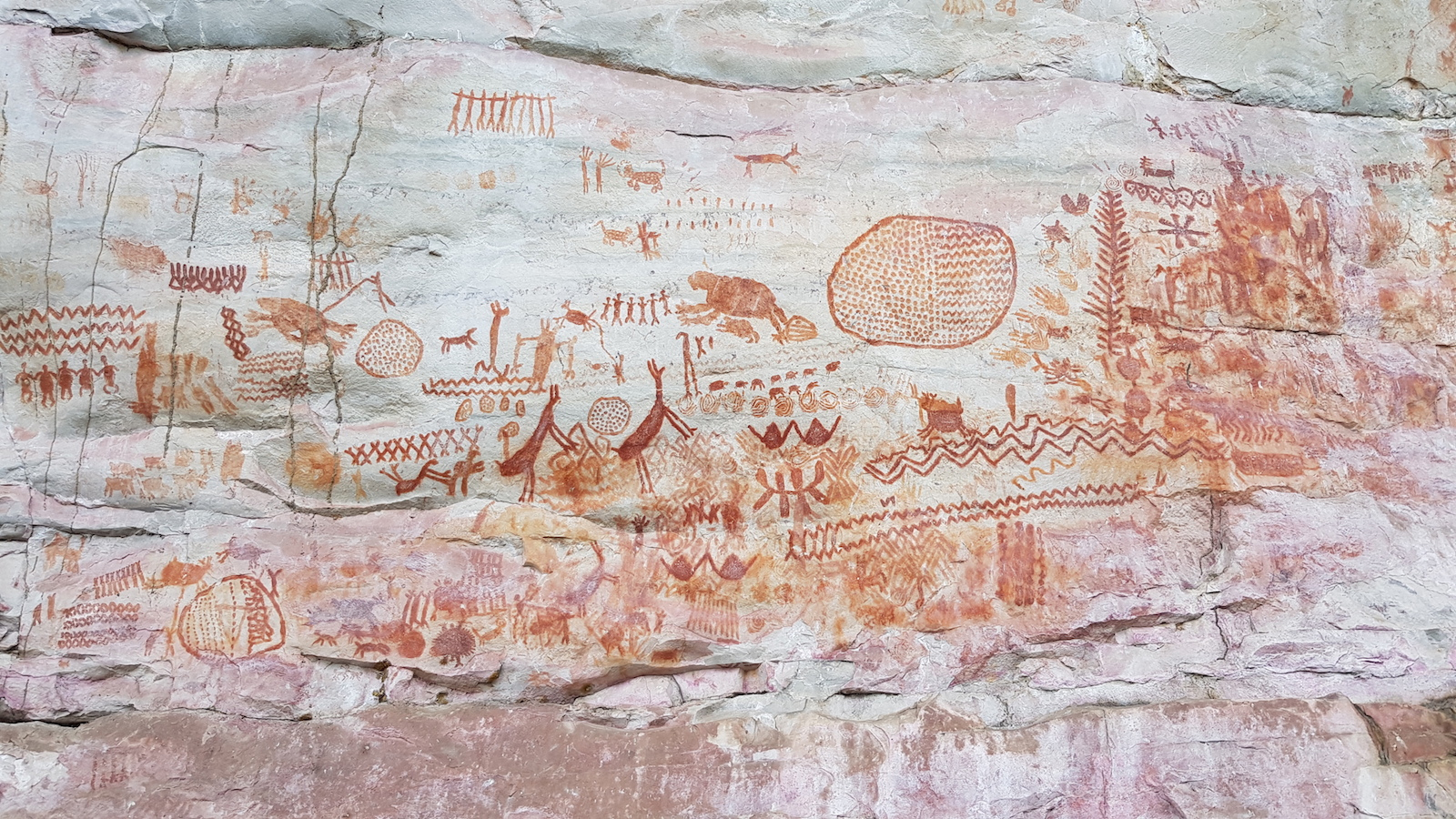 All images by José Iriarte
Over twelve thousand years ago, some of the first humans in the Amazon hunted, painted, and danced with the massive extinct mammals of the ice age: giant sloths and armadillos, ice-age horses, and mastodons…. How do we know? We have pictures, or rock paintings, rather–many thousands of them made around 12,500 years ago and only recently "found on an eight-mile rock surface along the Guayabero River the Colombian Amazon," Hakim Bishara reports at Hyperallergic. The prehistoric wonder has been dubbed the "Sistine Chapel of the ancients."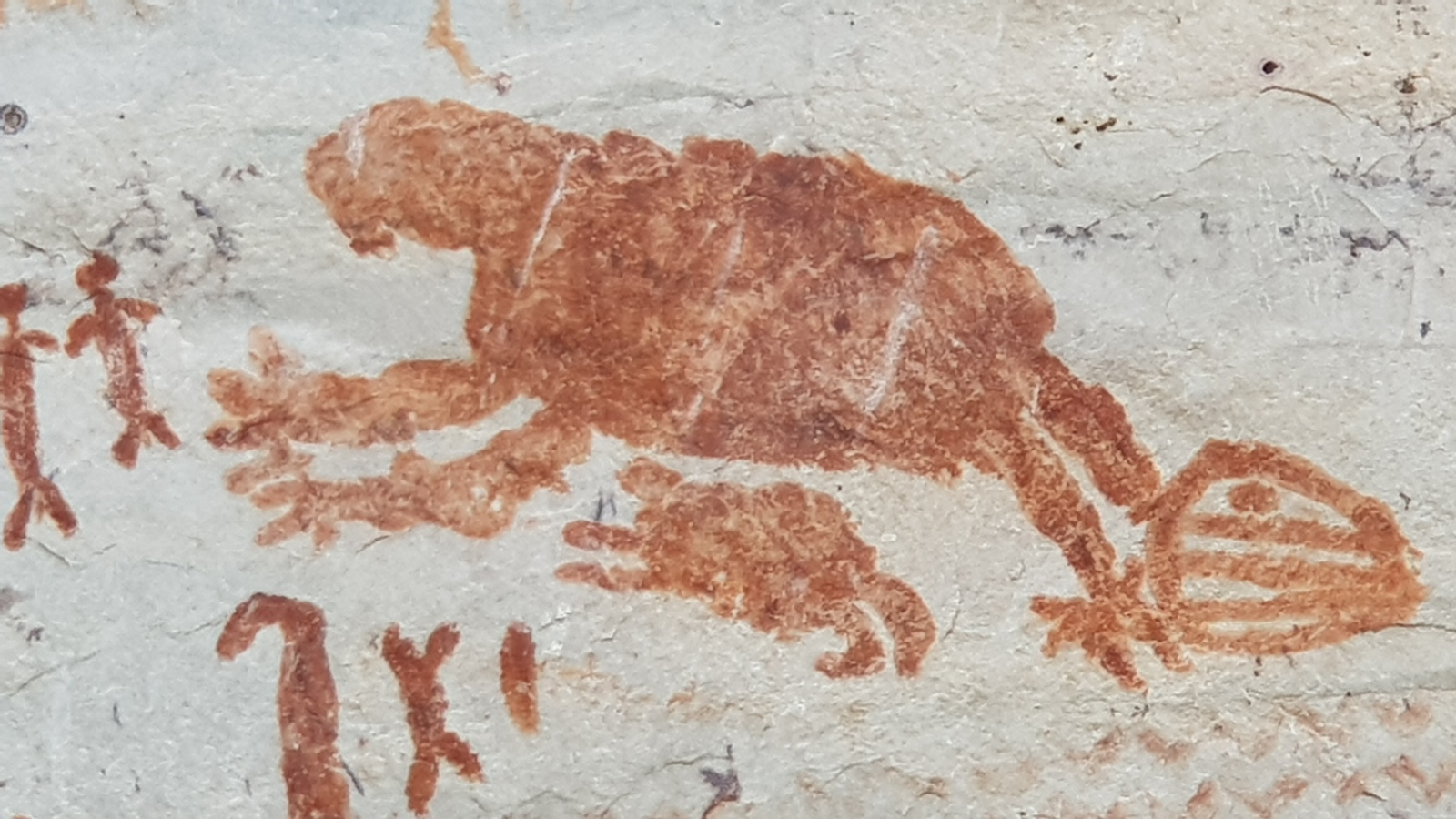 The discovery, made last year, was kept secret until the release of a new documentary airing this month called Jungle Mystery: Lost Kingdoms of the Amazon. Palaeo-anthropologist Ella Al-Shamahi, presenter of the Channel 4 series and a member of the team that found the site, explains why it may be hard to imagine such great prehistoric beasts lumbering through the rainforest.
Their existence in this rock art offers a clue to major climatological shifts that have occurred in the region over millennia. As Al-Shamahi tells The Observer:
One of the most fascinating things was seeing ice age megafauna because that's a marker of time. I don't think people realise that the Amazon has shifted in the way it looks. It hasn't always been this rainforest. When you look at a horse or mastodon in these paintings, of course they weren't going to live in a forest. They're too big. Not only are they giving clues about when they were painted by some of the earliest people – that in itself is just mind-boggling – but they are also giving clues about what this very spot might have looked like: more savannah-like.
"We're talking about several tens of thousands of paintings," says the team's leader, José Iriarte, professor of archaeology at Exeter University. "It's going to take generations to record them." The rock wall art illustrates many extinct species, including prehistoric lama and three-toed hoofed mammals with trunks, as well as realistic depictions of monkeys, bats, snakes, turtles, tapirs, birds, lizards, fish, and deer. Remains found near the site offer clues to the ancient peoples' diets, which included piranha, alligators, snakes, frogs, and "rodents such as paca, capybara, and armadillos," Bishara notes.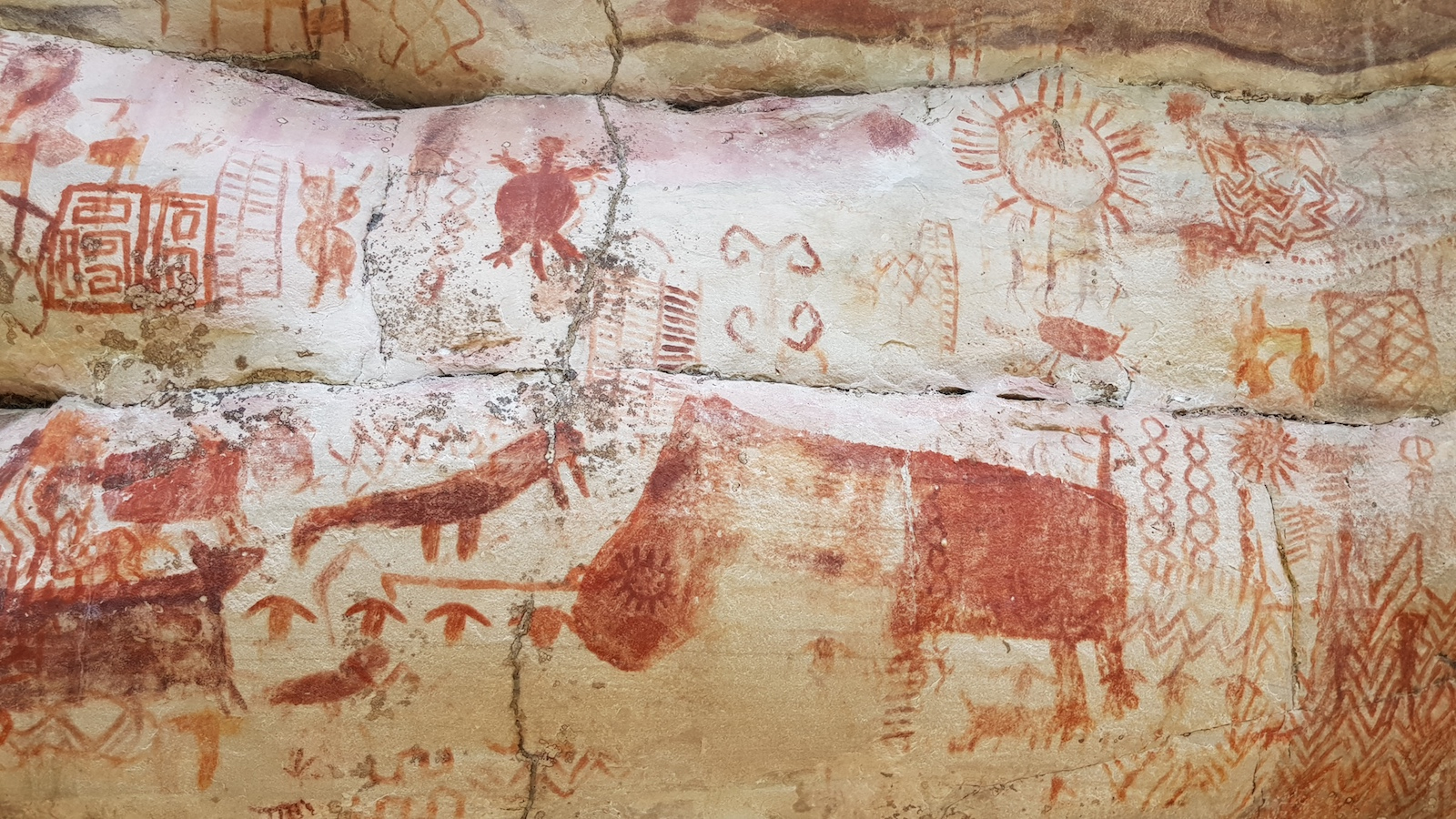 Many of the images are painted to the scale of handprints left in many places along the wall, and some are much larger. Researchers were particularly surprised by the method of composition. Some of the art is so high up it can only be seen by drone. "I'm 5ft 10in," says Shamahi, "and I would be breaking my neck looking up. How were they scaling those walls?" It appears the artists used some form of rappelling. There are "depictions of wooden towers among the paintings," reports The Guardian, "including figures appearing to bungee jump from them."
Further study in the coming decades, and centuries, will reveal much more about how the paintings were made. The why, however, will prove more elusive. Iriarte speculates they served a sacred purpose. "It's interesting to see that many of these large animals appear surrounded by small men with their arms raised, almost worshipping these animals." The presence of hallucinogenic plants among the paintings leads him to compare the paintings with contemporary Amazonian people, for whom "non-humans like animals and plants have souls, and they communicate and engage with people in cooperative or hostile ways through the rituals and shamanic practices that we see depicted in the rock art."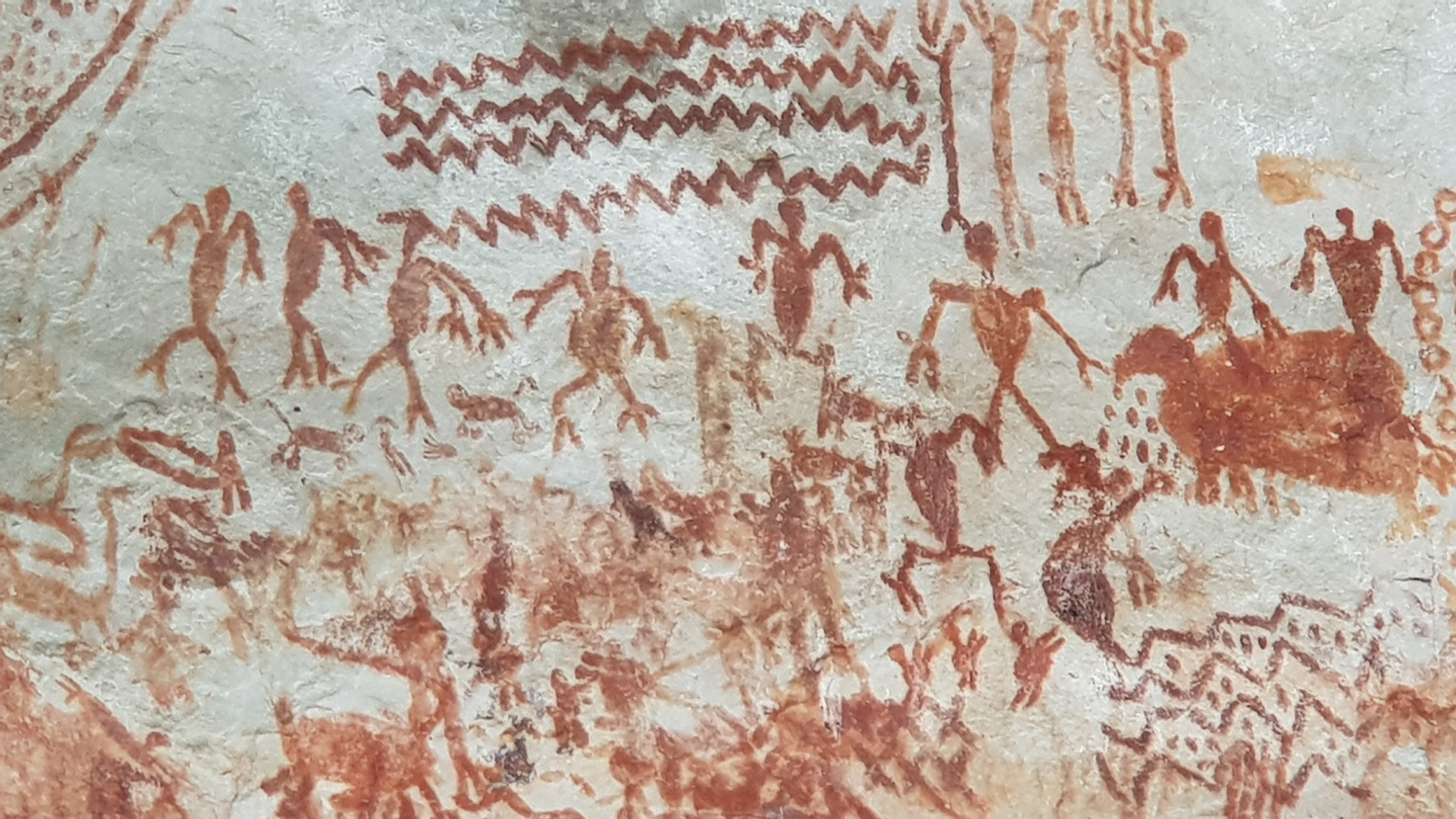 Whatever their purpose, the over 100,000 paintings on the eight-mile wall contain an immeasurable store of information about ancient Amazonians' creativity and ingenuity. They also add, perhaps, to the mountain of rock art evidence suggesting, Barbara Ehrenreich argued recently, that before organized war became the dominant practice of civilizations, "humans once had better ways to spend their time." The publication of the research team's findings is available here. See more images of the site at Hyperallergic and Designboom and watch the first two episodes of Jungle Mystery: Lost Kingdoms of the Amazon here.
via Colossal
Related Content:
A Recently-Discovered 44,000-Year-Old Cave Painting Tells the Oldest Known Story
Archaeologists Discover the World's First "Art Studio" Created in an Ethiopian Cave 43,000 Years Ago
Was a 32,000-Year-Old Cave Painting the Earliest Form of Cinema?
40,000-Year-Old Symbols Found in Caves Worldwide May Be the Earliest Written Language
Josh Jones is a writer and musician based in Durham, NC. Follow him at @jdmagness