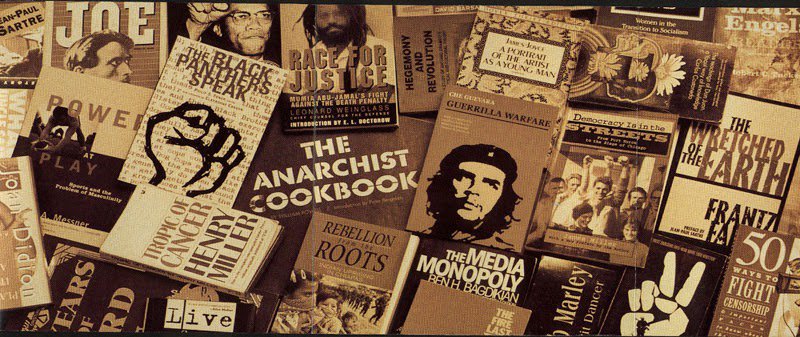 If you like Rage Against the Machine, but don't like their "polit­i­cal bs," you haven't actu­al­ly lis­tened to Rage Against the Machine, whose entire rai­son d'être is con­tained with­in the name. What is "the Machine"? Let's hear it from the band them­selves. Singer Zack de la Rocha point­ed out that the title of their sec­ond album, 1996's Evil Empire, came from "Ronald Reagan's slan­der of the Sovi­et Union in the eight­ies, which the band feels could just as eas­i­ly apply to the Unit­ed States."
The Machine is cap­i­tal­ism and mil­i­tarism, what Dwight D. Eisen­how­er once famous­ly called the "mil­i­tary-indus­tri­al com­plex" but which has fold­ed in oth­er oppres­sive mech­a­nisms since the coin­ing of that phrase, includ­ing the prison-indus­tri­al com­plex and immi­gra­tion-indus­tri­al com­plex. The Machine is a mega-com­plex with a lot of mov­ing parts, and the mem­bers of RATM have done the work to crit­i­cal­ly exam­ine them, inform­ing their music and activism with read­ing and study.
Evil Empire, for exam­ple, fea­tured in its lin­er notes a pho­to of "a pile of rad­i­cal books," "and the group post­ed a lengthy read­ing list to com­ple­ment it on their site," declares the site Rad­i­cal Reads. Debates often rage on social media over whether activists should read the­o­ry. One answer to the ques­tion might be the com­mit­ment of RATM, who have stead­fast­ly lived out their con­vic­tions over the decades while also, osten­si­bly, read­ing Marx, Mar­cuse, and Fanon.
There are more acces­si­ble the­o­rists on the list: fierce essay­ists like for­mer death row inmate and Black Pan­ther Mumia Abu-Jamal and Hen­ry David Thore­au, whose Walden and "Civ­il Dis­obe­di­ence" both appear. The Anar­chist Cook­book shows up, but so too does Dr. Suess' The Lorax, biogra­phies of Miles Davis and Bob Mar­ley, Taschen's Dali: The Paint­ings, James Joyce's A Por­trait of the Artist of a Young Man, and Hen­ry Miller's Trop­ic of Can­cer. This is not a list of strict­ly "polit­i­cal" books so much as a list of books that open us up to oth­er ways of see­ing.
These are also, in many cas­es, books we do not encounter unless we seek them out. "I cer­tain­ly didn't find any of those books at my Uni­ver­si­ty High School library," de la Rocha told MTV in 1996, "Many of those books may give peo­ple new insight into some of the fear and some of the pain they might be expe­ri­enc­ing as a result of some of the very ugly poli­cies the gov­ern­ment is impos­ing upon us right now." Doubt­less, he would still endorse the sen­ti­ment. The work­ings of the Machine, after all, don't seem to change much for the peo­ple on the bot­tom when it gets new man­age­ment at the top.
Read the full list of Evil Empire book rec­om­men­da­tions on Good Reads. And as a bonus, hear a Spo­ti­fy playlist of rad­i­cal music just above, com­piled by RATM gui­tarist Tom Morel­lo. The 241 song list runs
via Rad­i­cal Reads
Relat­ed Con­tent:
Tom Morel­lo Responds to Angry Fans Who Sud­den­ly Real­ize That Rage Against the Machine's Music Is Polit­i­cal: "What Music of Mine DIDN'T Con­tain Polit­i­cal BS?"
Hear a 4 Hour Playlist of Great Protest Songs: Bob Dylan, Nina Simone, Bob Mar­ley, Pub­lic Ene­my, Bil­ly Bragg & More
The Entire Archives of Rad­i­cal Phi­los­o­phy Go Online: Read Essays by Michel Fou­cault, Alain Badiou, Judith But­ler & More (1972–2018)
Josh Jones is a writer and musi­cian based in Durham, NC. Fol­low him at @jdmagness