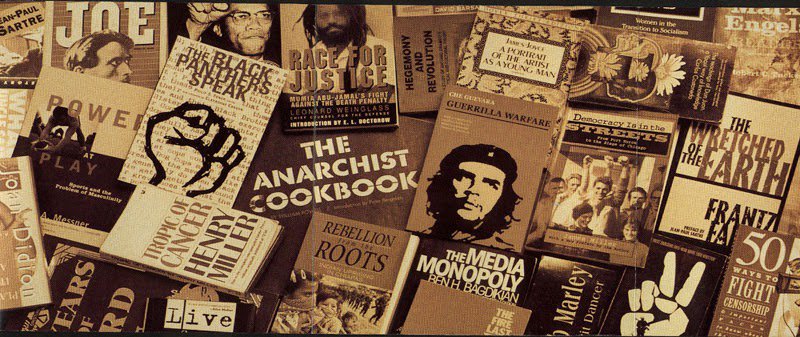 If you like Rage Against the Machine, but don't like their "political bs," you haven't actually listened to Rage Against the Machine, whose entire raison d'être is contained within the name. What is "the Machine"? Let's hear it from the band themselves. Singer Zack de la Rocha pointed out that the title of their second album, 1996's Evil Empire, came from "Ronald Reagan's slander of the Soviet Union in the eighties, which the band feels could just as easily apply to the United States."
The Machine is capitalism and militarism, what Dwight D. Eisenhower once famously called the "military-industrial complex" but which has folded in other oppressive mechanisms since the coining of that phrase, including the prison-industrial complex and immigration-industrial complex. The Machine is a mega-complex with a lot of moving parts, and the members of RATM have done the work to critically examine them, informing their music and activism with reading and study.
Evil Empire, for example, featured in its liner notes a photo of "a pile of radical books," "and the group posted a lengthy reading list to complement it on their site," declares the site Radical Reads. Debates often rage on social media over whether activists should read theory. One answer to the question might be the commitment of RATM, who have steadfastly lived out their convictions over the decades while also, ostensibly, reading Marx, Marcuse, and Fanon.
There are more accessible theorists on the list: fierce essayists like former death row inmate and Black Panther Mumia Abu-Jamal and Henry David Thoreau, whose Walden and "Civil Disobedience" both appear. The Anarchist Cookbook shows up, but so too does Dr. Suess' The Lorax, biographies of Miles Davis and Bob Marley, Taschen's Dali: The Paintings, James Joyce's A Portrait of the Artist of a Young Man, and Henry Miller's Tropic of Cancer. This is not a list of strictly "political" books so much as a list of books that open us up to other ways of seeing.
These are also, in many cases, books we do not encounter unless we seek them out. "I certainly didn't find any of those books at my University High School library," de la Rocha told MTV in 1996, "Many of those books may give people new insight into some of the fear and some of the pain they might be experiencing as a result of some of the very ugly policies the government is imposing upon us right now." Doubtless, he would still endorse the sentiment. The workings of the Machine, after all, don't seem to change much for the people on the bottom when it gets new management at the top.
Read the full list of Evil Empire book recommendations on Good Reads. And as a bonus, hear a Spotify playlist of radical music just above, compiled by RATM guitarist Tom Morello. The 241 song list runs
via Radical Reads
Related Content: 
Tom Morello Responds to Angry Fans Who Suddenly Realize That Rage Against the Machine's Music Is Political: "What Music of Mine DIDN'T Contain Political BS?"
Hear a 4 Hour Playlist of Great Protest Songs: Bob Dylan, Nina Simone, Bob Marley, Public Enemy, Billy Bragg & More
The Entire Archives of Radical Philosophy Go Online: Read Essays by Michel Foucault, Alain Badiou, Judith Butler & More (1972-2018)
Josh Jones is a writer and musician based in Durham, NC. Follow him at @jdmagness