Sitting or standing before an esteemed writer's desk can make us feel closer to their process. Virginia Woolf's desks — plywood boards she held on her lap and sloped standing desks — show a kind of austere rigor in her posture. "Throughout her life as a writer," James Barrett points out, Woolf "paid attention to the physical act of writing," just as she paid attention to the creative act of walking. The bareness of her implements tells us a lot about her as an artist, but it tells us nothing about the state of writing desk technology available in her time.
20th century modernist Woolf preferred the 16th-century rustic simplicity of Monk's house. Had she been an 18th century aristocrat and a follower of fashion, she might have availed herself of a desk designed by the Roentgens, the "principal cabinetmakers of the ancien régime," notes the Metropolitan Museum of Art.
"From about 1742 to its closing in the early 1800s, the Roentgens' innovative designs were combined with intriguing mechanical devices to revolutionize traditional French and English furniture types."
The German workshop was founded by Abraham Roentgen and continued by his son David, whose creations Goethe called "palaces in fairyland" and who took first place in a furniture making contest with his entry: "a desk with cabinet, decorated with chinoiserie figures in superb marquetry and featuring a clock with a carillon (musical mechanism) and a hidden clavichord."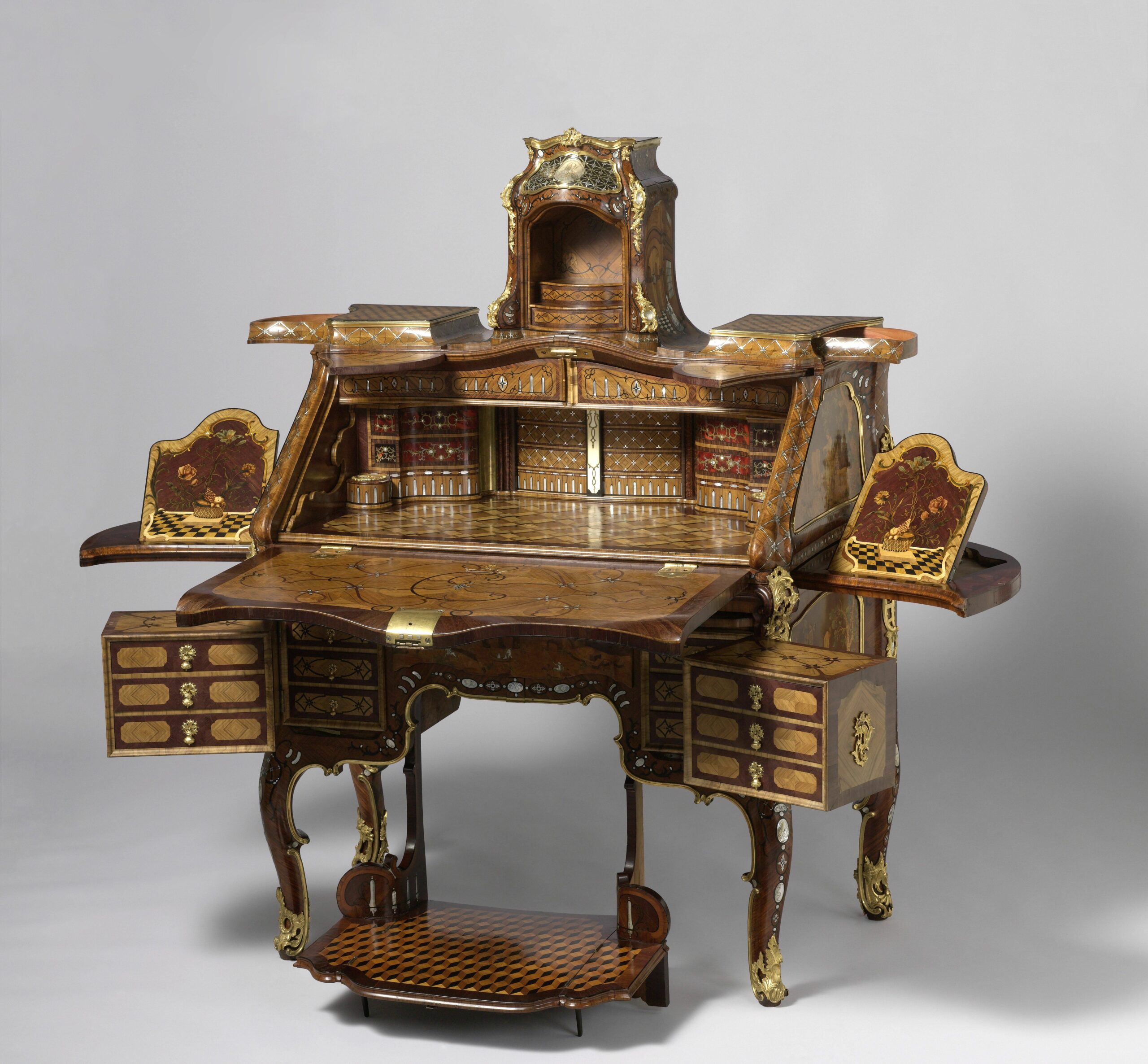 Roentgen writing desks were as functional as they were beautiful. But they were not made for just anyone. The Roentgens made the Berlin Secretary Cabinet, for example — which you can see demonstrated in the Met video at the top — for King Frederick William II of Prussia.
Other Roentgen desks may have been somewhat less outwardly ostentatious, but their inner workings were just as ingenious, as you can see in the rolltop desk further up and the mechanical desk above. Each of these magnificent creations features hidden drawers and compartments, a mainstay of luxury desk design throughout the 1700s, as the Rijksmuseum video below demonstrates. Called "Neuwied furniture," this style was all the rage and anyone who was anyone, including, of course, Marie Antoinette, had the Roentgens or their competitors make elaborate cabinets, desks, and bureaus that concealed complex inner workings like wooden clocks.
"Roentgen's perfectly executed inventions became a status symbol for princely interiors all over Germany and Central Europe," writes the Met. Whether their meticulously engineered writing desks really solved the problem of office clutter or physically improved the experience of writing in any way, however, seems debatable at best.
Related Content: 
Who Wrote at Standing Desks? Kierkegaard, Dickens and Ernest Hemingway Too
How the Iconic Eames Lounge Chair Is Made, From Start to Finish
How Women Got Dressed in the 14th & 18th Centuries: Watch the Very Painstaking Process Get Cinematically Recreated
Josh Jones is a writer and musician based in Durham, NC. Follow him at @jdmagness