Haru­ki Muraka­mi is a nov­el­ist, but for some time his name has been no less a glob­al brand than, say, Uniqlo's. Though both the man and the cloth­ing com­pa­ny hap­pen to have come into exis­tence in Japan in 1949, this com­par­i­son goes beyond mere nation­al­i­ty. In their home­land, both Uniq­lo and Muraka­mi came into their own in the 1980s, the decade when the for­mer opened its first casu­al-wear shop and the lat­ter pub­lished the name-mak­ing A Wild Sheep Chase and the cul­tur­al phe­nom­e­non that was Nor­we­gian Wood. Hav­ing assid­u­ous­ly cul­ti­vat­ed mar­kets out­side Japan, both have become inter­na­tion­al­ly known in the 21st cen­tu­ry: just as Uniq­lo now has shops all over the world, Murakami's books have been trans­lat­ed into at least 50 lan­guages.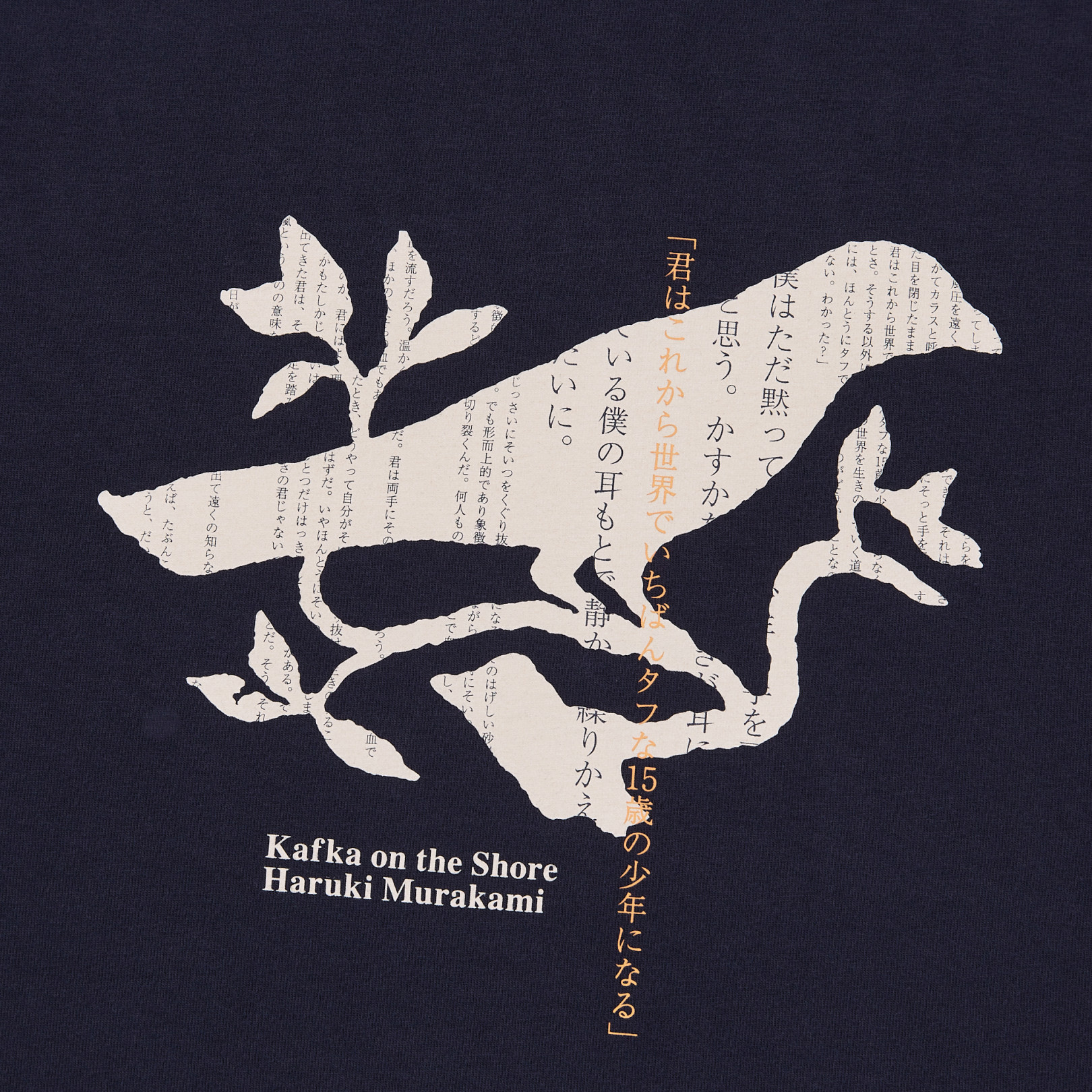 There­fore, per­haps Muraka­mi and Uniqlo's con­ver­gence was only a mat­ter of time. "Haru­ki Muraka­mi and Uniq­lo have teamed up for a line of T‑shirts inspired by the author's nov­els like Nor­we­gian Wood and 1Q84, as well as his radio pro­gram," writes Spoon & Tam­ago's John­ny Wald­man.
With graph­ics con­tributed by sources like illus­tra­tor and fre­quent Muraka­mi col­lab­o­ra­tor Masaru Fuji­mo­to, "the col­lec­tion show­cas­es the world of his mas­ter­piece nov­els, his love for music, and of course cats." The reverse of the Muraka­mi Radio shirt, seen at the top of the post, even fea­tures this unam­bigu­ous quo­ta­tion of the man him­self: "Books, music, and cats have been my friends from way back."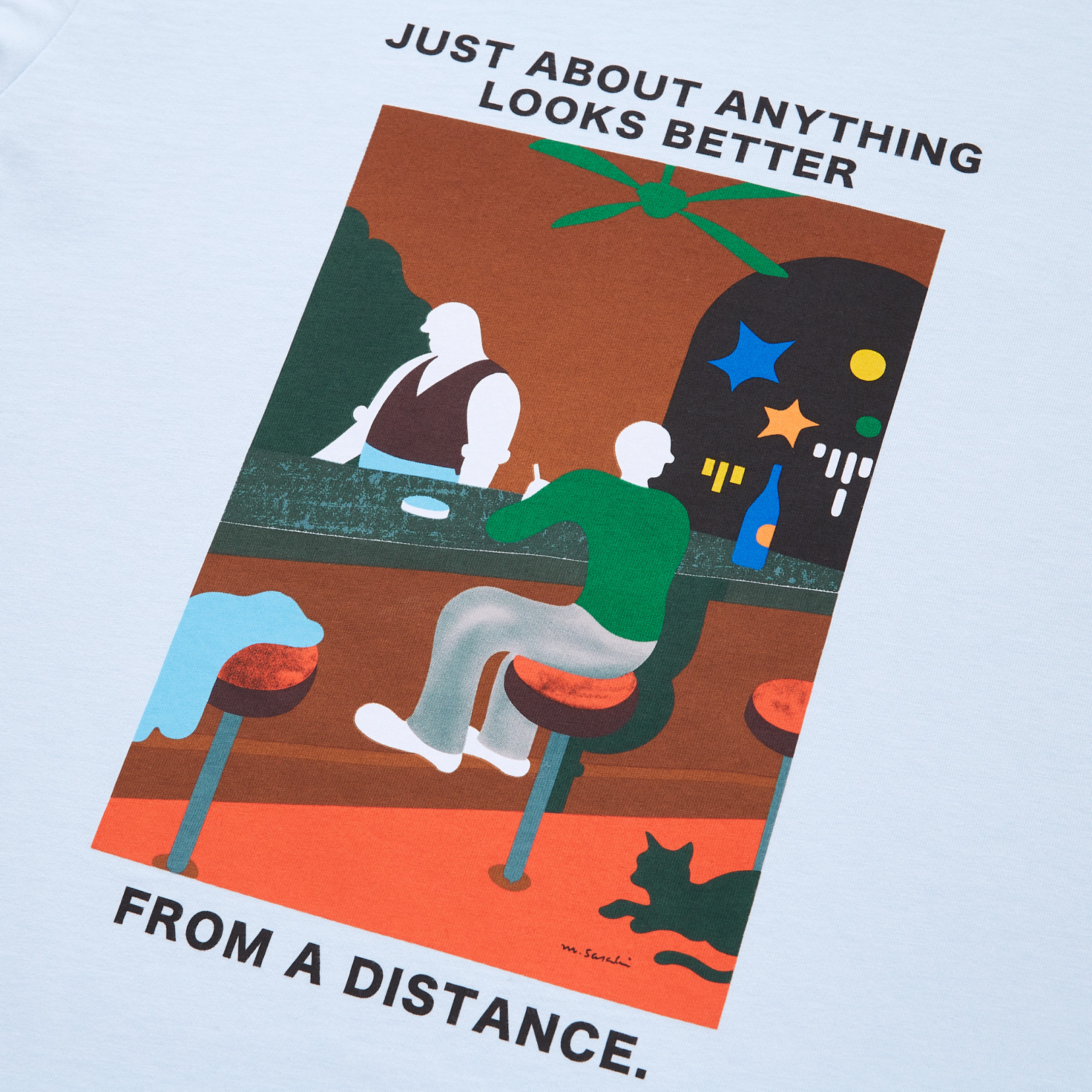 More than a few of Murakami's fans could no doubt say the same. They'll also delight in the nuances of the words and images on the sev­en oth­er Muraka­mi shirts Uniq­lo has cre­at­ed for sale from March 15th. Many have read Nor­we­gian Wood, but rel­a­tive­ly few will notice that Uniqlo's shirt based on that book comes in the very same red-and-green col­or scheme as its two-vol­ume Japan­ese first edi­tion. Far from draw­ing only on the pop­u­lar­i­ty of such big hits, the col­lec­tion also pays trib­ute to Murakami's less­er-known works: his sopho­more effort Pin­ball, 1973, for instance, which went with­out a major Eng­lish trans­la­tion for 35 years.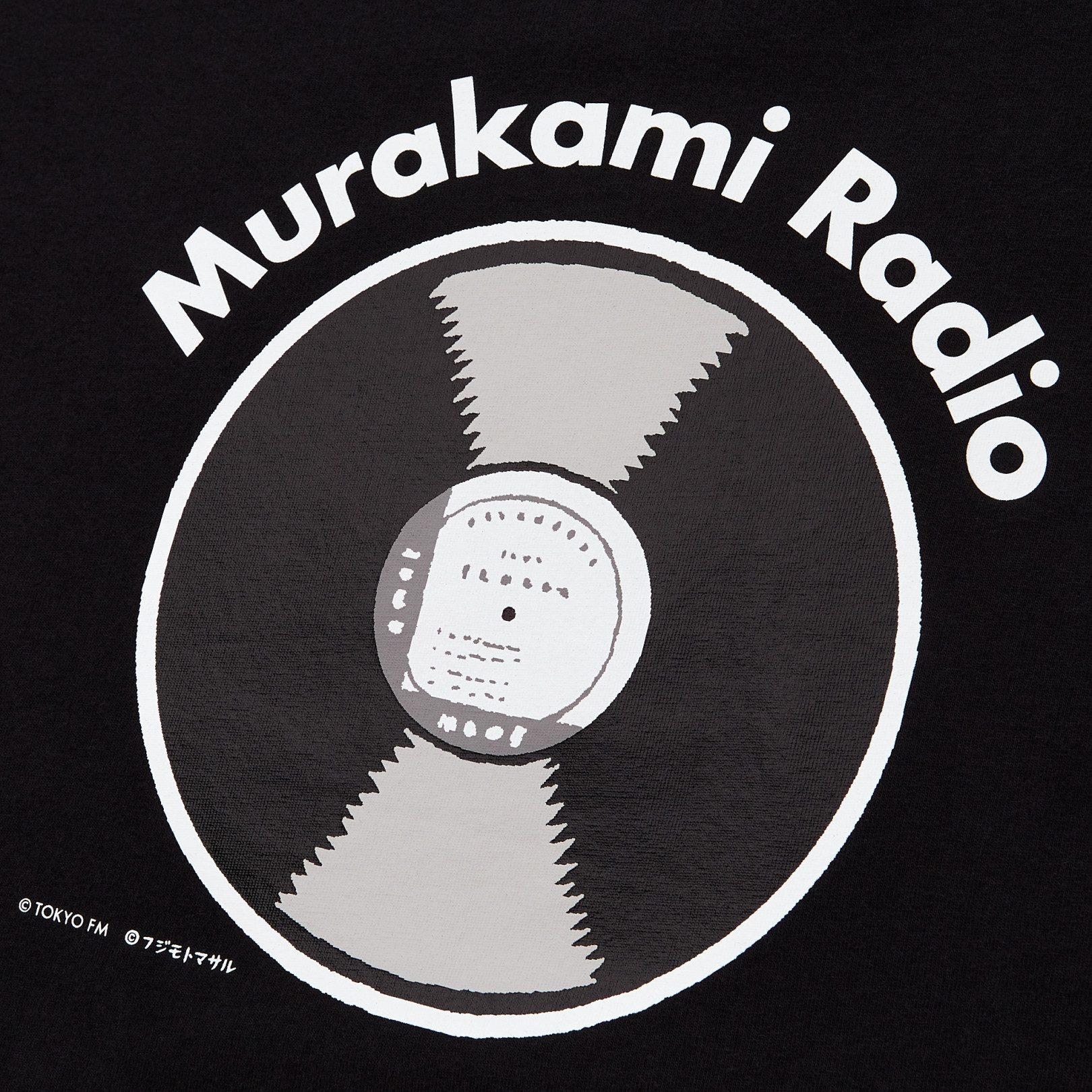 Still unpub­lished out­side Asia are most of Murakami's essays, which he's been writ­ing on music, food, trav­el, and a vari­ety of oth­er sub­jects near­ly as long as he's been a nov­el­ist. But this Novem­ber, Knopf will pub­lish Muraka­mi T: The T‑Shirts I Love, a book doc­u­ment­ing his impres­sive col­lec­tion includ­ing T‑shirts "from The Beach Boys con­cert in Hon­olu­lu to the shirt that inspired the beloved short sto­ry 'Tony Tak­i­tani,' " all "accom­pa­nied by short, frank essays that have been trans­lat­ed into Eng­lish for the first time." Writ­ing essays or fic­tion, what­ev­er the lan­guage in which they appear, Murakami's work remains broad­ly appeal­ing yet dis­tinc­tive­ly his own, belong­ing at once every­where and nowhere in the world — more than a bit, come to think of it, like Uniqlo's cloth­ing. On March 15, pur­chase the shirts online here.
via Spoon & Tam­a­go
Relat­ed Con­tent:
Haru­ki Muraka­mi Became a DJ on a Japan­ese Radio Sta­tion for One Night: Hear the Music He Played for Delight­ed Lis­ten­ers
Why Should You Read Haru­ki Muraka­mi? An Ani­mat­ed Video on His "Epic Lit­er­ary Puz­zle" Kaf­ka on the Shore Makes the Case
Dress Like an Intel­lec­tu­al Icon with Japan­ese Coats Inspired by the Wardrobes of Camus, Sartre, Duchamp, Le Cor­busier & Oth­ers
Based in Seoul, Col­in Mar­shall writes and broad­casts on cities, lan­guage, and cul­ture. His projects include the Sub­stack newslet­ter Books on Cities, the book The State­less City: a Walk through 21st-Cen­tu­ry Los Ange­les and the video series The City in Cin­e­ma. Fol­low him on Twit­ter at @colinmarshall or on Face­book.