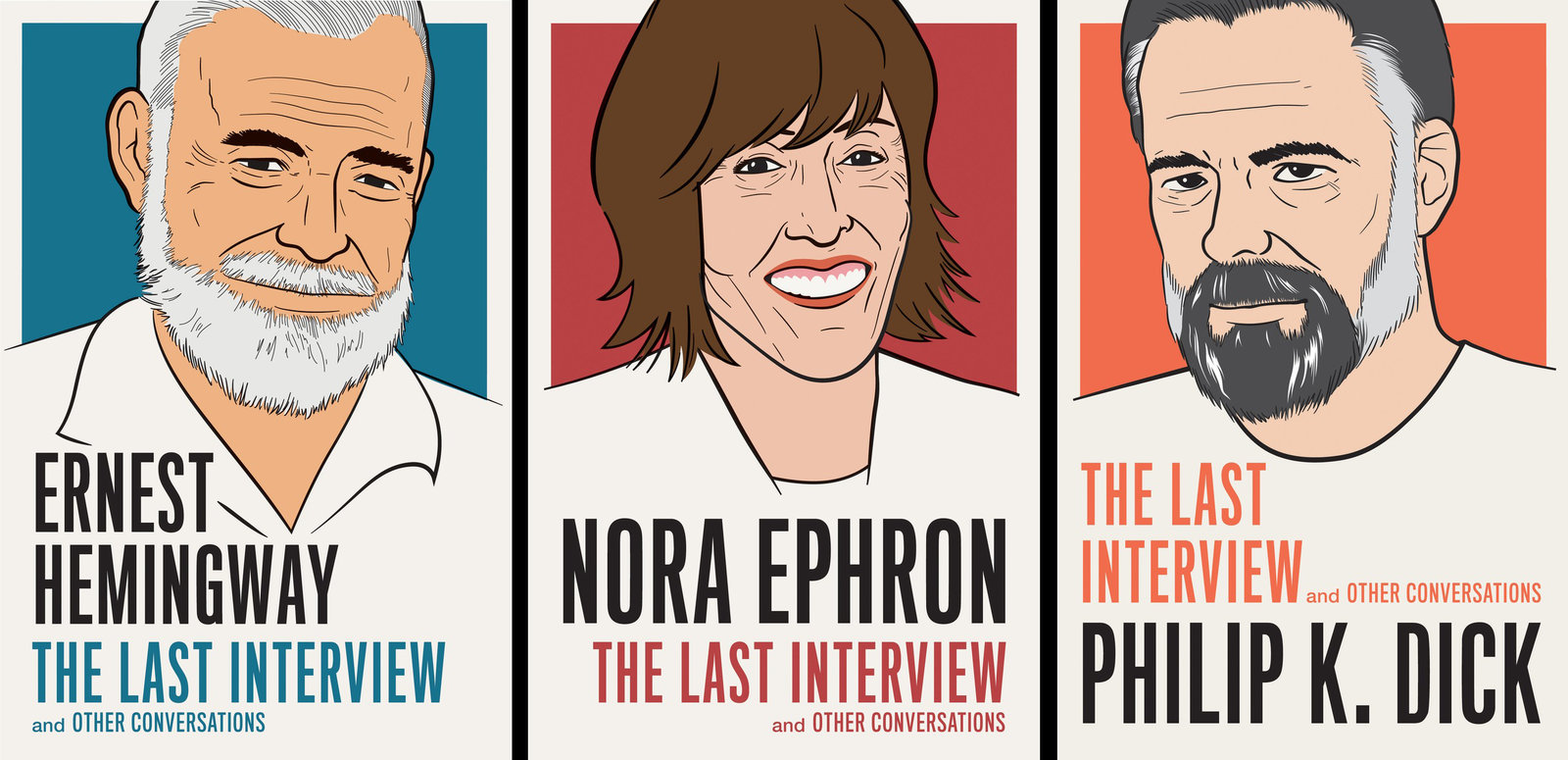 Where were you when you heard that Hunter S. Thompson had died? The uniquely addled, uniquely incisive taker of the strange trip that was 20th-century America checked out sixteen years ago last month, a span of time in which we've also lost a great many other influential figures cultural and countercultural. The departed include many of Thompson's colleagues in letters: societal diagnosticians like David Foster Wallace and Christopher Hitchens; conjurers of the fantastical and the familiar like Ursula K. Le Guin and Gabriel García Márquez; and specialists in other fields — Oliver Sacks from neurology, Anthony Bourdain from the kitchen, Nora Ephron from Hollywood — who on the page entertained us as they shared their expertise.
All of these writers have passed into esteemed company: not just that of luminaries from bygone eras, but of volumes in Melville House's Last Interview series. "Can you think of three writers who, on the face of it, would have had less to say to each other at a dinner party?" asks NPR's Maureen Corrigan, reviewing Last Interview volumes on Ephron, Ernest Hemingway, and Philip K. Dick.
"Hemingway would have knocked back the booze and gone all moody and silent; the notoriously paranoid Dick would have been under the table checking for bugging devices and Ephron would've channeled what she called 'the truly life-saving technique' taught to her by her Hollywood screenwriter parents to get through a rough time: the mantra, 'Someday this will be a story!'"
With a range of deceased icons, including Marilyn Monroe and Martin Luther King, Jr., Julia Child and Jorge Luis Borges, Fred Rogers and Frida Kahlo, the Last Interview books cast a wide net for such an aesthetically and intellectually unified project. "Each volume offers, besides useful insights into its particular author's work, what an old friend would call 'civilized entertainment,'" writes Michael Dirda in The Washington Post. "Nearly all the titles actually contain several interviews, and some add introductions. For instance, the Roberto Bolaño opens with a 40-page critical essay." In some cases the interviewers are as notable as the interviewees: "Two of Lou Reed's questioners — the multi-talented novelists Neil Gaiman and Paul Auster — are now probably as well known as the legendary co-founder of the Velvet Underground."
From the world of music the series includes not just Reed but David Bowie and Prince, two other one-man cultural forces who left us in the past decade, as well as their equally irreplaceable predecessors Johnny Cash and Billie Holiday. At the moment you can buy the entire Last Interview collection on Amazon (in Kindle format) for USD $344, which comes out to about $10 per book with 34 volumes in total. You may find this an economical solution, a way to explore the final thoughts of figures featured more than once here on Open Culture.
Related Content:
Orson Welles' Last Interview and Final Moments Captured on Film
Hear Leonard Cohen's Final Interview: Recorded by David Remnick of The New Yorker
Maurice Sendak's Emotional Last Interview with NPR's Terry Gross, Animated by Christoph Niemann
Carl Sagan Issues a Chilling Warning to America in His Final Interview (1996)
Janis Joplin's Last TV Performance & Interview: The Dick Cavett Show (1970)
Watch Johnny Cash's Poignant Final Interview & His Last Performance: "Death, Where Is Thy Sting?" (2003)
Based in Seoul, Colin Marshall writes and broadcasts on cities, language, and culture. His projects include the Substack newsletter Books on Cities, the book The Stateless City: a Walk through 21st-Century Los Angeles and the video series The City in Cinema. Follow him on Twitter at @colinmarshall or on Facebook.