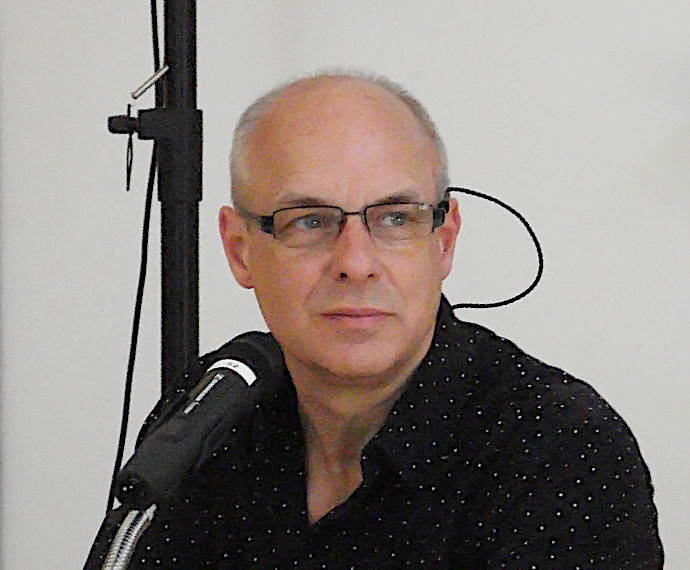 Creative Commons image via Wikimedia Commons
Back in 2013, Brian Eno gave a talk at the Red Bull Academy, the lecture series that has hosted fellow musicians like Tony Visconti, Debbie Harry, and Nile Rogers. Asked when he knew a piece of music was finished, Eno let drop that he currently had 200,809 works of unreleased music. (The actual answer though? "When there's a deadline").
Usually we have to wait for posthumous releases to hear such music, like what is currently happening now to Prince's "vault" of music. Eno is not waiting. He got the deadline.
Sonos Radio HD, the music division of the speaker and audio system company, announced last week that Eno has curated a radio station that will play nothing but unreleased cuts from his five decades of making music. There's so much material, the chance of a listener hearing a repeat is slim. (Still, the station promises hundreds of tracks, not hundreds of thousands.)
Now, this is not an advertisement for Sonos, but a heads up that in order to promote "The Lighthouse," as Eno has called the radio station, Sonos has dropped two Eno-led radio shows where he shares just a fraction of the unreleased material, with a promise of two more episodes to come. One features an interviewer, and the other is just Eno talking about the tracks. (And you *can* get one month free at Sonos if you sign up.)

"(A radio station) is something I've been thinking about for years and years and years," says Eno. "And it's partly because I have far too much music in my life. I have so much stuff."

The tracks have been purged of titles and have been instead given the utilitarian monikers of "Lighthouse Number (X)". Anyway, titles suggest too much thought. "Some are pretty crap titles," he says. "The problem with working on computers is that you have to give things titles before you've actually made them…Sometimes the pieces often quickly outgrow the titles."
If you're expecting nothing but ambient washes and generative music, you might be surprised at the variety. In the first Eno-hosted show, he plays a funky jam ("Lighthouse Number 002") co-composed by Peter Chilvers and stuffed with r'n'b samples; and an almost-completed song featuring the Eurythmics' Dave Stewart on guitar, called "All the Bloody Fighters," aka "Lighthouse Number 106".
Why call it "The Lighthouse"? "I like the idea of a sort of beacon calling you, telling you something, warning you perhaps, announcing something." He also credits a friend who told him his unreleased music is like ships lost at sea. The lighthouse "is calling in some of those lost ships."
As a bonus, listen below to Eno's recent interview with Rick Rubin, where they talk about the Sonos project and much more.
Related Content:
Experience a Video Painting of Brian Eno's Thursday Afternoon That Has Soothed & Relaxed Millions of People
Hear Brian Eno's Rarely-Heard Cover of the Johnny Cash Classic, "Ring of Fire"
Discover the Apprehension Engine: Brian Eno Called It "the Most Terrifying Musical Instrument of All Time"
Ted Mills is a freelance writer on the arts who currently hosts the Notes from the Shed podcast and is the producer of KCRW's Curious Coast. You can also follow him on Twitter at @tedmills, and/or watch his films here.