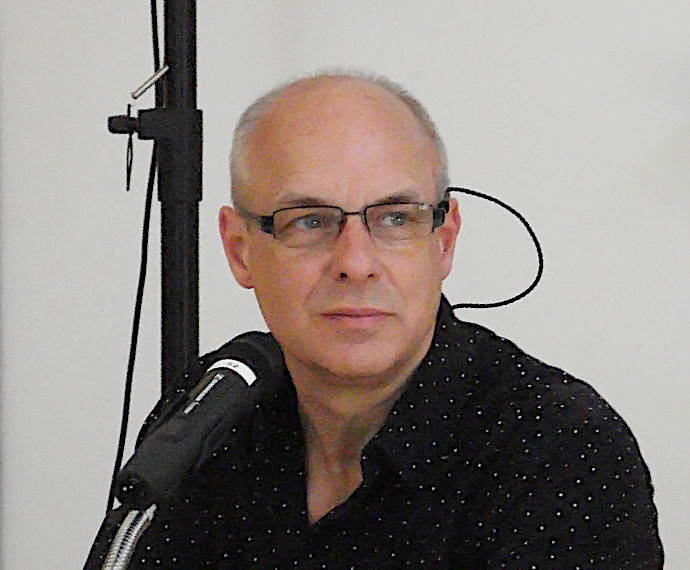 Cre­ative Com­mons image via Wiki­me­dia Com­mons
Back in 2013, Bri­an Eno gave a talk at the Red Bull Acad­e­my, the lec­ture series that has host­ed fel­low musi­cians like Tony Vis­con­ti, Deb­bie Har­ry, and Nile Rogers. Asked when he knew a piece of music was fin­ished, Eno let drop that he cur­rent­ly had 200,809 works of unre­leased music. (The actu­al answer though? "When there's a dead­line").
Usu­al­ly we have to wait for posthu­mous releas­es to hear such music, like what is cur­rent­ly hap­pen­ing now to Prince's "vault" of music. Eno is not wait­ing. He got the dead­line.
Sonos Radio HD, the music divi­sion of the speak­er and audio sys­tem com­pa­ny, announced last week that Eno has curat­ed a radio sta­tion that will play noth­ing but unre­leased cuts from his five decades of mak­ing music. There's so much mate­r­i­al, the chance of a lis­ten­er hear­ing a repeat is slim. (Still, the sta­tion promis­es hun­dreds of tracks, not hun­dreds of thou­sands.)
Now, this is not an adver­tise­ment for Sonos, but a heads up that in order to pro­mote "The Light­house," as Eno has called the radio sta­tion, Sonos has dropped two Eno-led radio shows where he shares just a frac­tion of the unre­leased mate­r­i­al, with a promise of two more episodes to come. One fea­tures an inter­view­er, and the oth­er is just Eno talk­ing about the tracks. (And you *can* get one month free at Sonos if you sign up.)

"(A radio sta­tion) is some­thing I've been think­ing about for years and years and years," says Eno. "And it's part­ly because I have far too much music in my life. I have so much stuff."

The tracks have been purged of titles and have been instead giv­en the util­i­tar­i­an monikers of "Light­house Num­ber (X)". Any­way, titles sug­gest too much thought. "Some are pret­ty crap titles," he says. "The prob­lem with work­ing on com­put­ers is that you have to give things titles before you've actu­al­ly made them…Sometimes the pieces often quick­ly out­grow the titles."
If you're expect­ing noth­ing but ambi­ent wash­es and gen­er­a­tive music, you might be sur­prised at the vari­ety. In the first Eno-host­ed show, he plays a funky jam ("Light­house Num­ber 002") co-com­posed by Peter Chil­vers and stuffed with r'n'b sam­ples; and an almost-com­plet­ed song fea­tur­ing the Eury­th­mics' Dave Stew­art on gui­tar, called "All the Bloody Fight­ers," aka "Light­house Num­ber 106".
Why call it "The Light­house"? "I like the idea of a sort of bea­con call­ing you, telling you some­thing, warn­ing you per­haps, announc­ing some­thing." He also cred­its a friend who told him his unre­leased music is like ships lost at sea. The light­house "is call­ing in some of those lost ships."
As a bonus, lis­ten below to Eno's recent inter­view with Rick Rubin, where they talk about the Sonos project and much more.
Relat­ed Con­tent:
Expe­ri­ence a Video Paint­ing of Bri­an Eno's Thurs­day After­noon That Has Soothed & Relaxed Mil­lions of Peo­ple
Hear Bri­an Eno's Rarely-Heard Cov­er of the John­ny Cash Clas­sic, "Ring of Fire"
Dis­cov­er the Appre­hen­sion Engine: Bri­an Eno Called It "the Most Ter­ri­fy­ing Musi­cal Instru­ment of All Time"
Ted Mills is a free­lance writer on the arts who cur­rent­ly hosts the Notes from the Shed pod­cast and is the pro­duc­er of KCR­W's Curi­ous Coast. You can also fol­low him on Twit­ter at @tedmills, and/or watch his films here.