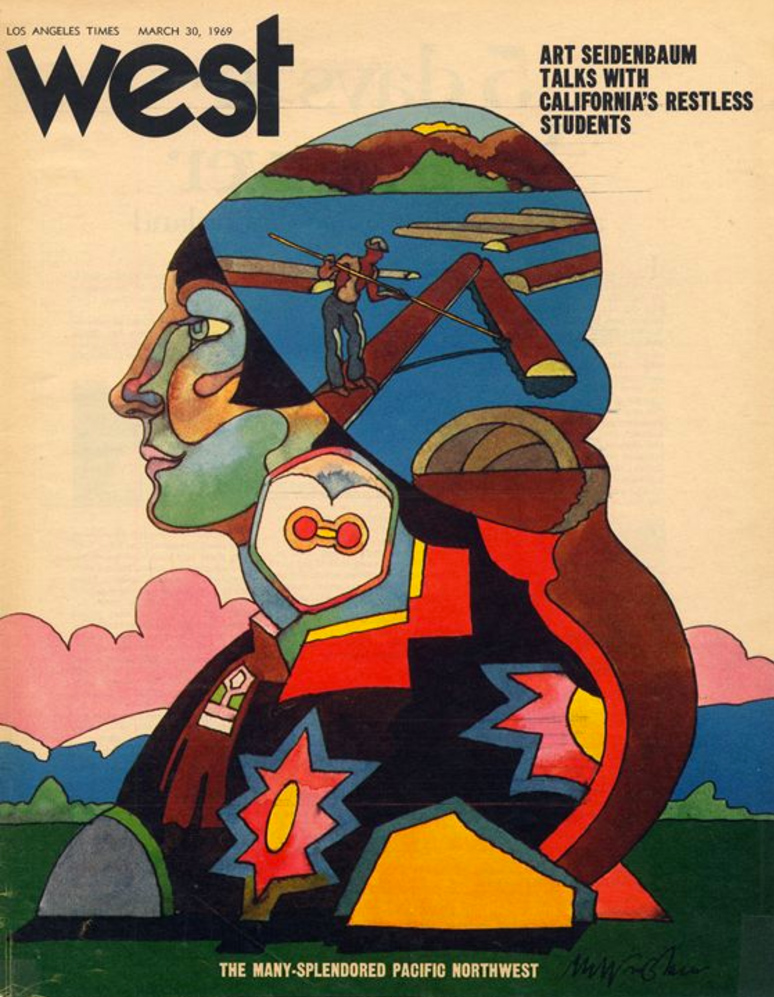 In the late 1960s, a coun­ter­cul­ture-mind­ed media pro­fes­sion­al could sure­ly have imag­ined more appeal­ing places to work than the Los Ange­les Times. Wide­ly derid­ed as the offi­cial organ of the South­ern Cal­i­for­nia Bab­bitt, the paper also put out a bland Sun­day sup­ple­ment called West mag­a­zine. But West had the poten­tial to evolve into some­thing more vital — or so seemed to think its edi­tor, Jim Bel­lows. The cre­ator of "the orig­i­nal New York mag­a­zine in the ear­ly 1960s," writes Design Observer's Steven Heller, Bel­lows con­vinced a young adman named Mike Sal­is­bury, "who worked for Car­son Roberts Adver­tis­ing in L.A. (where Ed Ruscha and Ter­ry Gilliam worked), to accept the job as art direc­tor."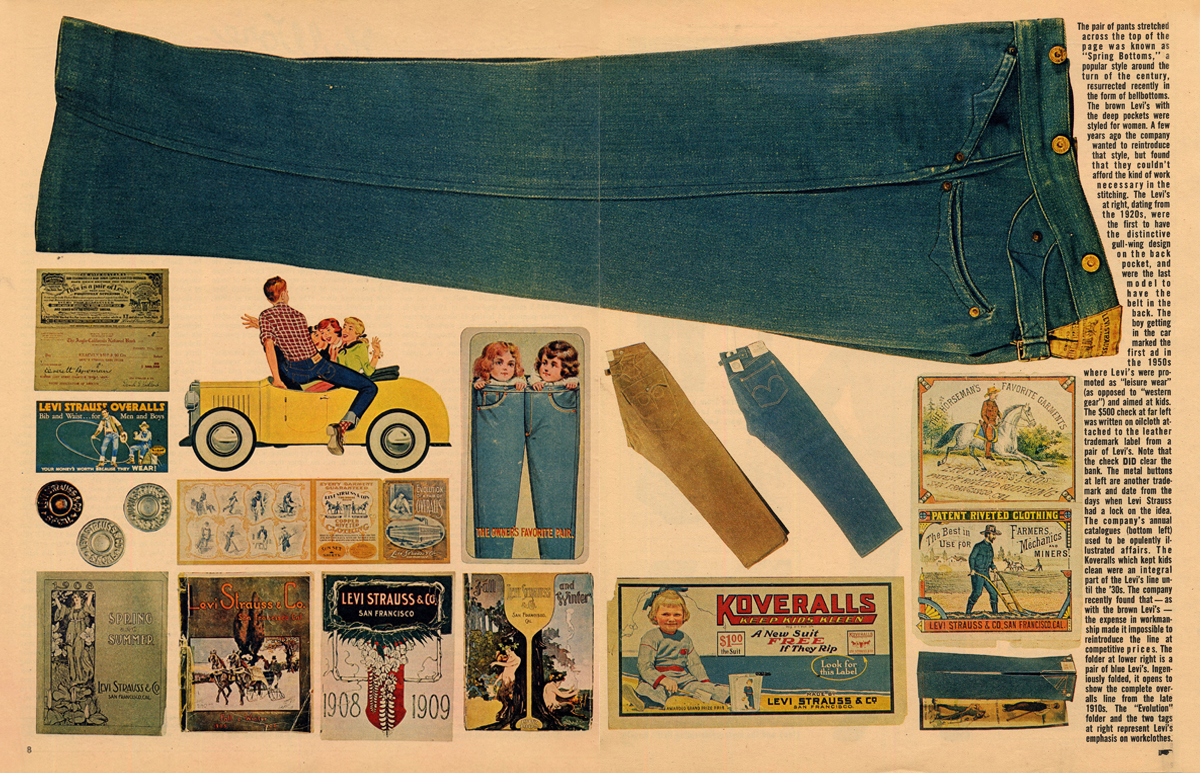 Sal­is­bury inject­ed West "with such an abun­dance of pop cul­ture visu­al rich­ness that it was more like a minia­ture muse­um than week­ly gazette." Its week­ly issues "cov­ered a wide range of themes — most­ly reflect­ing Salisbury's insa­tiable curiosi­ties — from a fea­ture on bas­ket­ball that illus­trat­ed the tremen­dous size of cen­ter for­wards by show­ing a life-size pho­to­graph of Wilt Chamberlin's Con­verse sneak­er, to a pic­to­r­i­al his­to­ry of movie star pin­ups with a bevy of gor­geous sil­hou­ettes fan­ning on the page, to an array of souped-up VW Bee­tles in all shapes and sizes."
On any giv­en Sun­day, sub­scribers might find them­selves treat­ed to "the his­to­ry of Mick­ey Mouse, Coca-Cola art (the first time it was pub­lished as 'art'), the visu­al his­to­ry of Levis, Hol­ly­wood gar­den apart­ments, Ray­mond Chan­dler loca­tions, and Kus­tom Kars."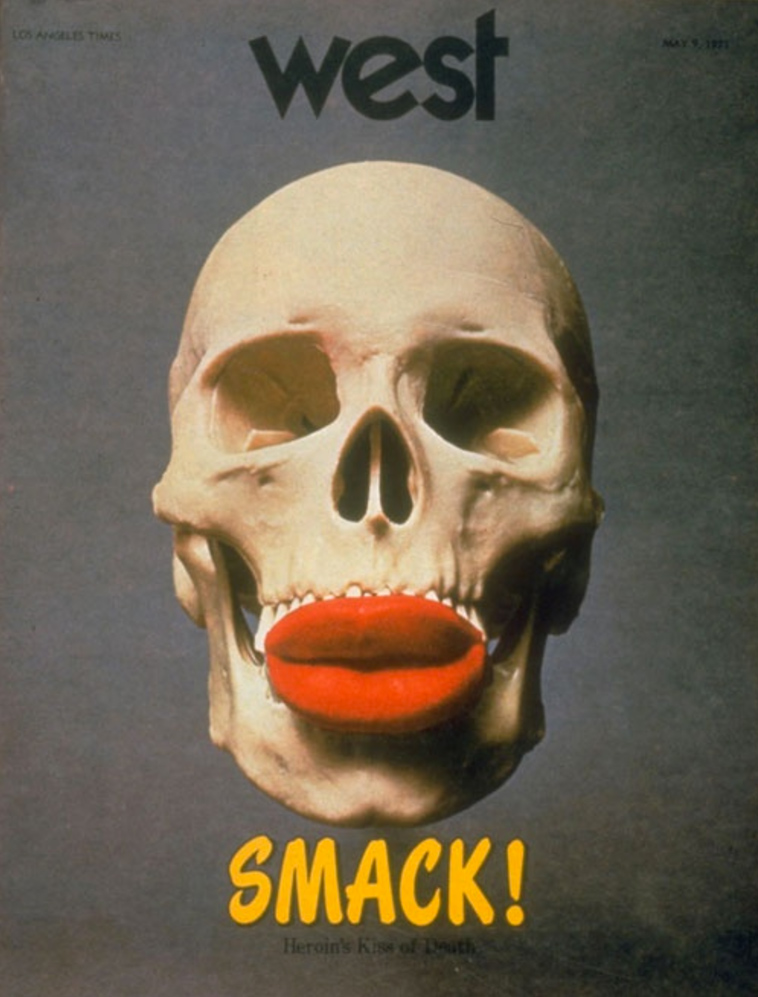 "I was the writer on the Coca-Cola 'art' piece as well as the first 'pro­gram­mat­ic' archi­tec­ture arti­cle to see print," says a com­menter under the Design Observ­er ret­ro­spec­tive named Lar­ry Dietz. He also claims to have writ­ten the fea­ture on Ray­mond Chan­dler's Los Ange­les; much lat­er, he adds, Chi­na­town screen­writer "Robert Towne said that he was inspired to learn about L.A. his­to­ry from that piece, but that the writ­ing was crap­py." But then, the main impact of Sal­is­bury's West was nev­er meant to be tex­tu­al. Heller quotes Sal­is­bury as say­ing that "design was not my sole objec­tive: cin­e­ma-graph­ic infor­ma­tion is a bet­ter def­i­n­i­tion." Of all the cov­ers he designed, he remem­bers the one just above, pro­mot­ing an exposé on hero­in, as hav­ing been the most con­tro­ver­sial: "Don't give me too much real­i­ty over Sun­day break­fast," he heard read­ers grum­bling.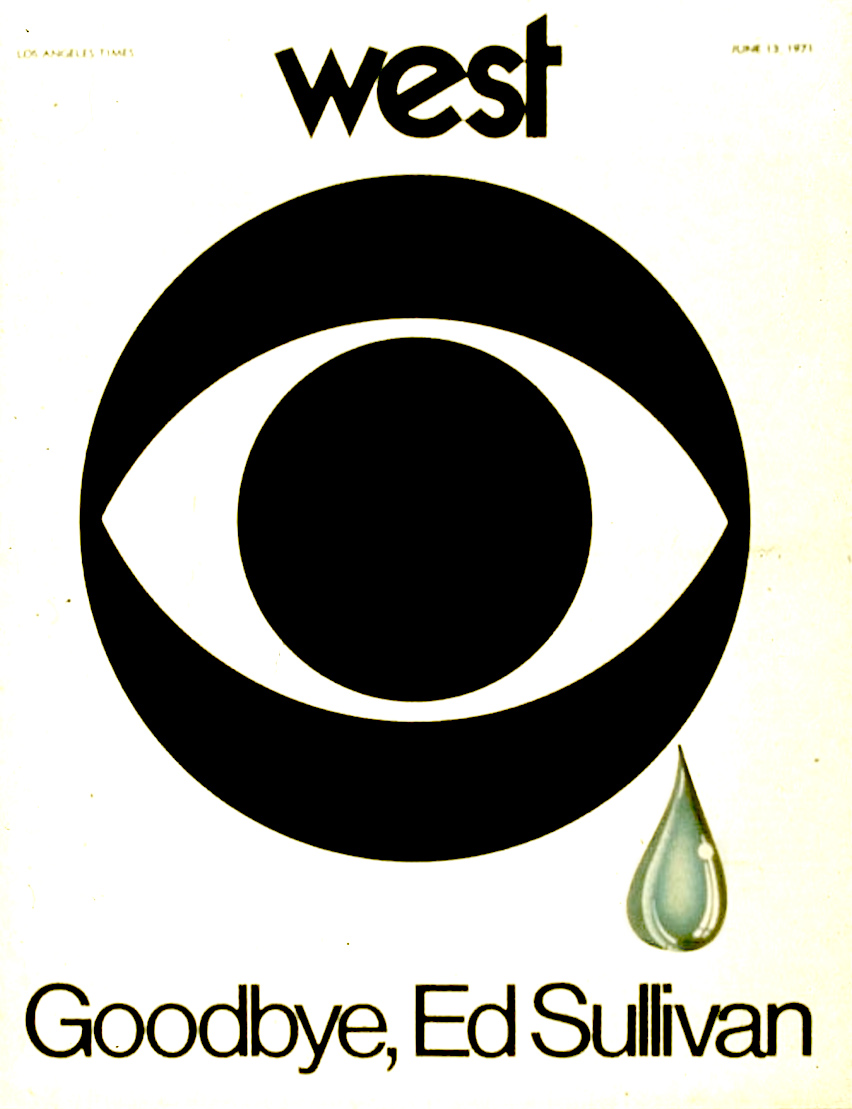 Oth­er mem­o­rable West cov­ers include the mag­a­zine's trib­ute to the just-can­celed Ed Sul­li­van show in 1971, as well as con­tri­bu­tions by artists and design­ers like Vic­tor Moscoso, Gahan Wil­son, John Van Hamersveld, and Mil­ton Glaser, all fig­ures who did a great deal to craft the Amer­i­can zeit­geist of the 1960s and 70s. The mag­a­zine as a whole con­sol­i­dat­ed the South­ern Cal­i­forn­ian pop-cul­tur­al aes­thet­ic of its peri­od, as dis­tinct from what Sal­is­bury calls the "qua­si-Vic­to­ri­an" look and feel of San Fran­cis­co to the north and the "Roco­co or Baroque" New York to the east. Los Ange­les, to his mind, was "stream­line," emblema­tized by the cul­ture and indus­try of motor­cy­cle cus­tomiza­tion and its "belief in Futur­ism."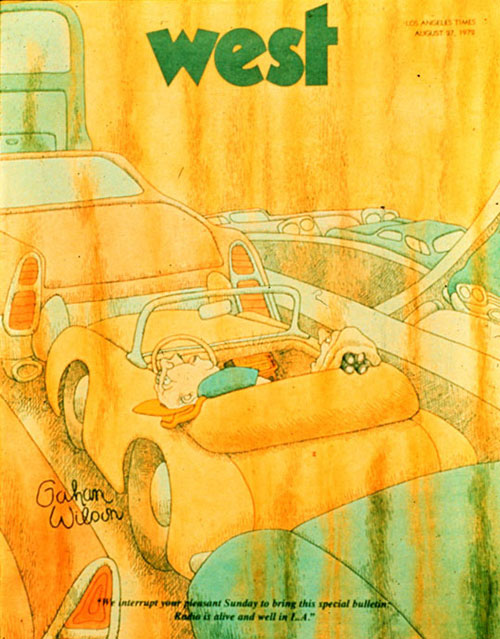 West was a prod­uct of the Los Ange­les Times under Otis Chan­dler, pub­lish­er from 1960 to 1980, who ded­i­cat­ed his career to expand­ing the scope and ambi­tion of the news­pa­per his great-grand­fa­ther had once run. His labors paid off in ret­ro­spect, espe­cial­ly from read­ers as astute as Joan Did­ion, who praised Chan­dler's Times to the skies. But by 1972, West seemed to have become too much of an extrav­a­gance even for him. After the mag­a­zine's can­cel­la­tion, Sal­is­bury moved on to Rolling Stone, then in the process of con­vert­ing from a news­pa­per to a mag­a­zine for­mat. No small part of that mag­a­zine's pop-cul­tur­al pow­er in the 70s must have owed to his art direc­tion.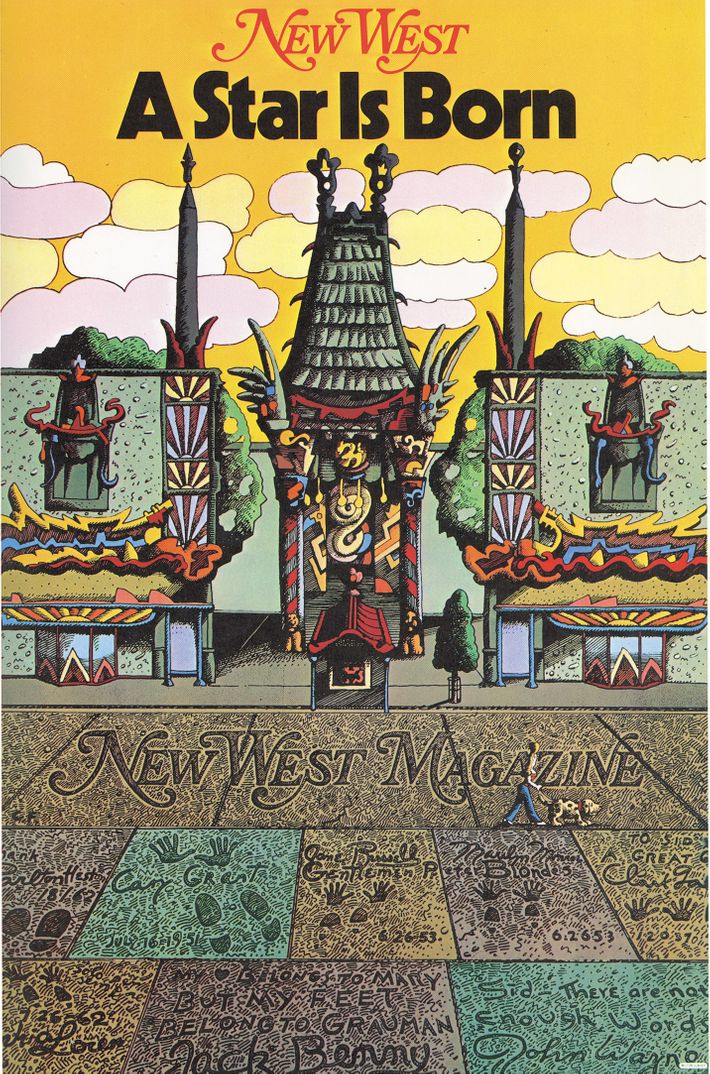 Lat­er in the decade, both Sal­is­bury and Glaser would bring their tal­ents to the just-launched New West mag­a­zine. It had no direct con­nec­tion with West or the Los Ange­les Times, but was con­ceived as the sis­ter pub­li­ca­tion of New York Mag­a­zine, which itself had been re-invent­ed by Glaser and pub­lish­er Clay Felk­er in the mid-1960s. Its debut cov­er, just above, fea­tured Glaser's art­work; three years lat­er, in 1979, Sal­is­bury designed a cov­er on Cal­i­for­ni­a's water cri­sis that the Amer­i­can Insti­tute of Graph­ic Arts' Steven Brow­er calls "pre­scient." At that same time, he notes, Sal­is­bury "worked with Fran­cis Ford Cop­po­la on the set design for Apoc­a­lypse Now; he designed Michael Jackson's break­through album, Off the Wall," and he even col­lab­o­rat­ed with George Har­ri­son on his epony­mous album." But when "vet­er­an mag­a­zine art direc­tors" get togeth­er and "rem­i­nisce about the glo­ry years," writes Heller, it's West they inevitably talk about.
Relat­ed Con­tent:
Take a Dig­i­tal Dri­ve Along Ed Ruscha's Sun­set Boule­vard, the Famous Strip That the Artist Pho­tographed from 1965 to 2007
Mil­ton Glaser's Styl­ish Album Cov­ers for The Band, Nina Simone, John Cage & Many More
Down­load the Com­plete Archive of Oz, "the Most Con­tro­ver­sial Mag­a­zine of the 60s," Fea­tur­ing R. Crumb, Ger­maine Greer & More
A Com­plete Dig­i­ti­za­tion of the 1960s Mag­a­zine Avant Garde: From John Lennon's Erot­ic Lith­o­graphs to Mar­i­lyn Monroe's Last Pho­tos
Down­load 50+ Issues of Leg­endary West Coast Punk Music Zines from the 1970–80s: Dam­age, Slash & No Mag
Flair Mag­a­zine: The Short-Lived, High­ly-Influ­en­tial Mag­a­zine That Still Inspires Design­ers Today (1950)
Based in Seoul, Col­in Mar­shall writes and broad­casts on cities, lan­guage, and cul­ture. His projects include the Sub­stack newslet­ter Books on Cities, the book The State­less City: a Walk through 21st-Cen­tu­ry Los Ange­les and the video series The City in Cin­e­ma. Fol­low him on Twit­ter at @colinmarshall or on Face­book.