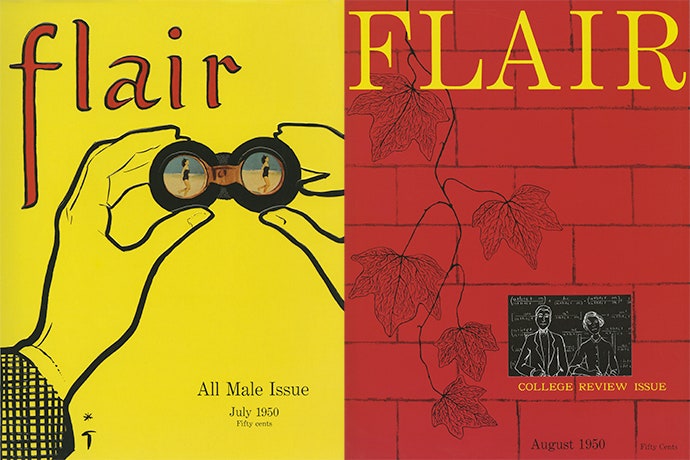 All mag­a­zines are their edi­tors, but Flair was more its edi­tor than any mag­a­zine had been before — or, for that mat­ter, than any mag­a­zine has been since. Though she came to the end of her long life in Eng­land, a coun­try to which she had expa­tri­at­ed with her fourth hus­band, a Briton, Fleur Cowles was as Amer­i­can a cul­tur­al fig­ure as they come. Born Flo­rence Frei­d­man in 1908, she had per­formed on her­self an unknow­able num­ber of Gats­byesque acts of rein­ven­tion by 1950, when she found her­self in a posi­tion to launch Flair. Her taste in hus­bands helped, mar­ried as she then was to Gard­ner "Mike" Cowles Jr., pub­lish­er of Look, a pop­u­lar pho­to jour­nal that Fleur had helped to lift from its low­brow ori­gins and make respectable among that all-pow­er­ful con­sumer demo­graph­ic, post­war Amer­i­can women.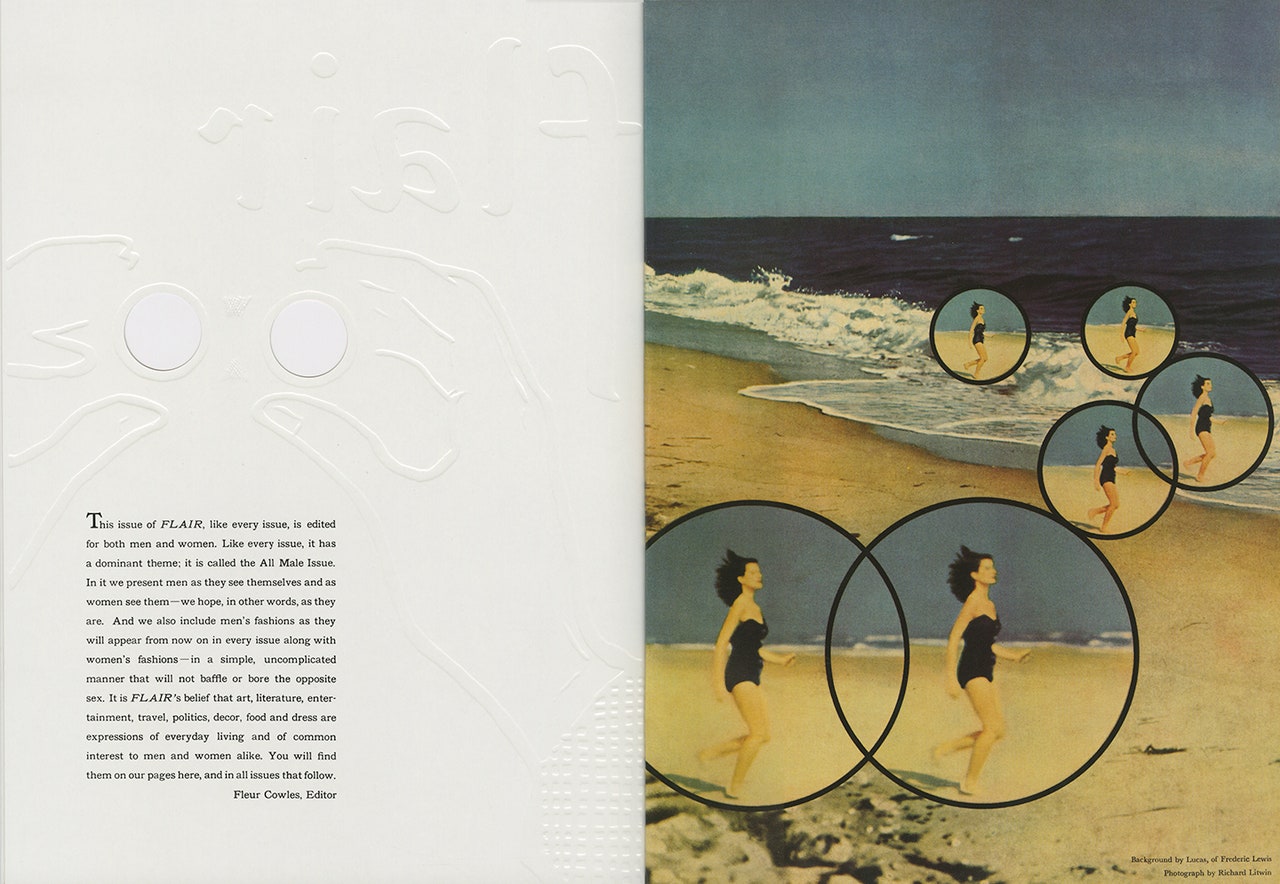 The suc­cess of the rein­vent­ed Look "allowed Cowles to ask her hus­band for what she real­ly want­ed: the cap­i­tal to start her own pub­li­ca­tion, which she called 'a class mag­a­zine,' " writes Eye on Design's Rachel Syme. "She was tired of spreads about the best linoleum; she want­ed to do an entire issue on Paris, or hire Ernest Hem­ing­way to write a trav­el essay, or com­mis­sion Colette to gos­sip about her love affairs."
Dur­ing Flair's run she did all that and more, with a ros­ter of con­trib­u­tors also includ­ing Sal­vador Dalí, Simone de Beau­voir, W. H. Auden, Glo­ria Swan­son, Win­ston Churchill, Eleanor Roo­sevelt, and Jean Cocteau. In Flair's debut issue, pub­lished in Feb­ru­ary 1950, "an arti­cle on the 28-year-old Lucian Freud came lib­er­al­ly accom­pa­nied with repro­duc­tions of his art—the first ever to appear in Amer­i­ca."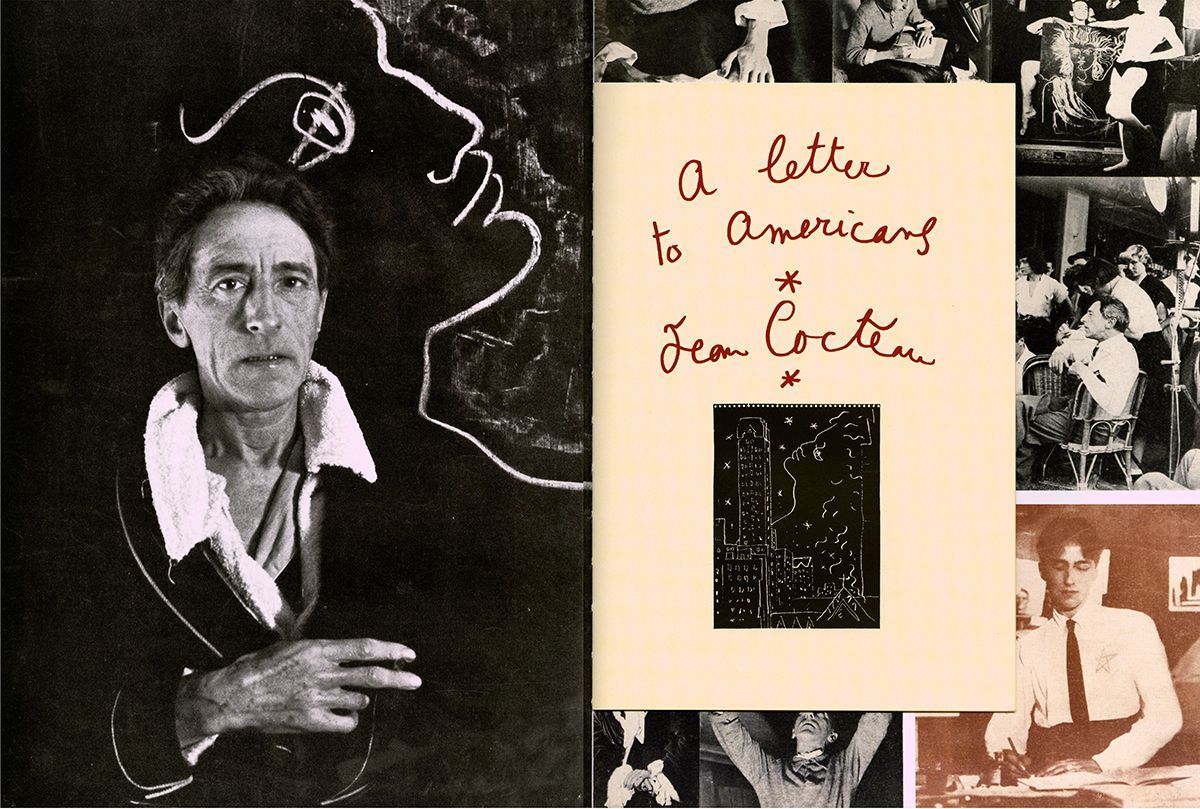 So writes Van­i­ty Fair's Amy Fine Collins in a pro­file of Clowes. "Angus Wil­son and Ten­nessee Williams con­tributed short sto­ries, Wilson's print­ed on paper tex­tured to resem­ble slubbed silk." What's more, "The Duke and Duchess of Wind­sor opened their home to Flair's read­ers, treat­ing them to their recon­dite and enter­tain­ing tips. A more futur­is­tic approach to liv­ing was set forth in a two-page spread on Richard Kelly's light­ing design for Philip Johnson's glass house in Con­necti­cut." Fea­ture though it may have the work of an aston­ish­ing­ly var­ied group of lumi­nar­ies — pulled in by Cowles' vast and delib­er­ate­ly woven social net — Flair is even more respect­ed today for each issue's lav­ish, elab­o­rate, and dis­tinc­tive design.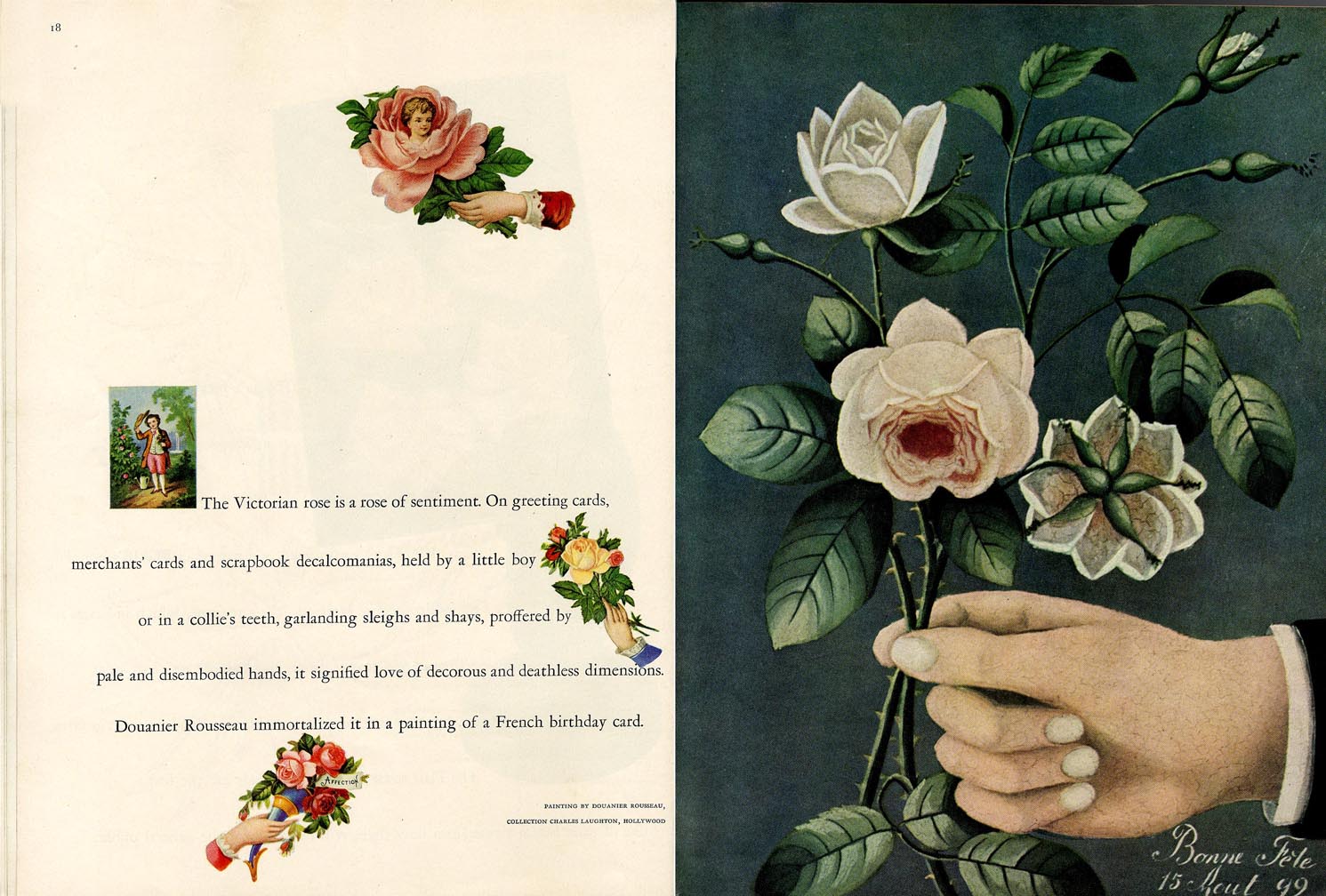 "If a fea­ture would be bet­ter in dimen­sion than on flat pages, why not fold half-pages inside dou­ble-page spreads?" asks Cowles in her mem­oirs, quot­ed in Print mag­a­zine. "Why not bind it as 'a lit­tle book' … giv­ing it a spe­cial focus? If a fea­ture was bet­ter 'trans­lat­ed' on tex­tured paper, why use shiny paper?" And "if a paint­ing was good enough to frame, why not print it on prop­er­ly heavy stock? Why not bind lit­tle accor­dion fold­ers into each issue to give the feel­ing of some­thing more per­son­al to the con­tent?" One rea­son is the $2.5 mil­lion (1950 dol­lars) that Mike Cowles esti­mat­ed Flair to have cost in the year it ran before he pulled its plug.
But then, by the ear­ly 1970s even the high­ly prof­itable Look had to fold — and of the two mag­a­zines, only one has become ever more sought-after, has books pub­lished in its trib­ute, and still inspires design­ers today. To take a clos­er look at the mag­a­zine, see The Best of Flair, a com­pi­la­tion of the magazine's best con­tent as cho­sen by Fleur Cowles her­self. (See a video pre­view of the book above.)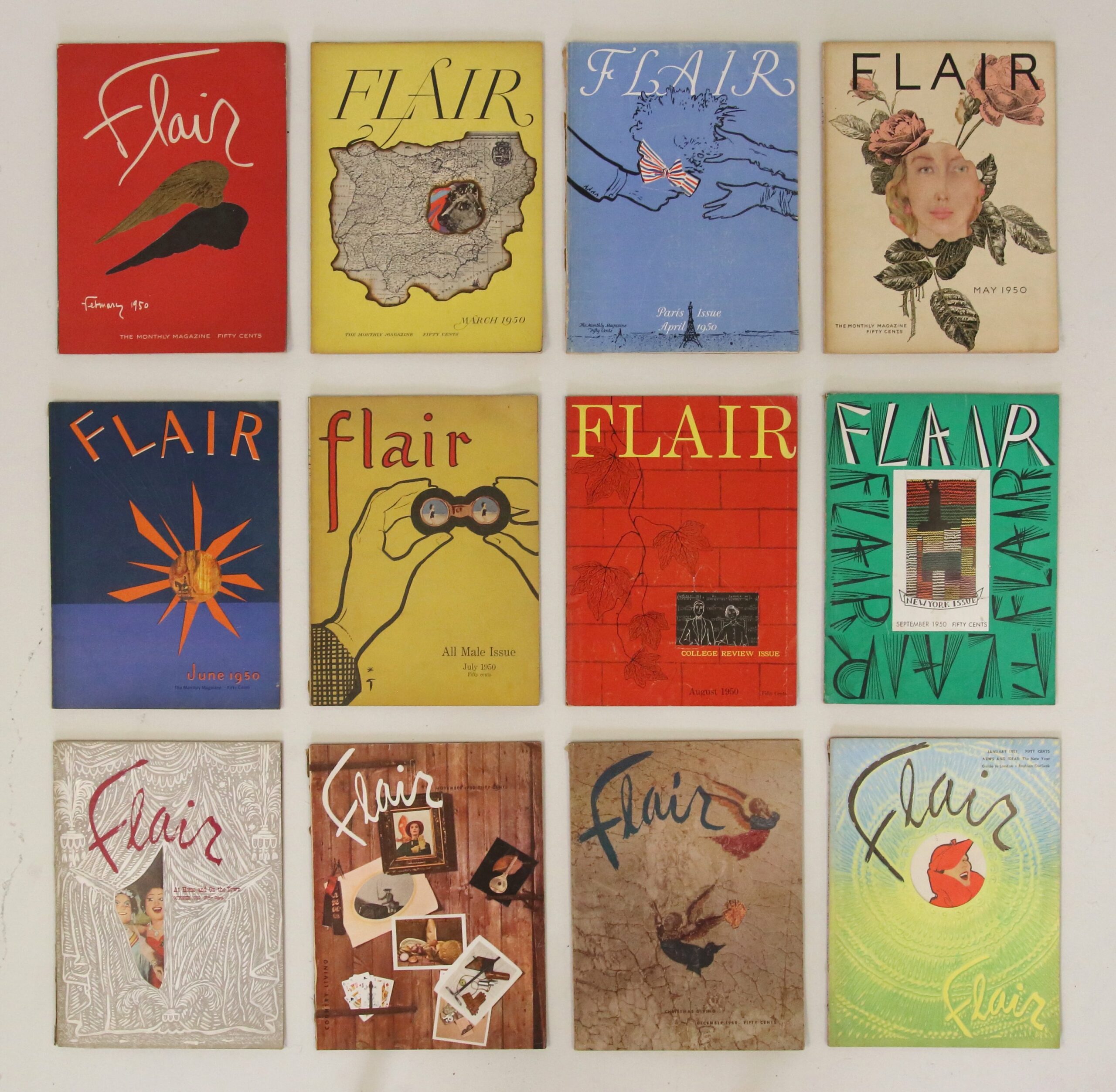 Relat­ed Con­tent:
A Com­plete Dig­i­ti­za­tion of the 1960s Mag­a­zine Avant Garde: From John Lennon's Erot­ic Lith­o­graphs to Mar­i­lyn Monroe's Last Pho­tos
How Mag­a­zine Pages Were Cre­at­ed Before Com­put­ers: A Vet­er­an of the Lon­don Review of Books Demon­strates the Metic­u­lous, Man­u­al Process
A Com­plete Dig­i­ti­za­tion of Eros Mag­a­zine: The Con­tro­ver­sial 1960s Mag­a­zine on the Sex­u­al Rev­o­lu­tion
The Provoca­tive Art of Mod­ern Sketch, the Mag­a­zine That Cap­tured the Cul­tur­al Explo­sion of 1930s Shang­hai
Vogue Edi­tor-in-Chief Anna Win­tour Teach­es a Course on Cre­ativ­i­ty & Lead­er­ship
Based in Seoul, Col­in Mar­shall writes and broad­casts on cities, lan­guage, and cul­ture. His projects include the Sub­stack newslet­ter Books on Cities, the book The State­less City: a Walk through 21st-Cen­tu­ry Los Ange­les and the video series The City in Cin­e­ma. Fol­low him on Twit­ter at @colinmarshall, on Face­book, or on Insta­gram.