Now ramping up to a wide release is a film that will draw in no few fans of Haruki Murakami around the world: Drive My Car, adapted by filmmaker Ryusuke Hamaguchi from Murakami's short story of the same name. That name itself comes, of course, from the Beatles song, their knockout opener to Rubber Soul. It wasn't the first time Murakami had borrowed a title from the Fab Four. The novel that made him a household name, in his homeland of Japan and subsequently the rest of the world, was called Norwegian Wood.
The Beatles' albums have also provided him with inspiration, as evidenced by his story "With the Beatles," published in translation last year by The New Yorker. It takes place in 1965, when the Beatles had become hugely popular in not just the West but Japan as well. "Turn on the radio and chances were you'd hear one of their songs," says the narrator. "I liked their songs myself and knew all their hits," but "truth be told, I was never a fervent Beatles fan. I never actively sought out their songs. For me, it was passive listening, pop music flowing out of the tiny speakers of my Panasonic transistor radio." Despite being a high-school, then college student in the 1960s, "I didn't buy a single Beatles record. I was much more into jazz and classical music."
This story is fictional; its narrator is not its author. Yet Murakami, who happened to come of age in the same era, made similar remarks about his experience with the Beatles a couple of years ago. His originally one-off session as a disc jockey on Tokyo FM has become a more or less full-fledged show, Murakami Radio. Each of its broadcasts he dedicates to a different musical theme, and it was thus only a matter of time before he got around to the Beatles.
Despite his early indifference, as Murakami explains between songs, he later, in his thirties, came to sense the genius of John, Paul, George, and Ringo, during a stay in Greece with their self-titled 1968 "White Album" on tape in his Walkman — which, despite lacking its title song, inspired him to start writing Norwegian Wood. Apart from that memory, the late-period Beatles figure only secondarily into Murakami's "Beatles Night." He focuses instead on their early, pre-Rubber Soul work, or rather, on a variety of lesser-known covers thereof.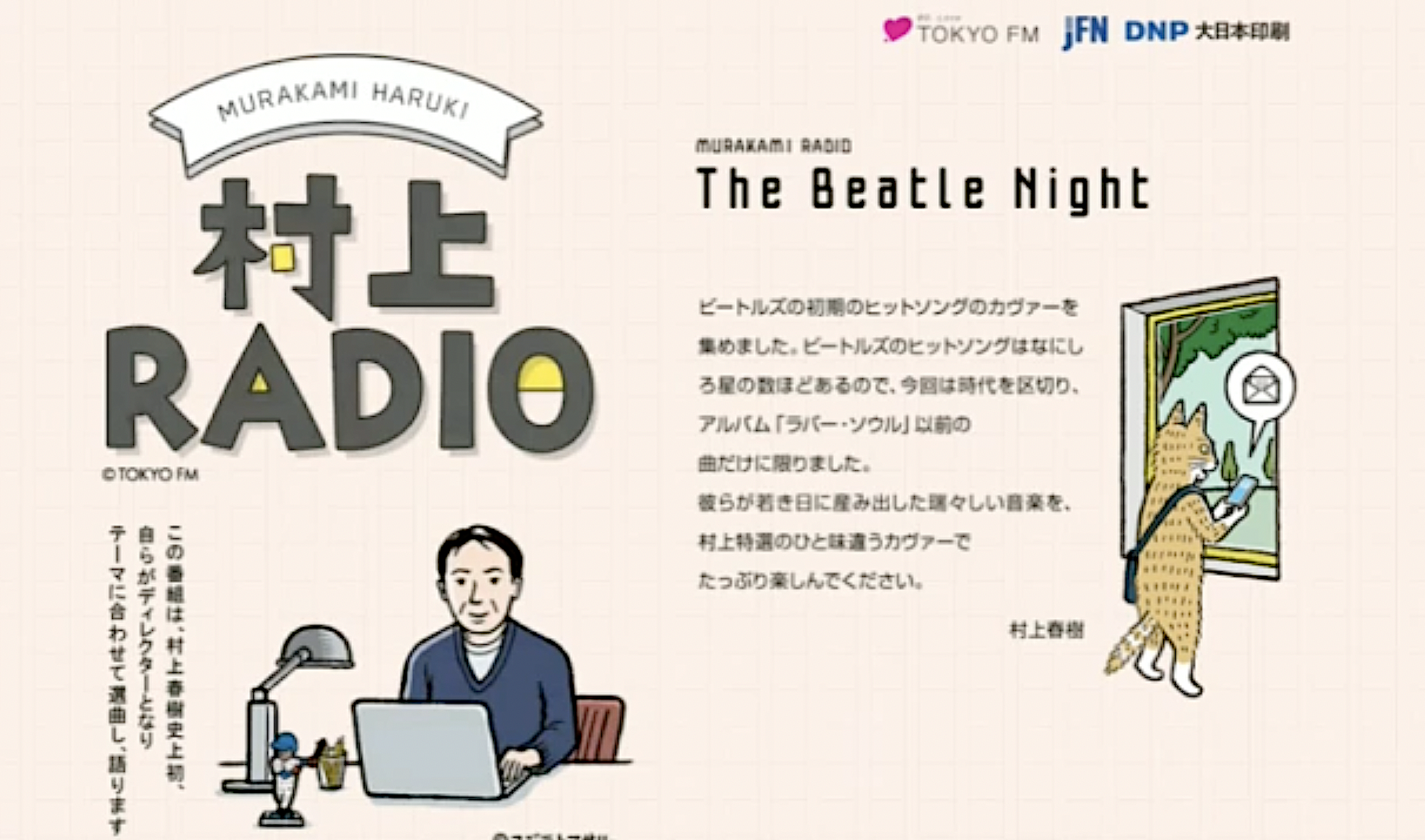 You can hear eight of those numbers in the Youtube video above, including Little Richard's interpretation of "I Saw Her Standing There"; "All My Lovin'" as performed by Chet Atkins and Suzy Bogguss; and even "Tu Perds ton Temps," English pop star Petula Clark's French-language version of "Please Please Me." If you listen to the actual broadcast on Japanese video-streaming site Niconico, you'll also hear such additional Beatles covers as "Do You Want to Know a Secret" by Motown singer Mary Wells and "She Loves You" by Rita Lee of Brazilian rock titans Os Mutantes. Obviously, the appeal of the Beatles transcends cultural boundaries, as does that of the extensively translated Murakami. What explains it? Perhaps, in both cases, that they created their own genres — or rather, their own wondrous realities.
Related Content:
Hear 100 Amazing Cover Versions of Beatles Songs
Haruki Murakami Became a DJ on a Japanese Radio Station for One Night: Hear the Music He Played for Delighted Listeners
A 96-Song Playlist of Music in Haruki Murakami's Novels: Miles Davis, Glenn Gould, the Beach Boys & More
Stream Big Playlists of Music from Haruki Murakami's Personal Vinyl Collection and His Strange Literary Worlds
Haruki Murakami Day: Stream Seven Hours of Mixes Collecting All the Jazz, Classical & Classic American Pop Music from His Novels
Based in Seoul, Colin Marshall writes and broadcasts on cities and culture. His projects include the book The Stateless City: a Walk through 21st-Century Los Angeles and the video series The City in Cinema. Follow him on Twitter at @colinmarshall or on Facebook.