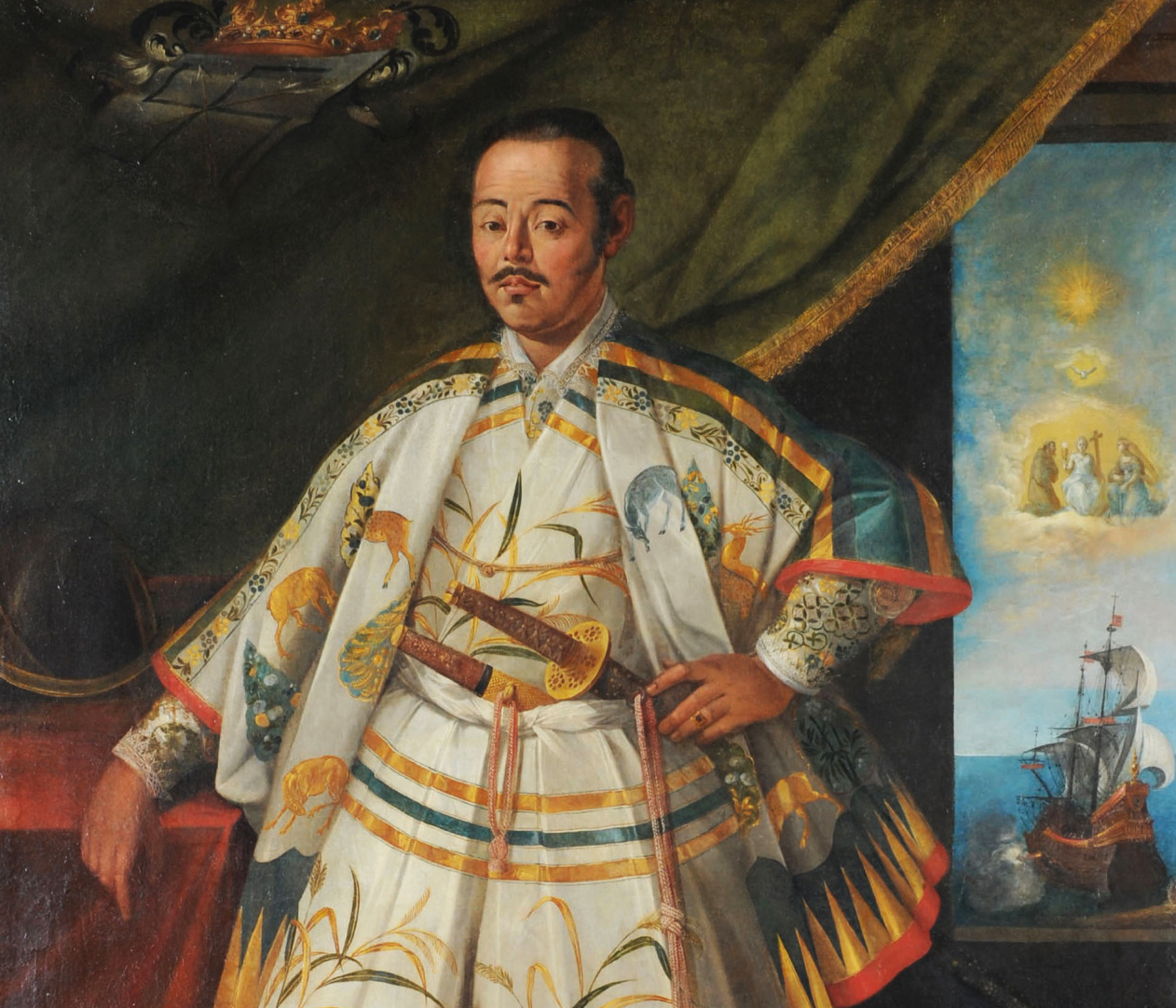 Image via Wikimedia Commons
We learn about intrepid Europeans who sought, and sometimes even found, trade and missionary routes to China and Japan during the centuries of exploration and empire. Rarely, if ever, do we hear about visitors from the East to the West, especially those as well-traveled as 17th-century samurai Hasekura Tsunenaga. Sent on a mission to Europe and America by his feudal lord, Date Masumune, Hasekura "set off on a quest to earn riches and spiritual guidance," Andrew Milne writes at All that's Interesting. "He circumnavigated the globe, became part of the first Japanese group in Cuba, met the Pope, helped begin a branch of Japanese settlers in Spain (still thriving today), and even became a Roman citizen."
Hasekura was a battle-tested samurai who had acted on the daimyo's behalf on many occasions. His mission to the West, however, was first and foremost a chance to redeem his honor and save his life. In 1612, Hasekura's father was made to commit seppuku after an indictment for corruption. Stripped of lands and title, Hasekura could only avoid the same fate by going West, and so he did, just a few years before the period of sakoku, or national isolation, began in Japan. Traveling with Spanish missionary Luis Sotelo, Hasekura embarked from the small Japanese port of Tsukinoura in 1613 and first reached Cape Mendocino in California, then part of New Spain.
"Seven years before the Mayflower headed to the New World," Marcel Theroux writes at The Guardian, Hasekura "crossed the Pacific, traveled overland through Mexico, then sailed all the way to Europe. He was accompanied by about 20 fellow countrymen — in all likelihood, the first Japanese to cross The Atlantic." They set sail on a Japanese-built galleon — called Date Maru, then later San Juan Bautista by the Spanish. "The expedition spent seven years traveling one-third of the globe," notes PBS in a description of  "A Samurai in the Vatican," an episode of Secrets of the Dead.
Sotelo and Hasekura made formal requests for more missionaries in Japan, delivering letters from from Hasekura's lord, the daimyo of Sendai, to the King of Spain and Pope Paul V. But the samurai's most pressing purpose was the establishment of trade links between Japan, New Spain (Mexico), and Europe. In his 1982 novel, The Samurai, Shusaku Endo dramatized the exchange the Spanish missionaries made for such introductions, having a priest say: "In order to spread God's teaching in Japan… there is only one possible method. We must cajole them into it. Espana must offer to share its profits from trade on the Pacific with the Japanese in return for sweeping proselytizing privileges. The Japanese will sacrifice anything else for the sake of profits." This was not to be, of course.
The Spanish gambled on trade opening up Japan for the kind of missionary colonization they had achieved elsewhere, using Hasekura's mission as a proxy. Hasekura gambled on a Christian mission to save his life. Though his own accounts are lost, it seems he came to genuinely embrace the faith, becoming a confirmed Catholic under the name Philip Francis Faxecura. During his mission, however, the Shogun, Tokugawa Ieyasu, banned Christianity in Japan on penalty of death, in advance of the expulsion of the Spanish and Portuguese by his grandson, Tokugawa Iemitsu, in 1623. What became of the explorer samurai when he returned to Japan in 1620 is unknown, but his decedents were executed for practicing his newfound faith. He would be the last visitor to the West from Japan until the Tokugawa Shogunate sent the so-called "First Japanese Embassy to Europe" in 1862, over 200 years later.
Related Content: 
Hear the First Japanese Visitor to the United States & Europe Describe Life in the West (1860-1862)
Meet Yasuke, Japan's First Black Samurai Warrior
Discover Japan's Oldest Surviving Cookbook Ryori Monogatari (1643)
Josh Jones is a writer and musician based in Durham, NC. Follow him at @jdmagness