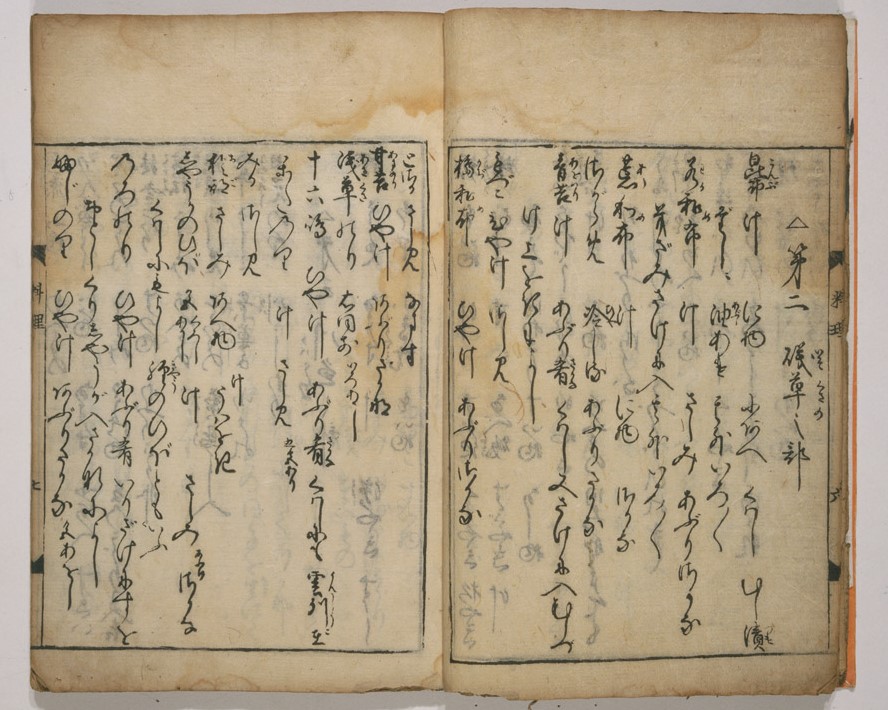 Maybe your inter­est in Japan was first stoked by the sto­ry of the sev­en­teenth-cen­tu­ry shō­gun Toku­gawa Ieya­su and his cam­paign to uni­fy the coun­try. Or maybe it was Japan­ese food. Either way, culi­nary and his­tor­i­cal sub­jects have a way of inter­twin­ing in every land — not to men­tion mak­ing count­less pos­si­ble lit­er­ary and cul­tur­al con­nec­tions along the way. For the curi­ous mind, enjoy­ing a Japan­ese meal may well lead, soon­er or lat­er, to read­ing Japan's old­est cook­book. Pub­lished in 1643, the sur­viv­ing edi­tion of Ryori Mono­gatari (var­i­ous­ly trans­lat­ed as "Nar­ra­tive of Actu­al Food Prepa­ra­tion" or, more sim­ply, "A Tale of Food") resides at the Tokyo Nation­al Muse­um, but you can read a fac­sim­i­le at the Tokyo Met­ro­pol­i­tan Library.
Trans­la­tor Joshua L. Bad­g­ley did just that in order to pro­duce an online Eng­lish ver­sion of the ven­er­a­ble recipe col­lec­tion. In an intro­duc­to­ry essay, he describes his trans­la­tion process and offers some his­tor­i­cal con­text as well. Ryori Mono­gatari was writ­ten ear­ly in the era of the Toku­gawa shogu­nate, which had been found­ed by the afore­men­tioned Ieya­su.
"For the pre­vi­ous 120 years, the coun­try had been engulfed in civ­il wars," but this "Age of War­ring States" also "saw the first major con­tact with Euro­peans through the Por­tuguese, who land­ed in 1542, and lat­er saw the inva­sion of Korea." The for­eign­ers "brought with them new ideas, and access to a new world of food, which con­tin­ues to this day in the form of things like tem­pu­ra and kasutera (castel­la)."
Con­sol­i­dat­ed by Ieya­su, Japan's sub­se­quent 250-year-long peace "saw an increased empha­sis on schol­ar­ship, and many books on the his­to­ry of Japan were writ­ten in this time. In addi­tion, trav­el jour­nals were becom­ing pop­u­lar, indi­cat­ing var­i­ous spe­cial­ties and del­i­ca­cies in each vil­lage." The now-unknown author of Ryori Mono­gatari seems to have gone around col­lect­ing recipes that had been passed down oral­ly for gen­er­a­tions — hence the some­times vague and approx­i­mate instruc­tions. But unusu­al­ly, note pub­lish­ers Red Cir­cle, the book also "includes recipes for game at a time when eat­ing meat was viewed by most as a taboo." In it one finds instruc­tions for prepar­ing veni­son, hare, boar, and even rac­coon dog.
Your fas­ci­na­tion with Japan might not have begun with a meal of rac­coon dog. But Ryori Mono­gatari also includes recipes for sashi­mi, sushi, udon and yak­i­tori, all eat­en so wide­ly around the world today that their names no longer mer­it ital­ics. Tak­en togeth­er, the book's expla­na­tions of its dish­es open a win­dow on how the Japan­ese ate dur­ing the Edo peri­od, named for the cap­i­tal city we now know as Tokyo, which last­ed from 1603 to 1863. (In the video just above, Tast­ing His­to­ry vlog­ger Max Miller makes a typ­i­cal bowl of Edo noo­dles, based on a recipe from the 1643 cook­book.) "From the mid-Edo peri­od," says the Tokyo Nation­al Muse­um, "restau­rants began to emerge across Japan, reflect­ing a new trend toward enjoy­ing food as recre­ation." By the late Edo peri­od, an era cap­tured by ukiyo‑e mas­ter Hiroshige, eat­ing out had become a nation­al pas­time. And not so long there­after, going for Japan­ese food would become a culi­nary, his­tor­i­cal, and cul­tur­al treat savored the world over.
Relat­ed Con­tent:
An Archive of 3,000 Vin­tage Cook­books Lets You Trav­el Back Through Culi­nary Time
Cook­pad, the Largest Recipe Site in Japan, Launch­es New Site in Eng­lish
1,000+ His­toric Japan­ese Illus­trat­ed Books Dig­i­tized & Put Online by the Smith­son­ian: From the Edo & Meji Eras (1600–1912)
Tast­ing His­to­ry: A Hit YouTube Series Shows How to Cook the Foods of Ancient Greece & Rome, Medieval Europe, and Oth­er Places & Peri­ods
The New York Times Makes 17,000 Tasty Recipes Avail­able Online: Japan­ese, Ital­ian, Thai & Much More
Based in Seoul, Col­in Mar­shall writes and broad­casts on cities, lan­guage, and cul­ture. His projects include the Sub­stack newslet­ter Books on Cities, the book The State­less City: a Walk through 21st-Cen­tu­ry Los Ange­les and the video series The City in Cin­e­ma. Fol­low him on Twit­ter at @colinmarshall or on Face­book.