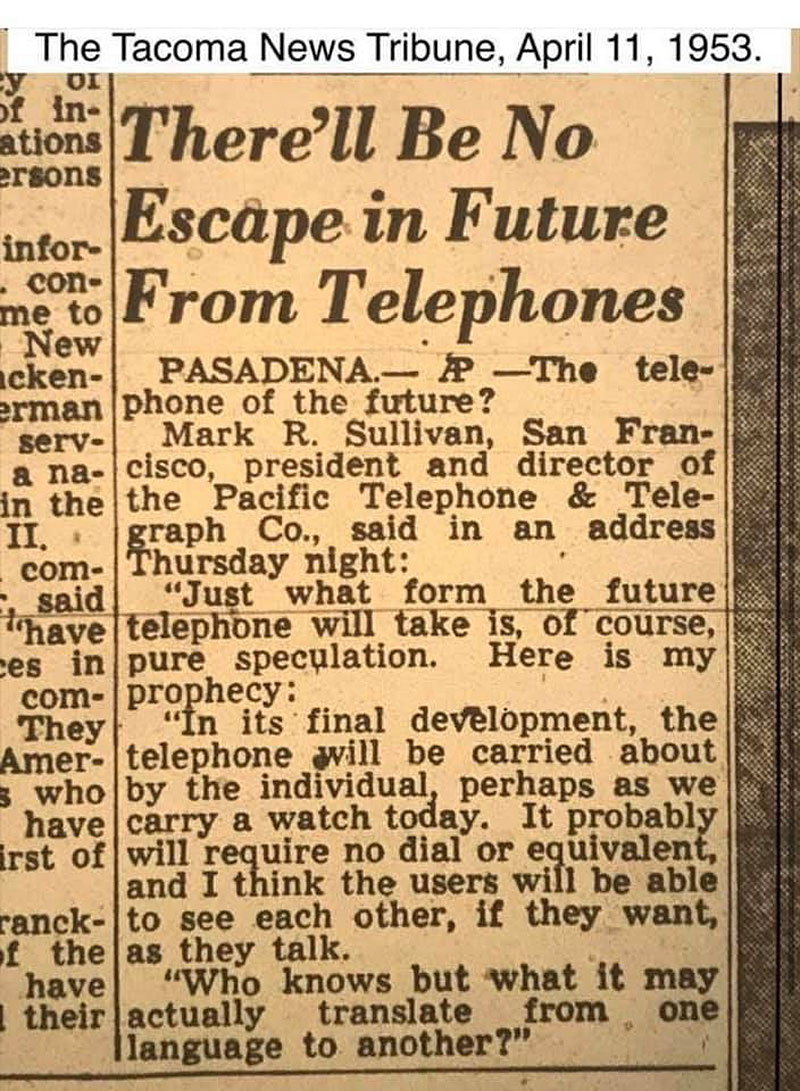 We live in the age of the smart­phone, which took more than a few of us by sur­prise. But in all human his­to­ry, not a sin­gle piece of tech­nol­o­gy has actu­al­ly come out of nowhere. Long before smart­phones came on the mar­ket in the 2000s, those close to the telecom­mu­ni­ca­tions indus­try had a sense of what form its most wide­ly used device would even­tu­al­ly take. "Here is my prophe­cy: In its final devel­op­ment, the tele­phone will be car­ried about by the indi­vid­ual, per­haps as we car­ry a watch today," said Pacif­ic Tele­phone and Tele­graph Com­pa­ny direc­tor Mark R. Sul­li­van in 1953. "It prob­a­bly will require no dial or equiv­a­lent and I think the users will be able to see each oth­er, if they want, as they talk. Who knows but it may actu­al­ly trans­late from one lan­guage to anoth­er?"
Sul­li­van's pre­scient-sound­ing words sur­vive in the clip­ping of the Asso­ci­at­ed Press arti­cle seen at the top of the post. It's worth remem­ber­ing that the speech in ques­tion dates from a time when the rotary phone was the most advanced per­son­al com­mu­ni­ca­tion device in Amer­i­can house­holds.
Just three years ear­li­er, writes KQED's Rae Alexan­dra, Sul­li­van "appeared in the San Fran­cis­co Exam­in­er talk­ing about the lat­est inno­va­tions in tele­phone tech­nol­o­gy. The advance­ment he was most proud of was a new device about the size of a small type­writer that auto­mat­i­cal­ly cal­cu­lat­ed how long people's phone calls were." How­ev­er log­i­cal, pock­et tele­phones with video-call­ing and trans­la­tion capa­bil­i­ties would then have struck many as the stuff of sci­ence fic­tion.
Though born before the time of house­hold elec­tri­fi­ca­tion, Sul­li­van him­self lived just long enough to see the debut of the first com­mer­cial cell­phone "The Motoro­la DynaT­AC 8000X was def­i­nite­ly not watch-sized and cost a whop­ping $3,995 in 1983 (about $11,000 today)," writes Alexan­dra, "but Sul­li­van might have seen this devel­op­ment as a step towards his long-ago vision — a sign that every one of his 1953 pre­dic­tions would even­tu­al­ly come to fruition." As print­ed in the Taco­ma News Tri­bune, the AP arti­cle con­vey­ing those pre­dic­tions to the pub­lic appeared under the head­line "There'll Be No Escape in Future from Tele­phones," which sounds even more chill­ing today — in that very future — than it did near­ly 70 years ago. But then, even the visions of actu­al sci­ence fic­tion are sel­dom whol­ly untrou­bled.
Relat­ed Con­tent:
A 1947 French Film Accu­rate­ly Pre­dict­ed Our 21st-Cen­tu­ry Addic­tion to Smart­phones
Niko­la Tesla's Pre­dic­tions for the 21st Cen­tu­ry: The Rise of Smart Phones & Wire­less, The Demise of Cof­fee, The Rule of Eugen­ics (1926/35)
When We All Have Pock­et Tele­phones (1923)
In 1911, Thomas Edi­son Pre­dicts What the World Will Look Like in 2011: Smart Phones, No Pover­ty, Libraries That Fit in One Book
Lyn­da Bar­ry on How the Smart­phone Is Endan­ger­ing Three Ingre­di­ents of Cre­ativ­i­ty: Lone­li­ness, Uncer­tain­ty & Bore­dom
Film­mak­er Wim Wen­ders Explains How Mobile Phones Have Killed Pho­tog­ra­phy
Based in Seoul, Col­in Mar­shall writes and broad­casts on cities and cul­ture. His projects include the book The State­less City: a Walk through 21st-Cen­tu­ry Los Ange­les and the video series The City in Cin­e­ma. Fol­low him on Twit­ter at @colinmarshall or on Face­book.