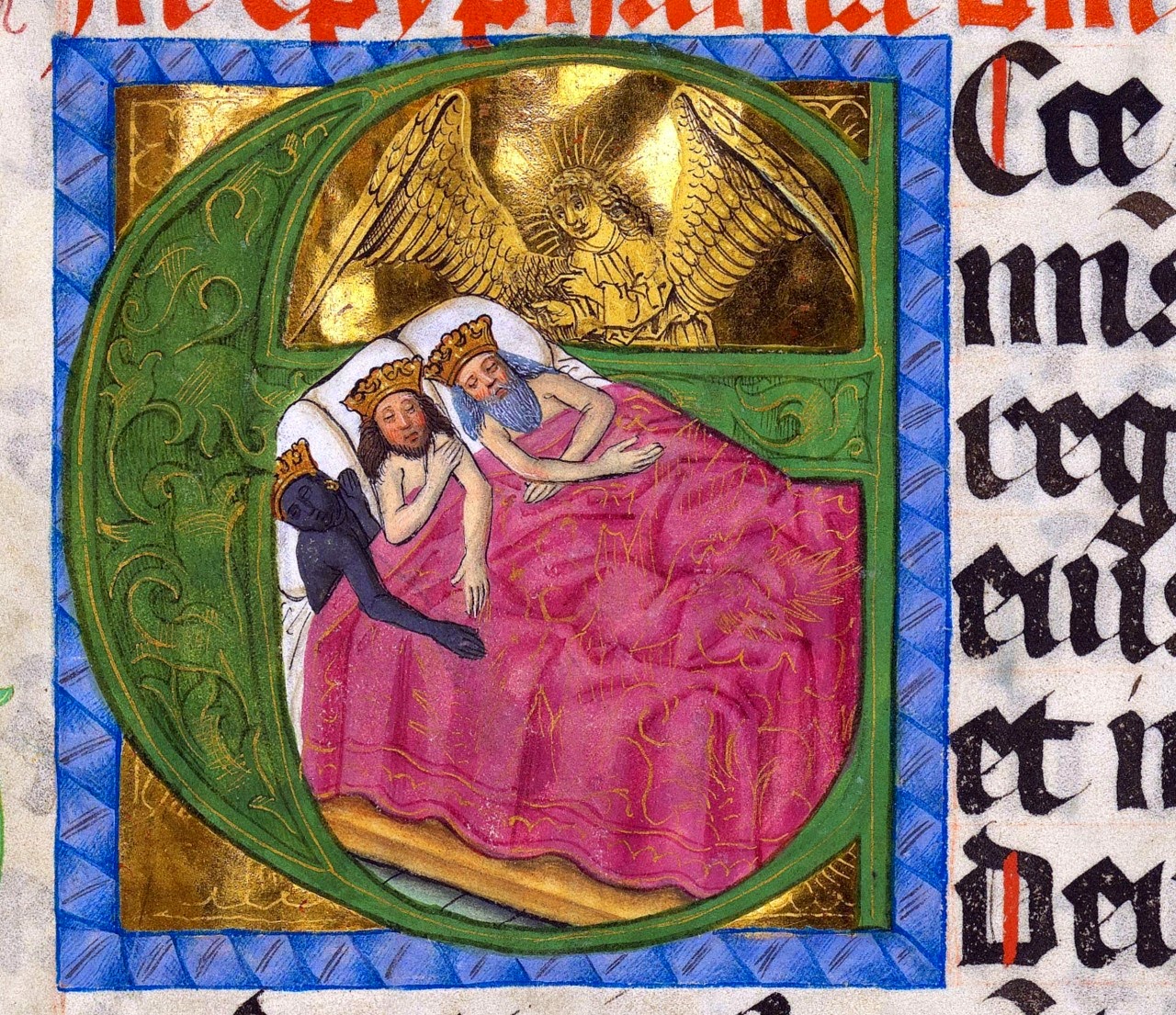 The importance of a good night's sleep has been featured now and again here on Open Culture. But were a medieval European to visit our time, he'd probably ask — among other questions — if we didn't mean a good night's sleeps, plural. The evidence suggests that the people of the Middle Ages slept not straight through the night but in two distinct stretches. This practice has come back to light in recent years thanks to the research of historian Roger Ekirch, author of At Day's Close: Night in Times Past. "Both phases of sleep lasted roughly the same length of time," he writes in that book, "with individuals waking sometime after midnight before returning to rest."
But "not everyone, of course, slept according to the same timetable. The later at night that persons went to bed, the later they stirred after their initial sleep; or, if they retired past midnight, they might not awaken at all until dawn. Thus, in 'The Squire's Tale' in The Canterbury Tales, Canacee slept 'soon after evening fell' and subsequently awakened in the early morning following 'her first sleep'; in turn, her companions, staying up much later, 'lay asleep till it was fully prime' (daylight)." Proof widespread "biphasic sleep" exists not just in Chaucer, but — for those who know where to look — all over the surviving documents from medieval Europe.
"In France, the initial sleep was the premier somme," writes BBC.com's Zaria Gorvett. "In Italy, it was primo sonno. In fact, Eckirch found evidence of the habit in locations as distant as Africa, South and Southeast Asia, Australia, South America and the Middle East"; the earliest reference he turned up comes from Homer's Odyssey. Whatever their era of history, biphasic sleepers seem to have made good use of their intervals of wakefulness, known in English as "the watch." During it, peasants worked, Christians prayed, and thieves thieved, "but most of all, the watch was useful for socializing – and for sex." After a long day's work, "the first sleep took the edge off their exhaustion and the period afterwards was thought to be an excellent time to conceive copious numbers of children."
Biphasic sleep and its attendant habits didn't survive the 19th century. The reasons, as Ekirch explains in the interview above, have to do with the Industrial Revolution, that great disruption of traditions followed since time immemorial. Along with "the increasing prevalence of artificial illumination both within homes and outside," he says, "bedtimes were pushed back, even though people still awakened at the same time in the morning." Apart from introducing new technologies, the Industrial Revolution "also changed peoples' attitudes toward work," making humanity "increasingly time-conscious: productivity, efficiency were the hallmarks of the 19th century." We continue to set store by them today, though we also handle the disruption of sleep in our own, distinctively 21st-century ways. Would anyone care to explain to our medieval time-traveler the practice of midnight Twitter-scrolling?
Related Content:
How Sleep Can Become Your "Superpower:" Scientist Matt Walker Explains Why Sleep Helps You Learn More and Live Longer
Sleep or Die: Neuroscientist Matthew Walker Explains How Sleep Can Restore or Imperil Our Health
How a Good Night's Sleep — and a Bad Night's Sleep — Can Enhance Your Creativity
Buckminster Fuller's Dymaxion Sleep Plan: He Slept Two Hours a Day for Two Years & Felt "Vigorous" and "Alert"
The Power of Power Naps: Salvador Dali Teaches You How Micro-Naps Can Give You Creative Inspiration
What Did People Eat in Medieval Times? A Video Series and New Cookbook Explain
Based in Seoul, Colin Marshall writes and broadcasts on cities and culture. His projects include the book The Stateless City: a Walk through 21st-Century Los Angeles and the video series The City in Cinema. Follow him on Twitter at @colinmarshall or on Facebook.