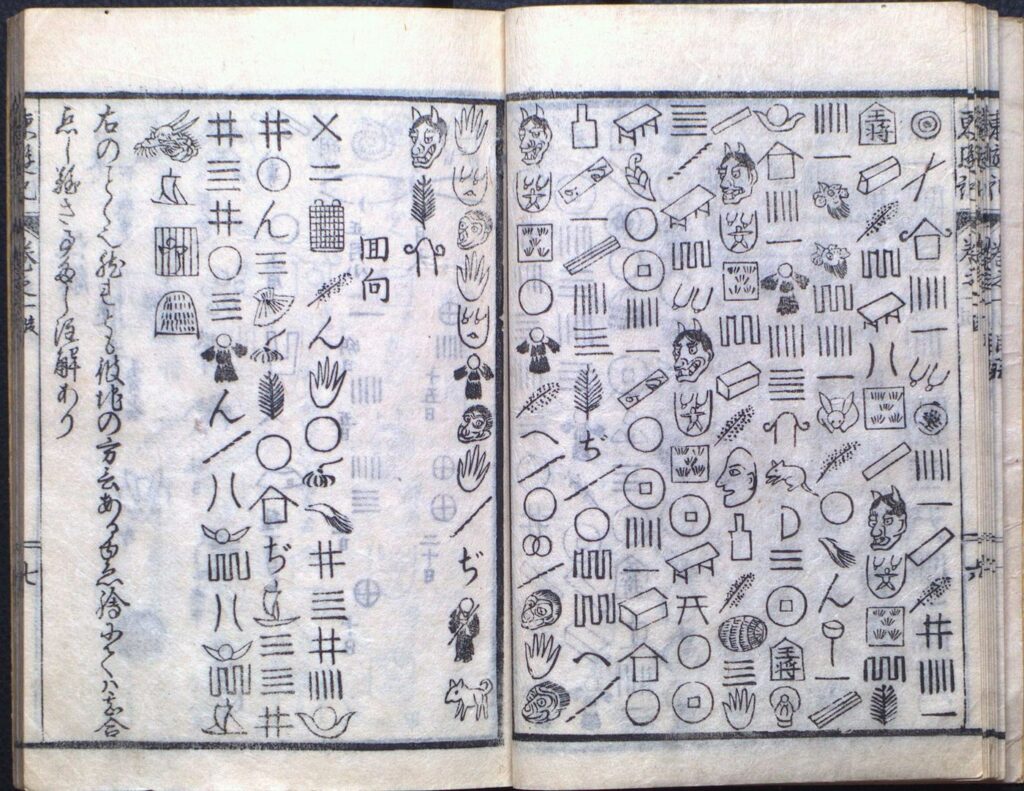 Even with 21st-cen­tu­ry teach­ing aids, the writ­ten Japan­ese lan­guage isn't the sort of thing one picks up in a few weeks' study. A few hun­dred years ago it would've been much more dif­fi­cult still, espe­cial­ly for those engaged in learn­ing the sūtras or scrip­tures of Bud­dhism. "The stakes of cor­rect recita­tion were high in the pre- and ear­ly mod­ern era," writes The Pub­lic Domain Review's Hunter Dukes, "with strict rules for pro­nun­ci­a­tion exist­ing since the 1100s, and sūtra recita­tion (dokyō) becom­ing an art form in the fol­low­ing cen­tu­ry." Import­ed from India and rewrit­ten in clas­si­cal Chi­nese with few clues as to how its words should actu­al­ly be spo­ken, the Bud­dhist canon of east Asia set a mighty chal­lenge even before the per­fect­ly lit­er­ate.
As for the illit­er­ate — of whom, in com­plete con­trast to mod­ern-day Japan, there were many — what chance did they stand? Sal­va­tion, or at any rate a chance at sal­va­tion, arrived in the 17th cen­tu­ry in the form of texts writ­ten just for them. "Japan­ese print­ers began cre­at­ing a type of book for the illit­er­ate, allow­ing them to recite sūtras and oth­er devo­tion­al prayers, with­out knowl­edge of any writ­ten lan­guage," writes Dukes. "The texts work by a rebus prin­ci­ple (known as han­ji­mono), where each drawn image, when named aloud, sounds out a Chi­nese syl­la­ble." Geared toward an agri­cul­tur­al "read­er­ship," this sys­tem drew its imagery from what they knew: farm­ing tools, domes­tic ani­mals, and even fig­ures of myth.
The sec­tions here come from a 20th-cen­tu­ry exam­ple of this type of pub­li­ca­tion, var­i­ous­ly Meku­ra-kyō or Mon­mō-kyō, held by the British Library. It con­tains a ren­di­tion of the text of the Heart Sūtra, the most wide­ly known piece of scrip­ture in the canon of Mahāyā­na Bud­dhism, and as the Kyoto Nation­al Musem's Eikei Akao puts it, "prob­a­bly the best-known, most well-loved sutra in Japan." (You may also remem­ber the 37-minute ver­sion per­formed by beat­box­ing Bud­dhist monk Yoget­su Akasa­ka, which we pre­vi­ous­ly fea­tured here on Open Cul­ture.) Not long ago, the Unit­ed States Library of Con­gress post­ed this Heart Sūtra for the illit­er­ate to its Face­book page. The occa­sion? World Emo­ji Day.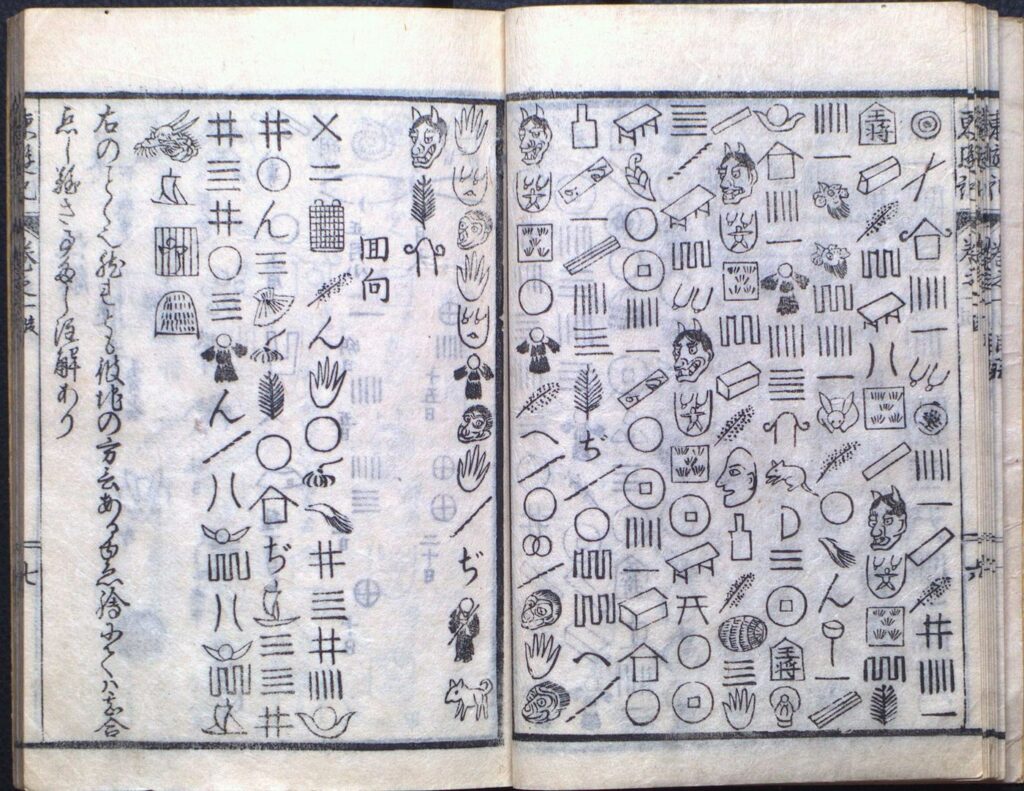 "Because these pic­tures rep­re­sent sounds, rather than objects or ideas, they don't real­ly act as pic­tograms the way emo­ji do," admits the writer of the Library of Con­gress' post. "But in their icon-like appear­ance, suc­cinct and func­tion­al, they do bear a resem­blance to our use of emo­ji today." It was then reblogged on Lan­guage Log, one of whose com­menters offered some expla­na­tion of the sys­tem as seen in the pic­tures: "The San­skrit phrase 'Pra­jñāpāramitā' is ren­dered 'Han­nya­harami­ta' in Japan­ese. 'Han­nya' here is writ­ten with a draw­ing of the han­nya demon mask from Noh. 'Hara­mi' appears to be a pic­ture of a body (mi) in an abdomen (hara), and then 'ta' is a pic­ture of a rice­field (tan­bo, the "ta" of many Japan­ese names, like Tana­ka and Toy­ota)." Hands have been wring­ing about the poten­tial of inter­net com­mu­ni­ca­tion to deliv­er us into a "post-lit­er­ate" soci­ety; per­haps these curi­ous chap­ters in the his­to­ry of the Japan­ese lan­guage show us where to go from there.
Relat­ed con­trast:
Down­load 280 Pic­tographs That Put Japan­ese Cul­ture Into a New Visu­al Lan­guage: They're Free for the Pub­lic to Use
Breath­tak­ing­ly Detailed Tibetan Book Print­ed 40 Years Before the Guten­berg Bible
The World's Largest Col­lec­tion of Tibetan Bud­dhist Lit­er­a­ture Now Online
The Old­est Book Print­ed with Mov­able Type is Not The Guten­berg Bible: Jikji, a Col­lec­tion of Kore­an Bud­dhist Teach­ings, Pre­dat­ed It By 78 Years and It's Now Dig­i­tized Online
One of the Old­est Bud­dhist Man­u­scripts Has Been Dig­i­tized & Put Online: Explore the Gand­hara Scroll
A Beat­box­ing Bud­dhist Monk Cre­ates Music for Med­i­ta­tion
Based in Seoul, Col­in Mar­shall writes and broad­casts on cities and cul­ture. His projects include the book The State­less City: a Walk through 21st-Cen­tu­ry Los Ange­les and the video series The City in Cin­e­ma. Fol­low him on Twit­ter at @colinmarshall or on Face­book.