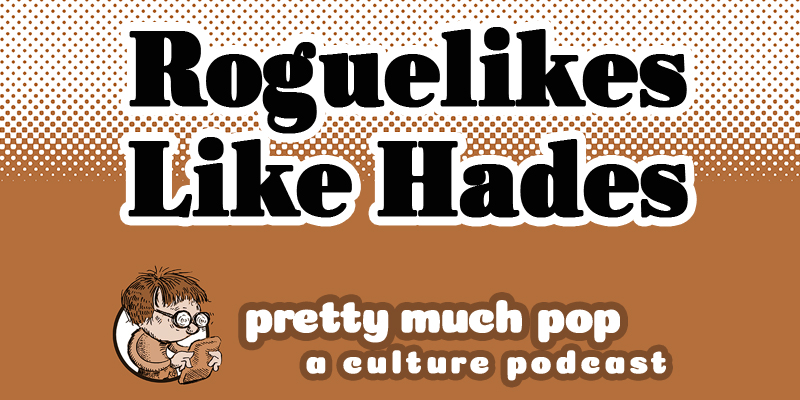 Supergiant's Hades is now the first video game ever to have won a Hugo award for sci-fi/fantasy fiction, and has set a new standard in the Roguelike genre, which features relatively short "runs" through a randomly-generated dungeon (or some equivalent) with perma-death, i.e. you die, you go back to the beginning. Generally, these games are very hard.
Your host Mark Linsenmayer is joined by three returning Pretty Much Pop guests: Psychologist of games Jamie Madigan, writer Al Baker, and musician Tyler Hislop. In addition to Hades, we talk about The Binding of Isaac, FTL, Slay the Spire, Dead Cells, Darkest Dungeon, Curse of the Dead Gods, Wayward, Risk of Rain, and more. What distinguishes a Roguelike from a Rogue-lite, and does it matter? How are they different than old-style arcade games? What makes Hades unique in the genre?
Read about Roguelikes on Wikipedia. See IGN's list of best Roguelikes and TheGamer's list of most difficult Roguelikes.
A few other relevant articles include:
Follow @JamieMadigan, Al @ixisnox,  and Tyler @sacrifice_mc.
This episode includes bonus discussion featuring all of our guests that you can access by supporting the podcast at patreon.com/prettymuchpop or by choosing a paid subscription through Apple Podcasts. This podcast is part of the Partially Examined Life podcast network.
Pretty Much Pop: A Culture Podcast is the first podcast curated by Open Culture. Browse all Pretty Much Pop posts.