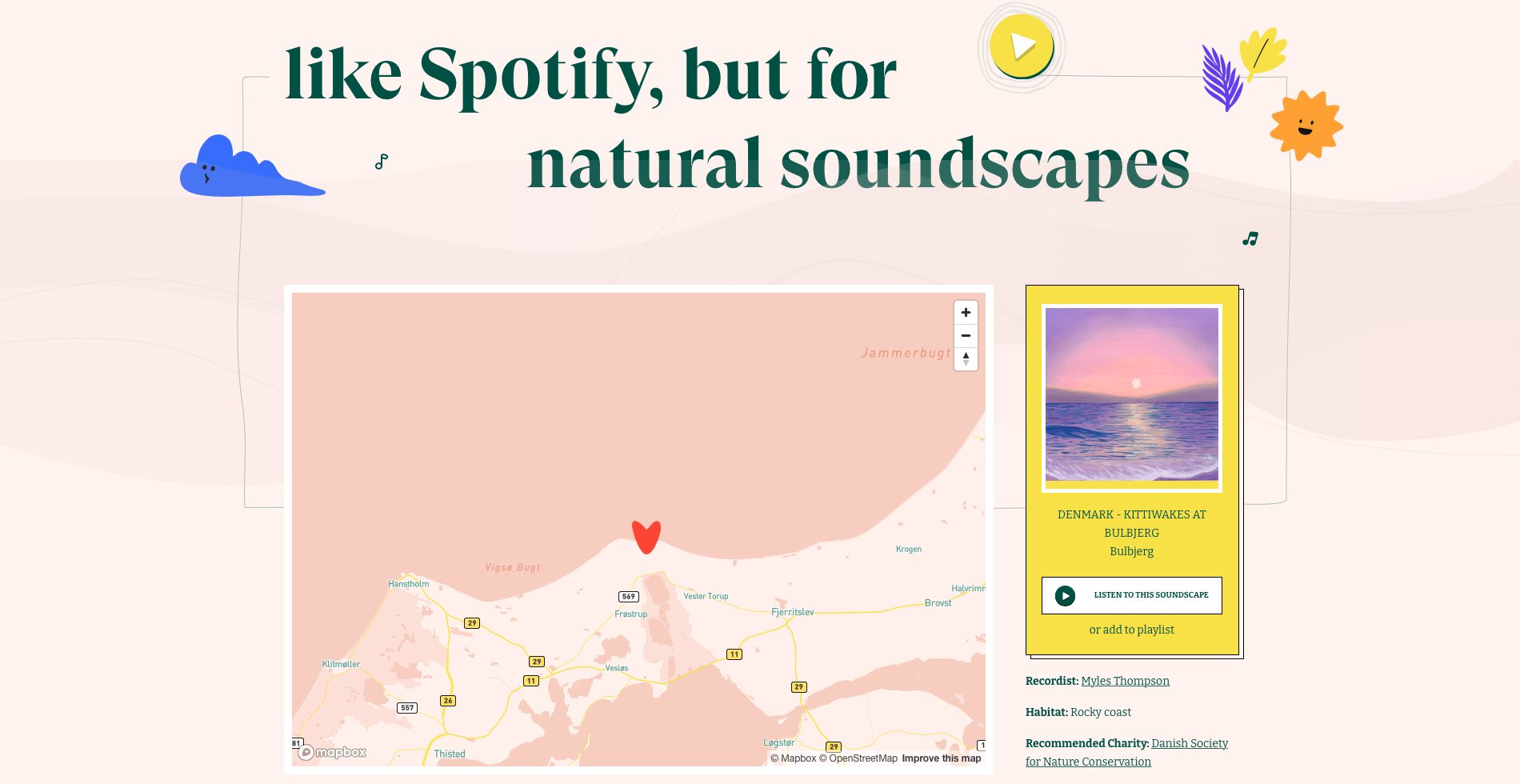 "Just lis­ten. Silence is the poet­ics of space. What it means to be in a place…. Silence isn't the absence of some­thing, but the pres­ence of every­thing." – acoustic ecol­o­gist Gor­don Hemp­ton
The study of acoustic ecol­o­gy does­n't get much main­stream atten­tion. But if you've been a read­er of Open Cul­ture, you've like­ly come across a post about pre­serv­ing nat­ur­al sounds by stream­ing record­ings of the world's many envi­ron­ments. These projects all, in one way or anoth­er, con­tribute to goals artic­u­lat­ed by Cana­di­an com­pos­er and writer R. Mur­ray Schafer, the "self-declared father" of acoustic ecol­o­gy, which involves the study, con­ser­va­tion, and appre­ci­a­tion of envi­ron­men­tal sound.
As Neil Clarke notes at Earth.fm, Schaf­fer­'s com­plex dis­ci­pline can seem dif­fi­cult to grasp, as it "strad­dles 'acoustics, archi­tec­ture, lin­guis­tics, music, psy­chol­o­gy, soci­ol­o­gy and urban plan­ning.' " Maybe all we need to know to appre­ci­ate the goals of Earth.fm — anoth­er excel­lent entry in a grow­ing list of nat­ur­al-sound stream­ing sites – comes through in Clarke's descrip­tion of Schaffer's World Sound­scape Project (WSP):
It was hoped that, even­tu­al­ly, the WSP would be able to cre­ate a bal­ance "between the human com­mu­ni­ty and its son­ic envi­ron­ment." To this end, lis­ten­ing and "ear-clean­ing" prac­tices, includ­ing "sound­walks" – a walk­ing med­i­ta­tion where a high son­ic aware­ness is main­tained – were designed to increase indi­vid­u­als' con­scious­ness of the sounds around them. By prompt­ing engage­ment with the real­i­ties of con­tem­po­rary sound­scapes, lis­ten­ers were intend­ed to gain aware­ness of their part in these sound­scapes' cre­ation, and there­fore appre­ci­ate their respon­si­bil­i­ty towards them.
Schaf­fer began record­ing sound­scapes (a word he coined) in Van­cou­ver in the ear­ly 70s. Since then, his work has inspired and com­ple­ment­ed that of oth­er field recordists/acoustic theorists/sound archivists like Bernie Krauss and Gor­don Hemp­ton. Although the ear­ly acoustic ecol­o­gists could not have fore­seen stream­ing media, it has with­out a doubt become for many of us a dom­i­nant vehi­cle for sound in our dai­ly lives, includ­ing sounds of the nat­ur­al world.
With­out an appre­ci­a­tion for the sounds of nat­ur­al silence (which we know, since John Cage, does not mean absolute qui­et), our under­stand­ing of rain­forests, deserts, and oceans as liv­ing, breath­ing real­i­ties can become dulled, just as much as we lose touch with the green spaces out­side our win­dows. Recon­nect­ing through sound has the dual effect of calm­ing our inner states and attun­ing us more close­ly to the out­er world as it is, with­out the dis­trac­tions of record­ed music and video laid over­top.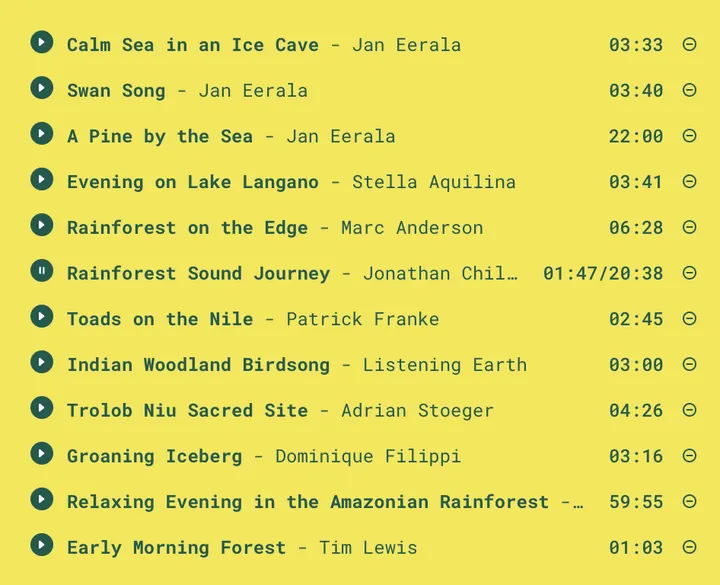 Billing itself as "like Spo­ti­fy, but for nat­ur­al sound­scapes," Earth.fm, offers not a rival stream­ing ser­vice, but an alter­na­tive in which users can make their own playlists, The Verge explains, "zip­ping from Brazil to Egypt in a mat­ter of min­utes." New sounds are added every three days. "You can lis­ten to bird species in Malaysia or India or for­est sounds in Ghana. The sounds are gath­ered from numer­ous con­trib­u­tors who have expe­ri­ence record­ing the nat­ur­al world in places includ­ing Brazil, Spain, Nor­way, New Zealand, and the Unit­ed King­dom."
We can intu­it Earth.fm's mis­sion not only as ther­a­peu­tic and preser­va­tion­ist but also as an eth­i­cal attempt to approach the cri­sis stream­ing media has intro­duced in the arts. Human-made sounds (or "anthro­pophy") are just as much a part of our envi­ron­ment as those made by frogs, rivers, and ante­lope. Our con­stant, often mind­less stream­ing, how­ev­er — made pos­si­ble by infi­nite dig­i­tal repos­i­to­ries and cheap (for now) ener­gy — can be seen as a form of noise pol­lu­tion, and a sig­nif­i­cant con­trib­u­tor to ener­gy over­con­sump­tion.
The ethics of stream­ing must account for the impact on the beings (in this case, us) who make these sounds. Big Tech com­mod­i­fi­ca­tion of music requires a "vast con­ver­sa­tion," argues an essay on the Earth.fm site, that includes "the for­mat's impact on those at the heart of this whole under­tak­ing: those who cre­ate music." By impli­ca­tion, Earth.fm and oth­er sites that stream acoustic record­ings of nat­ur­al sounds (like those in the links below), offer an eth­i­cal alter­na­tive to music stream­ing — one that recon­nects us, Eliz­a­beth Wadding­ton writes on the site, to "the music of a chang­ing world." Learn more about Earth.fm's activ­i­ties here.
Relat­ed Con­tent:
Free: Down­load the Sub­lime Sights & Sounds of Yel­low­stone Nation­al Park
Sounds of the For­est: A Free Audio Archive Gath­ers the Sounds of Forests from All Over the World
Tune Into Tree.fm: An Online Radio Sta­tion That Streams the Sooth­ing Sounds of Forests from Around the World
Josh Jones is a writer and musi­cian based in Durham, NC. Fol­low him at @jdmagness