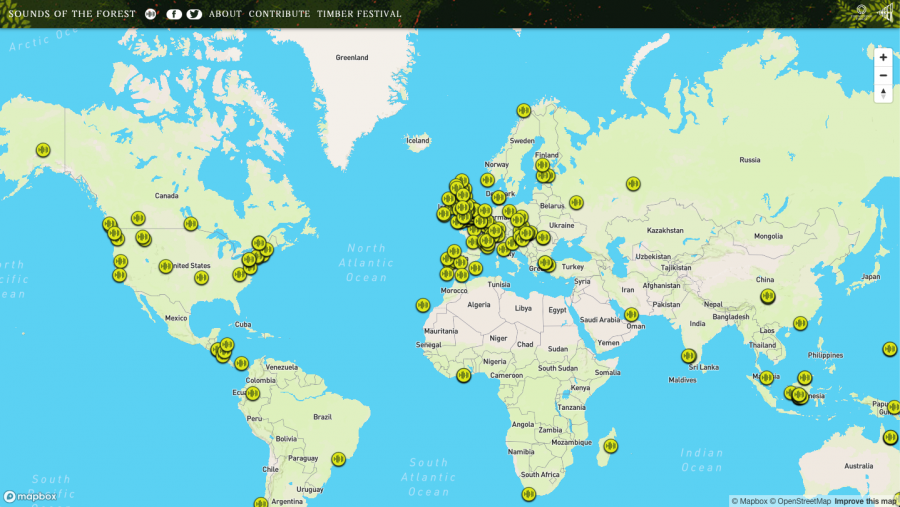 Some of my fondest memories are of hiking the Olympic National Forest in Washington State and the forests of the Shenandoah Valley in Virginia, seeking the kind of silence one can only find in busy ecosystems full of birds, insects, woodland creatures, rustling leaves, etc. This experience can be transformative, a full immersion in what acoustic ecologist Gordon Hempton calls a "natural acoustic system," the endless interplay of calls and responses that evolved to harmonize over millennia.
Tragically, human noise pollution encroaches on the acoustic space of such refuges, and climate change may irrevocably alter their nature. But they will be preserved, in digital recordings at least, thanks in part to the efforts of a project called Sounds of the Forest, which has been documenting the pregnant silences of forests around the world and has so far collected audio files from six continents, with western Europe most heavily represented.
The Sounds of the Forest library, accessible via its interactive map or Soundcloud page, "will form an open source library," the project announces, "to be used by anyone to listen to and create from."
Nature lovers can contribute their own recordings, helping to fill in the many remaining areas on the map without representation. "Visit a woodland," the project recommends, "recharge under the canopy and record your sounds of the forest." The site gives specific instructions for how to upload audio file submissions.
Sounds of the Forest came out of the annual Timber Festival, an international gathering in the UK's National Forest, which is the "boldest environmentally-led regeneration project: the creation of England's first new forest in a thousand years… an imaginative and ambitious statement of sustainable development." When the pandemic scuttled plans for an in-person 2020 Timber Festival, organizers conceived of the sound files as a way to bring the world together in a virtual forest gathering. They are also foraging material for next year's fest, in which "selected artists will be responding to the sounds that are gathered, creating music, audio, artwork or something else incredible."
If you can't make it to Timber Festival 2021 next summer, or to your forest refuge of choice this autumn, you can still immerse yourself in the restorative sounds of forests worldwide. Open the sound map, click on a file, close your eyes, and imagine yourself in Nelson Lakes National Park in New Zealand, Yasuni National Park at night in Ecuador, or Chernyaevsky Forest in Russia. Experiencing the busy silences of nature brings us back to ourselves—or to the ancient parts of ourselves that once also harmonized with the natural world.
via Kottke
Related Content:
How to Find Silence in a Noisy World
The British Library's "Sounds" Archive Presents 80,000 Free Audio Recordings: World & Classical Music, Interviews, Nature Sounds & More
Free: Download the Sublime Sights & Sounds of Yellowstone National Park
10 Hours of Ambient Arctic Sounds Will Help You Relax, Meditate, Study & Sleep
Josh Jones is a writer and musician based in Durham, NC. Follow him at @jdmagness