I have often been asked if Christopher defended me because he was my close friend. The truth is that he became my close friend because he wanted to defend me. –Salman Rushdie
Salman Rushdie remains in critical condition after suffering multiple stab wounds while on stage in New York, a shocking occurrence but not quite surprising given that the author has lived with a death sentence over his head since 1989. (You can read the history of that controversy here.) The nation of Iran has denied any responsibility for the attack on the author, but it's probably safe to assume that his 1988 novel The Satanic Verses has something to do with it, over thirty years after the fact.
"Even before the fatwa," Steven Erlanger writes in The New York Times, "the book was banned in a number of countries, including India, Bangladesh, Sudan and Sri Lanka." Protests of the novel resulted in several deaths and attacks on booksellers. Rushdie had not set out to enrage much of the Islamic world, but neither had he any interest in appeasing its conservative leaders. Always outspoken, and a ferocious critic of British Empire as well as Islamic theocracy, his career since the fatwa has demonstrated a commitment to freeing the literary arts from the dictates of church and state.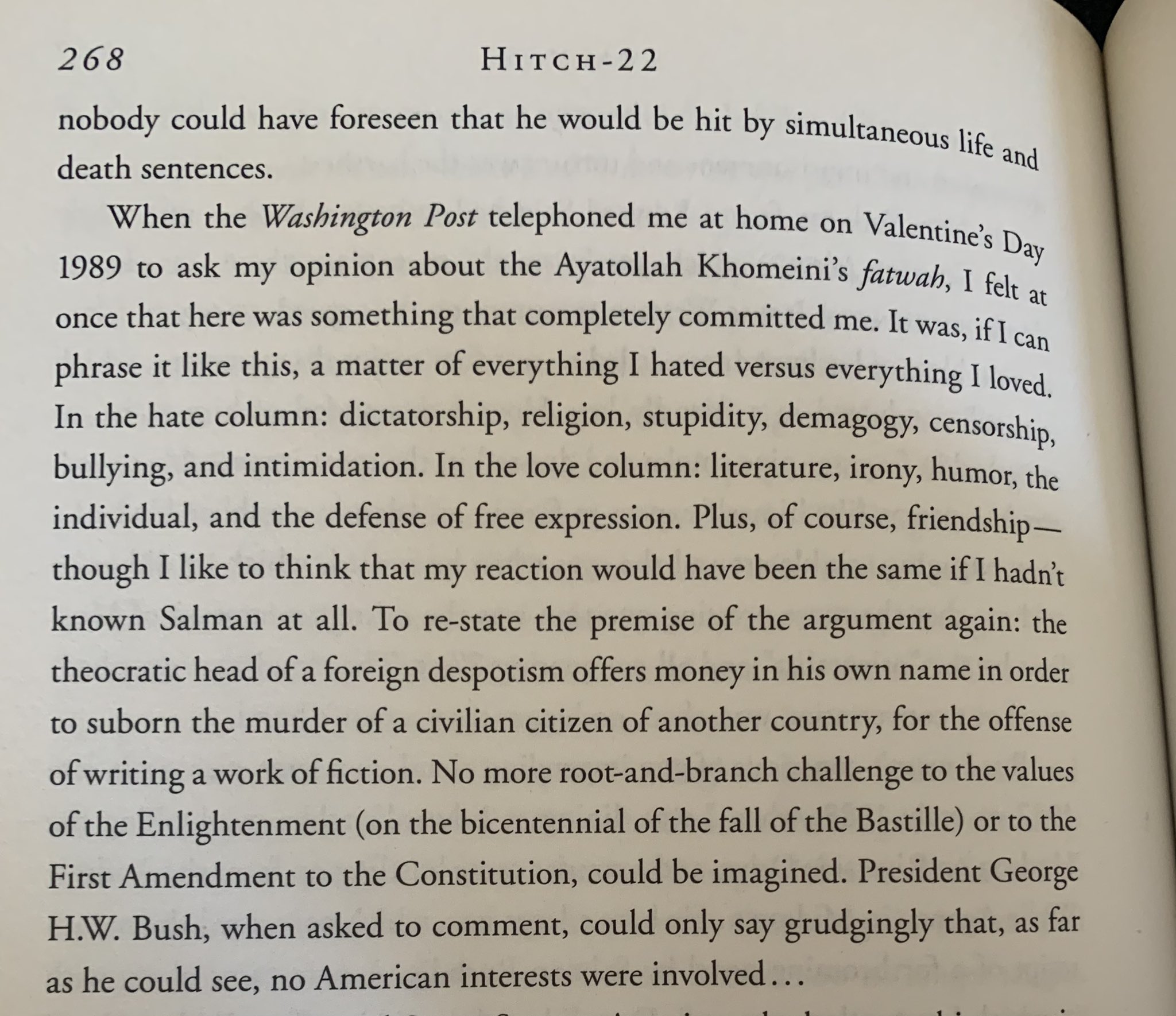 On the subject of imperialism, Rushdie and the late Christopher Hitchens came to disagree after the U.S.'s invasion of Iraq and Hitchens' "U-turn across the political highway to join forces with the war-makers of George W. Bush's administration," Rushdie writes in a Vanity Fair appreciation for Hitchens' after the latter's death. But his book God is Not Great "carried Hitch away from the American right and back toward his natural, liberal, ungodly constituency"; a collection of people who see the free expression of ideas as a far preferable condition to the existence of theocratic death squads.
Wherever he fell at any given time on the political spectrum, Hitchens never gave up his defense of Rushdie, one in which, as he wrote in his memoir, Hitch-22, he was completely committed from the start:
It was, if I can phrase it like this, a matter of everything I hated versus everything I loved. In the hate column: dictatorship, religion, stupidity, demagogy, censorship, bullying, and intimidation. In the love column: literature, irony, humor, the individual, and the defense of free expression. Plus, of course, friendship– 
Hitchens was gravely disappointed in liberal writers like Arthur Miller who refused to publicly support Rushdie out of fear, as he says in the television interview at the top of the post. The ambivalent response of many on the left struck him as gross political cowardice and hypocrisy. He went on the attack, arguing roundly on popular shows like Question Time (below, with his brother Peter, Baroness Williams, and recently deposed prime minister Boris Johnson).
Hitchens "saw that the attack on The Satanic Verses was not an isolated occurrence," Rushdie writes, "that across the Muslim world, writers and journalists and artists were being accused of the same crimes — blasphemy, heresy, apostasy, and their modern-day associates, 'insult' and 'offense.'" Rushdie had meant no offense, he writes, "I had not chosen the battle." But it seems to have chosen him:
It was at least the right battle, because in it everything that I loved and valued (literature, freedom, irreverence, freedom, irreligion, freedom) was ranged against everything I detested (fanaticism, violence, bigotry, humorlessness, philistinism, and the new offense culture of the age). Then I read Christopher using exactly the same everything-he-loved-versus-everything-he-hated trope, and felt… understood.
If the fatwa against Rushdie made him infamous, it did not make him universally beloved, even among his fellow writers, but he always had a fierce ally in Hitchens. Let's hope Rushdie can pick up the fight for free expression once again when he recovers from this brutal stabbing.
Related Content:
Christopher Hitchens Dismisses the Cult of Ayn Rand: There's No "Need to Have Essays Advocating Selfishness Among Human Beings; It Requires No Reinforcement"
Hear Salman Rushdie Read Donald Barthelme's "Concerning the Bodyguard" 
Jeff Koons and Salman Rushdie Teach New Courses on Art, Creativity & Storytelling for MasterClass
Josh Jones is a writer and musician based in Durham, NC. Follow him at @jdmagness