In the opening of John Carpenter's Escape from L.A., an earthquake separates Los Angeles from the mainland, and the city is repurposed into "the deportation point for all people found undesirable or unfit to live in a new, moral America." The film's premise (like that of Escape from New York, which it follows) taps into a deeply held sentiment about its setting. Los Angeles has long been seen as an absurd concentration of all the qualities that make California unlike the rest of the United States. California remains a state apart in a metaphorical sense, but there was a time when it was also thought to be a state apart, literally: that is to say, an island.
The word California originates in a novel, published in 1510, called Sergas de Esplandián. In that book it refers to "an island populated by black women without any men existing there. On the entire island, there was no metal other than gold." Author Garci Rodríguez de Montalvo's tantalizing description of California — as well as of the "beautiful and robust bodies" of its women — got Spanish seafarers curious about the extent to which it could have been based in reality.
(At that time, the mass-printed novel was still an enrapturing new development.) This account comes from Youtuber Johnny Harris' video above, "The Biggest Mapping Mistake of All Time," which connects this fantastical literary invention to centuries of geographical misconception.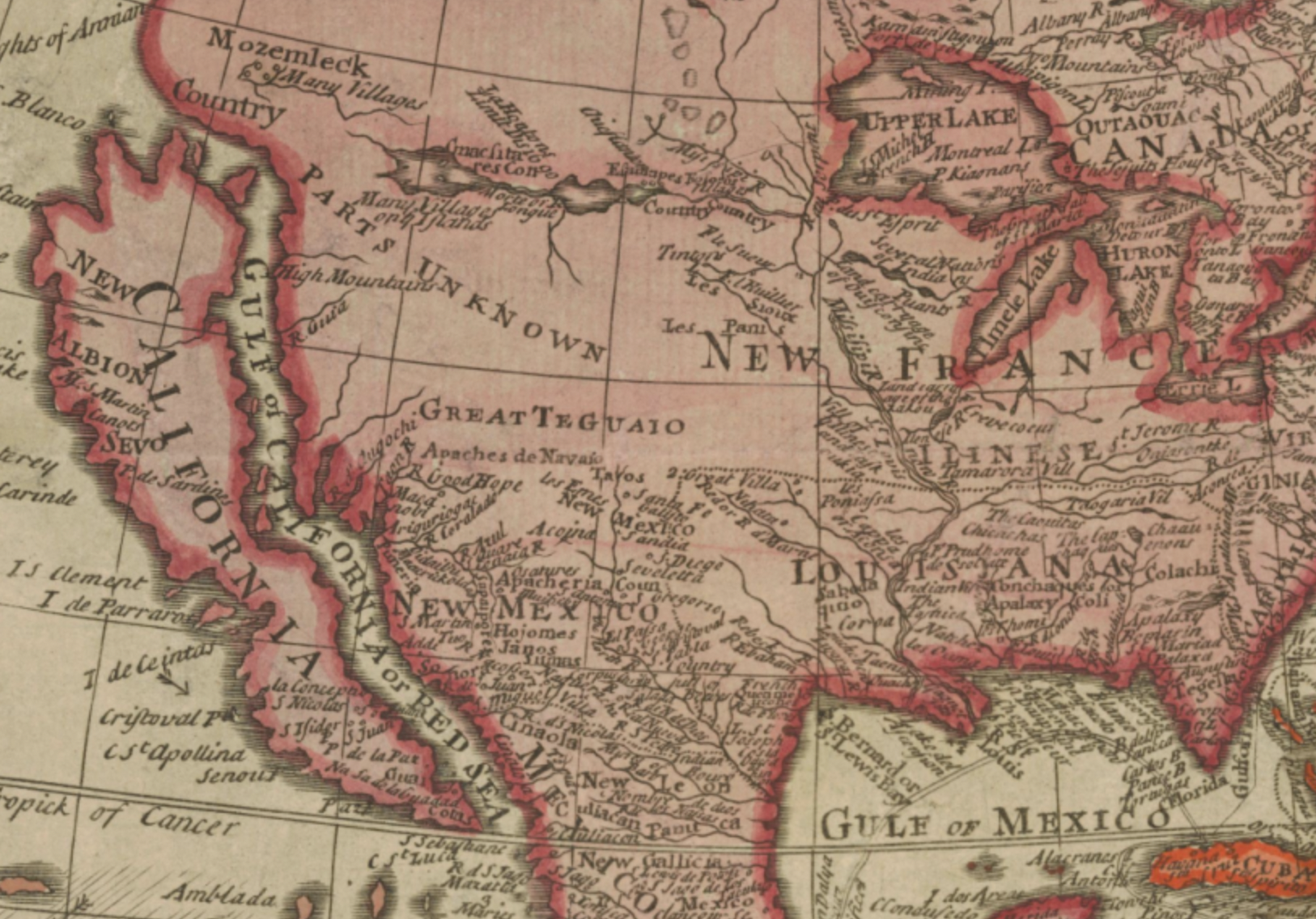 The conquistador Hernán Cortés seems to have been the first prominent figure to feel the pull of California. And he certainly wasn't the last, despite never quite having managed to pin the place down. Spain's most ardent California enthusiasts held so fast to the notion of its being an island that it spread elsewhere in Europe, and eventually to London. With the perception thus legitimized, California appeared disconnected from the North American coast on maps printed as far away as Japan. Harris credits California's "mythical pull," then as now, with making it "a place where people go to dream big" — and often "to chase dreams that aren't grounded in any sense of reality." Fortunately, he himself lives in Washington D.C., where delusions are wholly unknown.
Related content:
Download 67,000 Historic Maps (in High Resolution) from the Wonderful David Rumsey Map Collection
The History of Cartography, the "Most Ambitious Overview of Map Making Ever," Now Free Online
The 38 States of America: Geography Professor Creates a Bold Modern Map of America (1973)
The Largest Early Map of the World Gets Assembled for the First Time: See the Huge, Detailed & Fantastical World Map from 1587
Based in Seoul, Colin Marshall writes and broadcasts on cities, language, and culture. His projects include the Substack newsletter Books on Cities, the book The Stateless City: a Walk through 21st-Century Los Angeles and the video series The City in Cinema. Follow him on Twitter at @colinmarshall, on Facebook, or on Instagram.