Today it would be viewed as cul­tur­al appro­pri­a­tion writ large, but when Louis XIV ordered the con­struc­tion of a 5‑building plea­sure pavil­ion inspired by the Porce­lain Tow­er of Nan­jing (a 7th Won­der of the World few French cit­i­zens had viewed in per­son) as an escape from Ver­sailles, and an exot­ic love nest in which to romp with the Mar­quise de Mon­tes­pan, he ignit­ed a craze that spread through­out the West.
Chi­nois­erie was an aris­to­crat­ic Euro­pean fan­ta­sy of lux­u­ri­ous East­ern design, what Dung Ngo, founder of AUGUST: A Jour­nal of Trav­el + Design, describes as "a West­ern thing that has noth­ing to do with actu­al Asian cul­ture:"
Chi­nois­erie is a lit­tle bit like chop suey. It was whole­sale invent­ed in the West, based on cer­tain per­cep­tions of Asian cul­ture at the time. It's very watered down.
And also way over the top, to judge by the rap­tur­ous descrip­tions of the inte­ri­ors and gar­dens of Louis XIV's Tri­anon de Porce­laine, which stood for less than 20 years.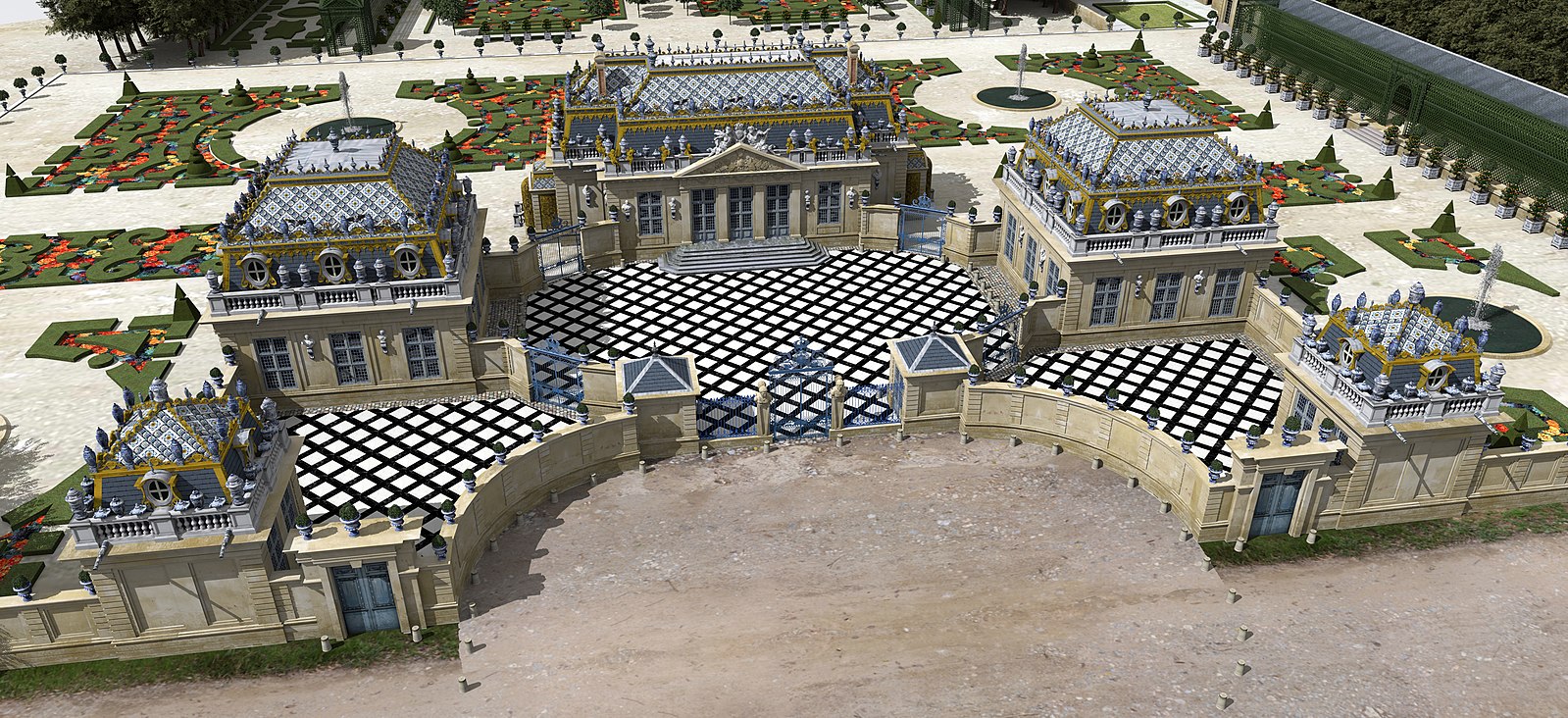 Image by Hervé Gre­goire, via Wiki­me­dia Com­mons
The blue-and-white Delft tiles meant to mim­ic Chi­nese porce­lain swift­ly fell into dis­re­pair and Madame de Montespan's suc­ces­sor, her children's for­mer gov­erness, the Mar­quise de Main­tenon, urged Louis to tear the place down because it was "too cold."
Her lover did as request­ed, but else­where, the West's imag­i­na­tion had been cap­tured in a big way.
The bur­geon­ing tea trade between Chi­na and the West pro­vid­ed access to Chi­nese porce­lain, tex­tiles, fur­nish­ings, and lac­quer­ware, inspir­ing West­ern imi­ta­tions that blur the bound­aries between Chi­nois­erie and Roco­co styles
This blend is in evi­dence in Fred­er­ick the Great's Chi­nese House in the gar­dens of Sanssouci (below).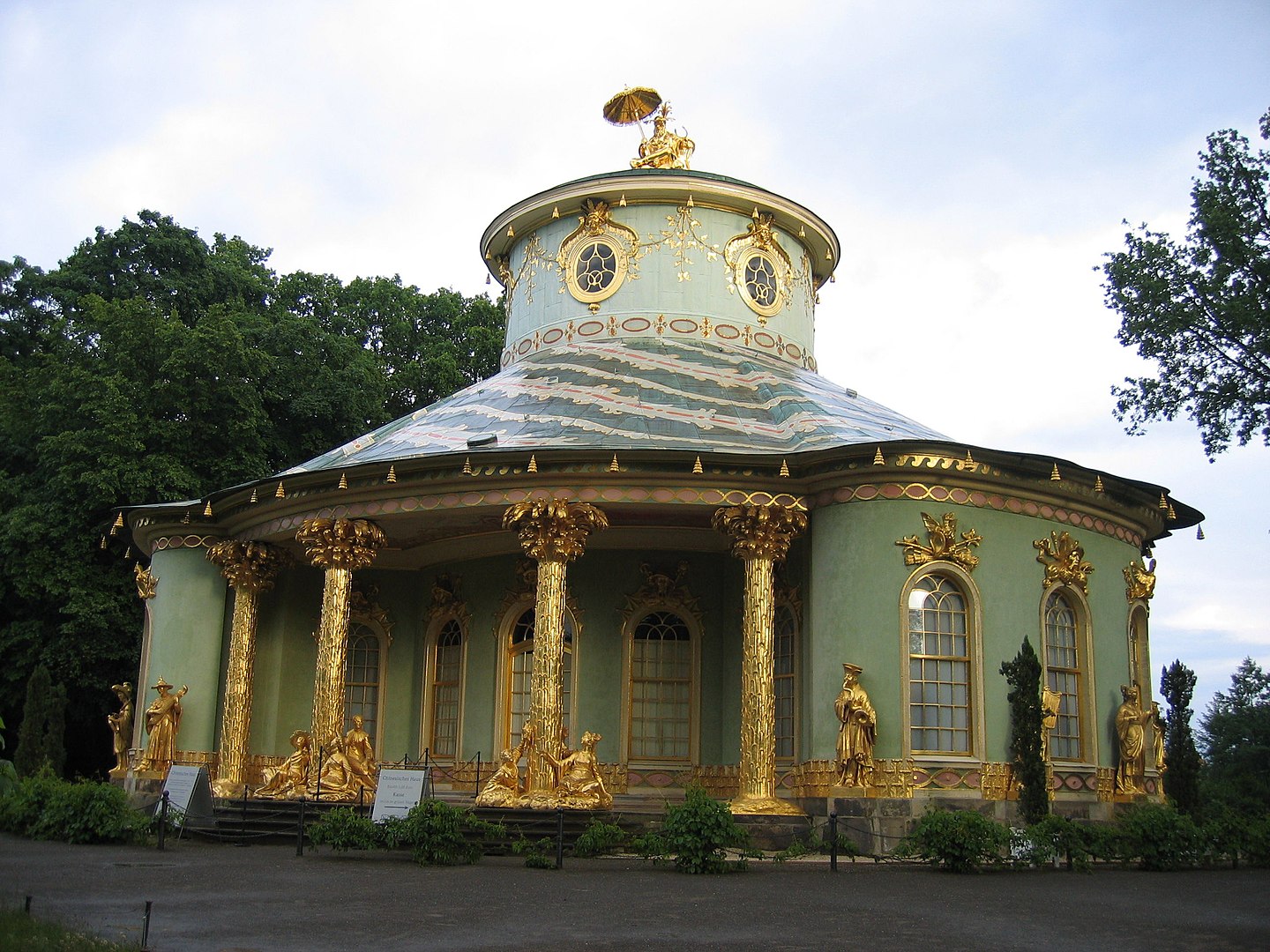 Image by Johann H. Addicks, via Wiki­me­dia Com­mons
Dr Samuel Wit­twer, Direc­tor of Palaces and Col­lec­tions at the Pruss­ian Palaces and Gar­dens Foun­da­tion, describes how the gild­ed fig­ure atop the roof "is a mix­ture of the Greek God Her­mes and the Chi­nese philoso­pher Con­fu­cius:"
His Euro­pean face is more than just a sym­bol of intel­lec­tu­al union between Asia and Europe…The fig­ure on the roof has an umbrel­la, an Asian sym­bol of social dig­ni­ty, which he holds in an east­ern direc­tion. So the famous ex ori­ente lux, the good and wise Con­fu­cian light from the far east, is blocked by the umbrel­la. Fur­ther down, we notice that the foun­da­tions of the build­ing seem to be made of feath­ers and the Chi­nese heads over the win­dows, rest­ing on cush­ions like tro­phies, turn into a mon­key band in the inte­ri­or. The fres­coes in the cupo­la main­ly depict mon­keys and par­rots. As we know, these par­tic­u­lar ani­mals are great imi­ta­tors with­out under­stand­ing.
Frederick's enthu­si­asm for chi­nois­erie led him to engage archi­tect Carl von Gontard to fol­low up the Chi­nese House with a pago­da-shaped struc­ture he named the Drag­on House (below) after the six­teen crea­tures adorn­ing its roof.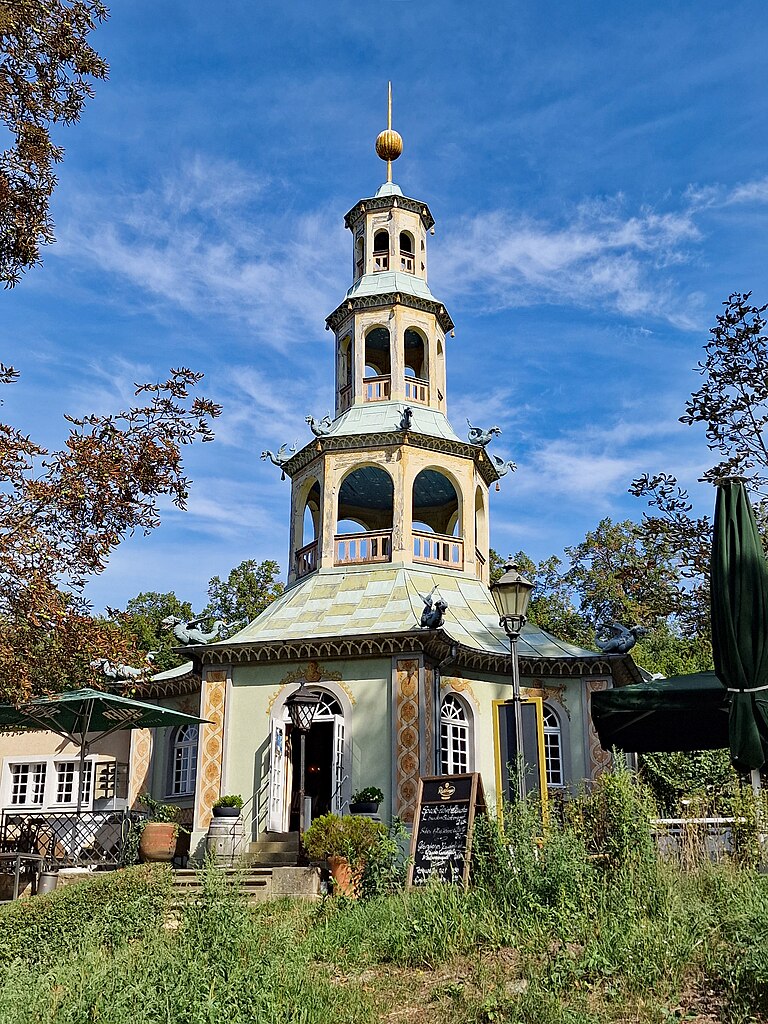 Image by Rig­o­rius, via Wiki­me­dia Com­mons
Drag­ons also dec­o­rate the roof of the Great Pago­da in London's Kew Gar­dens, though the gild­ed wood­en orig­i­nals either suc­cumbed to the ele­ments or were sold off to set­tle George IV's gam­bling debts in the late 18th cen­tu­ry.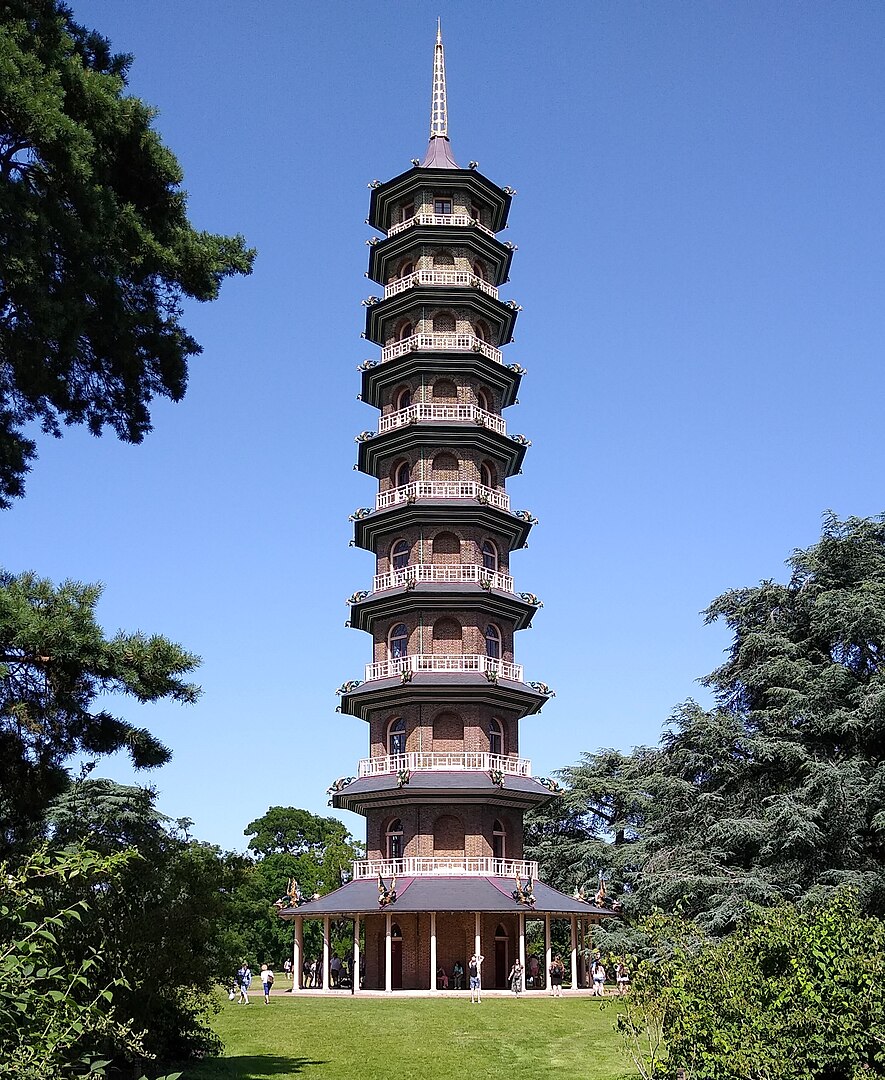 Image by MX Granger, via Wiki­me­dia Com­mons
There are even more drag­ons to be found on the Chi­nese Pavil­ion at Drot­tning­holm, Swe­den, an archi­tec­tur­al con­fec­tion con­struct­ed by King Adolf Fredrik as a birth­day sur­prise for his queen, Louisa. The queen was met by the entire court, cos­play­ing in Chi­nese (or more like­ly, Chi­nese-inspired) gar­ments.
Not to be out­done, Russia's Cather­ine the Great resolved to "cap­ture by caprice" by build­ing a Chi­nese Vil­lage out­side of St. Peters­burg.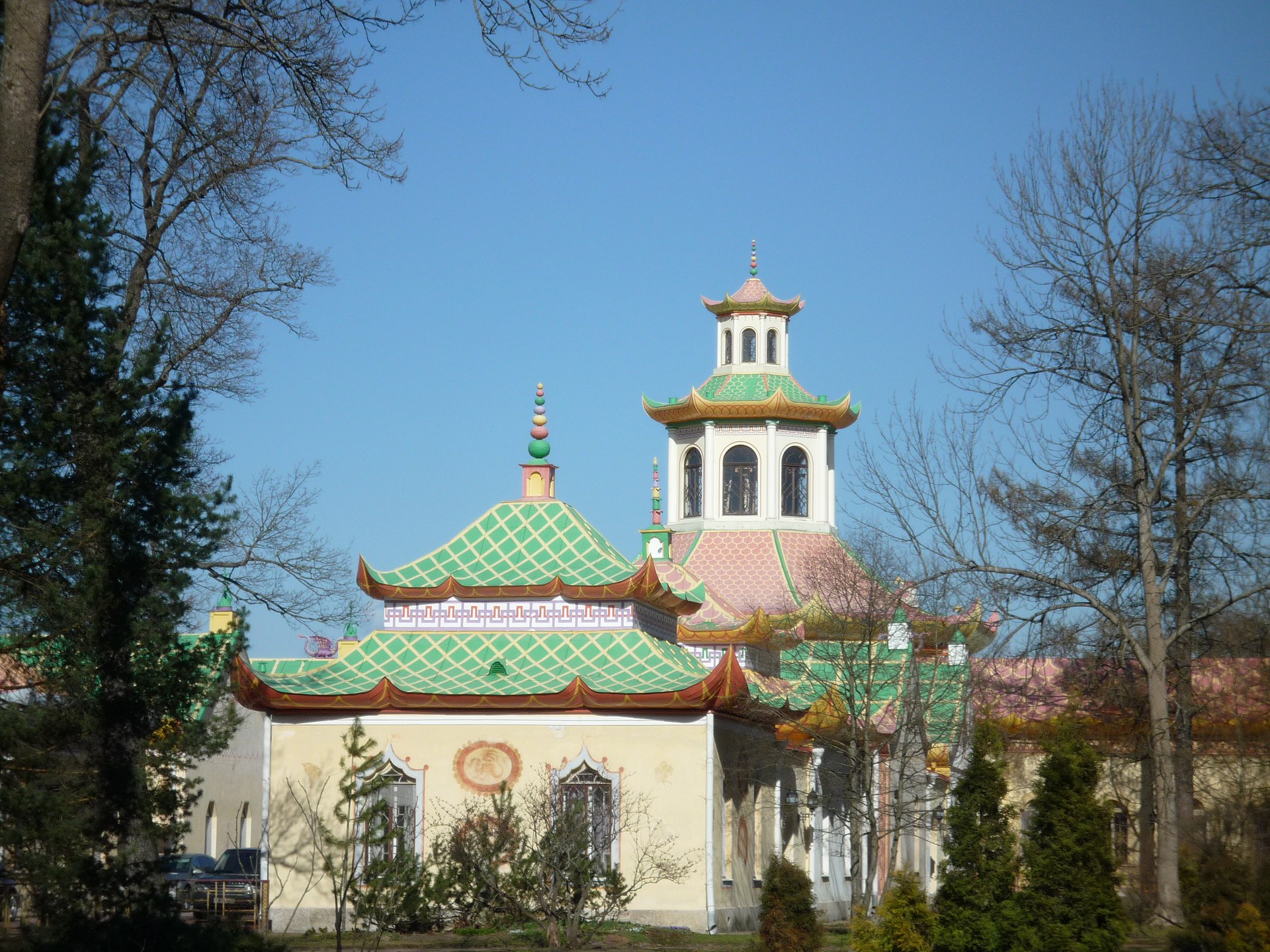 Image by Макс Вальтер, via Wiki­me­dia Com­mons
Archi­tect Charles Cameron drew up plans for a series of pavil­ions sur­round­ing a nev­er-real­ized octag­o­nal-domed obser­va­to­ry. Instead, eight few­er pavil­ions than Cameron orig­i­nal­ly envi­sioned sur­round a pago­da based on one in Kew Gar­dens.
Hav­ing sur­vived the Nazi occu­pa­tion and the Sovi­et era, the Chi­nese Vil­lage is once again a fan­ta­sy play­thing for the wealthy. A St. Peters­burg real estate devel­op­er mod­ern­ized one of the pavil­ions to serve as a two-bed­room "week­end cot­tage."
Giv­en that no record of the orig­i­nal inte­ri­ors exists, design­er Kir­ill Istomin wasn't ham­strung by a man­date to stick close to his­to­ry, but he and his client still went with "numer­ous chi­nois­erie touch­es" as per a fea­ture in Elle Decor:
Pan­els of antique wall­pa­pers were framed in gild­ed bam­boo for the mas­ter bed­room, and vin­tage Chi­nese lanterns, pur­chased in Paris, hang in the din­ing and liv­ing rooms. The star pieces, how­ev­er, are a set of 18th-cen­tu­ry porce­lain teapots, which came from the estate of the late New York socialite and phil­an­thropist Brooke Astor.
Explore cul­tur­al crit­ic Aileen Kwun and the Asian Amer­i­can Pacif­ic Islander Design Alliance's per­spec­tive on the still pop­u­lar design trend of chi­nois­erie here.
h/t Allie C!
Relat­ed Con­tent
An Ani­mat­ed His­to­ry of Ver­sailles: Six Min­utes of Ani­ma­tion Show the Con­struc­tion of the Grand Palace Over 400 Years
How the Ornate Tapes­tries from the Age of Louis XIV Were Made (and Are Still Made Today)
Down­load Vin­cent van Gogh's Col­lec­tion of 500 Japan­ese Prints, Which Inspired Him to Cre­ate "the Art of the Future"
Free: Down­load 70,000+ High-Res­o­lu­tion Images of Chi­nese Art from Taipei's Nation­al Palace Muse­um
– Ayun Hal­l­i­day is the Chief Pri­ma­tol­o­gist of the East Vil­lage Inky zine and author, most recent­ly, of Cre­ative, Not Famous: The Small Pota­to Man­i­festo and Cre­ative, Not Famous Activ­i­ty Book. Fol­low her @AyunHalliday.